We are entering the halfway point of the NFL regular season and we've found a few profitable stats and trends to take advantage of. As usual Shawn Hochuli cashed for the road team in Week 8. Unfortunately for us bettors, Shawn Hochuli has the week of. But that will not stop me from finding a few profitable angles for NFL Week 9 Referee Betting Stats and Trends.
Let me dive right into the numbers!
Referee Betting Trends and Stats Report: NFL Week 9
Game Totals
Brad Rogers
Brad Rogers is back in action this week after having Week 8 off. Thru the first seven weeks of the season, Rogers by far has highest average of points scored in a game at 55.4. In fact, Rogers games are 6-1 to the Over. I mentioned Rogers earlier this season, Rogers is a favorable to the Over dating back to last season. This week Rogers and crew are assigned to officiate the game between the Titans and the Rams. Additionally, thus far this season, the Rams are 5-2 to the Over and the Titans are 5-3.
Bill Vinovich
This is a great time to identify a few streaks as we approach the midway point of the season. Over the Bill Vinovich's last five officiated games, the Under is a perfect 5-0 by an average of 6.8 points. In Week 9, Vinovich is assigned to officiate the matchup between the Denver Broncos who are 6-2 to the Under and the Dallas Cowboys who are 5-2 to the Over. Something has got to give in this game!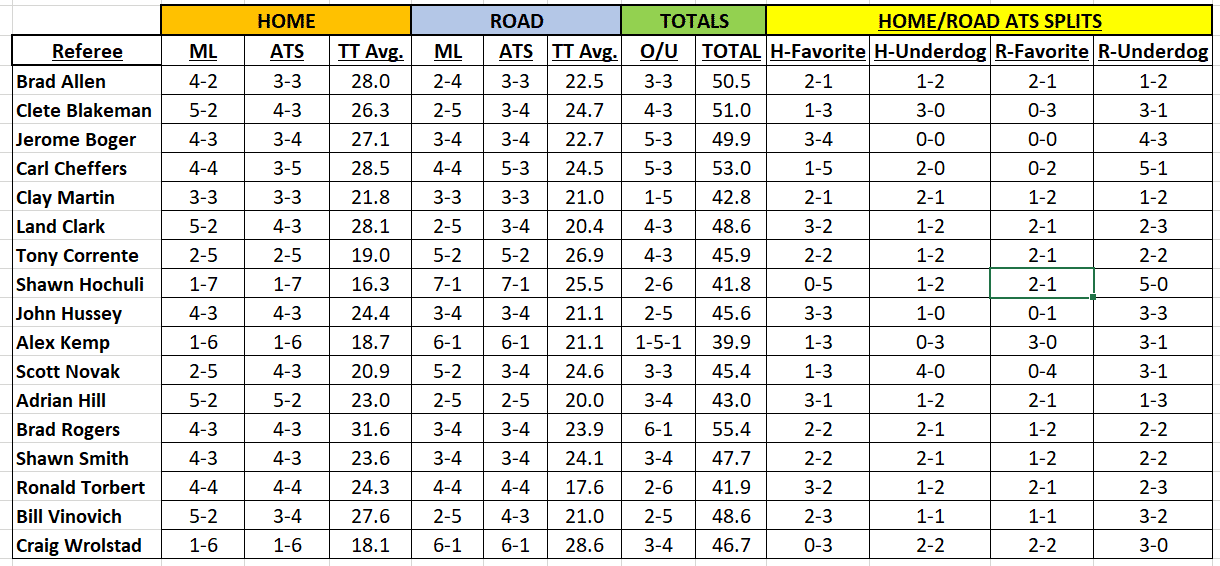 Against The Spread
Alex Kemp
Alex Kemp continues to be a trendy ref for road teams against the spread and straight up. So far this season, Alex Kemp officiated games are 6-1 against the spread and straight up for the road teams. Additionally, Kemp officiated games are 5-1-1 to the Under. Home teams are averaging only 18.7 points per game. In Week 9, Kemp and his crew as assigned to officiate the game between the Atlanta Falcons and the New Orleans Saints.
Carl Cheffers
Carl Cheffers has an interesting stat for underdogs against the spread so far this season. As a matter of fact, underdogs against the spread are 7-1 in games officiated by Cheffers. In Week 9, Cheffers is assigned to officiate the game between the Minnesota Vikings visiting the Baltimore Ravens.

 NFL Related
Early Week 9 Waiver Wire Fantasy Football Targets
Week 9 Fantasy Football Injury Report