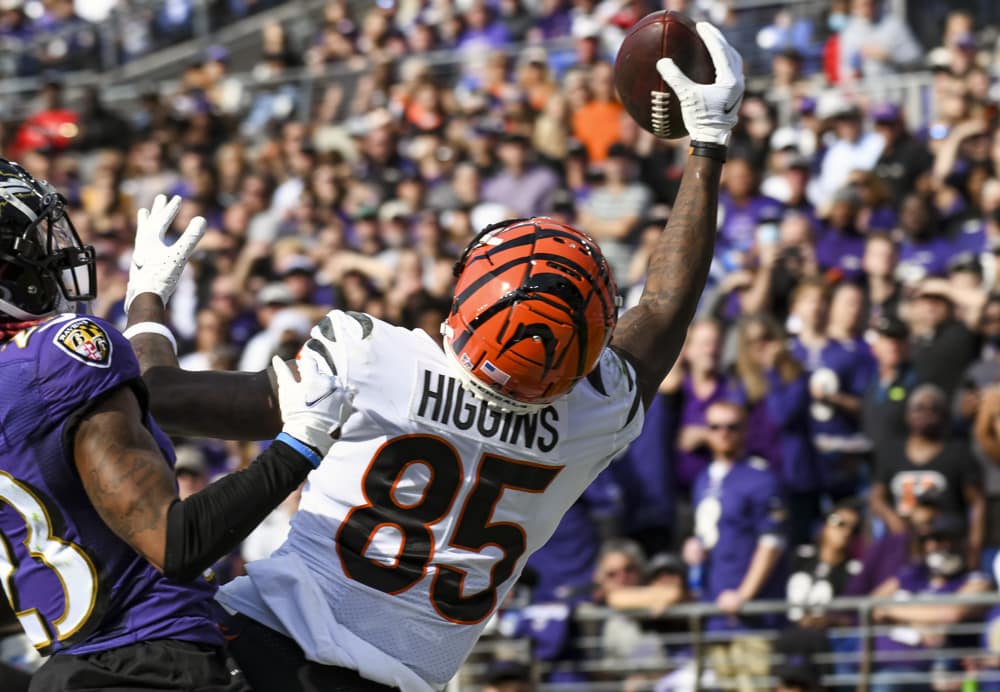 Week 9 of the NFL season is here and the fantasy football season keeps moving along and so do our rankings. Sure there have been a lot of ups and downs this season, but the fantasy season keeps on chugging. The SGPN crew has been hard at work churning out every possible bit of fantasy content you can imagine! Stay tuned for even more awesomeness and be sure to check back on our rankings as you set your lineups for all your help. Or feel free to hit us up on Twitter with all your fantasy questions too!
It's easy to access our collective staff rankings which we've done with the help of the FantasyPros expert platform. These are updated each week to keep up with the ever-changing landscape of the NFL week to week. Among the staff rankers are Dan Titus, Nick Dant, Scott Reichel, Ryan Kramer, Sean Green, Rod Villagomez, Jeremy Popielarz, and Adam Pelletier.
SGPN Fantasy Football Rankings Week 9 Update
Higgins (WR) Cincinnati Bengals
The Bengals' offense has not been chucking the ball all over the yard like in years past. However, with that being said, Ja'Marr Chase is the WR03 on the season so far and Tee Higgins is the WR45. However, Higgins has been targeted only 10 fewer times than Chase and he missed two games. Higgins has had two games of 10+ targets and us still recovering from a shoulder injury. This week against the Browns Higgins has upside potential to break out and have a stellar second-half like he did last year. Look for him to take that step this week against the Browns and after the bye week. Adam is the highest on Higgins out of all our rankers in the fantasy football rankings this week.
Harris (RB) New England Patriots
Damien Harris has been a reliable option this year and is currently RB14 in half-point PPR. So far this season the Panthers' defense has been incredibly stingy this year against the run. They have only given up 100+ yards on the ground in three games and held their first three opponents to fewer than 50 yards. This is a rising defense that could give the Patriots trouble. Our rankers do not follow that logic though with everyone ranking Harris as RB12 or better, as a matter of fact, only Kramer has Harris outside the top 10 RBs this week. Could Harris turn in a stinker? Maybe. But we here at #DegenNation do not think so and have him ranked highly in our Week 9 fantasy football rankings.
Rodgers (QB) Green Bay Packers
Sure, you're thinking to yourself, what is the question with Aaron Rodgers? Right now Rodgers has yet to throw for fewer than two touchdowns since Week 1 and the Packers are on a 7 game winning streak. This week he heads into Kansas City against a Chiefs' defense that just added Melvin Ingram. Kansas City has been giving up points in bunches, but their defense has been effective in spots against passing offenses. So far this season, they have had three games where they held opponents to under 250 yards. They have also only given up 300+ yards three times as well. Add in the fact that Rodgers has had three games where he has been held under 200 yards and you have to wonder if he is top-tier option this week. Adam is our only ranker who thinks he can't do it.
Jefferson (WR) Los Angeles Rams
With the news that DeSean Jackson got waived this week, many are expecting Van Jefferson to have this magical ascension into the WR2/WR3 territory. That is a big leap for a guy who has only had three games of 70+ yards this season. Factor in that Jackson did not have a major role in the Rams' offense throughout much of the season, there will probably not be that big of a change for Jefferson. Sure he is a nice flex option still, but you cannot be counting on him to produce reliable WR2 numbers yet.
RELATED CONTENT
Fantasy Football Trade Value Chart – October Update
Fantasy Football Dynasty Trade Value Chart – October 2021 Update
Dynasty Fantasy Football: Players to Stash for 2022
Early Week 9 Waiver Wire Fantasy Football Targets