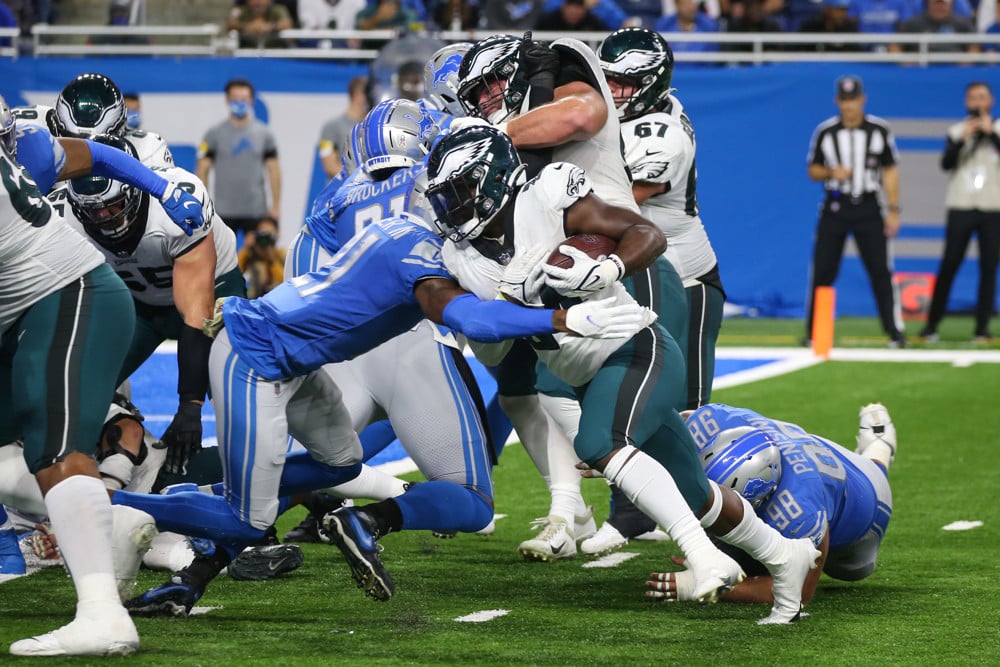 This coming week will perhaps be one of the hectic in Fantasy Football. We're heading into the midway point of the season and the Trade Deadline is looming on Tuesday, November, 2nd. This deadline is sure to be pretty chaotic and is bound to have an impact on the rest of the NFL and Fantasy Seasons. So this week in addition to streamers, handcuffs, and replacements we will also be looking into guys who could be on the move to more productive situations. So let's dive into the Week 9 waiver wire.
EXCLUSIVE SGPN FANTASY CONTENT
SGPN Fantasy Football Rankings
Michael Carter (68.9% Rostered)
For weeks fantasy owners have been waiting for a breakout game from Michael Carter and they now may have just gotten it. Carter took 15 carries for 77 yards and a touchdown on the ground. Additionally, Carter was heavily involved in the passing game as he caught 9 passes for 95 yards. While Carter isn't much of a sleeper he's been dropped in some leagues after a slow start. If this is the case for any of your leagues he should be priority number one on your Week 9 Waiver Wire. Going forward I would expect Carter to be an option at flex for the rest of the season. 
Week 8 Michael Carter:

24 touches
15-77-1 rushing
9-95-0 receiving
14 targets
29% target share

— Frank Stampfl (@Roto_Frank) October 31, 2021
Mark Ingram (25.2% Rostered)
This week saw one of the first impacts of the trade deadline on Fantasy when Mark Ingram was moved back to New Orleans. While it may seem he is likely in for a reduced workload with the Saints I still think he's worth an add. This week against the Buccaneers Ingram received 8 touches, two of which were catches, for 52 yards. While Ingram likely already knew the system from his previous time on the team, I would not be surprised to see this workload increase over the next few weeks. Ingram likely is going to be a spot starter in deep leagues at the most but should be considered one of the top handcuffs in the league making him deserving of a roster spot.
Mike White (0.6% Rostered)
Before Zach Wilson's MCL injury in Week 7 many people had no clue who Mike White was. This has likely changed after White came out and went nuclear on Sunday versus the Cincinnati Bengals. White threw for 405 yards, 3 touchdowns, and 2 interceptions on Sunday, totaling 26.1 Fantasy Points. While it was only one game, it is still impressive as it was against what is a pretty stingy Cincinnati Defense. Going forward White could be a decent streaming option as long as he is the starter. Let's see if White can keep being a playable option off the Week 9 waiver wire.
Jordan Howard (0.7% Rostered)
Jordan Howard certainly did not look like a guy who should have been on the Eagles' practice squad this week. In the absence of Miles Sanders, Howard took 12 carries for 57 yards and 2 touchdowns. While many expected rookie HB Kenneth Gainwell to carry most of the load this week, Howard and Boston Scott lead the team with 12 carries. As long as Sanders remains sidelined Howard could be considered a viable flex option going forward as he embraces the short-yardage role in Philadelphia.
Boston Scott and Jordan Howard both had 2 touchdowns

Only 1 other time in Eagles history have they had 2 players rush for multiple TD's in a game

41 years ago

— John Clark (@JClarkNBCS) October 31, 2021
Boston Scott (4.7% Rostered)
As mentioned before Miles Sanders was placed on the IR this week, leaving a void in the Eagles backfield. This week in addition to Jordan Howard we also saw veteran HB Boston Scott step up. While it was against the Lions, 12 carries for 60 yards and 2 touchdowns is nothing to scoff at. It isn't completely clear at this point if we will see someone take on a lead role in this backfield but for now, he's worth a stash. He could be a flex play in Week 9 and 10 so scoop him up off the waiver wire now.
David Johnson/ Phillip Lindsay (42.6% / 15.6% Rostered)
This week's aforementioned trade of Mark Ingram left some carries up for grabs in the Texans backfield. However, we did not really see anyone step up this week which was a bit surprising. Going forward I would expect both Phillip Lindsay and David Johnson to see an increased workload. If you're desperate for a running back both Phillip Lindsay and David Johnson could be your guy for a streaming option. However, if I had to make my pick between the two I'd probably go Johnson.
Michael Gallup (51.6% Rostered)
I still can't figure out why Michael Gallup is still only rostered in 51.6% of leagues. While we haven't seen Gallup in a while, don't forget that he received 7 targets in the only game he played this year. I don't see any reason why this would slow down when Gallup returns in week 9. If you're able to pick up a receiver with this much natural ability and a proven track record it's a no-brainer. 
Deshaun Watson (18.1% Rostered)
By now everyone has heard what is going on with Deshaun Watson, yet we haven't heard a definitive answer on whether or not he'll be allowed to play. With trade rumors circulating it seems very possible that Watson could have a new team come Tuesday night. If that is the case the next question becomes will he be eligible? To that, I can say I'm really not sure, but what I do know is if he is on the field he is a top 10 fantasy quarterback. If you have a free roster spot he may be worth a shot. 
Houston Texans are prepared to keep Deshaun Watson past Tuesday's NFL trade deadline, even as many in the organization would like to deal him and turn the page, per league sources.https://t.co/aQLEqXjQY5

— Adam Schefter (@AdamSchefter) October 31, 2021
C.J. Uzomah (25.6% Rostered)
C.J. Uzomah is a guy who has kind of flown under the radar this year. He and Joe Burrow seem to have a solid relationship as he's caught 5 touchdowns thus far. This week Uzomah caught 3 passes for 44 yards, totaling 7.4 fantasy points. A game like this is a reminder that Uzomah is likely touchdown and big play-dependent going forward. If you're in a pinch and need a spot starter next week Uzomah could be your guy. If he is still on the waiver wire in Week 9, go get him ASAP.
Marlon Mack (6.3% Rostered)
Marlon Mack has been more or less irrelevant in Fantasy this season sitting behind Nyheim Hines and Jonathan Taylor. However, we have seen past success out of him in 2019 when he was a 1,000-yard rusher. This gives me and a lot of other people reason to believe Mack's lack of production is not a matter of talent it is merely an opportunity. Apparently, Mack felt the same way because he requested a trade at the end of September. If Mack is in fact traded and lands in a good situation he could crack into starting lineups for the rest of the season.

RELATED CONTENT
Fantasy Football Trade Value Chart – October Update
Fantasy Football Dynasty Trade Value Chart – October 2021 Update