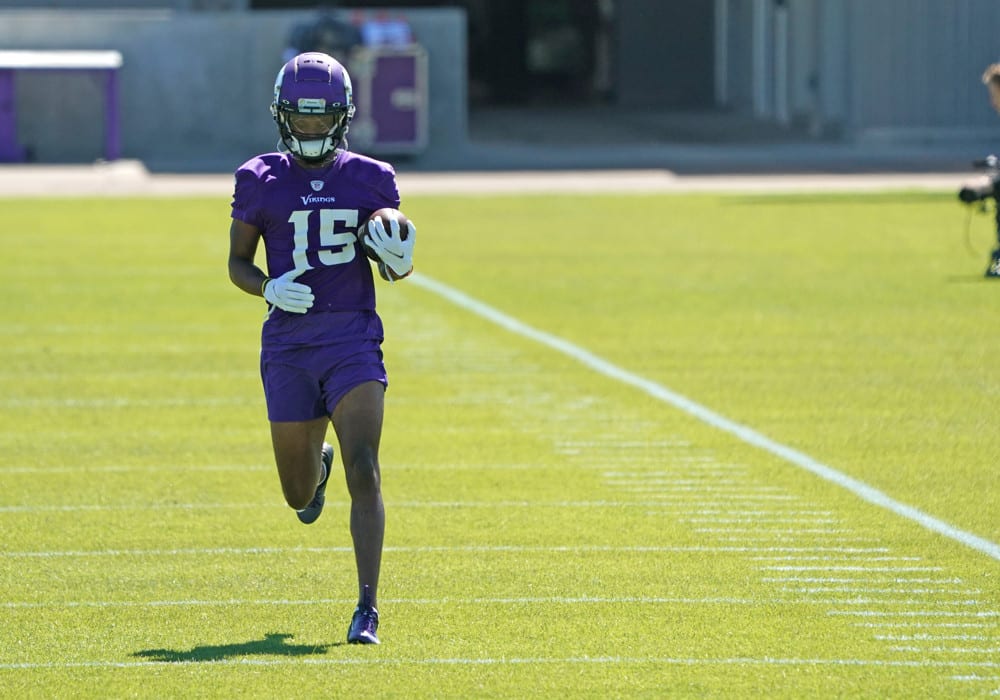 We are only four weeks into the NFL and fantasy season, but it's never too early to start looking at those key stash players for next season. Building a dynasty takes the ability to look forward and project. Finding players before they hit is the key to success. As we start to get into the peak trading window for fantasy football, I want to inform you of some players to target for 2022. These players could be great toss-in-pieces in other deals or players you target if your 2021 appears to be a retool or rebuild season.
Oh and if you're looking to learn more about the 2022 Rookie Class, here are our way-too-early ranks!
EXCLUSIVE SGPN FANTASY CONTENT
SGPN Fantasy Football Rankings
Fantasy Football Dynasty Trade Value Chart – October 2021 Update
Dynasty Stash Players to Trade For
Jordan Love (QB) Green Bay Packers
Last year when the packers selected Jordan Love in the first round of the NFL draft many questions were raised. One of the more talented players in the draft, however very raw. Jordan Love needed time to learn and refine his skill set. That is just what he is getting sitting behind future HOFer Aaron Rodgers.  With the turmoil we saw this offseason Aaron Rodgers could walk away after this season. Leaving Jordan Love as the starting quarterback.
In the limited action, we have seen of Jordan Love he has produced 68 yards on 5 completions. However, the Packers brass thinks highly of this kid and will allow him to get a chance when the time comes. In 2022 the quarterback class looks very weak, making him a great dynasty stash for 2022 and beyond. As a dynasty manager, I am looking to acquire Jordan Love on the cheap now before his stock rises. If I am playing in a SuperFlex format I am perfectly willing to move a second-round pick for Jordan Love currently. In 1 QB leagues, I am probably holding off for now unless you have a taxi squad that allows 2nd-year players on it.
Ronald Jones (RB) Tampa Bay Buccaneers
Ronald Jones is currently in the final year of his four-year contract with the Tampa Bay Buccaneers. Throughout his time in Tampa, we have seen him rise and fall. He has struggled with fumbles, pass-catching, and pass protection. The one thing that has stayed constant is his raw talent and ability to pound the rock. Ronald Jones is a great natural runner and has great explosiveness and vision. Currently this season he has fallen out of favor with coach Bruce Arians once again. The team rosters Leonard Fournette, Giovani Bernard, and Ke'shawn Vaughn as well. I anticipate that the Buccaneers may walk away from Ronald Jones this offseason.
This is what makes him a perfect dynasty stash for me. Yes, he is a bigger name player and may cost a little more than some others on this list, but I believe it's worth it. Currently, the 2022 rookie running back class does not look the strongest, teams will have to look to free agency. This should allow Ronald Jones to find a home in free agency that leads to a large role. If this happens he could easily be a top 20 option for fantasy football in full PPR formats. He could even find some relevance again later this year if he can get out of Bruce Arians' dog house. In 1QB or SuperFlex formats I am willing to move a 2022 2nd rounder for him.
Kenneth Gainwell (RB) Philadelphia Eagles
Kenneth Gainwell has begun to make a name for himself already this season. As a Memphis Tiger, he rushed for 1550 career yards and 14 touchdowns, along with 57 receptions and 610 receiving yards. Drafted by the Eagles for what seems like one soul purpose, to fill their Nyheim Hines role in Nick Sirianni's offense. So far this season it looks like this is going to be true. Currently, he has 13 receptions for 114 yards along with 84 yards on 19 rushing attempts.  He is the clear backup to Miles Sanders, however, we saw what Sirianni did with Jonathan Taylor and Nyheim Hines in Indianapolis.
Kenneth Gainwell has all the tools to be a solid running back at the NFL level. He possesses great hands, vision, and speed. As a pair, he and Miles Sanders could be a deadly one-two punch for the Eagles. Over this season I expect him to see an increased workload that will lead to an even larger role in 2022. Kenneth Gainwell may not possess top-12 upside, however, he does carry top-24 upside in the near future. The best part about this is he has started slow and making him a perfect dynasty stash target.  I am looking to get him tossed into a trade between two bigger pieces if I can.
J.K. Dobbins (RB) Baltimore Ravens
J.K. Dobbins was a top running back when he came out of Ohio State last year.  His landing in a crowded room in Baltimore dropped his value immensely. One year later he was a top target for a breakout season after a super-efficient 2021.  In 2021 J.K. Dobbins saw 134 carries which he took for 805 yards and 9 touchdowns. By season's end, he had taken over a majority share of the touches in the backfield while averaging 6 yards a carry. J.K. Dobbins is a natural runner and looks effortless while doing it. Unfortunately, he suffered an ACL tear in the third preseason game ending his 2021 season.
This has opened a buy window for J.K. Dobbins. No matter the state of my team I am testing the waters with the person who rosters him in my league.  If I can add a possible low-end RB1 to my IR I can't pass that opportunity up. The price is worth admission here. I am perfectly fine sending off a current starting running back and another piece to acquire him if I am rebuilding or retooling. If I am a contender I am looking to send multiple picks to acquire him. No matter what it takes, I want to start 2022 with JK Dobbins on my roster.
Nico Collins (WR) Houston Texans
As a rookie out of Michigan not too much was expected from him. However, Nico Collins began to impress the Texans' staff early on in camp. Standing at 6-4,  Nico Collins has the size most of the other Texans receivers do not have. He won the job as the second wide receiver out of camp for the Texans, however, two games in he have sustained a shoulder injury. This injury has landed him on IR. With this and Davis Mills starting at quarterback I expect Nico Collins to slide under the radar for most of 2021.
This will allow for a longer buy window, his value right now is fairly cheap and worth the risk.  In most rookie drafts this year he was selected in the third round, this is where I would start if I am trying to acquire him. Many dynasty managers get impatient with rookie prospects who don't hit right away. Making him the perfect dynasty stash target. Although Nico Collins will require some patience, the wait will be worth it as he could be the guy in 2022 for the Texans.
Michael Gallup (WR) Dallas Cowboys
Michael Gallup is the perfect buy low right now. Currently sitting on IR and the third option in his team's passing game. At 6-1, 198 pounds he has all the tools to be an alpha wide receiver at the NFL level. He has a great ability to win contested catches and just flat out beat defenders with great route running. He has produced over 2400 yards in his four-year NFL career, including one 1000 yard season. With the addition of Amari Cooper and CeeDee Lamb, Michael Gallup seems like he may be a cap casualty this offseason.
Even as a secondary option Michael Gallup has been a weekly flex viable option the past few years. If he is given the opportunity to be the lead guy somewhere in 2022 a top 12 finish could be a possibility. This is the main reason I am looking to acquire Michael Gallup in as many dynasty leagues as possible. Even if he stays in Dallas he will be a great weekly flex like he has been. I feel like there is a limited risk with acquiring him currently, making him one of the best dynasty stash targets.
Ihmir Smith-Marsette (WR) Minnesota Vikings
Ihmir Smith-Marsette is already drawing comparisons to Stefon Diggs early in his young career.  He has mastered the art of route running, along with great speed and vision after the catch. At Iowa, he produced 1625 yards in four seasons, in a program that does not feature their wide receivers often. This has allowed him to go fairly unnoticed in the fantasy community. In most leagues, he is probably sitting on someone's taxi squad or even in the free agent pool. This is a great low-risk high-reward dynasty stash.
Currently behind Adam Thielen and Justin Jefferson, he will be able to learn the game at an NFL level. We have seen the Vikings making a shift to a lot of 11 personal this season, KJ Osborn being the benefactor. This could be a spot Ihmir Smith-Marsette makes his way to fantasy relevance. K.J. Osborn has been a flex viable option for most of the season, if Ihmir Smith-Marsette can win this role in 2022 he could be even better. As a free toss-in on a deal the reward way out ways the risk here for Ihmir Smith-Marsette.  Stash him on your bench and wait for the potential blow-up in 2022.
Pat Freiermuth (TE) Pittsburgh Steelers
Drafted out of Penn State University this year in the second round by the Pittsburgh Steelers, he can be the next great Steelers tight end.  He totaled over 11oo yards at Penn State along with 16 touchdowns. The craziest stat on Pat Freiermuth though is the fact he has never dropped a red zone target. He is the whole package when it comes to the tight end position. He blocks well and is a difference-maker in the passing game. Already early on this season, he is being targeted by Ben Roethlisberger. His 11 targets and 9 receptions already leading the tight end room.
In 2022 Pat Freiermuth will be one year older and ready to take the NFL by storm no matter who the quarterback is. He will also be the lead guy as Eric Ebron will most likely not be resigned. The Steelers could also lose Juju Smith-Schuster as he is only on a one-year deal. All of these are great factors for Pat Freiermuth's dynasty outlook.  Tight end is a position I hardly want to stash in dynasty but Pat Freiermuth's upside is too high to ignore.  I would suggest maybe unloading a veteran player in a package deal while getting Pat Freiermuth plus another asset in return.
Jacob Harris (TE) Los Angeles Rams
Jacob Harris has all the makings of the next Darren Waller. His measurables are similar to Darren Waller's in almost every category. Along with this, he is a converted wide receiver to boot. While at UCF he produced 987 yards receiving and 9 touchdowns. He possesses great speed as he ran a 4.48 40 yard dash this year. Already he is showing great promise along with earning the praises of all the coaches in Los Angeles. Tyler Higbee has always been supplemented with a second tight end in Sean McVay's offense. Jacob Harris is going to be this option sooner than later.
In 2022 I expect Jacob harris to take a step forward, becoming more involved in the passing attack for the Rams.  He will still have to battle with Tyler Higbee for targets though. He is far more athletic and explosive than Higbee, so he has the advantage. I expect McVay to draw up plays specially designed for Jacob Harris. With the landscape of the tight end position looking like the Sahara desert, I am willing to take a flier here. He has done little so far this season for fantasy so his price is down right now. Acquiring him for a fellow low-level prospect or third-round pick may be a possibility. He is the perfect buy-low dynasty stash target.
Dynasty Stash Players to Add off Waivers
Auden Tate (WR) Cincinnati Bengals
Auden Tate has emerged as a great fill-in for the Bengals over the past few seasons. He has shown great ability when given opportunities, he has good size and speed. Along with sure hands and some good yards after the catch ability.  In 2022 he will hit the free agency. I expect him to move on from the Bengals and get a shot to contribute somewhere else. This is his path to fantasy relevancy, with this in mind I want to be ahead of the curve.  If I have a free spot on the end of my bench I am trying to add Auden Tate for free now instead of dropping a ton of FAAB on him in the offseason. Currently, he is only rostered in 13% of Sleeper dynasty leagues, making him a solid waiver target.
Kenny Yeboah (TE) New York Jets
This athletic tight end currently sits on the Jets practice squad, after he was one of the highest sought-after Rookie UDFAs this year. In his final season at Ole Miss, he produced over 500 yards receiving and 6 touchdowns. Although he could not make his way onto the roster this season he showed great promise in the preseason. I can see him replacing the journeymen tight ends that the Jets currently roster in 2022.  The Jets offense requires an athletic tight end to feed off the play action. With the offense drawing from San Francisco all I can think about is who will be there George Kittle. Why can't it be Kenny Yeboah? He is currently only rostered in 14% of Sleeper dynasty leagues. He could be a great dynasty stash at the end of your bench or on your taxi squad.
Dax Milne (WR) Washington Football Team
This seventh-rounder made a huge impression on Ron Rivera and the Football Team coaching staff this offseason.  As he was making great circus catches and running some of the crispest routes in camp.  Although he has not seen the field much this season, it's only a matter of time till he gets his shot. Dax Milne reminds me of Adam Humphries who is on Washington's roster. I can see Dax Milne taking over the slot role next season. As the third option in a low-scoring offense, the fantasy value may be minimal. However, on the off chance this team improves offensively in 2022 I want to stash their possible third receiving option now. He is only rostered in 5% of sleeper dynasty leagues, so if you are in a deeper league format this could be the perfect target for you.
Frank Darby (WR) Atlanta Falcons
Frank Darby is an extremely raw wide receiver out of Arizona State.  He has been compared to Jakobi Meyers who we have seen emerge in New England as a great PPR fantasy option. Frank Darby possesses decent speed and a good ability to win downfield in contested catch situations. He will need time to learn the craft of route running, however, he has a great teacher in Calvin Ridley to learn from this season. I do not expect to see Frank Darby in 2021 as the Falcons wide receivers are all cemented in their roles.  In 2022 though he will have an opportunity to compete for a starting roster spot. Currently, he is only rostered in 16% of Sleeper dynasty leagues, this makes him a great waiver dynasty stash target.
RELATED CONTENT
Dynasty Fantasy Football: 8 Breakout Players for 2021
10 Players to Move on From: Dynasty Fantasy Football
Rookie Red Flags: Dynasty Fantasy Football Rookie Concerns
Top 25 Fantasy Rookie Rankings: Fantasy Football Rookies Class of 2022