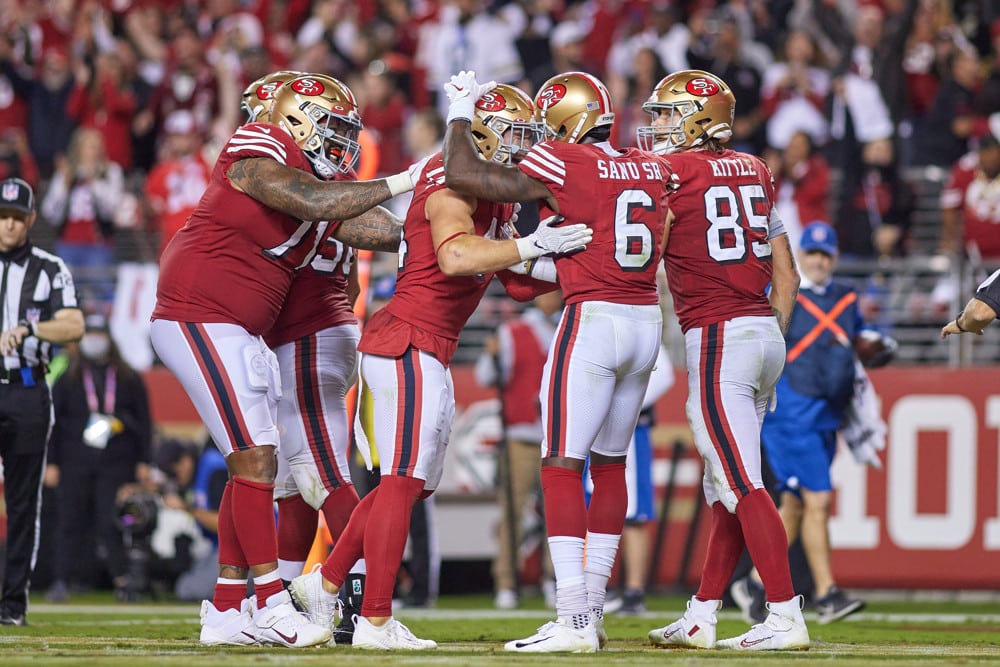 Congratulations on your continued success as you prepare for your Week 7 NFL Survivor Pool Picks.
The landscape for picks this week is not as easy as it may seem. Some of the teams you may have already taken off the board have some tasty matchups. For example, the Packers are a solid pick against Washington. There is also the weekly pick on the Jets play in which the Patriots stand to benefit. Chances are though, you already have ridden New England the first time they played against New York. You may have also taken Green Bay off the board the last time they appeared in this article back in Week 4 against the Steelers. That's why this week, the dig for new NFL Survivor picks will go a bit deeper.
Each week, this article will help you identify some of the best picks to help you live to play another week. Point spreads go a long way to provide context for potential good plays, so to that end, they will be included with each pick. Find these lines courtesy of our friends at Tallysight.
NFL Survivor Pool Picks – Week 7
Atlanta Falcons (-2.5 @ Miami Dolphins)
The 2021 season has been a roller coaster of emotions for the Atlanta Falcons. So far, in their first official season without Julio Jones, the team has started with a 2-3 record. Matt Ryan and company started out the year with two sizable losses to the Eagles and the Buccaneers. They followed those up with an emotional last-second win against the Giants. Unfortunately, they fell again the next week in another close game with Washington. Last week, they held off the Jets in the fourth quarter for the win. In that game, Kyle Pitts finally enjoyed his breakout game. Matt Ryan put together another quality start, throwing for 342 yards and two touchdowns. Defensively, Atlanta's defense held Zach Wilson to under 200 yards passing and forced an interception. It won't be a walk in the park this week, but the Falcons should have enough to beat a reeling Dolphins organization.
#MattyIce❄️ ➡️ @kylepitts__ on loop 🔁

📺: #ATLvsMIA 1pm Sunday on FOX pic.twitter.com/4ENj9DpM04

— Atlanta Falcons (@AtlantaFalcons) October 21, 2021
Which is exactly what this Miami team is coming into this Week 7 matchup. After winning their season opener, the Fins have dropped their last five games. Of course, much of that had to do with the lack of Tua Tagovailoa. That said, even with Tua back, Miami still managed to find themselves on the losing end of a matchup with the worst team in the league. In fact, it's so much of a mess in the Sunshine State, that there are talks of acquiring Deshaun Watson. The saying used to be "tank for Tua," but now could very well be, "tank with Tua." It's not that he won't be trying his best to audition for Houston if that comes to pass. The problem comes from the fact that this team is heading in the wrong direction again, and it's only getting worse.
---
San Francisco 49ers (-4.5 vs Indianapolis Colts)
Many predicted the 49ers would be in line to return to the top of the NFC West this season. After their first two games, this seemed entirely possible. Now though, after three straight losses, two of them to divisional foes, that task seems tougher. The loss of Jimmy Garoppollo last week made it difficult to beat the Cardinals, but the Niners still made it close. Another consideration here is the fact that in the games they have lost, all three have been one-score games. This week, they get Garoppolo back just in time to face a Colts defense susceptible to opposing quarterbacks. He and Deebo Samuel should be able to carve up the Indianapolis secondary that let Lamar Jackson take them for over 400 passing yards. It will be on the defense though to cool off a confident Carson Wentz and contain a surging Jonathan Taylor.
There's still a lot of ball left to be played.

The top #49ers plays (so far) this season 👇 pic.twitter.com/BuOzrXzFjD

— San Francisco 49ers (@49ers) October 18, 2021
It does seem like this pick should go the other way considering the Colts are coming off of a big win. Consider though, that win came against the one-win Houston Texans and their rookie quarterback. Not to mention, Indianapolis' only other win this season was against the Dolphins. They have proven to be able to hang against tougher opponents which also works in their favor. That said, this week, they face a rested San Francisco team with their starting quarterback on the field. In the end, this will be close. It may also take until late in the game for the Niners to secure this one. At the end of the day though, this NFL Survivor Pool game will go to the 49ers.

---
Carolina Panthers (-3.5 @ N.Y. Giants)
For a hot minute, Sam Darnold and Christian McCaffery had Carolina looking like world-beaters. The Panthers ripped off three straight wins to start the season. Since then, they have lost three straight. They have done their best to hold it together despite the lack of their most valuable offensive weapon. Unfortunately, when all is said and done, neither side of the ball has been able to overcome that loss lately. That said, their losses have been to three very solid teams. Losses against the Cowboys, the Eagles, and the Vikings should not have the Panthers hanging their heads. They will still be without CMC for the foreseeable future, so they will need to find a way to win without him. Of course, nothing is better to cure a disappointing stretch than a game against an even worse team.
𝚋𝚞𝚜𝚢 𝚊𝚝 𝚠𝚘𝚛𝚔

— Carolina Panthers (@Panthers) October 21, 2021
The New York Giants are exactly that kind of team. In six games, they have only been able to find the win column once. They've suffered through significant injuries themselves. Much like their opponents, the Giants will also be playing down an important offensive puzzle piece. With Saquon Barkley back on the shelf, New York has been hard-pressed to put together a formidable attack. It also doesn't help that they haven't been able to stop the other team from hanging a large number on them. Over the last two weeks, they have been outscored 82-31. It's not getting any easier for the Giants either as they will likely be without Kadarius Toney, Kenny Golladay, and Evan Engram. All of them have not practiced this week and may not play. Hard to win if you can't score points.
---
Los Angeles Rams (-15.5 vs Detroit Lions)
It may not be officially considered the game of the week, it is certainly one with a lot of interest. That's because this is the week Matthew Stafford squares off against his former teammates. He'll do so at the head of arguably one of the best offenses he's been a part of in his career. They have scored the fourth-most points in the league so far this season. What's more, they represent the only blemish in an otherwise stellar Tampa Bay season. On top of all of that, their defense ranks third in the league with 18 sacks. They are fourth on the list with eight interceptions. The fact of the matter is that this team is feeling it lately and are dangerous as a result. That would be enough to scare even the top teams in the NFL right now. Their opponent this week is far from that.
.@trapp07 was everywhere on Sunday 💪

Up next: Lions at Rams 📺 @nflonfox pic.twitter.com/5k4ql7kOvF

— Los Angeles Rams (@RamsNFL) October 20, 2021
Going back to the Rams in this column is in keeping with the overall theme of picking on the winless Lions. Honestly, even the Jared Goff revenge game narrative is not enough to fire up Detroit. Goff's homecoming will come on the heels of a blowout loss to the Bengals. Literally nothing is working right now for the Lions and there is no answer in sight. Until further notice, keep any matchup against the Lions as a free NFL Survivor Pool square. You may have already played the Rams, but if you haven't, now is as good a time as any to pull the trigger.
---
Related Content
NFL Predictions Week 7 (Ep. 1118)
NFL Week 7 Referee Betting Stats & Trends
Let's Talk About Teasers – Week 7