Here we are with NFL Week 7 Referee Betting Stats and Trends report. Last week, two NFL Referees –– Brad Allen and Ron Torbert –– who were profitable on totals went down in flames. However, Clay Martin's Under trend cashed in the Thursday Night game between the Tampa Bay Buccaneers and Philadelphia Eagles. Additionally, road teams continued to dominate in Alex Kemp's games as the Rams pounced the Giants. Let's dig into the Week 7 report!
NFL Referee Betting Trends and Stats Report: Week 7
Game Totals
Carl Cheffers
Carl Cheffers thus far this season is 4-2 to the Over in games. However, a stat worth mentioning is, Cheffers officiated games have the highest average points scored at 55.2 points per game. Additionally, home teams are average 28.7 points per game, while road teams are averaging 26.7 points per game. If you are a bettor who plays team totals, this is something certainly to keep an eye on.
Clay Martin
Along with Ron Torbert, Clay Martin continues to be a referee profitable to Under bettors. In fact, after Week 6, Martin officiated games have improved to 5-1 on the season, with a game average of 42.8 points per game. Last week, Martin officiated the Buccaneers and Eagles, Thursday Night game, and the Under cashed by a small margin.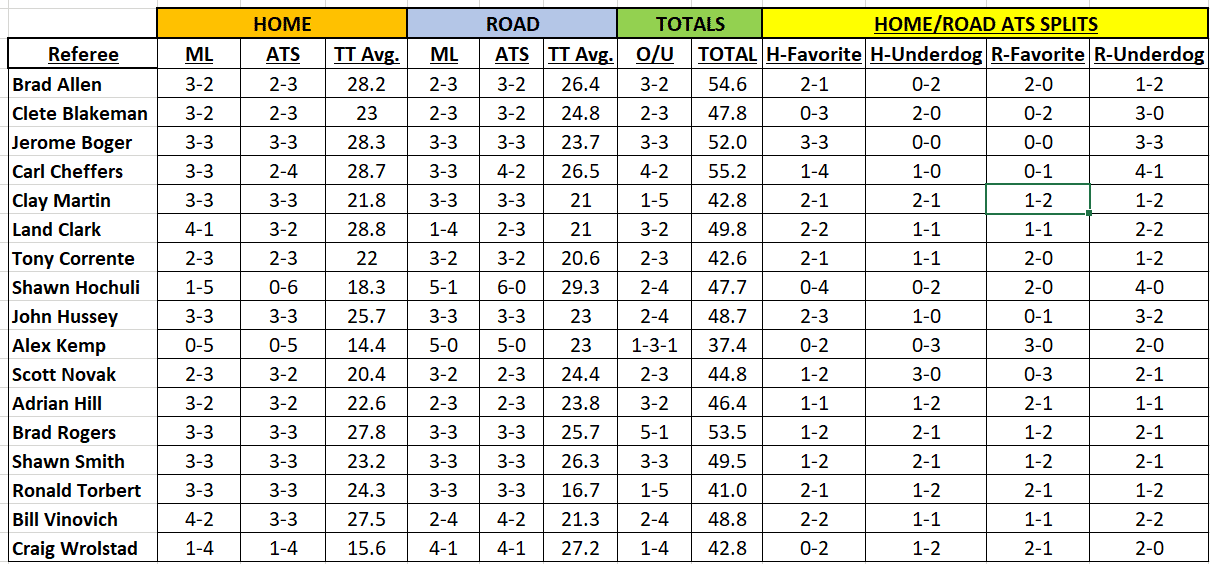 Against The Spread
Shawn Hochuli
Pretty soon I will have to send Shawn Hochuli a thank you gift for the gift that keeps on giving. The road teams improved to a perfect 6-0 against the spread in Week 6 in Hochuli officiated games. Furthermore, road underdogs are a 4-0 straight up. Not only are the dogs cashing against the spread, but the underdogs are live on the money line. Take a look below on which game Hochuli is officiating this week.
Need help with who to bet on this week? Check out the latest NFL expert picks.
Alex Kemp
Another week in the books for the NFL and another road team cashes in Alex Kemp officiated games. As a matter of fact, road teams are a perfect 5-0 against the spread and on the money line. Between Hochuli and Kemp road teams are a perfect 11-0 on the season!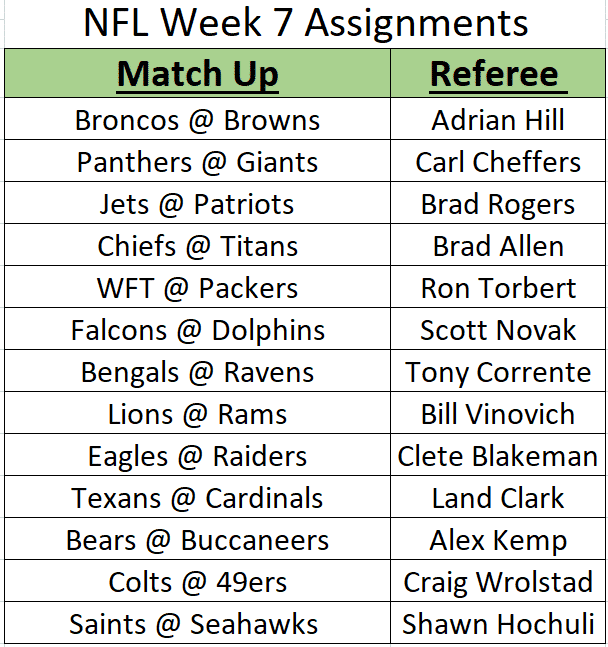 NFL Related
Early Week 7 Waiver Wire Fantasy Football Targets