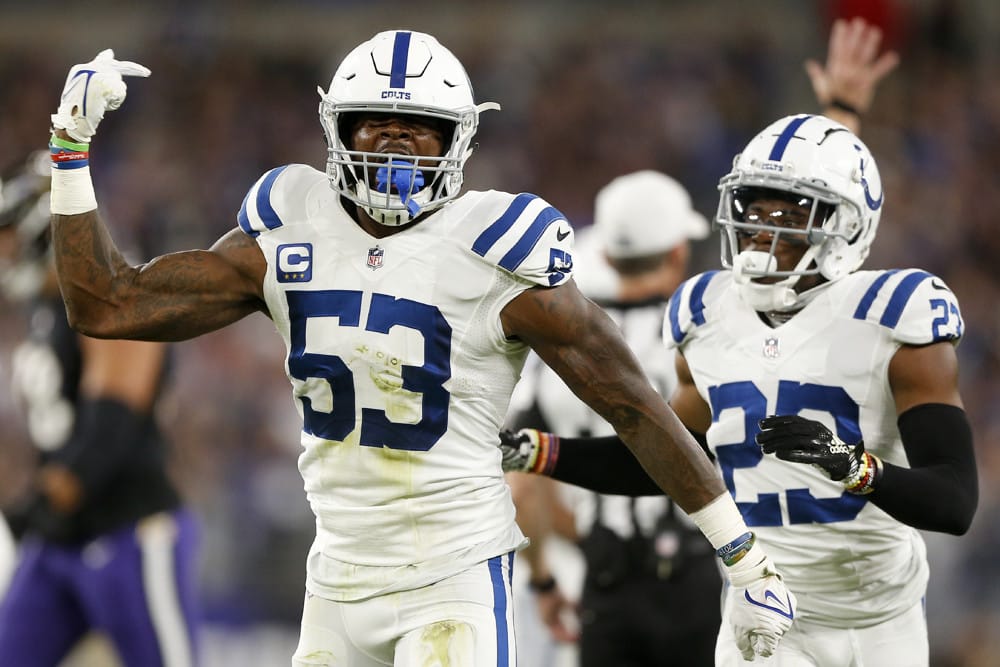 If you picked any one of last week's suggestions, you have advanced to these NFL Survivor Pool Week 6 Picks.
We're lucky this week. We have the opportunity to take advantage of a few struggling teams for our picks. Not to mention, one of these matchups provides the opportunity to take one of those struggling teams off the board. As a bonus, there is a high risk, high reward play with the first underdog pick of the season. There is some fun to be had in Week 6, and hopefully another weekly sweep.
Each week, this article will help you identify some of the best picks to help you live to play another week. Point spreads go a long way to provide context for potential good plays, so to that end, they will be included with each pick. Find these lines courtesy of our friends at Tallysight.
NFL Survivor Pool Picks – Week 6
Miami Dolphins (-3.5 @ Jacksonville Jaguars in London)
Chances are you did not use the Miami Dolphins with your first pick in your survivor pool. It's almost certain you have yet to use them if you are reading this article. Unless of course, you are in a double eliminator or something of the sort. With that in mind, this will be probably the only week you can feel comfortable crossing them off your list. Since the Fins' only win to start the season, they have run into a buzzsaw of a schedule. Among their opponents were the Bills, Raiders, Colts, and Buccaneers. It would have been tough for Miami to win any of those games even if Tua Tagovailoa was still healthy. It was all but impossible with Jacoby Brissett at the helm. Luckily, the Dolphins are not facing another superior opponent this week, they're facing Jacksonville.
London's Calling 📞✈️#FinsUp x @Lastname_Baker pic.twitter.com/4YaIaqs7pK

— Miami Dolphins (@MiamiDolphins) October 14, 2021
Picking on the Jaguars seemed like it might not be the right move after their close battle with the Bengals. That narrative came back down to Earth the following week after a complete drubbing at the hands of the Titans. Once again Jacksonville looks like a team with an almost impossible road to a win this season. This week they also have the added disadvantage of having to travel across the Atlantic Ocean to play this game. Even though it is more of a home away from home. The Jags have played the most games in London than any other team. Jet lag will not help their situation. There is talent there to be sure. The problem is that it's just not coming together fast enough to save their season. Until that changes, it's all aboard whoever is playing against the Jaguars in your NFL Survivor pools.
Looking for more action? Check out some NFL prop bets.
---
Indianapolis Colts (-9.5 vs.Houston Texans)
Last week, Indianapolis went blow for blow with a Ravens team that had just knocked off the Chiefs the week before. Impressively, Jonathan Taylor torched the Baltimore defense both on the ground and as a pass-catcher. He combined for 169 all-purpose yards as well as both a rushing and a receiving touchdown. Even Carson Wentz managed to show Colts fans a glimmer of why they brought him to town. His 402 yards and 2 touchdowns on the night accounted for his best outing of the season. Despite eventually losing the game, if nothing else, it showed there was fight in this team. It also proved that they have the potential to be contenders if they can find a kicker. What's more, their 1-4 record is not like many of the others out there. They've played some good teams very closely this season and almost won.
JT SAID SEE YA. 👋

📺 ESPN pic.twitter.com/Md7LoKIUnL

— Indianapolis Colts (@Colts) October 12, 2021
The Texans also enter this game with a 1-4 record. Although, their losing mark has been well earned. Among their losses have been blowouts to the Panthers and the Bills. They did show some spark against New England last week. Even still, Houston could not find a way to win in the end. On the plus side, Davis Mills seemed to find his groove and did it against a stingy Patriots pass defense. His team just did not have the defense to stop the other team from scoring more points when the clock hit zeroes. Sadly, this will be the case again this week against an empowered Colts team coming off of an emotional loss. This has everything it needs to be a solid NFL Survivor pool pick this week.

---
Cincinnati Bengals (-3.5 @ Detroit Lions)
Take a quick look at the Bengals schedule. What you'll find is that they are only a couple of twists away from being undefeated to start the season. Three costly interceptions in the fourth quarter cost them against the Bears. A missed field goal in the fourth quarter was the difference in beating the Packers and not. Cincinnati's young weapons are holding serve this season with Joe Burrow looking like he's starting to settle in again. They've also looked solid on defense as well, not allowing a team to score more than 25 points against them. While they are not among the best in the league in the stats column, they are managing to keep pace with the teams that are. You would have to assume that last week's slugfest with Green Bay has them itching to take out some aggression on the Lions.
https://twitter.com/Bengals/status/1447978007071764481
To say the Jared Goff experiment in the Motor City hasn't gone as planned is an understatement. Detroit's winless record stands as proof of that. It's not all bad for the Lions though. On two occasions they had two games decided by two points. They played both the Ravens and the Vikings to a 19-17 final. Ultimately, this team hasn't been able to find the push it needs to break through for a win. Even if they wind up making this a close game, their track record shows they will most likely not prevail. They are 0-5 for a reason, and that reason has not worked itself out so far this season. It certainly won't be worked out in time for this game. Betting against them in your NFL Survivor Pool this week is an easy call.
---
Arizona Cardinals (+3.5 @ Cleveland Browns)
Apparently, the Cardinals did something to anger the oddsmakers. Arizona has won every single game this season, yet enters this week as the underdog. It's not as if their schedule has been a cakewalk to this point. Their season opened up with a win against the reigning AFC South champion Tennessee Titans. They also put down the Vikings, and two tough divisional rivals in the Rams and the 49ers. They have ridden the hot hand and legs of Kyler Murray who has been at least a Top 3 quarterback all season. Their defense and special teams are both formidable units. This team is the complete package and has earned their distinction as the league's only undefeated team. There isn't much to assume that this will be the week they fall from grace. Even last week in a tight game against San Francisco, they pulled together and came out victorious.
.@Moore_Rondale's toe-tap grab still has us shook. 🤯@AZCardinals | @InsideTheNFL pic.twitter.com/zG2Kd4IWdi

— NFL Films (@NFLFilms) October 12, 2021
Cleveland has rocked at times to start the 2021 season. They rocked hard last week in a highly entertaining game against the Chargers. The Hollywood showdown produced 89 total points and 1,024 of total offense. The Browns accounted for 531 of those with Baker Mayfield throwing for 305 of them. On the ground, Nick Chubb exploded for 161 yards and a touchdown while Kareem Hunt added 61 yards and two touchdowns. It would seem that after a game like that, a meeting with Arizona should be a piece of cake. While that may be the case, we've also seen Cleveland play down to their opponent this season. Their game against the Vikings ended with only 21 combined points scored and just under 600 total yards. All that is to say that this week, they are facing another team capable of hanging with, and beating them in the end.
---
Related Content
NFL Predictions Week 6 (Ep. 1112)
Let's Talk About Teasers – Week 6
NFL Week 6 Referee Betting Stats & Trends