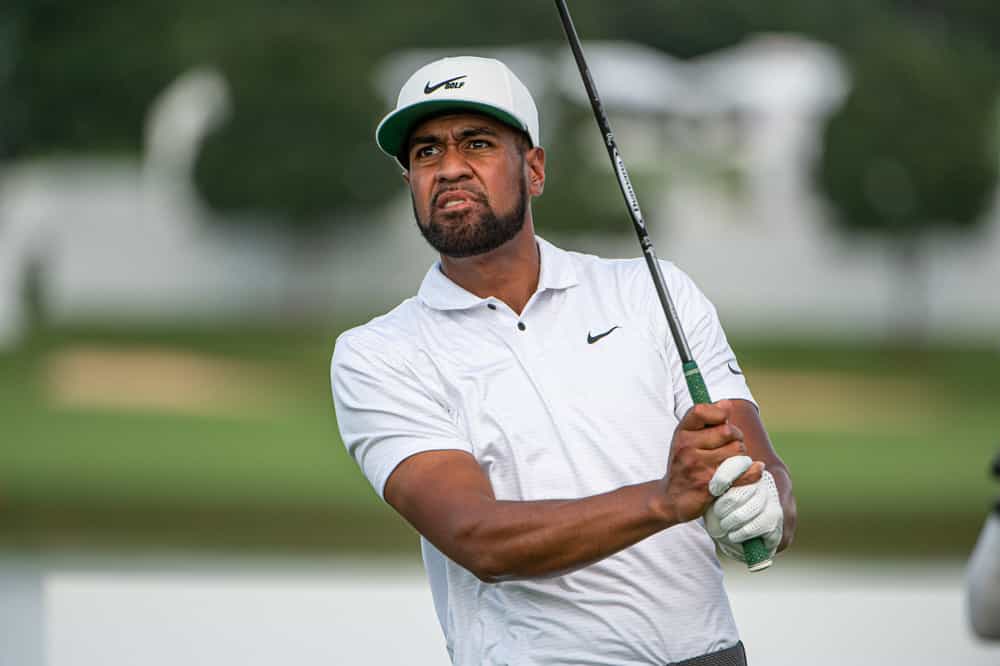 For those who missed it, check out The CJ Cup @ Summit Preview and Betting Strategies for the types of golfers you should look to target for your picks. Using that as a guide, let's take a look at some of the best bets to make this week. Here are my picks for The CJ Cup @ Summit (odds courtesy of BetMGM).
CJ Cup @ Summit Picks: Outright Winners
Justin Thomas: 12/1
For me, I'm making a choice between two guys up at the top of the card. Justin Thomas or Collin Morikawa. Morikawa is by far the more popular pick of the two. Everyone is talking about how Morikawa has a home at The Summit and how that's going to be a huge advantage for him. Instead of keeping it simple picking him because he's, well, awesome, the golf gambling echo chamber is reverberating this unquantifiable, maybe meaningless lean across the universe. Anytime a player gets steam because of Narrative Street, tread lightly.
Meanwhile, Justin Thomas doesn't seem like he has any buzz. It was an up and down in 2021. JT hasn't won since March. He was inconsistent at the Ryder Cup. And he struggled with a balky putter all year long. Nevertheless, Justin Thomas remains awesome. Over his last 50 rounds, he gains almost 1.2 strokes per round with his ball-striking. He's an excellent bunker player. That's useful at Fazio designs that feature big, deep greenside bunkers. He has shown flashes of form with his putter since going back to his Scotty Cameron. And historically he absolutely kills it at both Fazio designs and on "big boy" golf courses on the PGA Tour. This track fits his game perfectly.
No disrespect to Morikawa. He's incredible. And if his odds somehow end up sliding between now and Thursday towards 18 he's worthy of a bet. And if he wins, I'll be running to grab more kegs for the Golf Gambling Community Party. But for me, I'll go the other way and pick Justin Thomas to win the CJ Cup @ Summit.
Tony Finau: 25/1
Another player who doesn't seem like is getting a ton of buzz. However, Finau brings a lot to the table of a player who could win this event. Tony Finau is really strong in all his driving metrics. He also has hit his irons much better over the last couple of months. And while he's a streaky putter, his best putting surface is bentgrass. Now that he finally got the monkey off his back at The Northern Trust, are the flood gates about to swing open? Maybe! And at 25/1, I'm willing to find out
Viktor Hovland: 28/1
Hovland checks so many boxes this week. Fantastic on "big boy" golf courses – check. Great track record on Tom Fazio designs – check. Dominates Strokes Gained – Off-the-Tee metrics  – check. Incredible ball striker with his irons – check. He's a trendy pick this week. But given a pretty strong correlation between awesome players off-the-tee and those who tend to win on Tom Fazio designs, he fits the bill.
The one blemish in his game is his scrambling. And his futility in this area was on full display last week at the Shriners. Hovland lost over 8 strokes around the green across 4 rounds. That's abysmal. But everything tends to regress to the mean in golf. Any field average performance around the green for Hovland would give him a huge bump up the leaderboard. And if he can find a little magic with his putter, watch out. He could pick up the biggest win of his career at the CJ Cup @ Summit.
FOMO Bets: Rory McIlroy 20/1, Brooks Koepka 30/1
There's so much bad juju around both guys. Rory McIlroy was a mess at the Ryder Cup. Brooks Koepka was a mess on the golf course last week. But The Summit is exactly the type of golf course both players have dominated in their careers. Golf courses where they can take over off the tee are right in their wheelhouse. And both of them are pretty reasonably priced. Close your eyes and squeeze at least one of these guys on your betting card this week.
CJ Cup @ Summit Picks: Prop Bets
Sam Burns Top 10: +200
The only reason why he doesn't have significant steam to win the CJ Cup is that he just won 2 weeks ago. It's hard to have two max ceiling performances so close together. But that doesn't mean Sam Burns can't find a way into your betting card. Burns has all the tee-to-green talent a bettor is looking for to do well at The Summit. Despite some lackluster history on both Fazio and "big boy" designs, he's a completely different cat now. And he's painfully due for some good positive putting progression to his mean. A top 10 bet on Sam Burns is a solid pick for the CJ Cup @ Summit.
In fact, the guy I've picked who I've liked but not enough to win the event has gone on to win a few times over the last few months. It includes Patrick Cantlay at the BMW Championship, Tony Finau at the Northern Trust, and numerous players discussed over on the Golf Gambling Podcast. So do yourself a favor – go a step further and bet him 28/1 too.
Other Top 10's To Consider
Paul Casey: +275
Shane Lowry: +275
Abraham Ancer: +275
Justin Rose: +300
Collin Morikawa Top 20: -150
Is betting -150 on anything in golf smart? Not really. But considering this is a limited event field and on a golf course Morikawa is a great fit for, -150 is a pretty good price for at least a Top 20 finish. At the Ryder Cup, Morikawa seemed to have shaken off the ball striking slump he found himself in the FedEx Cup Playoffs. If he's on point, no one can match his ball-striking numbers. Despite a lack of length off the tee, at his best Morikawa still gains a significant amount of strokes on the field anyways. That's all that matters. Bet this one like you would a football game.
Tommy Fleetwood Top 20: +125
We're in a very familiar place with Tommy Fleetwood. After months of mediocre performances in the United States, Fleetwood returned to Europe and found some form. Fleetwood finished T2 at the Italian Open, T12 at the BMW PGA Championship, and T7 at the Alfred Dunhill Links Championship. And his ball-striking over in Europe has been phenomenal.
So why only a Top 20 at +125? Because I don't trust him! I've seen this movie so many times. Fleetwood does really well in Europe, returns to the United States, and leaves me wondering if this time it'll be different. And for the last few times, I've seen the movie, it hasn't. He's continually beat me down over and over. But I'm a glutton for punishment. A measly +125 Top 20 finish isn't close to what I want my expectations to be. I think (hope) he can muster just that.
Other Top 20's To Consider:
Sergio Garcia: +125
Maverick McNealy: +160
Aaron Wise: +160
Erik Van Rooyen: +250
Cameron Davis: +300
Rory McIlroy -115 over Jordan Spieth
Both golfers are kind of in the dumps right now. Rory McIlroy was dreadful at the Ryder Cup and looked like he needed a nap. Meanwhile, Jordan Spieth's ball-striking has once again evaded him. Both have had a few weeks off to try and pick up the pieces. But I'll opt for Rory McIlroy in this matchup. He's had a much better track record on these types of demanding tee-to-green golf courses than Spieth has.

RELATED CONTENT
The CJ Cup @ Summit Preview | Golf Gambling Podcast (Ep. 93)