Football is back! It was a roller coaster of a week that saw some crazy games. We also saw some surprising inactives, along with some surprising performances. Sadly we saw the injury bug bite again with many players in Week 1, including Ryan Fitzpatrick and Jerry Jeudy go down. If your team lost this week it may not be the worst, the wavier wire is loaded with high upside players heading into Week 2. I am here to break down a few early players to target. Players like Mark Ingram, Elijah Mitchell, Tyrod Taylor, and Kenneth Gainwell are all available, but are they the answer to your team's struggles?
EXCLUSIVE SGPN FANTASY CONTENT
SGPN Fantasy Football Rankings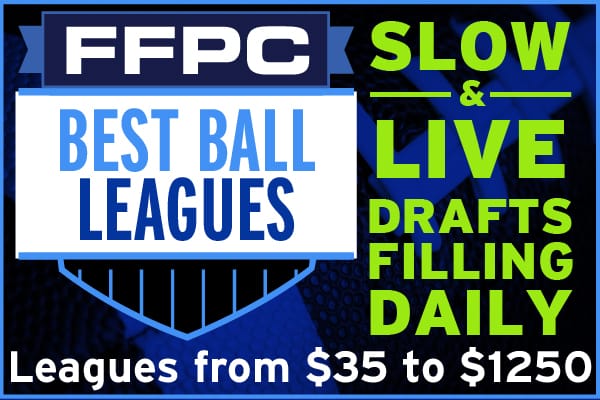 Early Week 2 Waiver Wire Fantasy Football Targets
Tyrod Taylor (QB) – 3.9% of Rosters
In their Week 1 matchup, the Texans took command early with Tyrod Taylor at the helm.  He went 21/33 for 291 yards and  2 touchdowns. He would add 40 yards on the ground. Tyrod Taylor looked like he was in command of the offense, and showed he is a top fantasy option this season. This was good enough for 23 fantasy points, along with a top 10 finish so far.
The Cleveland Browns are the Texans' next opponent, this is not the easiest matchup of the week, however, we saw the Browns and Chiefs explode this week for one of the highest-scoring games of the week. I feel like this will be the same in Week 2 for the Texans and Browns. Making Tyrod Taylor a great Week 2 waiver wire add.
Elijah Mitchell (RB) – 0.7% of Rosters
A look at Elijah Mitchell's NFL debut. He finished with 104 yards rushing on 19 carries and a touchdown. The future's bright for the 6th round draft pick.💎 #49ers pic.twitter.com/PRsxaHgmbW

— Coach Yac 🗣 (@Coach_Yac) September 13, 2021
Possibly the biggest surprise of Week 1. First came the fact he was active over third-round pick Trey Sermon. Then with an injury to Raheem Mostert early in Sunday's game, we saw Elijah Mitchell explode for a huge game. He was a direct fit into the running scheme for the 49ers and the offense never missed a beat. He took his 19 carries for 104 yards and 1 touchdown. This was good enough for 16.4 PPR points.
The 49ers draw the Philadelphia Eagles in Week 2 who just gave up 124 yards on 26 total attempts to the Falcons. If Raheem Mostert is set to miss time with the knee injury Elijah Mitchell is in line to start. This makes him my top Week 1 waiver wire adds. You want to invest in the 49ers' backfield, he will be worth 20 to 30 percent of FAAB in a FAAB format.
Mark Ingram (RB) – 11.0% of Rosters
In possibly one of the hardest backfields to predict this offseason few expected what we saw in Week 1. Mark Ingram saw 26 carries, he took these for 85 yards and 1 touchdown. This was good enough for 14.5 PPR points. With all the injuries we have seen this season for top running backs adding a depth option like this is never a bad move after Week 1.
The Texans do not have the best matchup in week two as they face the Cleveland Browns. A very good front seven that could make it hard for Mark Ingram to reproduce his Week 1 performance. However, they gave up 73 yards on 23 attempts to the Chiefs this week. Mark Ingram seems to have emerged as the top back in this backfield, this Week 1 wavier wire add could help you deep into the season.
Kenneth Gainwell (RB)- 3.5% of Rosters
Welcome to the NFL, Kenneth Gainwell…

BET THE NFL ▶️ /cutt.ly/Sm0OfLc#PHIvsATL #FlyEaglesFly #DirtyBirds  #NFLKickoff #NFLTwitter    #GamblingTwitter
pic.twitter.com/L2uFsPjDf3

— BetUS Pro Football (@BetUSProFB) September 12, 2021
In Week 1 we saw Kenneth Gainwell emerge as the second option in the Eagles backfield. He saw 9 carries in which he took for 37 yards and a touchdown. Along with adding 2 receptions for 6 yards. This was good enough for an RB2 finish this week. With a team that should use two running backs often in their offensive scheme, I expect Kenneth Gainwell to be fantasy viable weekly as a flex play.
He is worth a waiver wire add this week, they face the 49ers in Week 2 who were just exploded in Week 1 by the Lions backfield. They gave up 49 points combined to D'Andre Swift and Jamaal Williams. I expect Kenneth Gainwell to reproduce his Week 1 performance if not exceed it in Week 2.
Christian Kirk (WR) – 3.6% of Rosters
The Arizona Cardinals came over to the east coast and had an offensive explosion. Christian Kirk was the biggest beneficiary of this, he took 5 receptions for 70 yards and scored 2 touchdowns. This was good enough for a top 10 finish in PPR leagues. Christian Kirk appeared to be the second option in the offense behind Deandre Hopkins. In an offense as high-scoring as the Cardinals, I want to buy into it.
In Week 2 the Cardinals will see the Minnesota Vikings who are coming of a game in which they gave up over 260 yards passing. I expect the Cardinals to move the ball at will against the Vikings next week. With that I see Christian Kirk recreating his Week 1 performance in Week 2. If you need wide receiver or flex play help he is a must-add this week off the waiver wire.
Zach Pascal (WR)- 2.5% of Rosters
Zach Pascal with a nice grab in the endzone for his second TD today! #️⃣2️⃣pic.twitter.com/joxqzvSJAS

— Colts Nation (@ColtsNationCP) September 12, 2021
When T.Y. Hilton went down with an injury we all expected an uptick for Michael Pittman and Parris Campbell. However, we were wrong as the biggest been a factor was Zach Pascal. Although the target volume was not there in Week 1 he took 4 receptions for 43 yards and scored 2 touchdowns. This is why he is a must-add for me, he was the main target in the red zone for Carson Wentz. Touchdowns are king in fantasy so with Ty Hilton expected to miss more time I want to add Zach Pascal.
Next week the Colts face off against the Rams this may be a tough matchup for the wide receivers. However, with Zach Pascal's usage in the red zone, I am still confident he will still produce solid flex play numbers in Week 2.  After Week 2 they have two much better matchups in which Zach Pascal could excel. I want to be ahead with this wavier wire add heading into Week 2.
Juwan Johnson (TE) – 1.3% of Rosters
Another player who went under the radar this offseason as many expected Adam Trautman to emerge as the top tight end in New Orleans. However, we were wrong as Juwan Johnson exploded in Week 1 for 3 receptions for 21 yards and two touchdowns. This was good enough for  17.1 PPR points. Although the volume was not there it's clear once they enter the red zone Juwan Johnson is their main target.
Facing off against divisional opponent Carolina Panthers I expect the Saints will need to throw the ball a lot. With the absence of many pass-catchers, the Saints will need to look toward Juwan Johnson again in Week 2. He is well worth the wavier wire add if you need a tight end.
K.J. Osborn (WR) – 0.1% of Rosters
KJ Osborn ran 3 fewer routes than Justin Jefferson and Adam Thielen and tied Jefferson for 2nd on the team in targets (9), which was one behind Thielen.

With Irv Smith out, the Vikings have pivoted to a lot more '11'.

— Mike Clay (@MikeClayNFL) September 13, 2021
Week 1 saw the Vikings get into a shoot-out with the Cincinnati Bengals. Due to this, we saw a third target emerge in the Vikings passing game in K.J. Osborn. He caught 7 receptions for 76 yards, producing 14.6 PPR points. He finished the game with more receptions than Justin Jefferson. This leads me to believe he could see a decent role in this offense as the season goes on.
The Vikings will face off against the Arizona Cardinals next week, this game may turn into a shoot-out. The Vikings will be forced to pass a lot again in Week 2 and will need more options than Adam Thielen and Justin Jefferson. It appears K.J. Osborn has emerged as this guy, making him a great addition off the Week 2 waiver wire.
RELATED CONTENT
Impact Rookies to Draft for 2021
Kickers to Stream for September
Defense and Special Teams to Stream for September
Rookie Wide Receivers: Fantasy Football Breakout Receivers