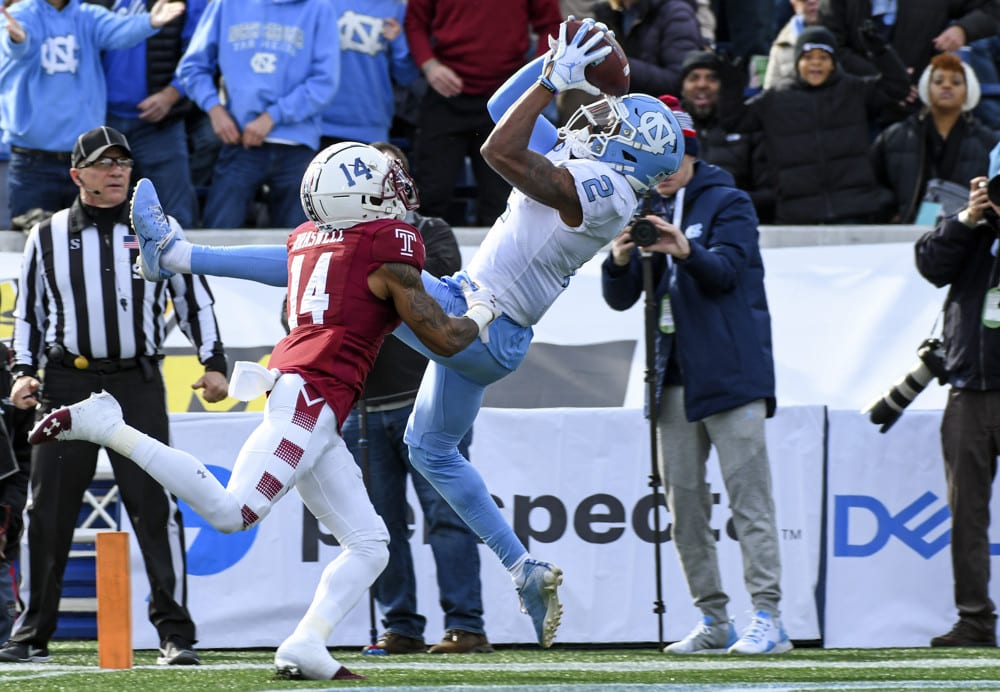 Rookie wide receivers are taking over the NFL. Whether you acknowledge it or not, it's already happening. And there is nothing that you or your old man can do to stop it. Instead of fighting the trend, embrace the change and capitalize on all your slow to evolve league mates who still think that rookie wide receivers don't matter. I'm here to tell you both, that "rookie wide receivers matter!" Don't believe me? Keep reading.

It's Not Your Father's NFL Anymore
As college football programs have begun imploring pro-style offenses, more wide receivers are entering the NFL more "pro-ready" than ever before. Justin Jefferson's 88 receptions, 1400 yards, and 7 touchdowns were good enough for a WR6 in PPR leagues last year and he wasn't alone. In 2020, there were seven rookie wide receivers who finished in the top 50. CeeDee Lamb and Chase Claypool were both WR2s, with Tee Higgins and Brandon Aiyuk finishing as WR3s. The 2021 NFL rookie wide receiver class is oozing with value for fantasy drafters who are willing to accept the uncertainty and plant their flag on a rookie pass-catcher.
MORE EXCLUSIVE FANTASY CONTENT FROM SGPN
SGPN Fantasy Football Projections
SGPN Fantasy Football Rankings
In this article, I will analyze the top 16 wide receivers selected in the 2021 NFL Draft and predict which pass catches will break out and where you should target them in your upcoming redraft leagues.
The Process
Using FantasyData.com, Stathead.com, Playerprofiler.com, and 4for4.com, I compiled data on rookie wide receivers from the 2015-2020 seasons. I then organized it and sorted it based on a variety of data points including total fantasy points scored fantasy points per game and points per touch. As a final touch, I added color-coded filters to it to make it easy to understand and use to manipulate it.
ACCESS THE FULL ROOKIE WIDE RECEIVER DATA HERE
The Observations
After reviewing the running backs data from 2015-2020, several trends emerged that we can use to evaluate and project the 2021 rookie wide receiver class. The criteria for rookie success that stood out as being most important to rookie success are:
Targets/Opportunity
Draft Capital
Touchdowns
Using these data points as predictors, we will evaluate the top 15 wide receivers selected in the 2021 NFL Draft and predict when they will break out during the 2021 season. "Break out" in this article will be defined as a wide receiver who averages roughly 12 points per game, which is WR3 range, or defined as, a player you would start each week on your fantasy team.
Targets/Opportunity
Most teams that draft an early-round wide receiver plan on incorporating him into their offense fairly quickly. Last season, Justin Jefferson, CeeDee Lamb, and Brandon Aiyuk were all drafted in the first round and immediately coached up to be starters for their respective teams. Jefferson saw 125 targets, Lamb 111, and Aiyuk finished just under 100 targets, with 96. Jefferson was able to parlay that into 17.14 fantasy points per game, Aiyuk 15.38 and Lamb averaged 13.61. No surprise that all three players combined to score over 676 fantasy points last year.
Last year Jefferson was being drafted as the WR49, Lamb as the WR38, and Brandon Aiyuk as WR35. All three players were undervalued by fantasy players not because they weren't talented or didn't possess value in their offensive schemes, but primarily because most fantasy drafters were afraid to take a risk on an unproven player. The logic makes sense, but the potential upside in drafting these players makes even more sense.
A whopping 81% of wide receivers who saw at least 90 targets in their rookie season can be considered "breakouts" based on our criteria for success, which is averaging roughly 12 fantasy points per game. This metric alone was the greatest predictor of wide receiver success out of all the data that was analyzed. Since there is a clear connection between targets/opportunities and breakout success for rookie wide receivers, it makes sense to pay careful attention
Draft Capital Matters

Top 20 Rookie WR Performances 2015-2020
1st Round Picks – 5 out 20 (25%)
2nd Round Picks – 8 out of 20 (40%)
3rd Round Picks – 4 out of 20 (20%)
4th – Undrafted – 3 out of 20 (15%)
To be blunt, draft capital matters for rookie wide receivers. 16 out of 20 (85%) top-scoring wide receivers were drafted in the first three rounds of their respective drafts. 12 out of 20 (65%) wide receivers were drafted in the first two rounds. Second-round wide receivers make up the largest portion of the top scorers. These wide receivers are normally drafted by their teams as potential starters who will see immediate playing time. See Justin Jefferson and CeeDee Lamb in 2020 and Terry McLaurin and D.K. Metcalf circa 2019.
WR Breakout Rate Per Round
1st Round Picks – 5 out of 12 – (42%)
2nd Round Picks – 9 out of 19 – (47%)
3rd Round Picks – 2 out of 8 – (25%)
4th Round – Undrafted – 5 out of 21 (24%)
Tyreek Hill, Willie Snead, and Darius Slayton were the exception to the rule, each breaking into the top 20 despite the late-round draft capital, or in Willie Snead's case, no draft capital whatsoever. Understanding that most rookie wide receivers taken in the latter half of the draft don't typically break out shouldn't totally discourage you from shooting your shot with players that you are high on. It just means that correctly identifying which later-round wide receivers to target in redraft leagues is more challenging the later the wide receiver is drafted. Sure you could luck out and snag yourself a "Willie Snead" but Willie's are unicorns that you cannot necessarily predict season to season.
Touchdowns Matter!
Obviously, touchdowns matter in football. But they are even more vital to the success of rookie wide receivers given the limited amount of times they touch the ball during the game. A touchdown scored by a wide receiver almost guarantees that the player will break double digits points in that game.
Touchdowns are fantasy gold for breakout rookie wide receivers. The top 10 wide receivers in my data sample averaged 7.3 touchdowns in their first season. Predicting how many touchdowns anyone player will score in their rookie season is extremely challenging though, so instead, it makes sense for fantasy players to target high upside offenses that have the potential to increase their touchdown upside.
Take the Jerry Jeudy and the anemic Denver Broncos passing offense last season. Jeudy scored only three touchdowns last season in a Broncos offense that ranked 25th in total passing touchdowns, with only 21. If Jeudy scored eight touchdowns instead of only three, he ends the 2020 season as the WR33 instead of the WR45. Touchdowns matter!
Round 1 Data

Round 1
Ja'Marr Chase – Cincinnati Bengals – Pick 5
Joe Burrow and the Cincinnati Bengals got their man in Ja'Marr Chase, the lethal LSU receiver who helped Burrow amass 60 touchdowns on his way to the 2019 BCS National Championship. It's no secret that Burrow campaigned for this ex-teammate to became his teammate once again. According to PFF's rankings, Chase is the top incoming rookie wide receiver in the 2021 class. His PlayerProfiler stats are through the roof, with his closest player comp being former LSU great, Odell Beckham of the Cleveland Browns. Industry experts, like the Fantasy Footballers, are licking their chops for Chase.
Ja'Marr Chase + Joe Burrow = ??? #FantasyFootball pic.twitter.com/vkFny3WHlZ

— Fantasy Footballers (@TheFFBallers) June 21, 2021
Burrow averaged 40 passing attempts per game in 2020. That number is likely to fall slightly, but in Zac Taylor's high-paced offense, Chase should see over 100 targets, which firmly plants him in the WR3 category. Currently, he is being drafted as the WR24, or the last WR2 in the group., according to 4for4.com ADP. I personally like him a lot better as my WR3, instead of my WR2. Chase has weekly WR2 upside though, so I am comfortable drafting him at his current 6.02 position in 12-team PPR leagues.
Jaylen Waddle – Miami Dolphins – Pick 6
The Miami Dolphins also reunited their quarterback with one of his trusted college weapons when they drafted Jaylen Waddle out of Alabama to pair up with Tua Tagovailoa. Waddle, who only played in six games during his 2020 season at Alabama, was drafted ahead of his ex-teammate DeVonta Smith, despite scoring 29 fewer touchdowns and amassing close to 2,000 fewer receiving yards.
Recent reports from the Dolphins' mini-camp have Waddle being featured out of the slot receiver position. Which really isn't the greatest camp news to flash across the ticker. NFL slot receivers generally produce less than wide receivers who lineup on the outside. The good news for Waddle is that he might be the best slot wide receiver in the 2021 draft and will be able to use his speed and create yards after the catch.
"The Dolphins have been very happy with how receiver Albert Wilson looked in the offseason program and are even using him some outside, because Jaylen Waddle projects as their top slot receiver"

– Miami Herald's Barry Jackson pic.twitter.com/fOu1rdzP2B

— Dolphin Nation (@Dolphin_Nation) June 23, 2021
The Dolphins still have DeVante Parker on their roster and they also landed ex-Texan Will Fuller as Tua's field stretcher. I believe that Waddle will be a WR4 this season and the least consistent out of the top three rookie wide receivers drafted. He's not a player that I am fading, but the value needs to be just right for me to scope him in redraft this season. Currently, he is being drafted at the end of the 9th round as the WR44, which is a back-end WR4.
DeVonta Smith – Philadelphia Eagles – Pick 10
The Philadelphia Eagles traded up in the 2021 NFL Draft with their NFC East to acquire Heisman Trophy winner DeVonta Smith with the 10th overall selection. Eagles nation could be heard as far north as New York celebrating the momentous move, which definitely included leap-frogging the salivating New York Giants, who definitely didn't go on tilt and draft another lesser wide receiver…oh wait.
Highest graded seasons by Alabama receivers since 2014:

1. DeVonta Smith (2020) – 94.9
2. Amari Cooper (2014) – 92.8
3. Jaylen Waddle (2018) – 89.7
4. Jerry Jeudy (2018) – 86.8
5. Jerry Jeudy (2019) – 85.6 pic.twitter.com/j3JdVAoZwX

— PFF Draft (@PFF_College) June 26, 2021
Smith is a complete stud, who caught 117 passes for 1,856 yards scoring an ungodly 23 receiving touchdowns in his 2020 season at Alabama. He was drafted to be the Eagles undisputed WR1 for second-year quarterback Jalen Hurts. He's my rookie WR1 this year and I think he will be a solid WR2 all season long. Don't hesitate to draft him as the WR34 at the end of the 7th round.
Kadarius Toney – New York Giants – Pick 20
The New York Giants decided it was important to add depth to their wide receiving core when they drafted Kadarius Toney in the latter half of the first round. The Giants are at a crossroads with third-year Daniel Jones, who is coming off an abysmal 2020, where he only averaged 12.9 fantasy points per game. If the past few seasons have proven anything it's that Dave Gettleman knows what he is doing and tripling down on wide receivers, signing Kenny Golladay and John Ross, and then drafting Toney, just to drive home the point. If Daniel Jones can't be successful with this group of wide receivers, he never will be successful. And in case you were wonder, no, the Giants have not picked up Daniel Jones's 5th-year option yet.
The real question is, how does a gadget guy like Toney fit into the Giant's offensive schemes? Especially with Golladay, Darius Slayton, Sterling Shepard, Evan Engram, and of course PPR stud Saquon Barkley all in the mix for targets? For my money, Toney won't be fitting into my fantasy teams either, so it all works out in the end for me and the Giants. Can't wait to see what happens when Giants are out of a GM and a quarterback come 2022. Toney is a big wild card among the rookie wide receivers.
Rashod Bateman – Baltimore Ravens – Pick 27
Rashod Bateman is joining a Baltimore Ravens team that passed the football on only 45% of their dropbacks in 2021, good for dead last in the NFL. Obviously not the ideal landing spot for one of the most polished wide receivers in the draft class. Some fantasy analysts have huge hopes for Bateman as a rookie, projecting him as the WR1 for the Ravens.
The #Ravens took Rashod Bateman in the first round of this year's NFL Draft. @scottetheking and @michaelfflorio are both high on the rookie receiver for this year and the future.

How interested are you in adding the wideout to your #fantasyfootball teams? pic.twitter.com/0n1WggDLTx

— Fantasy Sports Radio (@SiriusXMFantasy) June 26, 2021
Marquise "Hollywood" Brown was the Ravens WR1 last season, catching 58 passes on 100 targets for 769 yards and seven touchdowns. He finished the season as WR35, averaging less than 12 fantasy points per game. Bateman is more of a possession receiver than Hollywood, so he should be able to hit the 60 reception mark. But with only 257 completions last season, don't expect anything more than a WR4. He's currently being drafted as the WR58, in the 13th round of 12 team PPR drafts.
Round 2 Data

Round 2
Elijah Moore – New York Jets – Pick 34
The New York Jets have an all-new offense this season. They jettisoned ex-head coach Adam Gase and brought in 49ers Defensive Coordinator Robert Saleh to turn around one of the NFL's worst franchises. The Jets traded Sam Darnold to the Panthers this offseason. Then used the second overall pick in the 2021 Draft to select Zach Wilson from BYU. They then started day 2 of the draft off by selecting standout wide receiver Elijah Moore from Ole Miss.
Moore is off to a fast start at Jet's camp and has already drawn national media attention. Bleacher Report's Gary Davenport, heralding Moore as a "Draft-Day Steal."  Rich Cimini of ESPN reported that "The former Ole Miss star has been the standout of the Jets' offseason practices, demonstrating the skill that convinced them to draft him 34th overall. Beyond talent, Moore's "work ethic is off the charts," Jets coach Robert Saleh said. "His mindset is off the charts."
Cimini went on to quote Saleh as saying, "He's showcasing his ability to be as versatile as possible in terms of being at different parts of the field, being at different positions, understanding what needs to get done, so when the ball gets to his hands he can still do what he does best — and that's run after the catch."
Elijah Moore's current ADP is WR65, but expect that to steadily creeping up as the NFL season draws nearer. Moore is the one player that I will be targeting on all my redraft teams in 2021. Don't let Zach Wilson's lack of experience scare you off of drafting Moore, he just might be a fantasy league winner in 2021.
Rondale Moore – Arizona Cardinals – Pick 49
Last season Kingsbury's offense primarily flowed through DeAndre Hopkins whose 160 targets were good for a 29% target share. The remaining 385 targets were spread across five other wide receivers. Christian Kirk was second on the team with 79 targets or half the number of Hopkins.
The bad news is that Rondale Moore currently finds himself in a crowded wide receiver room. The addition of A.J. Green begs the question, who will the WR2 be on the Cardinals, and what value will that receiver maintain during the season?
The good news is that Kliff Kingsbury is already signing Rondale Moore's praises and we haven't even gotten to training camp yet. Nick Wagoner of ESPN.com reported that Kingsbury speaking of Moore said "he's going to be a guy that's going to be fun to try to draw stuff up for and see how many times we can get it to him."
Look for Moore to be used across the offensive formation, lining up in the slot and on the outside as well. This versatility should keep Moore fantasy-relevant most of the season in the WR4/5 discussion. He's an absolute steal, as he is going undrafted in most redraft formats. The upside rookie value and wide receiver targets galore make him a great steal.
D'Wayne Eskridge – Seattle Seahawks – Pick 56
The Seattle Seahawks found themselves in an interesting position this offseason, entertaining offers for their franchise quarterback, Russell Wilson. It didn't help matters that Russell Wilson's agent publicly announced the four teams that Wilson would waive his no-trade clause if traded to. The Seahawks ended up keeping Wilson and then drafted him a weapon in D'Wayne Eskridge. This signaled that maybe all that Russell Wilson needed to be successful was another offensive weapon at his disposal.
Eskridge is joining an elite group of wide receivers in D.K. Metcalf and Tyler Lockett, who both finished in the top 10 for wide receivers in fantasy points. Eskridge slots into the Seahawks WR3 roll, which last season was manned by David Moore who finished the season as WR64 in PPR leagues, scoring 118.8 fantasy points. Eskridge has the potential to finish the season as a top 60 wide receiver, which would squarely plant him in the WR5 discussion. Should either Metcalf or Lockett miss time, his productivity would see a bump making him a flex option most weeks.
Currently, Eskridge is sidelined with a toe injury that has kept him from fully participating in Seahawks mini-camp practices. The injury isn't expected to linger and he should be a full participant once training camp opens in late July.
Tutu Atwell – LA Rams – Pick 57
The LA Rams used their second-round selection in the 2021 NFL Draft to add another weapon to the arsenal for their newly acquired quarterback Matthew Stafford. With the addition of veteran wide receiver Desean Jackson in the offseason, the Rams have the luxury of taking their time in deploying Tutu Atwell into the offense. As expected, Sean McVay has been coaching Atwell up to be the Rams punt returner this season.
Sean McVay isn't committing to Tutu Atwell as the team's punt returner, saying they have a lot of candidates and plenty of time to figure it out https://t.co/z1bfi78SgO

— Cameron DaSilva (@camdasilva) May 31, 2021
Last year the WR3 on the Rams, Josh Reynolds, averaged under eight fantasy points per game, which was good for WR61. I expect Jackson to see more snaps, routes, and targets than Atwell to start the season. If Jackson were to miss time, and when doesn't he miss time, Atwell becomes a little more intriguing. He has a rougher path to targets than most rookie wide receivers, but it is there.
Terrace Marshall Jr. – Carolina Panthers – Pick 59
The Carolina Panthers and second-year head coach Matt Rhule made a mini-splash this offseason when they trade for New York Jets starting quarterback Sam Darnold and then traded Teddy Bridgewater to the Denver Broncos. Last season the Panther's offense produced three top 25 wide receivers, Robby Anderson WR19, Curtis Samuel WR23, and D.J. Moore WR25.
After the loss of Curtis Samuel to the Washington Football Team left a void in their wide receiving corps, the Panthers drafted LSU star Terrace Marshall as a compliment to D.J. Moore and Anderson. I don't expect him to fill Curtis Samuel's shoes literally. But with the vacated targets available and Matt Rhule's propensity to pass the football close to 60% of the time, there will be plenty of work for Terrace Marshall Jr.
Marshall Jr. should see between 75-90 targets this season, which squarely puts him in the WR4 range. He's currently an ADP dream, coming off of draft boards as the WR74. He's definitely worth drafting in the last few rounds of all your drafts.
Rounds 3-5 Data
Round 3-5
Josh Palmer – Los Angeles Chargers – Pick 77
The Los Angeles Chargers drafted Josh Palmer with their 2021 third-round pick. Palmer wasn't a flashy named SEC wide receiver and his early-round selection surprised me initially. No sophomore breakout, subpar 40 times, and his College Dominator rating was 25.9, which was only good for 40th overall. Which led me to ask the question, 'why did the Chargers draft him?'
A strong senior bowl definitely worked in Palmer's favor. According to Matthew Gajecki of 4for4.com, "Palmer…made the most of his trip to the Senior Bowl. Per PFF, no receiver had a higher win rate, drawing comparison to the strides made by Terry McLaurin during his Senior Bowl performance." Palmer's ability to win against NFL-ready SEC corners impressed Brandon Staley and Joe Lombardi enough to use the first of their third-round picks to land him.
The Chargers will most likely use Palmer to complement Mike Williams as an outside receiving threat since he ran over 75% of his routes at Tennesse on the perimeter. Look for Palmer to get off to a slower start than some of the other third-round wide receivers due to the presence of 2020 second-team All-Pro wide receiver Keenan Allen and Mike Williams. Initially look for Palmer to serve in a WR3 type committee with Jaylen Guyton and Tyron Johnson, eventually earning more playing time and contributing more down the stretch of the season.
Palmer isn't a wide receiver that I will be drafting in 2021, but if an injury were to occur to either Allen or Williams, he's a player you should be aware of and ready to snag off your league's waiver wire.
Dyami Brown – Washington Football Team – Pick 81
The Washington Football Team (WFT) definitely isn't your father's football team. They changed their name in 2020, made the playoffs, and came closest out of any team to beating the eventual Super Bowl Champions Tom Brady and the Tampa Bay Buccaneers. Now they have added veteran gunslinger, the bearded wonder Ryan "Fitzmagic" Fitzpatrick to the fold to man the helm at quarterback. They also signed Curtis Samuel and drafted Dyami Brown to complete the new modern "Fun Bunch" in Washington.
In the last two seasons at the University of North Carolina, Dyami Brown averaged over 20 yards a reception and broke 1,000 yards each season on only 51 and 55 receptions respectively. Washington was thrilled to have landed Brown in the third round and according to Ron Rivera, plan to rotate him around the offense. Brown himself has expressed confidence in himself before the NFL Draft saying, "I can run every route there is instead of just being a deep threat."
Look for Brown to be eased into the WFT offense at the start of the season, gradually gaining more routes and targets as he establishes himself as a reliable option for Fitzpatrick. He's currently going undrafted and should be available on your fantasy league wavier wire for the first half of the season. Monitor his target share throughout the first few weeks of the season to see how he's progressing in the offense.
Amari Rodgers – Green Bay Packers – Pick 84
Amari Rodgers is a dynamic playmaker. Last year he teamed up with a first overall pick, Trevor Lawrance, for 77 receptions for over 1,000 yards last season with the Clemson Tigers. The Green Bay Packers and head coach Matt LeFleur drafted Rodgers to stretch the field from the slot position and provide their offense this a player you can create his own yards after the catch. Last year, Amari put up 506 yards after the catch, which was good for third-most in college football.
Unfortunately, Amari Rodgers's value hinges on whether or not Aaron Rodgers plays for the Green Bay Packers in 2021, and it's not trending in the right direction. If Aaron decides to come back, Amari has an opportunity to produce WR5 numbers out of the slot receiver position. Amari is being drafted at the WR77 in PPR leagues, which is basically at his absolute floor. If Aaron Rodgers does not play in 2021, Amari's value takes a direct hit and he becomes a weekly wavier wire filler or a stash in case Davante Adams goes down with an injury.
Nico Collins – Houston Texans – Pick 88
The Housten Texans are going to be the absolute worst team in the NFL this season. Their only saving grace is that they play in the worst division in the NFL, and no one cares about them. So, yeah, a hell of an intro for Nico Collins. The 6-4 Michigan product is a throwback to the big fast wide receivers of your father's generation. The problem is that it's looking more and more like Deshaun Watson won't be under center when the season starts. Instead, it is veteran, Tyrod "Careful w/that Needle" Taylor is likely to be under center when the season starts come September.
If he is the starting quarterback, Taylor is a monumental downgrade from Watson. Taylor would effectively render Collins undraftable in most PPR formats. If the situation changes and Watson is under center for the Texans, look for Collins to fill the Will Fuller role. This is appealing in an offense that saw Watson pass for the most yards in the NFL in 2020. Obviously, Collins will not be a one-for-one replacement for Fuller, but the volume alone would vault him firmly into the WR4 conversation. In a bad offense though, not many wide receivers will be relevant, let alone a rookie.
Anthony Schwartz – Cleveland – Pick 90
Anthony Schwartz is fast! 4.32 in the 40 blazing speed fast to be exact! His 40 time is in the 99th percentile according to PlayerProfiler.com. This makes him one of the fastest wide receivers in the National Football League. Schwartz's closest player comp is perennial swiss army knife Curtis Samuel of the Washington Football Team. Schwartz was used in a similar way by the Auburn Tigers offense last season. He was featured on a number of gadget plays, jet sweeps, end around, etc.
As enticing as Schwartz reads, he's going to an offense that has established wide receivers in Odell Beckham and Jarvis Landry starting in front of him. In a Cleveland Browns offense that ran the football 48% of the time. According to Joe Redemann from 4for4.com, "the Stefanski WR3 has earned about 5.9 half-PPR points per game. While the top two spots generate on average 10.6 and 9.1 half-PPR points per game."
Schwartz will probably see limited targets to start the season. However, don't be surprised if he makes a big splash with the limited reps Stefanski initially provides him with. He's a player that is worth a late-round flier and bench stash. Especially given Odell Beckham's recent injury history,
Amon-Ra St. Brown Detroit Lions – Pick 103
The Detroit Lions are going to be terrible in 2021, we all knew this the minute they stepped into their time machine (rookie running back breakout article call back) and hired knee biting fanatic Dan Campbell to lead their franchise into the past with Jared Goff and a stable of middling has been wide receivers. Obviously, the new old-school Lions want to run the ball. The Lions will be losing most of the season though. So despite wanting to run the ball, they will be forced to pass the ball.
That's where Amon-Ra St. Brown steps in. He's a versatile wide receiver who can lineup on the outside, as well as the slot. The Lions signed journeymen Breshad Perriman and Tyrell Williams during the NFL offseason. Neither of whom scares me off of St. Brown, who I predict will end the season as the Lions' WR1. He's currently being drafted as WR67. St. Brown is a free square at the end of your fantasy draft or possibly an earlier season wavier wire candidate.
RELATED CONTENT
Fantasy Football Dynasty Trade Value Chart – June 2021 Update
Rookie Running Backs: Fantasy Football Breakout Backs
Last Year's Fantasy Football Busts and their 2021 Outlook