Mama we made it! Week 1 of the 2021 NFL Season is finally upon us, and everything is starting to feel right in the universe. Before we dig into the data this week, I wanted to make sure I get a few housekeeping things out of the way before we start in on the Week 1 DraftKings Flowchart.
EXCLUSIVE SGPN FANTASY CONTENT
SGPN Fantasy Football Rankings
First, if you missed the Introduction article that I posted last week, please give it a read and make sure your head is in the GPP mindset to start the season. Second, even though The Flowchart is currently pretty injury-free, we never know what is going to happen over the next 24 hours. I will ALWAYS ALWAYS ALWAYS post my thoughts/changes to The Flowchart on Twitter, so please follow me there to stay up to speed. Finally, I am starting a new season-long project called The Workload Report which you can read about in this thread, however, if you simply sign up for the free subscription, you will get an email notification every time The Flowchart goes live this season.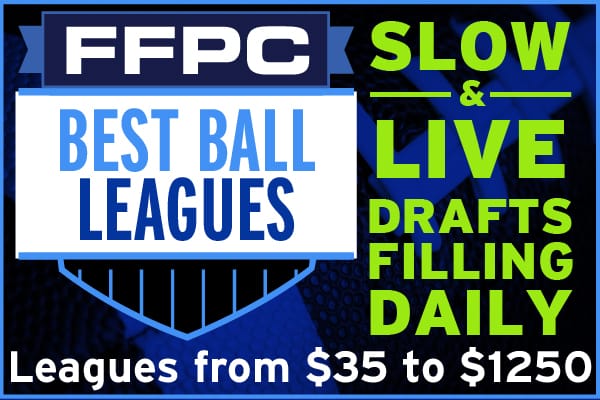 Enough of the boring stuff, let's dive into some strategy talk to help craft your Week 1 DFS lineups.
Team Stack – Column 1
Every week, I will start The Flowchart off with a team stack. I spend a lot of time during the week thinking about game environments and comparing that to projections and ownership across the industry. Week 1 is always awesome because ownership is usually very spread out across the player pool. Everyone is healthy, there are a lot of teams and offenses that people are still high on, and defenses are mostly unknown. When reviewing the slate, this Arizona vs. Tennessee game really jumped out at me. It has the 2nd highest total on the weekend but is projecting to have pretty modest ownership. I can only imagine that if this game took place in Week 8 this year, it would be far and away the most chalky game that week. But here we are in Week 1 and uncertainty is all around us!
Kyler Murray is clearly the most explosive QB in this game, and you could argue that DeAndre Hopkins is the clear-cut best receiver. With ownership pretty even across the board, you may be asking why I am taking the Titans side of this game?
The answer is condensed production, and it's a strategic theme that I want to focus on a lot this year. Between A.J. Brown and Julio Jones, there is a very real chance that these guys post alpha target share statistics in Week 1. Both could be knocking on the door of 30% targets. Josh Reynolds is banged up, Derrick Henry doesn't catch passes, and I'm not worried about Anthony Firkser. Who else do the Titans have on their team? Great question. While Murray is the more typical dual-threat QB, Ryan Tannehill is no rushing slouch himself. He managed to walk into the endzone 7 times last season!
Bring It Back Stack – Column 2
The Cardinals are set up to be a very explosive offense this season. We know that Kingsbury loves to run 10 personnel (4 receiver sets), and they actually have 4 capable receivers this year. Rondale Moore is the minimum price on DK this week and is going to be a pretty popular play. Even though A.J. Green was dusty last season, reports out of camp say he is locked in to start the year. Best to bet on old guys early before injuries start to pile up. If you plan on playing a ton of lineups, I've got no issue fitting in Hopkins or Christian Kirk here.
It's important to understand how the two paths diverge here in Column 2 of The Flowchart. With Moore expected to have 10X the ownership of Green, the top path is more geared well towards large GPPs (Milly Maker, 20-Max Play Action, etc). The bottom side is a bit safer and closer to chalk so it will work better in Single Entry (SE) contests. I have included the Colts and Dolphins on defense this week, however, I want to reiterate how unimportant defense is.
This should be the last position you fill in, and you should spread out your ownership across multiple teams. I like to bet on defense against high-passing offenses since they have more chances at sacks and interceptions. I also don't mind playing against any of these Rookie QBs in Week 1.
Low Rostered Leverage – Column 3
Welcome to the most important part of The Flowchart. This season, I want to focus more on discussing what I believe will be the chalkiest plays each week. By doing this, hopefully, it will help everyone have a better understanding of why the leverage spots are crucial. Good leverage plays will help the Flowchart win big on DraftKings for Week 1.
Cheap Wide Receivers
First up let's start with what is going to be the talk of the town this week, cheap WRs. By my estimation, we have five different players currently under $4k who are projected for 3X value or more. These guys are Marvin Jones Jr., Marquez Callaway, Elijah Moore, Rondale Moore, and Terrace Marshall Jr. There are also a handful of players that are very comparable in this range as well. Since this is the most important lineup construction theme this week, it's how I want to find the most leverage.
First off, I am full fading Callaway. Yes he is only $3.4k, and yes he is the Saints WR1 this week, but he will likely be over 30% rostered. Even though he is in line for a big workload, it will strain the other players in our lineup if he does well. That means 93% of our salary cap will need to be closer to perfect in order to overcome a chalky Callaway and differentiate up top on the leaderboards. Because he is so low-priced, it is also harder for him to bury us if we don't play him. We have plenty of lineup left to make up any point difference. Enter Marquez Valdes-Scantling, the high aDOT receiver on the Packers who is the definition of a boom-bust player. He is right in the same range as the cheap guys, and we know he has a high ceiling.
Hurts as a QB cheat code
Next up, I expect Jalen Hurts to be a popular QB option this week. He is an elite rusher, and finally has a couple more receiving weapons around him this season. We are most worried about being burned by Hurts' rushing upside, so we should ask ourselves what happens if he fails? If Hurts isn't scoring the rushing TDs, it's likely because Miles Sanders is producing well. I love Sanders as a negatively correlated pivot off of Hurts and I think the healthy Eagles OL will have no problem with the Falcons front seven.
Finding a min-priced RB
Another way that we can find leverage on the field is by changing up the way our rosters are constructed based on what we think will be the chalky build. If we think it's feasible that a lot of the field plays two or three cheap WRs, what do our lineups look like if we play a cheap RB instead? I like Javonte Williams of the Broncos this week at a minimum price. A lot of people expect the Broncos defense to dominate against the Giants, and I think there are quite a few ways that Williams easily pays off his $4k price tag.
Brandon Aiyuk and Austin Hooper don't necessarily provide direct leverage anywhere, but I think both of them have high ceilings this week. They will both surely be in the "low-rostered" bucket that we care about. Finding values like this will help you clean up on DraftKings with the Flowchart in Week 1 and beyond.
Play the Studs – Column 4
An important thing that I want to note is that in both columns 3 & 4 of The Flowchart, it is perfectly acceptable to not follow the arrows exactly. I mainly place players on the side of the flowchart where they make the most sense salary-wise. With that being said, we will work from the inside out for this last column.
Christian McCaffrey is below $10,000 this week. Alvin Kamara is far and away the Saints' most explosive player and matches up with a poor Packers linebacking corps. I'm not sure there is a whole lot more that I need to say for either guy.
I almost always play against the chalk at TE. It's a position that is extremely volatile, and usually only takes a TD reception to separate you from the field. Kyle Pitts is a different kind of chalk. First of all, he is basically a receiver which is great since we want to avoid blockers at TE as much as possible. Second, and most importantly, I think there is a chance that we don't see Pitts below $6k again this season. I want to eat the chalk at TE this week and ride the Pitts train as much as possible.
Joe Mixon, Aaron Jones, and Terry McLaurin finish off column 4 this week and all hit the sweet spots we want from our studs. They are in the mid-tier salary range and possess access to the same high ceiling as the more expensive guys. Additionally, there are very few questions related to their workload. All three players should be in for a ton of their team's snaps. Opportunity leads to production.
Final Thoughts
I want to reiterate that ownership is going to be very spread out this week. If you feel good, load up on a stack and hope they outperform the field. I will probably follow the field a bit here and spread out my stacks to take advantage of cheap pricing opportunities. Using some of the methods above, focus on making sure your lineups have leverage.
A lot of people have success using the flowchart as a guideline, but then fitting in their own plays. That is great and highly encouraging! Feel free to always swap out defense in order to make room or maximize your salary cap.
Good luck this weekend everyone! I hope to see some screenshots on Twitter come Sunday night after you win big with the Week 1 Flowchart over on DraftKings.
RELATED CONTENT
DraftKings Prices Week 1 Value Preview
Impact Rookies to Draft for 2021
Week 1 Fantasy Football Injury Report
Kickers to Stream for September
Defense and Special Teams to Stream for September