All the fantasy football is caught up with a fever. And the only prescription is more best ball drafts. The best place to play right now is in the Underdog best ball contests. However, many of you are wondering, "What the hell is best ball?" "How do I play?" and "What strategies should I use on Underdog in my best ball draft?" Fear not fellow degens! Here is a crash course and everything you need to know for Best Ball 101!
SGPN Draft Day 24 Hour Best Ball Marathon
SGPN App to Enter our Draft Day Prop Contest
What is best ball? 
Best ball is a fantasy football format where managers draft teams but, unlike typical redraft leagues, there is no in-season management, which means—no waiver wire drama, no trades, no scrambling to set weekly lineups. Also, there's no more agonizing over those crippling start-sits decisions each Sunday morning or hating yourself when you inevitably bench the wrong player. Instead, in best ball, your highest-scoring players at each position are optimized each week to form your best starting lineup. At the end of the season, whoever has the most points wins.
Best Ball Basics: Strategy and Underdog Fantasy Contests
How to play best ball? 
Best ball drafts utilize the traditional "snake format"  popularized in redraft leagues.  Most best ball league drafts have between 18-20 rounds. Each team normally starts 1 QB, 2 RBs, 3 WRs, 1 TE, and 1 Flex (RB/WR/TE), with kickers and defenses no longer being rostered.   
One difference between traditional redraft and best ball is the increased roaster size. The larger roster sizes provide managers with flexibility when constructing their team and developing their season-long strategy. Generally, managers draft 2-3 quarterbacks, 5-8 running backs and wide receivers, and 2-3 tight ends.    
Best Ball Strategy
Obviously, the draft is everything in best ball because it's the only thing in best ball. How you begin your draft, where you target different position groups, and player ADP all have an impact on your roster construction. Here are a few basic draft strategies to get you started. 
Value-Based Drafting
Valued-based drafting (VBD), or grabbing the player who gives you the greatest positional value, has become a popular redraft and best ball strategy in the last few years. The top three tight ends, Travis Kelce, Darren Waller, and George Kittle are all VBD candidates that rarely make it out of the second round of drafts. This strategy focuses less on getting "your guys" and more on finding the positional value based on how the draft is unfolding. Being flexible and fluid is key to leveraging the positional values that come from player runs and other players overreaching for their guys.    
Stacking
https://twitter.com/BookOfEli_NFL/status/1414665718973489157
Stacking in best ball is similar to stacking in redraft leagues, except that it normally involves stacking more than one player with your quarterback. The focus is more on team stacking, like in DFS, where you are looking to maximize weekly upside. The goal is typically to target high-upside offenses whose players have increased ceilings of production. One of my favorite stacks in 2021 is Aaron Rodgers with Davante Adams, Robert Tonyan, and Amari Rodgers. Due to the uncertainty surrounding Rodgers, all of these players Average Draft Positions (ADPs) are depressed, providing for easy roster construction. Stacking late-round wide receivers is also a way to hedge against injuries your starters may incur during the season. A strong stack can set you up to win big on Underdog in their best ball formats.
Robust RB
Running backs get hurt. Last season's first-round draft picks Christian McCaffery, Saquon Barkley, Austin Ekeler, and Joe Mixon all were being drafted in the first round and all missed considerable time with injuries. The "Robust RB" strategy takes this into consideration and has decided the only way to survive the war of attrition on the RB position is to draft as many elite potentials running backs as possible. If one of your studs goes down, hopefully, you will be able to weather the storm because you have a few more RBs to take his place, or so the thinking goes. Robust RB drafters often load up on high-upside wide receivers in the mid-rounds hoping for a WR2 breakout like Justin Jefferson in 2020.    
Zero RB
https://twitter.com/NFL/status/1345794841649639425
One contrarian strategy that has emerged amidst the "Robust RB" storm has been a small band of "Zero RB" zealots led by the likes of Denny "Zero RB Truther" Carter.  No, you don't completely punt running backs with Zero RB. Instead of hoarding elite RBs in the initial round of your draft, you target elite wide receivers, tight ends, and quarterbacks with your first 5-6 picks. During the mid to late rounds, running backs with paths to more playing time and PPR floors are targeted. Alexander Mattison, James White, and Tony Pollard are some of the usual suspects you'll find on most ZeroRB believer's lists. It's anti-fragility at its finest. However, the boom or bust nature of this strategy only attracts the most brazen of best ballers.  
Where to play best ball?
The best place to play is currently on Underdog Fantasy, which offers both season-long leagues and expansive tournaments.  All Underdog leagues and tournaments are half-PPR, 18-man rosters that start: QB, RB, RB, WR, WR, WR, TE, Flex (RB/WR/TE). There are no kickers or team defenses. Each week players compete to score the most points, with the player who scores the most points winning the league at the season's end. 
What to play?
Currently, there are two main ways to play best ball, season-long leagues that range in size from 3-12 people or larger tournaments that have thousands of participants competing for big prizes. 
Best Ball Leagues
Joining a best ball league is even easier than joining a redraft or dynasty league. You don't need a place to draft, a commissioner, or even friends. Fast drafts, with 30 seconds between picks, can take as little as 45 minutes to complete. There are also slow draft options with 6-8-10 hour clocks, which normally take about a week to complete. 
Underdog currently offers players a variety of options for those who want to compete in smaller leagues. Players can join a league for as little as $3 or raise the stakes all the way to $100. Both 10 and 12 person leagues are available for fast and slow draft formats. Players can jump into public drafts filling daily or even create their own private leagues to compete in with their friends.  
Best Ball Tournaments 
One of my favorite best ball formats on Underdog is their season-long tournaments. Right now "Best Ball Mania II" and "The Puppy" are both available to enter. 
Best Ball Mania II – 2021 Season Long NFL Best Ball Tournament 
$25 Entry 
$3.5M in Prizes
1st place prize: $1,000,001
The Best Ball Mania II Tournament is the marquee tournament offered through Underdog Fantasy. It is the largest best ball tournament in all of fantasy football. The tournament can max out at 155,520 entrants, with 25,920 places paid out. 
The Puppy – 2021 Season Long NFL Best Ball Tournament
Almost 14,000 teams have been drafted in The Puppy

Show us some of your favorites.

— Underdog Fantasy (@UnderdogFantasy) July 8, 2021
$5 Entry 
$250K in Prizes
1st place prize: $50,000
The Puppy Tournament is a smaller season-long best ball tournament offered through Underdog. To enter the Puppy it is a $5 entry, with a max of 150 entries per person. The tournament can max out at 56,376 entrants, with 7,830 places paid out.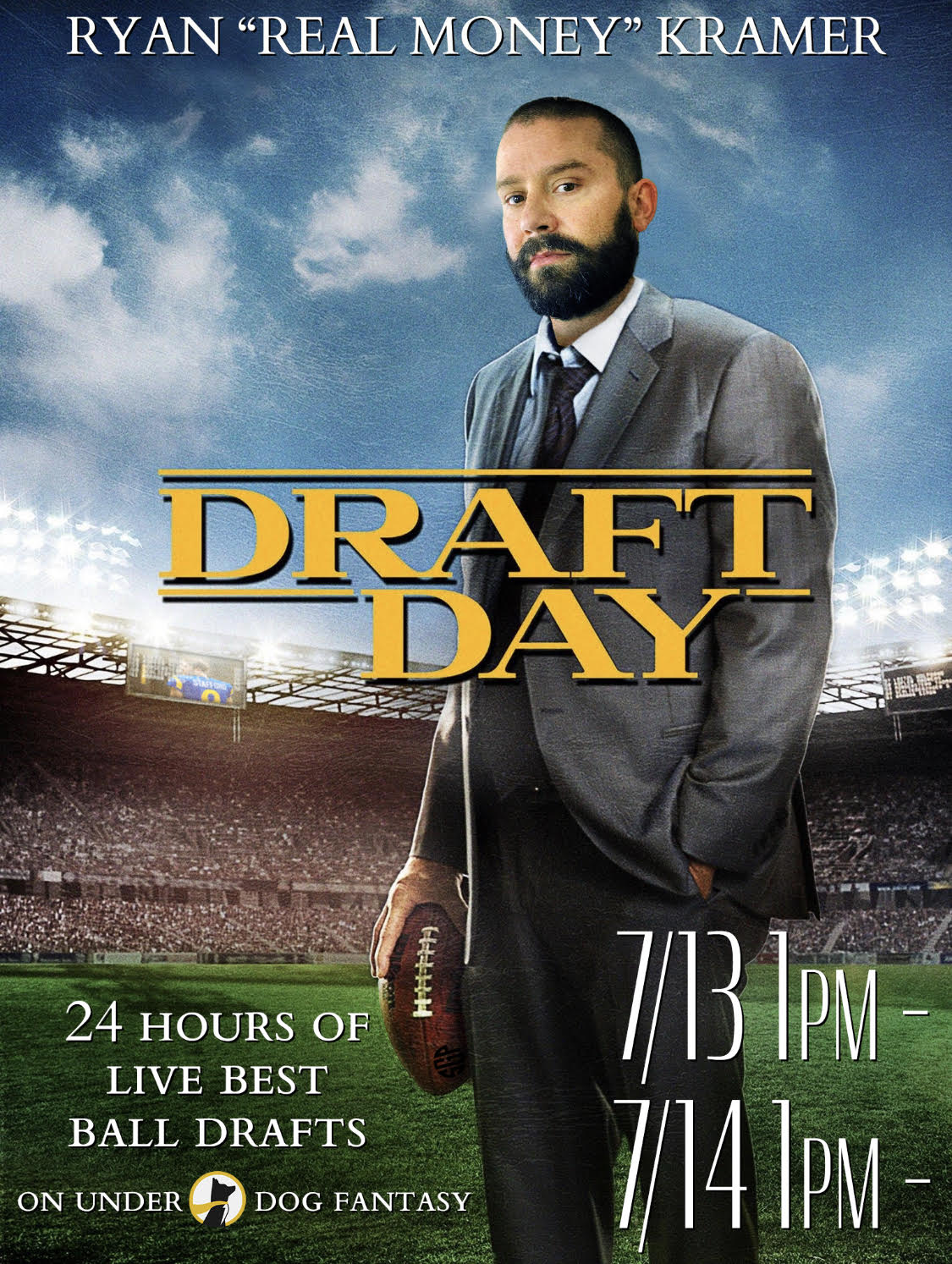 RELATED CONTENT
SGPN Fantasy Football Projections
Are You My QB2? I SGPN Fantasy Football Podcast (Ep.12)
SGPN Fantasy Football Rankings
Fantasy Rookies – NFL First Round Picks and Fantasy Football Impacts