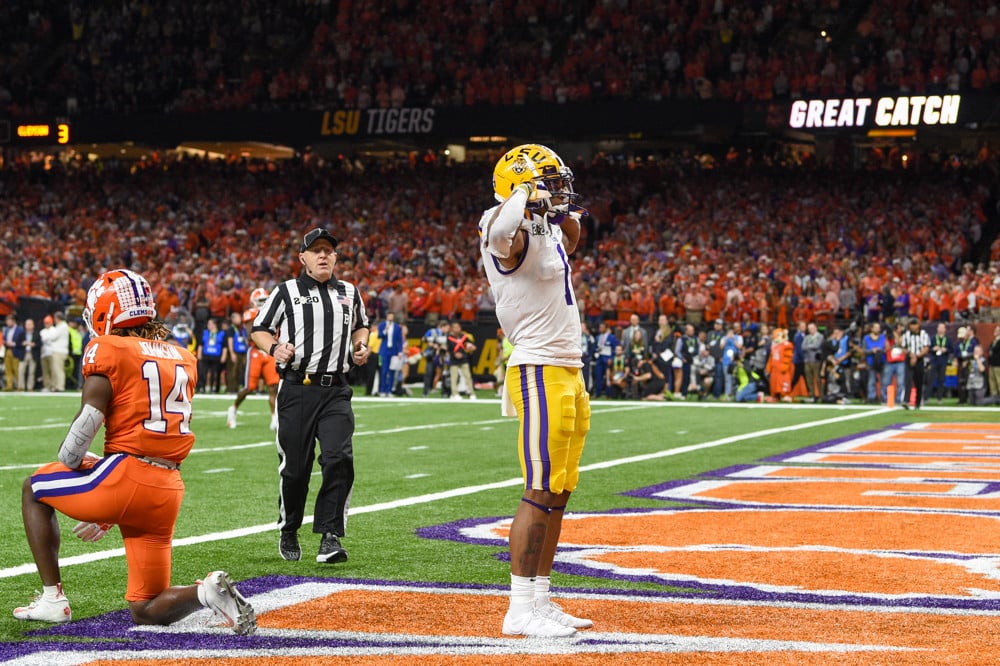 The NFL Draft is underway and the first round is now officially in the books. Who will be a breakout first-rounder? Which guy landed in the best landing spot? Which fantasy rookies should you target and what will their fantasy impact be? The first round picks are now all official and we can begin the wild speculation about their fantasy impacts.
MORE NFL DRAFT ACTION
NFL Full Mock Draft 2021 Seven Rounds – Colby Dant
Fantasy Rookies – NFL First Round Picks and Fantasy Football
We knew this was the pick last week. We knew this was the pick last month. But where should you be picking him in your fantasy drafts? Last year Gardner Minshew was a top 15 quarterback on points per game basis. He averaged 18.3 points per game before getting injured. Even Mike Glennon and Jake Luton were borderline fantasy relevant with these weapons.
Trevor Lawrence steps into an offense where he has a true number one receiver in DJ Chark and a multi-talented and hyper-athletic Laviska Shenault. Factor in an RB1 in James Robinson and you could really see this offense being something. There have been comparisons between Lawrence and Andrew Luck and it seems like Lawrence could be just as much a generational talent. Lawrence will have some ups and downs, but he will be a low-end QB1. He should be a top-five quarterback in all dynasty startups and the first QB off the board in dynasty rookie drafts. He will most likely come in between QB09 and QB14. Target him around Round 8 or 9 in your redraft leagues. 
Similar to Lawrence, we knew this pick weeks ago as well. Despite the thought that Justin Fields might be the better prospect, New Jersey was locked in on Zach Wilson. The Jets have the start of a receiving corps but are missing out on a truly dominant receiving option. They added Corey Davis and Keelan Cole to Denzel Mims and Jamison Crowder. This offense flashed potential at times, kind of, but they are now officially on this year's Adam Gase Freedom Watch. Many players and teams see a bump in production post-Gase. Zach Wilson took a massive leap forward as a passer in 2020 as he tripled his passing touchdown output and threw for 35 more yards per game as well. Sure this was against a softer schedule than Fields or Lawrence, but it is still massively impressive.
Additionally, Wilson has the athleticism to make plays with his legs if things break down and can go "off script." The Jets' offense is somewhat of a mystery heading into 2021 as Mike LaFleur has never been an offensive coordinator.  Looking at the Shanahan offense though could reveal that if Wilson is accurate he could be a fringe QB1 this year. Most likely he will land around QB15-18 this year and he should be a target late in drafts. There is a possibility he can finish as a QB1, but it will require him to make plays with his legs and score touchdowns. Wilson is outside the top tier of quarterbacks in dynasty startup formats as well. He will be there later in drafts so be patient.
As of now, the 49ers have a starting quarterback on their roster. Jimmy Garoppolo is presently the starter in San Francisco and should be expected to hold that job unless he is traded. San Francisco has a bevy of talented receivers out wide with Brandon Aiyuk and Deebo Samuel. Add in an all-world tight end in George Kittle and this offense could be something special if everyone stays healthy. With weapons galore, this offense could be a top fantasy offense in 2021.
https://twitter.com/Coach_Yac/status/1387930141343588352
What does all of this mean for the third overall pick, Trey Lance? As of now, Lance is simply a stash pick in dynasty leagues. Unless San Francisco trades Garoppolo prior to the season Lance will have little to no value this year. Lance has the talent to belong in this league with accuracy and athleticism. His 1000 yards rushing and zero interceptions in 2019 are unheard of numbers, but it was against FCS competition. In your dynasty startup, he should be about the tenth quarterback off the board and there is an argument for him as QB02 in dynasty rookie drafts. Unless you are in a deep or keeper league you will mostly ignore him in redraft formats.
The Atlanta Falcons are one of the most pass-happy teams in the NFL over the past decade. Since coming into the league Matt Ryan has had 600+ attempts seven times and 25+ touchdowns nine times. With Julio Jones fading into the next stage of his career Atlanta needs to find a new partner in crime for ascending talent Calvin Ridley. There are a lot of fantasy rookies who could make a big impact here, but Pitts is tops among the first round picks.
Kyle Pitts was absolutely dominant in college and has the size and speed to dominate from multiple locations on the field. He is listed as a tight end, but he runs routes like a receiver with 6-6 size to create mismatches across the board. The Falcons have plenty of targets that they can send Pitts' way. Between Russell Gage, Hayden Hurst, Brandon Powell, Olamide Zaccheaus, and Christian Blake, they can free up 265 targets. He seems like a lock to get 100+ targets and that would give him the floor of a top-five tight end in all formats. In dynasty startups, he should be targeted before the end of Round 5 and should be a top ten pick in dynasty fantasy rookie drafts. For those of y'all in redraft, look to get him in Rounds 6-8.
The Bengals had three receivers with 100+ targets last season with Tee Higgins, Tyler Boyd, and AJ Green. They did this despite suffering through six games of Brandon Allen and Ryan Finley. Allen and Finley are backup quarterbacks on their best day but are more like third-stringers. With the departure of AJ Green and the return of Joe Burrow, the Bengals' offense looks primed for a massive breakout and upside this year.
When looking at this situation, it means that there are at least 104 targets vacated by the departure of AJ Green. Ja'Marr Chase has history and chemistry with Joe Burrow to the tune of 1,780 yards and 20 touchdowns in that legendary 2019 season. As far as fantasy rookie landing spots go Chase could not have landed in a better spot. All three Bengals' receivers will be in the WR2 conversation in 2021 and whoever has a big touchdown year will be a WR1. Chase has the chemistry with Burrow and the skills to make an instant impact. Chase will a top-20 receiver this year and should be picked in the top five picks in dynasty rookie drafts and by the end of Round 2 in dynasty startups. For redraft target Chase in Rounds 5-7 and enjoy a big-time rookie season.
Outside of Mike Gesicki and DeVante Parker Miami is devoid of pass catchers. Sure Jakeem Grant, Isaiah Ford, and Lynn Bowden Jr. bring some fun speed to the receiver room in Miami, but they lack a true second option. Everyone thought Preston Williams would be THE guy opposite of Parker, but he flamed out and was not all that exciting in 2020. If Tua Tagovailoa is going to be the long-term answer for the Dolphins they have to get some more weapons in there.
Jaylen Waddle was the most dominant receiver for Alabama in 2020. Yes, more dominant than the Heisman winner. In four games to start 2020, he had 25 catches for 557 yards and 4 touchdowns. Bringing Waddle into the Miami offense gives Tua weapons across the board and no excuses for not being successful. Looking at the Miami offense, there are 138 targets to be had in that "speedster" or slot role. If a majority of those go to Waddle he has the chance to finish as a WR2, but he will most likely be limited by Tua's subpar play. Do not draft him as anything more than a WR3 with upside in redraft leagues and a late first-round option in dynasty rookie drafts. Waddle is limited by quarterback play and is a Round 6-9 pick with some upside in startup drafts.
The Eagles were absolutely devoid of receiving talent in 2020. Sure Travis Fulgham and Greg Ward had some limited fantasy relevance in 2020, but there was no one you were excited about rostering in your fantasy leagues. Jalen Reagor flashed some big-play potential, but he did not live up to the first-round hype last year. Perhaps he can take a step forward to help Jalen Hurts in 2021 and be a dominant fantasy option.
Bringing in a shifty slot operator like DeVonta Smith is something that will take a lot of pressure off of Reagor and Hurts to stretch the field. Smith posted back-to-back 1,200+ yards and 10+ touchdown seasons as a junior and senior. We have all heard the size argument as a knock against him, but he has the stat lines and appears to have the talent to make a difference. In PPR formats is where Smith will initially shine and should be a WR3 this year. He should be taken around pick 14 in your dynasty fantasy rookie drafts and around Round 6-9 in startup drafts. For you redraft players DeVonta looks like he could be limited by Hurts as a passer and should not be targeted early. Target him around Round 10 in redraft leagues, maybe Round 8 in PPR.
Justin Fields (QB) – Bears
In 2020 the Bears were held back by the lack of a quarterback. As a real-life football team and your fantasy team, Mitchell Trubisky and Nick Foles shot that team in the foot week in and week out. With a massively talented receiving corps featuring superstar Allen Robinson, rising rookie Darnell Mooney, Cole Kmet, and the elusive Anthony Miller the Bears offense should have been better. Many times last year Darnell Mooney was wide open and was over and underthrown by Foles/Trubisky. This is a peak opportunity for any of the fantasy rookies.
Landing with a receiving corps of this caliber will be a boom for Justin Fields. He looked at times like the best quarterback and outdueled Lawrence in the National Semifinal this year. He is the most athletic and best runner of all the quarterbacks this year with his 4.44 40-yard dash. With that high floor of his rushing and the best receivers of any rookie quarterback, he has the potential to be a top ten quarterback this season. His rushing ability will unlock this potential and bring a dynamic element to this offense. In your dynasty rookie drafts, he should be taken in the first round. Fields should be taken around Round 4-6 in dynasty startups. In redraft, he should be targeted early and Fields should be the seventh or eighth quarterback off the board in redraft.
The Patriots' offense was confusing in 2020. They seemed like they had a plan to unleash Cam Newton and his rushing. Then picking their chances to take shots down the field and capitalizing. Their receiving corps was anemic in 2020. They went out and added Hunter Henry, Jonnu Smith, Nelson Agholor, and Kendrick Bourne in the offseason. However, it is almost impossible to be worse than they were last year.
Mac Jones was solid as he came in after Tua's injury in 2019 and took a giant step in 2020 with 41 passing touchdowns to only four interceptions and a 77% completion percentage. Jones looks like an accurate passer who will take what the defense gives him. The question is can he produce without all-world receivers surrounding him. Last year New England gave up 37 sacks and threw 14 picks as a team. The hope is that Jones can come in and take over as the starter on day one.  If he does that you should avoid him in all redraft formats outside of two-quarterback leagues. He will peak at QB20 this year. He could grow into a top-ten quarterback in dynasty, but is a second-round rookie draft pick and a Round 10 or later pick in dynasty startups.
The Giants' 2021 receiver room was looking vastly improved over their 2020 receiver room with the addition of Kenny Golladay and John Ross. New Jersey is also getting superstar running back Saquon Barkley back as well to go with Evan Engram and Darius Slayton. If Daniel Jones can take a step forward he might just be able to be fantasy relevant. He also may make his pass-catchers fantasy relevant. Any of the pass-catching fantasy rookies will struggle here.
Considering all of that, it is shocking that the Giants drafted Kadarius Toney. Toney has 4.39 speed and could bring a game-breaking element to the Giants' offense. If he can unseat John Ross on the outside and get work out of the slot as well he might be able to be fantasy relevant in 2021. However, the Giants have a crowded receiving corps and it feels like he is a stash pick. In dynasty startups, Toney should go after Round 12 and in the second round in rookie drafts. Avoid Toney in redraft leagues unless the Giants move on from Ross. Maybe take a last-round flyer on him if you really think he can get on the field. There are definitely better fantasy rookies out there though among the first round picks.
In 2020 James Conner and Benny Snell Jr. each had 100+ attempts and Conner added in 43 targets as well. However, the Steelers rushing offense was absolutely pathetic in 2020. They averaged a mere 3.6 yards per attempt and could not take any of the pressure off of Ben Roethlisberger and the passing offense. With a surgically reconstructed arm, Big Ben was limited in his ability to push the ball down the field, but the Steelers made due. Using a dump-off and check-down offense like a running game they were able to be productive. Will adding Harris change things?
Najee Harris was a workhorse as a junior and senior and has been thought of as one of the more reliable fantasy rookies. Harris is thought of as the number one running back in this class. Also, despite the Derrick Henry comps, he has some great pass-catching talents as well. Harris had 43 catches as a senior to go with his 251 carries. He is a true workhorse back and if the Steelers can reload their offensive line he could finish as an RB1 this year. Harris should be taken in Round 2-3 in dynasty startups and pick two in rookie drafts. In redraft, Harris should be targeted in Round 2-3 as well.
The Jacksonville Jaguars had the feel-good story of the 2020 fantasy season with undrafted James Robinson finishing as an RB1. Those of us who scooped him between our drafts and Week 1 or in the Week 2 FAAB run were greatly rewarded by his 300 total touches, 1400 yards, and 10 touchdowns. Bringing in a competent, and potentially transcendent, quarterback was going to free him up to do even more work in fantasy. And then pick 25 came.
By selecting Travis Etienne the Jags torpedoed Robinson's value in 2021. Etienne is an elusive and versatile back who can make plays in the rushing or receiving game. In four years at Clemson, he never had fewer than 13 touchdowns and after his freshman year had 1500+ total yards each year. Considering the upside potential of this offense in 2021, Etienne feels like the rookie RB01 in dynasty drafts. He will be playing in a better offense that is on the rise and appears to be a better pass-catcher. Target him in Round 2-3 in dynasty startups and redrafts. In dynasty rookie drafts go all-in on this Jags offense and take Etienne as the 1.01.
Lamar Jackson took a step back in 2020 and much of it was due to a lack of strong receiving options available. In the offseason so far the Ravens have gone and added Sammy Watkins to help bolster their receiving corps already. Lamar needs help and cannot target Marquise Brown 100+ times again in 2021. He has to have someone else to open up the field and provide some relief to their stellar rushing attack. The Ravens are a prime landing spot for any offensive fantasy rookies.
After the 2019 college season, there was an argument for Rashod Bateman to be the first or second receiver off the board. After an up and down 2020 campaign where he opted out and then in, he fell in the draft and ends up being drafted by Baltimore. Bateman could be one of the top rookie receivers and should go in the first round of dynasty rookie drafts. For dynasty startups target him in Round 7-9 and anytime after Round 10 in redraft leagues. Bateman has the upside to be among the top fantasy rookies and first-round picks, but will likely finish as a fringe WR2.
RELATED FANTASY CONTENT
Fantasy Football Dynasty Trade Value Chart – March 2021 Update
FFPC Best Ball Draft 4.0 (Ep. 996)
Top Fantasy Rookie Landing Spots For 2021 Fantasy Football