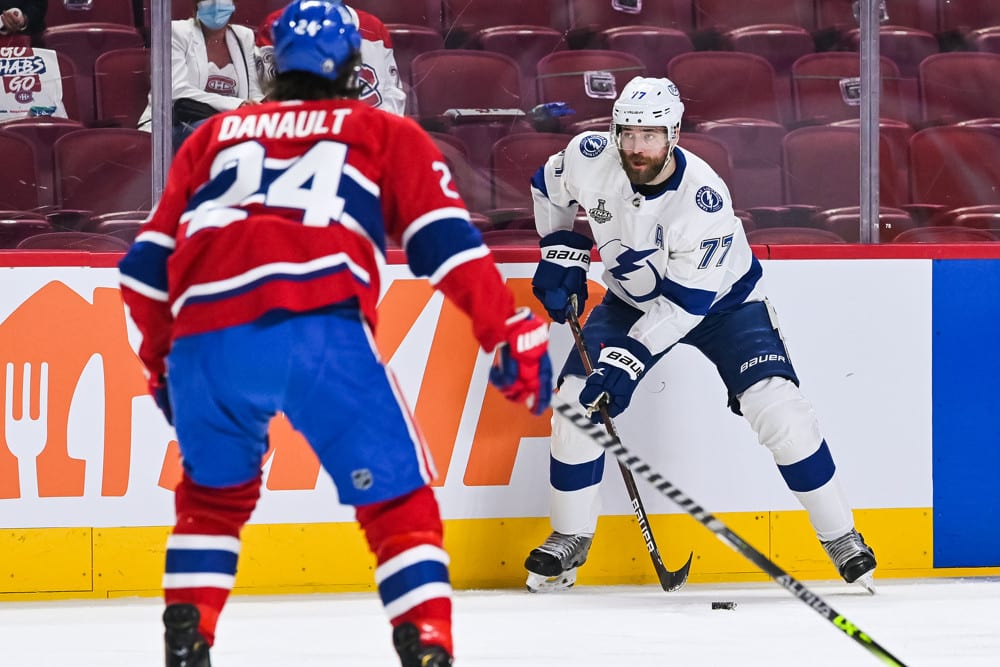 The Stanley Cup will be in the building for Game 4 tonight in Montreal. The Tampa Bay Lightning have a chance at the first sweep in the Stanley Cup Final since 1998, when the Detroit Red Wings swept the Washington Capitals. The Montreal Canadiens will look to live another day and avoid elimination.


Make sure to bookmark our daily NHL Picks page to get the best bets for every single game!
The Canadiens will look to avoid falling into a 3-0 series deficit as they host the Tampa Bay Lightning.
The Lightning beat the Canadiens 5-1 in Game 1. Montreal bounced back with a strong performance in Game 2 but lost 3-1. Tampa scored two quick pairs of goals in Game 3 and won 6-3.
Andrei Vasilevskiy and Carey Price are going to be locked in for Game 4.
This is Montreal's last chance. They need to win Game 4 just to keep the series alive.
Odds are provided by DraftKings.
Stanley Cup Final, Game 4: Lightning vs. Canadiens
The Lightning are bigger favorites in Game 4 than they were in Game 3. TB Lightning -167 are the road favorites with MTL Canadiens +143 as the home underdog.
In terms of raw shot totals, the Canadiens have done a good job of keeping up with the Lightning. They were outshot 27-19 in Game 1 but turned the tables with 43-23 and 35-30 advantages in Games 2 and 3.
The problem for Montreal has been creating scoring chances and goals. They only had the Expected Goals For (at 5v5) advantage in Game 2 (2.1 – 1.36). However, Tampa Bay had a 59.9 xGF% (2.34 – 1.57) in Game 3.
The Lightning have scored 3+ 5v5 goals in every game and a total of 14 goals through three games. Montreal finally hit the three-goal mark in Game 3 after scoring one goal in Game 1 and Game 2.

SCF Game 4: Lightning at Canadiens Best Bets
There is a lot of value to be found in Game 4.
Tampa to win in regulation (+102) or Tampa -1.5 goals (+160)
If Tampa Bay is going to close it out in Game 4, it's likely to follow a similar script to the first three games. They won each of those three games rather easily and all three by 2+ goals (5-1, 3-1, 6-3).
I like both of these bets, but especially see value on the puck line. If Tampa Bay has a late lead, Montreal will be in pure desperation mode and pull their goalie early. The Lightning will then have a chance (or a few chances) to hit the empty net for the puck line. +160 is great value here.
Game To Go To Overtime +311
We're going back to this bet for Game 4. If Montreal can play their game and not allow a few fluky goals early, it's going to be a close game. They'll want to slow the game down and keep chances to a minimum.
The Lightning have one OT loss in each series thus far.
The Canadiens have gone to overtime a total of six times in 20 playoff games. That includes three times (Games 3, 4, 6) last series against the Golden Knights.
Parlay: MTL +2.5 Goals & Under 6.5 Goals (-148) or MTL +1.5 Goals & Under 5.5 Goals (+128)
We're not going away from the old reliable just because of one loss. I'm seeing a lockdown defensive game by the Canadiens tonight and another low-scoring affair. They won't allow two quick goals again tonight — and definitely not twice.
A 3-1 game could very well be in the cards again, but 2-1 or 3-2 — possibly in overtime — are there for the taking as well.
Stanley Cup Final Game 4 Draftkings Odds Boosts
Bring Out The Brooms: Lightning to score first & win +200
If the Lightning score first, they're almost a lock to win. +200 is great value for this and you can easily hedge if Tampa Bay does score first.
Tampa Bay has scored first in all three games thus far and all of their elimination wins have been shutouts.
Stayin' Alive: MTL Canadiens to score last & win +200
Alternatively, I think there are good odds here if you want to bet on Montreal anyway. This is an auto-win if the Canadiens win in overtime (which I see as a possibility) and, if the Canadiens are winning late they could put it away with the empty-netter.
The odds are always changing. Be sure to check both DraftKings and Pointsbet for the best prices when you place your bet.
---
Follow along with me throughout the Stanley Cup Final on Twitter (@RGilbertSOP) or in the Sports Gambling Podcast Slack chat.