With the NFL Draft less than a week away, the anticipation is growing for many. As they want to find out where their favorite rookie will land!  There is always a value bump for rookies depending on their landing spot. We do not have to look too far to see an example of this as last year Clyde Edwards-Helaire rose up draft boards as soon as Roger Goodell called his name with the 32nd pick. I am here to discuss the landing spots that may have the same effect on player value in this year's draft. We are on the clock so let's check our boards and make that selection!

Top Fantasy Rookie Landing Spots For 2021 Fantasy Football
Quarterbacks
In this year's draft, we could see four quarterbacks go in the first four picks due to the talent available. The class is headlined by Trevor Lawrence, Justin Fields, Zach Wilson, Trey Lance, and Mac Jones. However, for fantasy purposes, each player could see a bump in stock depending on the landing spot. So which teams do we want these top rookies landing on for the best fantasy football outcome? Let's take a look!
Jacksonville Jaguars
The Jaguars are lacking a top-tier quarterback and it showed last season. PFF gave them a 69.1 overall offensive grade and a 60.8 passing grade. Both of these ranked at the bottom of the league. Along with that, the quarterbacks did not grade out much better as demonstrated by the chart below via PFF.
The Jaguars offensive is already set up with top-tier talent at the skill positions. They have UDFA star James Robinson in the backfield. Along with DJ Chark, Laviska Shenault, and Marvin Jones in the receiving corps. They also hold multiple picks within the top 64, this will allow them to add more talent if they feel the need.  With all of this and the addition of Urban Meyer, the team is ready to take off on the offensive side of the ball. Any quarterback who lands here will be primed for a possible top 15 fantasy finish.
New York Jets
The Jets currently sit with the second pick in the draft and no proven NFL quarterback on their roster. They brought in Robert Saleh this offseason, along with that they made the decision to move on from Sam Darnold as they traded him to Carolina. This means they are a lock for a quarterback in the draft. The only question is do we as fantasy managers want this? For me, the answer is yes.
The Jets have added to the receiver room in free agency with the signings of Corey Davis and Keelan Cole. They will join Denzel Mims and Jamison Crowder for a nice group of weapons for a young quarterback. However, they have a backfield that carries question marks. They added Tevin  Coleman in free agency to go alongside La'Mical Perine who they drafted last year. However, they do hold four picks in the top 64 so they can go out and add one of the top tier running backs if they feel the need.
All signs point to a starting job for one of these rookie quarterbacks, this is an instant bump in their fantasy value. They should have a solid shot at being a top-15 quarterback next season. The expectation is that it will be a quarterback-friendly situation like the 49ers run as both the head coach and offensive coordinator are coming over together.
San Fransisco 49ers
Holding the third pick in the draft after a blockbuster deal with the Miami Dolphins, which included the 9th selection this year along with a 2022-third round pick and their first-round picks in 2022 and 2023.  With a deal like this, they are primed to land one of the top quarterbacks. This is arguably the best landing spot for a young quarterback.
Shanahan has finished top 15 in offensive yards five of the last six seasons as a play-caller in the NFL. PFF gave the 49ers a 78.9 overall offensive grade in 2020 which was 14th in the league. However, the one blemish on their grading scale was in the passing department. As they graded out at a poor 61.5. As we can see below their quarterback position did not help them much either.
The 49ers used last year's first-round pick to add to their weapons on the offensive side of the ball adding Brandon Aiyuk. He was added to George Kittle and Deebo Samuel creating a solid pass-catching trio. Along with their stable of running backs and slight run-heavy scheme, the 49ers seem to be the perfect spot for a young quarterback to develop. They can lean on the run game and create large plays off of screens and play action. It is easy to see the quarterback who lands here to easily finish top 24 if not top 12 next year and for many seasons to come.
Denver Broncos
But the Broncos have Drew Lock! I think most everyone can agree it's time to move on from Lock if possible, as one of the more inaccurate quarterbacks in 2021 he really hindered this offense. Lock only posted a 63.4 passing grade from PFF.  Along with the whole passing offense grading 31st in the league only behind the New York Jets. As we look forward to the draft the broncos sit at nine and are a true wildcard there. However their general manager George Paton did not rule out starting Lock next year, he also did not rule out taking a quarterback in this draft. He wants to add competition for Lock, they feel like a perfect spot for the quarterback who starts to fall in the draft.
With a team full of offensive talent at the skill positions that include, Jerry Jeudy, Cortland Sutton, KJ Hamler, Noah Fant, and Melvin Gordon. It would be smart to make a move for one of the quarterbacks in the draft. As they are a solid quarterback away from having an explosive offense that will help win games. This could also help produce many fantasy assets. So keep an eye out for the Broncos to be a sneaky good quarterback location among the fantasy rookie landing spots.
Honorable Mentions:
New England Patriots(15th selection),  Atlanta Falcons(4th selection), Carolina Panthers(8th selection), and Washington Football Team(19th selection).
Running Backs
This year's running back class does not appear to be as strong as this past year's. It is led by three very solid talents in Javonte Williams, Najee Harris, and Travis Etienne. However, there are some landing spots that could really boost the stock of some of these incoming rookies. Let's take a look at which teams could have this effect!
Pittsburgh Steelers
The Steelers have been struggling to find a consistent replacement for Le'veon Bell for many years now. Sitting at 24 in the draft puts them in a prime spot to land one of the top backs this year. As a pass-heavy team, they don't seem to look like the best fit on paper, however, I believe they are a great fit!
Adding the run game to this offense will allow the Steelers to get back to their roots and take some pressure off of Roethlisberger and his arm. However, they need to add a capable running back as PFF graded out their top running back at 73.4 this past season. This, however, was James Conner who left for Arizona in free agency leaving them with Benny Snell who graded out at a poor 58.7 as seen below.
All of this seems to lead to them adding a running back in the draft. You can expect the rookie to come in and take over Conner's role which was an RB27 finish in his 14 games played and an average of 12.3 points per game. We can expect middle RB2 numbers from any running back landing here as they should see an uptick from Conner's role. We can imagine how good this offense and team could be in 2021 with a starting lineup like the one displayed below!
Atlanta Falcons
The Falcons lost two running backs this offseason in Todd Gurley and Ito Smith. They did add Mike Davis in free agency though. This seems like a veteran signing to help the rookie they bring in. At pick 35 the Flacons will most likely have a good chance of landing a top running back if they wish. The Falcons graded out as the worst run teams in the league according to PFF, so an upgrade is needed.
Gurley is leaving open a top 24 finish in PPR leagues, this also includes his lack of usage in the second half of the season. He had 47 rushing attempts inside the 20-yard line in 2021, 6 came after week 10. If the team had not limited him in the second half of the season we could be talking top 15 finish. We can see in the diagram below provided by yardperfantasy.com team profile, there are a ton of opportunities for running backs in Atlanta. The Falcons are among the peak fantasy rookie landing spots for running backs.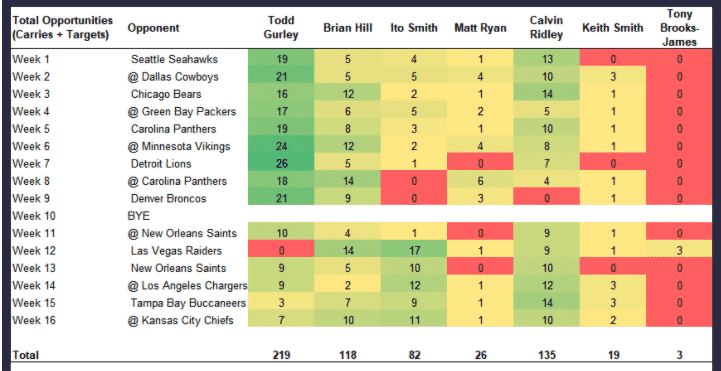 Now with Arthur Smith at the helm, I expect an uptick in the run game. Coming over from Tennessee there is a lot of people saying he will look to add a true bell-cow back. Similar to what he had in Derrick Henry. I expect big things from the back who lands here as we should see increased usage, and they will benefit from a weak box as they have a good passing game. They may also have a top offense in the NFL and be scoring a ton of points, which will give a route for the running back to score a ton of touchdowns.
New York Jets
The Jets hold a ton of draft capital this year and need a ton of help all over the place. The open opportunities make this one of the more amazing fantasy rookie landing spots. One of these spots is the running back position, they roster Tevin Coleman, La'Mical Perine, and Ty Johnson currently. That is definitely not a backfield most would trust going into the season. With three picks in the top 34, they will have an opportunity to grab a top-tier running back talent. Below we see the opportunities that will be open to an incoming rookie based on last season's stats via Yards Per team profile.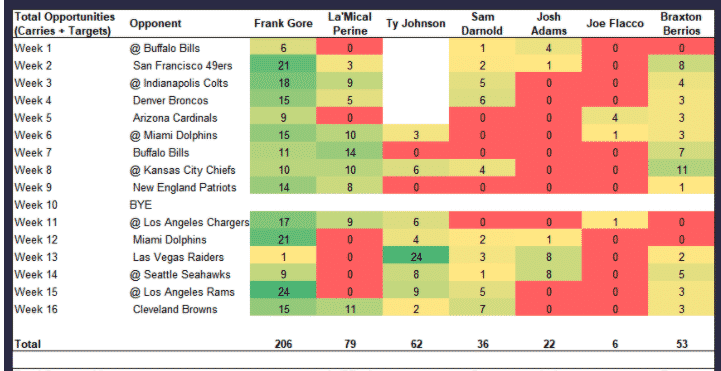 With the addition of Mike Lafleur as Offensive Coordinator, we can expect to see a lot of the 49ers zone run scheme, This may affect the numbers we see above. However, with the addition of a young rookie quarterback, we should expect a heavy dose of the run game. The Jets ranked 19th according to PFF with a 65.2 run block grade, this could be an area they look to improve in the draft this would also be a huge boost for the running backs if this happens.
Honorable Mentions:
Buffalo Bills(30th Selection) , Miami Dolphins(18th and 36th selection), Arizona Cardinals(49th selection) and San Fransisco 49ers(43rd selection)
Wide Receivers
This wide receiver class is as deep as there has ever been, it should produce a large amount of fantasy-relevant players over time. It is led by the likes of Ja'Marr Chase, Devonta Smith, Rashod Bateman, and Jaylen Waddle. There a large variety of skill sets amongst these receivers however some teams have a perfect landing spot for any receiver. Let's dive in and see who has some of the top spots!
Detroit Lions
The Lions will be one of my favorite landing spots for any receiver this year. They lost both of their top targets in Kenny Golladay and Marvin Jones to free agency. The Lions added quality depth targets in Tyrell Williams, Breshad Perriman, and Kalif Raymond. They join Quintez Cephus as the only receivers entering the draft. With a potentially pass-happy Anthony Lynn offense on tap, Detroit could be a sneaky riser among the fantasy rookie landing spots.
Jones leaves behind a WR27 finish and over 100 targets. It's not hard to believe that a rookie will be able to come in and command this room. Added to a new Offensive Coordinator in Anthony Lynn who was top ten in passing attempts and yards the past two seasons. It's easy to see a top 24 finish if they use the 7th pick on a top receiver. However, if they use the 41st pick a top-36 finish may be more likely in year one.
New Orleans Saints
The Saints are not being talked about enough as a top landing spot for one of these rookie wide receivers. They lost Emmanuel Sanders in free agency opening up 69 targets. Add this in with the change at quarterback that should have more targets directed to wide receivers. Yes, Michael Thomas is returning from his injury and will be fully healthy however who is playing the other side?
They have two unproven players in Tre'Quan Smith and Marquez Callaway as options as of today. It would be in their best interest thought to add one of these top receivers in the first two rounds. Winston at the helm will allow for them to spread the field more and create more opportunities for a second option in the offense.
If the incoming rookie was to see the 69 targets Sanders received my expectation is they will be able to create more after the catch as sanders produced 663 yards last season on 635 air yards. This is not a great YAC stat folks. They should have no issue producing WR3 type numbers and have the possibility of getting into WR2 territory if the offense is unleashed with Winston at the helm.
Green Bay Packers
It may sound like a broken record, but the Packers need to add another reliable weapon on the outside. Sitting with the 29th pick in this year's draft they will be in a spot to add one. Last year they added their quarterback and running back of the future so it has to be the receiver of the future this year right? With the talent in this class, they will have a choice of quality receivers at 29. Outside of Davante Adams and Aaron Jones, no one posted a receiving grade higher than 71 according to PFF as seen below.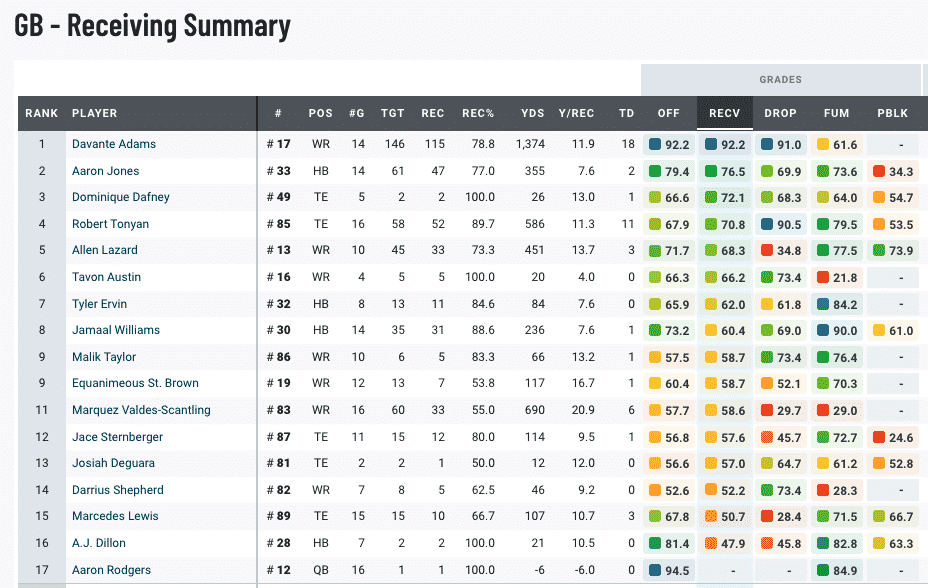 How many targets will be there for an incoming rookie is the biggest question in evaluating this among the fantasy rookie landing spots. Adams received an impressive 143 targets last season. However, with the addition of a quality target on the outside, he could see this number drop. If we add say 20 targets to the 102 Lazard and Valdes-Scantling saw and you have about 120 available. Lazard will still garner some of these, however, the rookie would have a shot at taking a majority of these targets.
A WR2 finish is not unrealistic if we get a top rookie landing in Green Bay. Even a second-round receiver could finish in the top 36 and be a solid flex player. I don't see the packers high octane offense slowing down anytime soon as long as Lafluer and Rodgers are there.
Tennessee Titans
The Titans lost two of their top three receivers to free agency along with their top tight end. They will need to add a third weapon for Tannehill as they currently only have Aj Brown and Derrick Henry. However, they currently have the 22nd selection in the draft which is right in the prime area for one of these top receivers.
There will be plenty of targets to go around for the incoming rookie, as there were 179 targets vacated. The Titans did add Josh Reynolds who will see some of these targets. However, they need to add a second outside receiver. They should see at least 80 targets, Davis was able to turn in a WR3 finish with this amount.  So a WR3 finish is not an unreasonable expectation. This is all on the assumption that new OC Todd Downing continues Smith's 50% neutral game script passing rate. This number could see a bump under the new staff.
Honorable Mentions:
Carolina Panthers (8th and 39th selection), Philadelphia Eagles (12th and 37th selection), and Los Angeles Chargers(13th and 47th selection)
Tight Ends
The tight end class is headlined by the generational player in Kyle Pitts. However, there are some solid options after him in Brevin Jordan, Pat Freiermuth, and Hunter Long. This class is the best in the past few years and there are some nice landing spots open as well! Let's take a look!
Jacksonville Jaguars
The Jaguars will have added their quarterback of the future by the time the pick comes around for them to select a tight end to pair him with. This could be a great addition as every quarterback loves a reliable tight end. With the addition of Urban Meyer, it is hard to say how many targets will be available for an incoming rookie. One thing is for sure they have little competition.
The Jaguars released Tyler Eifert and traded Josh Oliver opening up a clear lane for a rookie to come in and earn playing time right away. Being paired with what looks like Lawrence for the upcoming years is a boost for any pass-catchers stock. If we go off of the 95 targets Eifert and O'Shaughnessy saw we can predict a solid TE2 finish is not out of the possibility for a rookie.
This is very viable in today's fantasy game where many leagues offer a bonus for tight end receptions. Whoever lands here could easily be used as a flex option with the upside of TE1 numbers considering the landscape of the position at the moment.
Cincinnati Bengals
The Bengals lost Tyler Eifert before last season and tried to replace him with CJ Uz0mah and Drew Sample. However, this did not pan out so well. Neither of them would become fantasy relevant. Sample saw all 50 targets and produced only 75 PPR points. With Burrow returning from injury and the loss of three wide receivers the case could be made that there is a need for a big target in the middle of the field.
Sitting at 5th overall in the draft they will be able to draft the top tight end in the class if they choose. If not however they can wait till early in the second or early in the third to add this piece. There will be over 140 targets up for grabs in this offense this coming season. Some will go to the top two receivers in Tyler Boyd and Tee Higgins, however, 100 of these could easily go to a third option.
Whoever lands in Cincinnati will have a very good shot at producing top 15 numbers. Taylor has a 60 percent neutral game script passing rate, I do not see this changing. If the rookie can receive close to 80 targets and become a solid red-zone target top 12 numbers are well within reach. I'm excited to see what direction they go at five this week. Cincy is high up on the fantasy rookie landing spots.
Honorable Mentions:
Tennessee Titans ( 22nd, 53rd, and 85th selection),  Indianapolis Colts (21st and 54th selection), and Houston Texans (67th and 109th selection)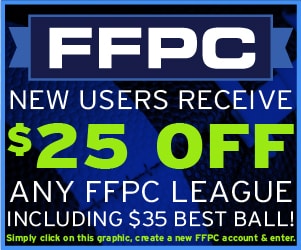 RELATED CONTENT
NFL Draft, Rookie Landing Spots | SGPN Fantasy Football Podcast (Ep. 1)
Dynasty Rookie Rankings: Top 50 Fantasy Football Rookies
Fantasy Football Dynasty Trade Value Chart – March 2021 Update