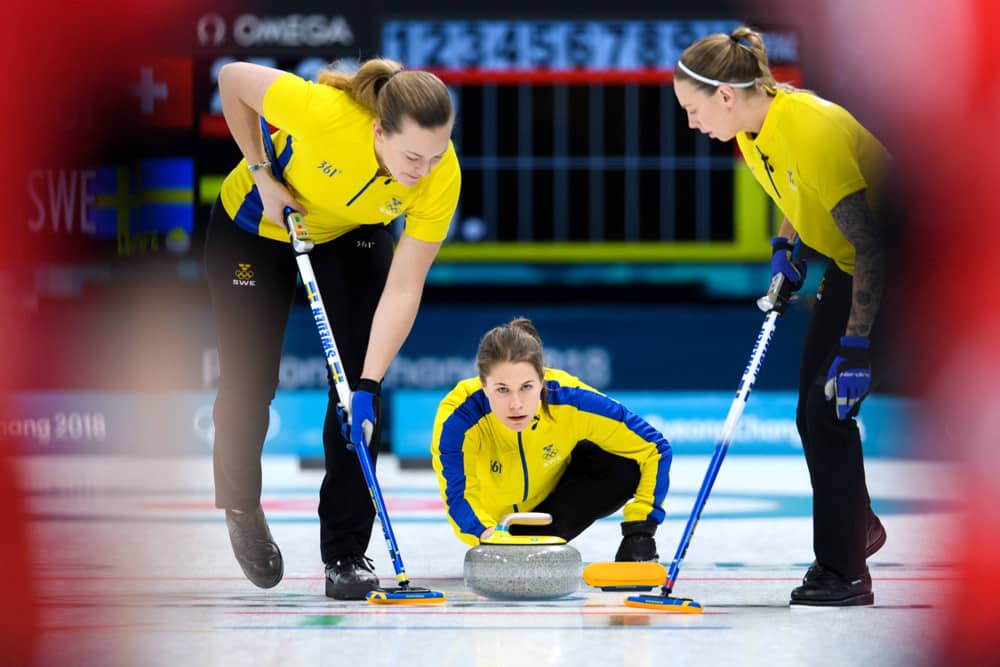 SGPN's curling coverage started on a whim when I talked Sean into letting me write about the Scotties Tournament of Hearts in February. Then we got Olympic Gold Medalist Tyler George to come on the podcast to talk curling and more. Along the way, we managed to send a certain bookmaker running scared due to our picks, had a major sports network jumping on our coattails with odds articles, and made all of y'all some money along the way as well. So after all of that, what are you waiting for? Get in on the curling action Degen Nation with the World Women's Curling Championship starting April 30.

Did you win money last week during the 2021 Players' Championship curling tournament? Maybe. Did you watch them? Maybe as well. One thing is for sure, you would have watched and cashed in if I had written my usual preview piece. The World Women's Curling Championships have arrived and now is the time to hurry hard (curling pun!) to lay some action and win big.
PAST CURLING COVERAGE
World Men's Curling Championship – Curling Odds and Picks
Tim Hortons Brier – Curling Odds and Picks
Scotties Tournament of Hearts – Curling Odds and Picks
Carson Wentz Trade, NFL Win Total Predictions And Curling (Ep. 957)
World Women's Curling Championships
Originally this tournament was supposed to originally take place in Switzerland, but was briefly canceled due to COVID. Instead of canceling outright the World Curling Federation eventually decided to relocate the tournament to the curling bubble in Calgary. After this tournament, there will be six teams that will have punched their ticket to Beijing in 2022. Like the Men's tournament, there will be round robin with the top six teams making it to the qualification games and semifinals. There will be sporadic broadcast coverage and you can find more on that here.
Betting on the Tournament
When looking to get in on the curling action you have to look at the big picture when laying your action. Many sites offer odds on winning the tournament outright and a team finishing in the top three. You can also find game-by-game odds on several sites and sportsbooks as well. Tackle that challenge if you want, but be prepared for some chaos along the way. Curling is a game where ice conditions and some random strokes of luck can swing a game. Even at a high-level event like the World Women's Curling Championships the ice conditions can and will play a factor. Be sure to spread your action across multiple plays to maximize your returns.
2021 World Women's Curling Championship – Curling Odds and Picks
Team Sweden (Anna Hasselborg) +300 to Win, -200 Top Three
The number one team in the world is not the odds-on favorite to win it all. Anna Hasselborg is the defending Olympic gold medalist and two-time World Championship runner-up. 2021 feels like it could finally be her year as all the pressure is on Team Canada. In the Players Championship last week she had the best point differential among all teams in round-robin play. She also lost a hotly contested match to eventual runner-up Rachel Homan.  Sweden has been runner-ups four times the past decade and as the top-ranked team in the world, they should be heavy favorites. They are an absolute steal to win the World Women's Championship at +300.
Team Russian Curling Federation (Alina Kovaleva) +800 to Win, +175 Top Three
Sure, Kovaleva and the RCF team did not put forth a great effort in the Players Championship. However, it was their first high-level competition of the season and Kovaleva has been part of a bronze and silver medal team at this tournament before. Now she is leading her own team and could be in line for making a massive jump in her first tournament. Despite finishing the Players with a disappointing 2-3 record, she did take down eventual silver medalist Rachel Homan in the first draw. Kovaleva and the RCF team are dangerous and are a nice value play.
Team Japan (Sayaka Yoshimura) +2000 to Win, +450 Top Three
Yoshimura showed the world she was ready to take the next step in her career. After several years of playing on Ayumi Ogasawara's team, she struck out on her own in 2018.  Yoshimura is a younger up and comer. Although she did not play in the Players last week, she has had some success on the Grand Slam circuit in years past. Sure she lacks the competitive experience this year after not playing in the Players, but with a weaker World Women's Curling Championship field she has a chance. If she can hit shots and push her team, they can hang in there and could place (+450). Put some action on Japan to win it all too as they are good enough to hang with the big names all tournament.
Team USA (Tabitha Peterson) +2500 to Win, +550 Top Three
Sure, we all want to be homers and cheer for Team USA. And with some nice longshot odds to win it all (+2500) and place top three (+550) they seem like a fun bet. However, skip Tabitha Peterson is only in her second year leading her squad and has only one major win to her credit. Her 2020 US Women's Championship seemed to be a dominant performance, but her showing at the Players was dismal last week. She failed to win a match and had the worst point differential. Sure, she could turn it around, and maybe she finds the form that allowed her to dominate former Olympian Jamie Sinclair twice in 2020. If you feel the need to make a patriotic bet on Peterson stick to a top-three bet.
Rest of the Field
Team Korea has decent odds at +1400 to win and +300 to finish top three. Skip Kim Eun-jung put together an impressive showing at the 2018 Olympics with a silver medal. However, she will be lacking the home-ice advantage here in Calgary and she has not done much high-level curling outside of Asia the past few years. Her team has changed since the Olympics, but they might rally back and are a nice value pick for a top-three finish.
Olympic hosts China are long shots to win or place at +2500 and +550 respectively, not worse odds than Team USA. However, skip Han Yu is only 20 years old and does not have the experience that Peterson has. That being said, you never know how a young skip might react and Han could rise up and shock the world.
Team Italy and Estonia sit as the longest shots at +15000 to win and +4000 to place. Both teams are led by younger skips so they could shock the world. Nothing wrong with laying a lottery-type play on either team. Do not bank on any massive upset.
MORE SGPN CONTENT
NFL Two Round Mock Draft Final – Adam Pelletier
The Valspar Championship DFS Picks & Best Bets | Golf Gambling Podcast (Ep. 52)