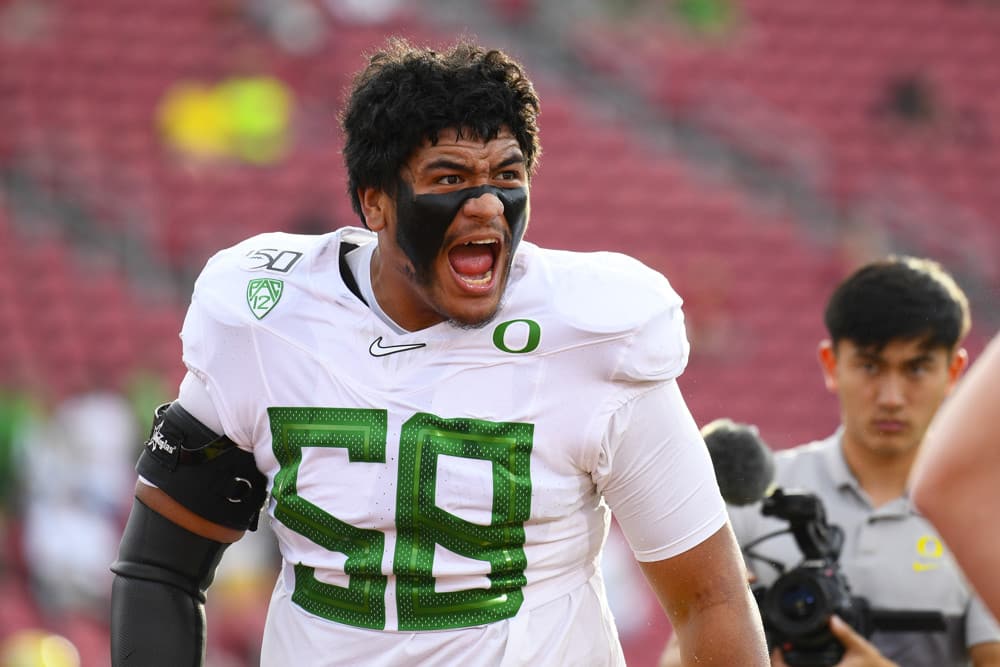 The NFL Draft is the time when hope springs eternal. If your team was terrible last season you have something to look forward to, and if your team was good maybe you are just one player away and that player is a nickel-corner you pick up in the third round from San Diego State. And like any good degen with a sporting event, you want to bet it. Here are the best NFL Draft Bets and Props to cash in on and make the Draft even more fun.
Last year the draft was virtual but by that time the bulk of the evaluation was one. This year the evaluation was virtual, but unless something changes the draft will be live in Cleveland. Evaluating players has never been an exact science, nor is predicting who will pick who. That is what makes it so much fun and fun to wager on…
Here are some NFL Draft bets to zero in on over at PointsBet.

NFL Draft Bets and Props
Odds to be Third Overall Pick
Mac Jones -210
Justin Fields +160
Trey Lance +300
Zach Wilson +1200
Kyle Pitts +5000
Penei Sewell +6000
There has been a flurry of recent trades shaking up the top of the draft. As we sit today the assumption is that Trevor Lawrence goes first to Jacksonville, followed by Zach Wilson to the Jets. This is going to be a QB-heavy first round and there does not seem to be a consensus as to who is the next best option. I was shocked to see the odds for Jones and feel like there is great value with Fields or Lance to get in there as both players are more athletic options for the modern game. 
Pitts and Sewell are the best at their position by far and those payoffs are amazing, especially for Sewell. You could pair Fields and Pitts/Sewell and win small or win really big 20 minutes into the draft. Nothing better to your NFL Draft bets slate than cashing in on pick three.
If you fancy yourself someone who is great at understanding team needs and the market you might want to look at some selection over/unders. Here are some that caught my eye. 
Kyle Pitts Over 5.5 (+100)
Pitts has awesome speed for the TE position but I wonder if he is really going to stay there or whether is he just a big receiver. I think that matters somewhat as it determines whether he is a unicorn, or just a really great prospect. I think he is more the latter and that hurts his draft prospects a little. Last year it took til pick 43 for the first TE to come off the board. We are not going to have to wait that long but I think we don't see him in the top five this year.   OVER
Justin Fields Over 4.5 (-130)
Where does Fields rate compared to Jones and Lance? How many teams are going to select quarterbacks in the Top Ten? These are the questions you have to decipher before you make this pick. Also in the background has to be the fact that Dwayne Haskins was a complete bust coming out of the same offensive system. Sometimes these top QBs are not what we think they are going to be when the talent balances out in the NFL. Fields is a better prospect than Haskins…but are teams going to be sure? As much as he could be the third pick he could also drop making this a nice NFL Draft bet to hedge your third overall pick with. OVER
Jaylen Waddle Over 11.5/Devonta Smith Over 11.5 (+100)
This is the classic potential vs. production case, made a little more fun because they are teammates.  For the past year, we have been hearing raves about Smith and how he is more than a system receiver for Alabama. Waddle got hurt last season but never put up the numbers that Smith did despite his impressive athletic skills. 
The reality is that these are two small receivers that might be benefitting from the exposure Alabama gives them. Last year the top two receivers off the board were also from Alabama with Henry Ruggs being a surprise at #12 and then Jerry Jeudy not far behind at #15. Neither made a huge impact. Each draft is different but I am not seeing either of these prospects jumping to the spot that Ruggs was selected, especially given that Ja'Marr Chase, of LSU, is the consensus top option at the position. It doesn't hurt that Justin Jefferson, also from LSU, was the best rookie receiver in the league last season. OVER
First Running Back Selected….Najee Harris (-140) or Travis Etienne (+150)
There have been many articles written about the demise of the running back position. That has quickly merged its way into the draft where the discussion has gone from how many backs will be taken in the first round to who will be the first one selected. 
Last year Clyde Williams-Helaire was the last pick of the first round by Kansas City and D'Andre Swift went a few picks later to Detroit. Both appeared more versatile than either of these players, who have not established themselves as mush as pass catchers as those two. 
In terms of who goes first, it is really tough to call as it is hard to know when a team will dip their toe in the RB pool. Both of these players are from elite programs. We have seen a lot of them over the last few seasons. 
They are two very different players though with Harris providing more power and Etienne more explosiveness.  In terms of who goes first, it might be more about fit than raw talent. Though we are talking about the first player off the board at the position. For what it is worth Harris is almost a year older too. 
To me, the value is with Etienne, not just in terms of the +150 but as a prospect too. I don't want to discount Harris but he has been playing in front of better offensive lines than Etienne. As they move to the next level, somewhat similar to quarterbacks, you need players who can be difference-makers when things are not blocked perfectly. Etienne looks like the player who will be able to still make plays under those conditions. He might be more boom or bust on each play and for his career. Usually, higher ceiling players go more quickly and that makes Etienne the better bet to go first in the NFL Draft. TAKE ETIENNE
Positional NFL Draft Bets
If you are planning to watch the whole first night of the draft (admit it, you are!!) then you might want to jump on some of these first-round positional over/unders. They are listed smallest to largest, not by order of excitement. No safeties get drafted and you could be laughing all the way to the bank though. Some of these payoffs are really great too for a couple of hours of "work."
Safeties – Over 0.5 (-250) / Under 0.5 (+190)
There is more passing in the college and pro football than ever so you would think there would be a surplus of rangy athletes that teams would love to drop into their defensive secondaries.  Richie Grant of UCF might be the top prospect and most see him as a second-rounder at best and to this point, there is nobody whose measurables make them look like a flier on draft day. That under looks like great value but you probably have to watch every pick to make sure.  Take the Under.  At this number don't go crazy though, all it takes is one.
Running Backs – Over 0.5 (-225) / Under 0.5 (+175)
See above for more details over who the top running back picked could be. I don't like the value here at -225 but I think at least one of those guys get selected. It won't be KC at the end of the first round again, but wouldn't either of those guys be interesting for Pittsburgh at #24. That feels about right. Take the over.
Tight Ends – Over 1.5 (+325) / Under 1.5  (-455)
Kyle Pitts plus who? That is the reason there is such a big payoff on this one. Pitts looks to be a consensus top ten pick but after that, it might be the third round before we hear the names Pat Freirmuth or Brevin Jordan. Even though that payoff is intriguing don't get sucked in to relying on tight ends to make your bankroll.  That is probably a good season-long strategy too. Take the under.
Defensive Linemen  – Over 4.5 (+101) / Under 4.5 (-125)
This is one of a few positions where things can truly go either way. On the defensive line, teams can get enamored with measurables and it is one of the few positions where depth is really valuable. The over has a better payoff but there are lots of mock drafts out here where no DL are even going in the top 15. That is a lot of action going on in the latter half of the first round. It can happen for sure but the under looks better to me. Take the under.
Cornerbacks – Over 4.5 (-104) / Under 4.5 (-121)
This position is similar to the defensive line, I am not sure any team really thinks they are set at the position or couldn't use an upgrade. Unlike DL there is a prospect that stands out in Patrick Surtain III. He is not the only player at the position whose dad was a pro either and I think that name recognition helps, not hurt. With the league passing more than ever you need more guys who can cover.  It is as simple as that. Take the over.
Receivers – Over 4.5 (-162) / Under 4.5 (+127)
Elite receivers are important but you can find them in any round, truly. Last year Stefon Diggs led the league and he was drafted in the 5th round back in 2015. There is just no reason to rush at the position and I think that as the draft gets closer and closer folks are going to realize that there are no sure thing Julio Jones types in this group. I like the under.
Linebackers  – Over 4.5 (+130) / Under 4.5 (-167)
Micah Parsons is a physical freak, maybe the best athlete in the draft. After that, you see a lot of guys who are long on production but short on the kind of sizzle you want in a first-round pick. I think the lack of the combine might hurt this group more than any other position. Look to take the under here.  Most mocks have Parsons sliding and he is the best of the group. Take the under.
Quarterbacks – Over 5.5 (+300) / Under 5.5 (-400)
We have not had this much quarterback hype for a first-round in a while. Some mocks see QBs as the first four picks off the board but to cash this one you need to find that 6th guy after Lawrence, Smith, Fields, Lance, and Jones. I just can't imagine anyone being that hot on anyone else, and thinking they need to draft them in the first round to get them. You might not see another QB after the first until the fourth round. Take the under even though there is no value there.
Offensive Linemen – Over 6.5 (+110) / Under 6.5 (-137)
This is always a wild card because it can become a default position if a team is not sure what it really wants to do. Penei Sewell looks to be way ahead of the rest of the group…and then Rashawn Slater. There are probably 7 or 8 players with first-round grades which is a nice place to start from but then you also get GMs that know they are not going to get killed for grabbing an offensive lineman from an established factory-like Notre Dame, Stanford, or Wisconsin.  Go with the over. 
RELATED NFL DRAFT CONTENT
NFL Mock Draft 2021 1.0 – Rod Villagomez
NFL Mock Draft 2021 1.0 – Adam Pelletier
Devy Fantasy Football: Top 10 Tight End Rankings
Fantasy Football Dynasty Trade Value Chart – March 2021 Update
Devy Fantasy Football: Top 20 Quarterback Rankings