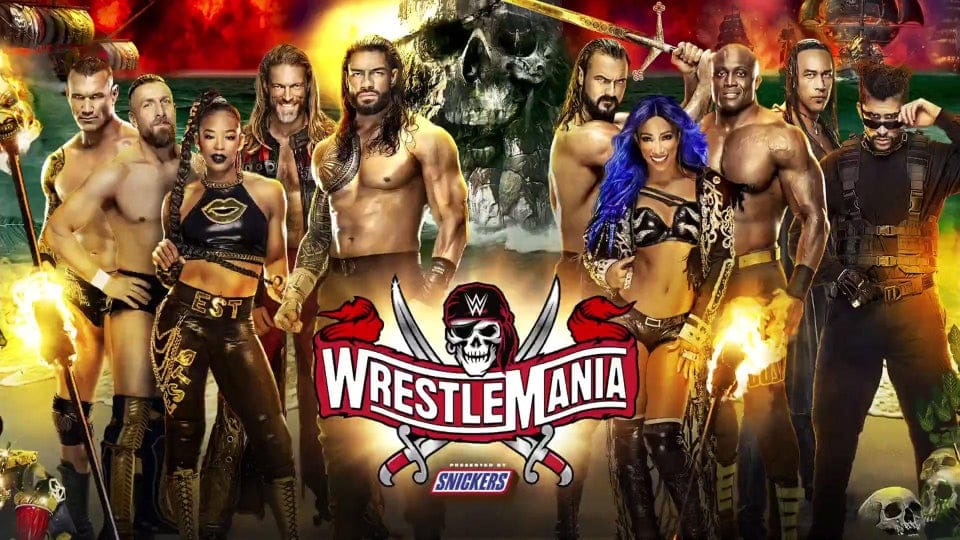 This weekend WWE superstars gear up to perform once again in front of a live audience for WrestleMania 37 inside Raymond James Stadium in Tampa Bay, Florida. Like last year, "The Grandest Stage of Them All," will be a two-day extravaganza. As always, it will be stocked with high-flying and in some cases downright creepy entertainment. With the introduction of an audience this year, you can expect wrestlers to ramp up their game as they are sure to be brimming with adrenaline.
If you are reading this, you might be new to the idea of betting on the WWE and probably didn't even think it was possible. Well, you can, and here is a setup with some of the lines from the card. You may think betting on a scripted event is a little much, but just because they know how it all will end, you don't. It never hurts to have a little skin in the game.
That said, here are some matchups of interest as the WWE celebrates the biggest event in the world of sports entertainment.
WrestleMania 37 Betting Odds and Match Previews
WWE Championship Match
Bobby Lashley (-120) vs Drew McIntyre (-120)
A year ago this month, Drew McIntyre realized a lifelong dream when he defeated Brock Lesnar at WrestleMania 36 for the WWE Championship. This week, he'll get a chance to regain his title and enjoy another WrestleMania moment in the process. The Scottish Warrior is only a few weeks removed from losing his hard-fought title to The Miz. He vows to reclaim his championship status on Saturday. He'll attempt to pry it from the hands of the man who was responsible for that loss. On top of that, the man who also beat The Miz less than a month ago on RAW to claim the belt for himself.
Lashley finds himself at the peak of his 16 years of title hunting in the WWE. He beat The Miz for the title on RAW and defended it almost immediately. The Almighty is not ready to see his time on top end so soon after it began. He'll look to apply the Dominator and continue to live his dream as WWE Champion. The run-up to this hasn't been built up for long, but it's been a hot one so expect to see some explosive action in the ring for this match.
Smackdown Women's Championship Match
Sasha Banks (+200) vs Bianca Belair (-300)
There is nothing like the satisfaction of watching two frenemies settle the score on the biggest stage of them all. This is the backdrop for the Smackdown Women's Championship match between former (?) tag team partners Sasha Banks and Bianca Belair. Up until literally a month ago, the two were competing on the same side. The dynamic quickly shifted once Belair won the Women's Royal Rumble. That honor allows the victor to choose their opponent at WrestleMania. After weeks of goading from her "friend", Banks, Belair finally made her decision. She wanted to come after the Boss for her title.
Tempers have flared on the road to WrestleMania and backstabbers have been administered. It will all culminate in their match this weekend with Belair trying to prove to the WWE Universe that she truly is the EST. The champ enters as the underdog here and unless management is ready to give the challenger her moment, a bet on the dog could prove wise.
RAW Tag Team Championship Match
The New Day (+120) vs A.J. Styles & Omos (-150)
Leave it to the WWE to present a match between one of the most successful tag team alliances of all time and a guy and his bodyguard. Last month, Kofi Kingston and Xavier Woods cemented the New Day's 11th championship title. A few months ago, two of the three members of the group were brought to RAW leaving Big E alone on Smackdown. This did little to slow Kingston and Woods down as they defeated Sheamus and Cesaro to once again wear the belts. The fact that tag team titles move quickly as of late could be an indication of why New Day is not the favorite to win here.
It is shocking to see A.J. Styles and Omos favored in this match given the fact that they have never wrestled as partners before. More than that, Omos is set to make his in-ring debut at WrestleMania. This is a fact not lost on the New Day as they have gone to great lengths to highlight just how much Styles does not know about his teammate. This match is likely nothing more than a way to officially introduce Omos into a full-time wrestling role and not much more. Despite the shifting sands of the tag team worlds, the champs should retain their titles in front of thousands of screaming fans in Tampa.
RAW Women's Championship Match
Rhea Ripley (-200) vs Asuka (+160)
WrestleMania has always been a vehicle with which to push rising stars into the WWE spotlight. One such young talent could get her shot sooner than anyone would have expected as Rhea Ripley will take on Asuka for the RAW women's title this weekend. Charlotte Flair was supposed to square off against the champ, but her recent Covid diagnosis called for a speedy rewrite. It allowed for the former NXT UK and NXT Women's champion to try and make an immediate impact on the grand stage. She wasted no time too as she laid down the gauntlet on her first night on the RAW roster.
She'll have to beat one of the most decorated wrestlers in the WWE. Asuka has herself been an NXT champion, has won the Royal Rumble, Money in the Bank, has two tag team titles, and has worn championship belts in both RAW and Smackdown. Asuka's road to WrestleMania is paved with the pinned bodies of Shayna Baszler and Peyton Royce. She will have her hands full with the overconfident upstart. She could also very well find herself on the short end of a feel-good story for Ripley in her first WWE title match with actual fans in the stands for the first time in over a year.

The Fiend (-500) vs Randy Orton (+300)
You know you're in for a spectacle when the matches leading up to the biggest night in the industry leave you literally on fire. In a contest that is better seen than described, Bray Wyatt (read: The Fiend) concluded his last bout with Randy Orton in need of a fire extinguisher. Spoiler alert, he never got one. It was a scene that rendered The Fiend MIA for quite some time afterward. That all changed two weeks ago. Wyatt rose from the ashes and through the ring signaling his return and a match with Orton at WrestleMania.
This long-running feud has taken a turn toward the supernatural. Even more than any Undertaker storyline has. It should provide several eye-popping moments. Alexa Bliss won an intergender match against Orton thanks to The Fiend's fiendish return. She's currently playing the Harley Quinn to Bray's Joker. This match promises to be a highlight of the card. In the end, you don't hand a guy the kind of return The Fiend received to have him lose his next match. Not to mention, how insulting is it to literally walk on fire for your job and not be rewarded for it.
Universal Championship
Edge (+110) vs Roman Reigns (+140) vs Daniel Bryan (+200)
Three of the biggest names in sports entertainment take center stage and will main event WrestleMania 37. All three have suffered what can be considered career-ending setbacks. All three have come back and are once again headlining the biggest event of them all. Now, they face each other with the Universal title on the line.
This match was initially slated to pit Reigns, the current champ, against Edge. The Rated-R Superstar earned the right at the title match by winning the Royal Rumble. Bryan's inclusion percolated into a situation that culminated in him not winning the title from Reigns at Fastlane. All the storylines came to a head that day. Edge delivered a chair shot to both of them in a jealous fit to effectively end the match. Thus, the need to add Bryan to the match. A contest of this caliber is the ultimate way to send home the first real crowd of fans for a WWE event in 13 months. Who wins this feels like a toss-up. Bet your heart on this one.
Read Also
Best Prop Bets for the Masters
The Masters 2021 DraftKings Picks
Devy Fantasy Football: Top 10 Tight End Rankings