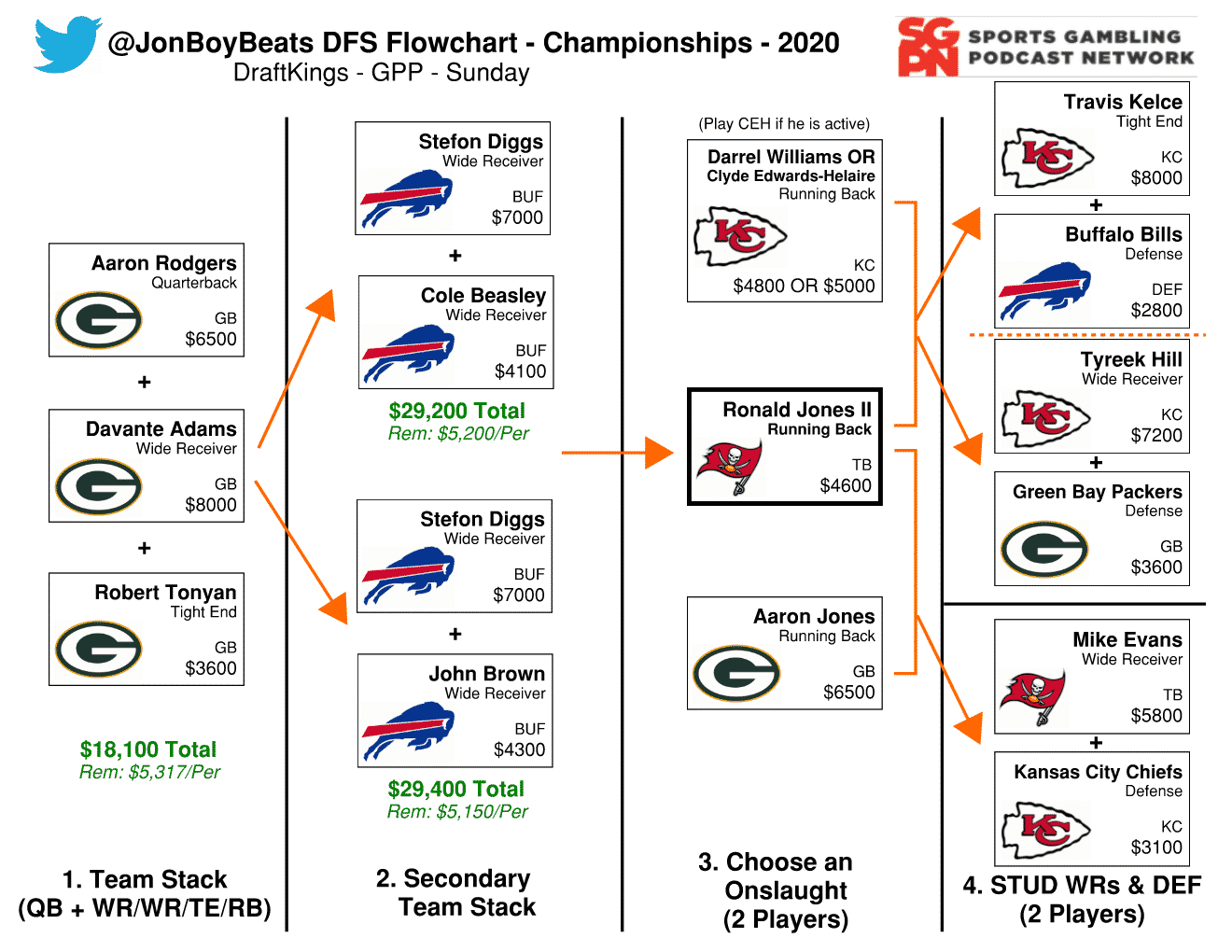 The time has come to post the last flowchart of the season. It's a sad day for me personally, since I will now be aimlessly drifting through the upcoming weeks trying to find NFL players to analyze. But luckily for us, we have an absolute beauty of a slate on this Conference Championship weekend, and I have had a ton of fun trying to break down some angles this week. The conference championship flowchart is  full of some great and fun plays.
Before we jump in, I wanted to give a sincere thank you to all of you who have followed the flowchart this season. It has been a really fun ride, and I hope that you have learned as much strategy and game theory from me as possible along the way.
The 2-game slates offer a big challenge to us as GPP players. It is typically harder to find ways to be different, so we usually need to resort to leaving salary, loading up onslaughts, or picking some really thin players. In my opinion, DraftKings has done a really good job this weekend with pricing.
The pricing reflects that this week, however all of the studs are slightly reduced compared to where they were typically in the regular season. On top of that, there aren't a lot of great running back options so it will be pretty easy to jam in a lot of stud receivers. I think this makes it more fun, because it stresses the decision points between studs, rather than stressing the decision points between low owned guys.
At the beginning of the week, I had a tough time trying to decide on what offense to attack. I truly think that all four teams have the potential to score 30 points this weekend, which makes it challenging to choose. I put out a pretty long Twitter thread on Thursday, where I looked into the offensive output this season for all four teams when they scored more than their current Vegas implied team totals.
NFL Conference Championship DFS Flowchart
Being Different on Conference Championship Weekend
Due to some of the COVID rescheduling and late season Saturday games, we have more than a few of these two game slates to review from this season. One of the big things that jumped out to me is that you don't have to be too different to have success. Simple things such as playing Patrick Mahomes with Travis Kelce and Tyreek Hill or playing three RBs while most people will only play two, can really provide you some good leverage over the field. Be careful not to try and out-level yourself by going too far down the contrarian rabbit hole.
The final piece of advice that I would recommend on this small slate, is to try and not cover your bases too much. As I said above, there is a ton of upside for every team this weekend, but if you try and cover that with all your different lineup constructions you may end up spreading your bankroll too thin. I am more in favor of taking a couple of hard stands, and really going in on those with some serious conviction.
Conference Championship Flowchart
Team Stack
One of the strongest conviction plays I have this weekend, is that the Packers are going to score a ton of points and cover the spread against the Bucs. I wrote about this yesterday, but the Buccaneers have historically had some bad luck in the cold weather and especially in the first half. In Aaron Rodgers career at Lambeau Field, when he has a halftime lead, he is 70-1-1. Unreal.
Rodgers was the highest scoring QB in the Divisional Round, and now faces a Buccaneers defense which is considerably worse against the pass. On top of that, he is the third most expensive QB and projecting to come in at half the ownership of Mahomes and Josh Allen. Of course, I am going to pair Davante Adams with Rodgers this weekend. At $8000, a 3X value game from Adams will feel almost casual (he has topped 24 DKPts in 8/15 games this year) and if he really explodes for 2 TDs he has 40 DKPt upside.
To finish off the double stack, I absolutely love Robert Tonyan this week. The second best TE option on the slate is Tonyan. However, he is priced so far below Kelce, that it seems like he is being used purely as a blocker. In games where the Packers have scored more than 27.25 pts (current Vegas total), Robert Tonyan averaged almost 12 DKPts this season. Rob Gronkowski and Dawson Knox are both in single digits in this same sample size.
Secondary Team Stack
Here is where we are going to make our stand and be different this week. Instead of focusing on a bring-back stack with Tampa Bay we are going to load up on another strong WR stack in the AFC. The choice comes down to Buffalo or Kansas City. I wanted to use this section to share a chart from my Twitter thread earlier this week. Here is how Bills and Chiefs double stacks have performed this season (in games where the scored higher than their current Vegas implied total). It's important to note that the assumption is that the Bills stacks always had Stefon Diggs, and the Chiefs stacks always had one of Hill or Kelce. For the "Value" calculation, I just used the average double stack salary from each team on this weekend's slate.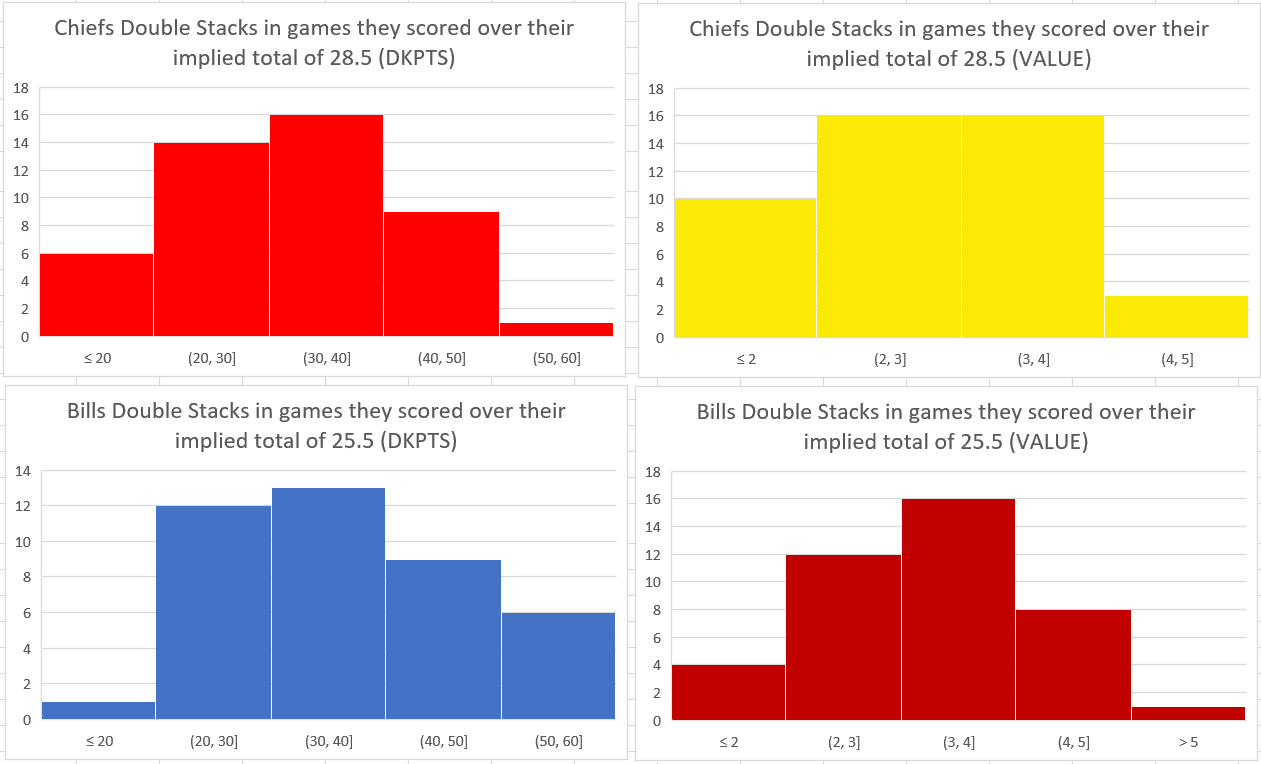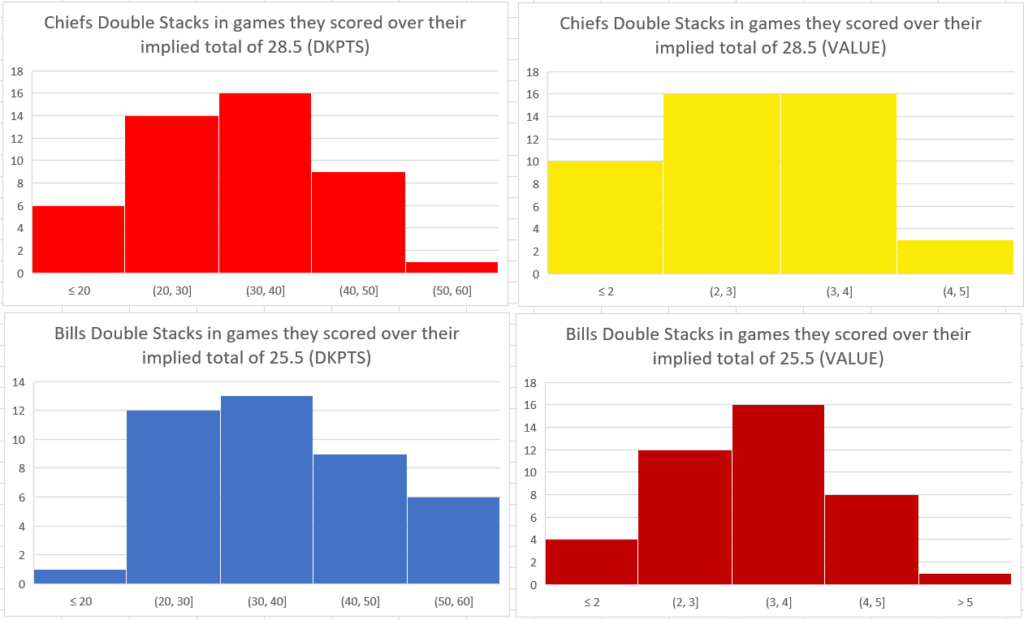 This chart is pretty telling because it shows a strong skew-right distribution for the Bills double stack scoring output. In addition to that, since the Chiefs studs are higher priced than Diggs, the value "ceiling" for the Chiefs is a lot lower. The final reason for choosing a Bills secondary stack is that it provides us a sweet cheat code play for those of you wanting to make 20 lineups from the conference championship flowchart (scroll to the bottom to find out!)
Choose an Onslaught
Now that we have started out lineups with four strong Packers and Bills pass-catchers, we need to focus in on the Running Backs. The other strong conviction play that I have this weekend is Ronald Jones. While Leonard Fournette outperformed Jones last weekend from a fantasy standpoint, it was clear to me that Jones was the far more explosive back. A lot of people will be playing Fournette this week, and it would be classic Bruce Arians' fashion to feature Jones as the starter here. This is a high risk/reward kind of play given Jones injury status, but we are shooting for the moon in GPPs.
I titled this section "Choose an Onslaught" because whoever you choose to pair with Jones will determine which game that you focus in on. Starting with the AFC game, I really think that either Darrel Williams or Clyde Edwards-Helaire will have a big performance. The Chiefs have historically had a running back breakout for a game or two in the playoffs and we didn't see that last week. Now they face a Bills defense that is content to sit back in a Cover 2 shell and tempt the Chiefs to try to beat them on the ground. In order to play CEH over Williams, I want to see a couple strong reports that he won't be limited and will be the feature back on Sunday. If there are any questions about his health leading up to kickoff, make the swap down to Williams.
On the other side of the running back decision is Aaron Jones, who is in a clear tier ahead of all the RBs this weekend. This is also a way to double down on my Packers conviction, by really loading up on an offensive onslaught through the air and ground. When the Packers score over 27.25 points, Aaron Jones has averaged 19.1 DKPts. That is great for his current price tag and makes him a value on the conference championship flowchart.
Stud Pass-Catchers
I will start by saying that none of the defenses stand out this weekend. If you are making multiple lineups, I would recommend spreading our your ownership among all four as best as possible. Try not to play one against your QB, but other than that they are all fair game. Since we saved some money at QB and RB, we have plenty left to grab another stud pass-catcher. I really like taking the Kelce/Hill route because it gives us access to all three teams who could have a pass-catcher go for 25+ DKPts.
If you feel safer not having to decide on a Chiefs RB, then pairing up Mike Evans with Ronald Jones and the Packers stack is a good way to focus in on the NFC matchup. There area couple options to follow with the conference championship flowchart.
Cheat Code for 20-Max Players
I teased this up above, but for those of you trying to play multiple lineups this week, you may find it hard given how specific the routes on the flowchart are this week. This is where the decision to do a secondary Bills stack comes in handy. If you switch down from the defense listed in the last column, almost every single Aaron Rodgers lineup that you made can be one-for-one matched with a Josh Allen at QB lineup. If that isn't a sneaky little cheat code, I don't know what is!
In stepping back and reviewing the flowchart this week, I am having trouble finding places where we will be completely burned. We don't have exposure to Patrick Mahomes, and we know he has the potential to run away with the QB position. It's unlikely that a lot of people will roster him with Kelce and Hill so I think we are safe there. Leonard Fournette is another guy who could bury us given the correct game script, but by stacking Rodgers we are hedging against that a little bit if the Packers are in catch-up mode.
We do not have many of the lower priced receivers this week, and as we saw with Allen Lazard and Tre'Quan Smith last week, those guys have real potential to break the slate. However, if you told me that I could build a lineups with Adams, Diggs, and Kelce/Hill; I'm not sure I could be talked into pivoting off of them for a lower priced WR.
That does it for the final flowchart of the year. I will have my Showdown Worksheet and a deep dive analysis for the Super Bowl matchup, and I will also be putting out a "Year in Review" article next week which will highlight some of the big hits and missed from this season. Thanks again and good luck this weekend with the conference championship flowchart!
RELATED CONTENT
NFL Conference Championship DFS NFC Picks
NFL Conference Championship Games: Seven Things to Know