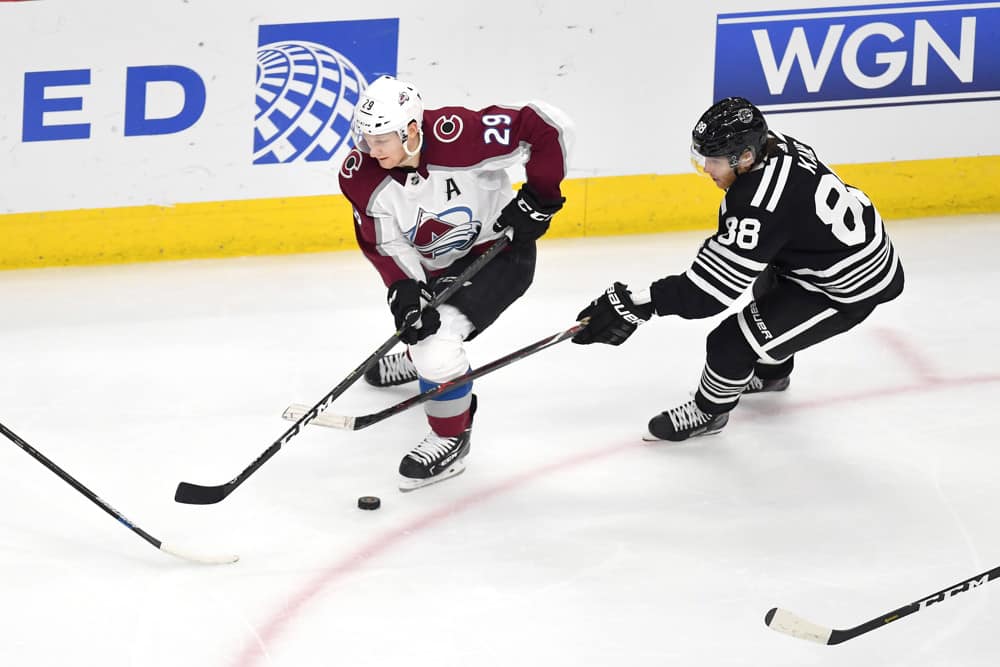 NHL Opening Night is just a day away!
We have already gone over some futures betting, so now it's time to get to the regular-season action. With five games on the opening night slate, there's plenty of opportunities to make some money.
To start the season off, I'll be giving you a pick for a winner, total, and player prop for all five games on Wednesday night's slate. Let's get into it.
All game and total lines are via WynnBet. Click on the banner below to sign up and get a risk-free bet!

Pittsburgh Penguins at Philadelphia Flyers – 5:30 p.m.
Pick: Philadelphia Flyers -115
Penguins vs. Flyers. What a way to start off the NHL season. One of the best rivalries in hockey will take center stage on Wednesday evening to kick things off.
The Penguins and Flyers always play intense games, and they're even better when both teams are good. That is what we have right now with Sidney Crosby, Evgeni Malkin, and the Penguins taking on the up-and-coming Flyers. The Penguins were ousted in the qualifying round last year, missing the playoffs, while the Flyers won their first playoff series since 2012.
I will start this off by acknowledging that I am a Flyers fan. However, this isn't a pure homer pick. I believe the Flyers are as good as they showed in the latter portion of last season. They were one of the best teams in the league not only from January 8th on, but from the beginning of November as well.
The Flyers have a deep team with four very good lines, a solid defensive corps, and a stud in net in the form of Carter Hart.
This game should be close, but I see the Flyers pulling it out with a strong effort in front of Carter Hart.
Total: Under 6 Goals (-120)
While I do think we will get another exciting game between these two rivals, I don't think it will be exciting in the high-scoring sense. It will be a hard-fought, tight-checking game that should not get out of hand. Both teams will be feeling things out to start the season and I expect more of a slower pace.
The Flyers were one of the best defensive teams in the league last year. They allowed a league-low 28.7 shots against per game and had the seventh-lowest goals against per game with 2.77. The Penguins were also pretty good defensively with just 29.7 shots against per game (sixth lowest) and 2.84 goals against per game (12th lowest).
On top of that, the Flyers appear to finally have their answer in goal in the form of Carter Hart. The young goalie is only getting better and I see a close 3-2 game in the cards to open the season.
Player Prop: Travis Konecny Over 0.5 Points (-108)
If you don't know about Travis Konecny, you better learn quick. The kid is a star in the making.
Konecny had led the Flyers with 61 points in 66 games last season. He went without a point in just 24 of those 66 games and he loves playing the Penguins.
Konecny got out to a hot start last year with points in 14 of his first 17 games, including a three-point game in the season opener. I'm expecting more of the same this year.
Montreal Canadiens at Toronto Maple Leafs – 7:00 p.m
Pick: Toronto Maple Leafs -135
The Maple Leafs are better than the Canadiens. Plain and simple. I would have the Maple Leafs as longer favorites in this game, possibly as high as -150.
Montreal surprised a lot of people last year by ousting the Penguins to reach the playoffs, where they pushed the Flyers to six games. However, Toronto has a lot of star power and a solid team all around.
Total: Over 6.5 Goals (+115)
I'm honestly not sure what to make of this game. I could see it being a low-scoring affair with Carey Price in net, but I could also see the ice open up and we get a goal-fest. I'm going to lean towards the over with the +120 odds rather than the under at -135.
The Maple Leafs (3.17, sixth most) and Canadiens (3.10 T-11th most) were both weak last year in terms of goals against per game. Toronto was able to overcome that with 3.39 goals per game, the third-most in the league, while Montreal had a respectable 2.93 goals per game (19th most).
Player Prop: Joe Thornton Over 0.5 Points (+105)
Yes, that Joe Thornton who is now 41 years old and has been playing in the NHL since his linemates were in diapers.
Those linemates are a pretty big reason for this pick, actually. Thornton is known for his hands and ability to make plays. The Leafs are leaning into that by placing him on the top line with Auston Matthews and Mitch Marner. He is also on the top power-play unit with those two, Wayne Simmonds, and Morgan Rielly.
If you're feeling spicy, I wouldn't be opposed to throwing something down on Thornton Over 0.5 Goals at +410 as well.
Chicago Blackhawks at Tampa Bay Lightning – 8:00 p.m.
Pick: Tampa Bay Lightning -250
This is an easy one. The Blackhawks are a one-line team after injuries to Kirby Dach and Jonathan Toews. They do have a pretty good top line, but the Lightning have more than enough to combat that.
The Lightning will be looking to follow up their Stanley Cup win with another strong season, and that'll start with a home win against Chicago.
Total: Over 6.5 Goals (+100)
There is a lot of star power in this game between Steven Stamkos, Brayden Point, Patrick Kane, and others. The Blackhawks do have that one good line with Alex DeBrincat, Dylan Strome, and Kane.
I see Chicago putting a few goals up, but the Lightning will easily score four or more against Malcolm Subban and the Blackhawks.
Player Prop: Dylan Strome Over 0.5 Points (+130)
While I expect the Lightning to dominate, I do think the Blackhawks will put a few goals on the board. If they do, the goals will most likely come from Chicago's top line and/or power-play unit.
Strome is flanked by DeBrincat and Kane on the top line, and the trio is joined by Dominik Kubalik and Duncan Keith on the power play. This is Strome's chance.

Vancouver Canucks at Edmonton Oilers – 10:00 p.m.
Pick: Vancouver Canucks +100
We're going with our first dog of the day with the Vancouver Canucks as a slight underdog to the Edmonton Oilers at +100.
The Oilers are all sizzle and no steak. Yes, Connor McDavid is the best player in the world and didn't even lead the team in points last season. That would be Leon Draisaitl, who is great in his own right. But then there is a significant drop-off. Sure, they have Ryan Nugent-Hopkins, but Zack Kassian is on McDavid's other wing.
The Canucks, on the other hand, are an up-and-coming team that could surprise some people this season. They have a strong top six anchored by Elias Pettersson and Bo Horvat, added some defensive depth in the offseason with Nate Schmidt, and signed Braden Holtby to fill the crease.
Vancouver is a fun team out West that should be able to upset the Oilers on opening night.
Total: Over 6 Goals (-115)
I'm seeing another relatively high-scoring game here. Perhaps a 4-3 final given these two teams.
Both of these teams averaged over three goals per game last season (Vancouver 3.25, 8th; Edmonton 3.14, 15th). They also both allowed 3.10 goals per game, tied for the 11th-most in the league.
The line was at 5.5 until a few days ago, and I'm going with the trend. I think this will be more of an open game. McDavid and Draisaitl are going to get their points, and the Canucks have enough depth to keep up.
Player Prop: Connor McDavid Over 0.5 Goals (+116)
It's opening night and the oddsmakers have the best player in the world favored to not score a goal? Give me that.
McDavid has scored in three of his last four season openers with two goals in 2016, a hat trick in 2017, no goals in 2018, and a single goal last year.
St. Louis Blues at Colorado Avalanche – 10:30 p.m.
Pick: St. Louis Blues +115
I think the Blues are going to be better than people think this season. They start the season with a major test against the Avalanche in Colorado on Wednesday night.
The Blues were the second-best team in the league last season and they haven't lost too much from that squad. Alex Pietrangelo left in free agency, but he was replaced by Torey Krug. They still have a good group of forwards and added Mike Hoffman late in the offseason.
The Avalanche are good – very good – too, don't get me wrong, but I think there is value in the Blues at +115 on opening night.
Total: Under 5.5 Goals (+100)
These were two of the best defensive teams in the league last season. They each allowed 2.71 goals or fewer per game (Blues 2.68, 5th; Avalanche 2.71, 6th). In an opening game between two of the teams expected to be at the top of the division, I see another outcome similar to Penguins-Flyers with a close 3-2 game.
Player Prop: Nathan MacKinnon Over 0.5 Goals (+136)
Just like with Connor McDavid, Nathan MacKinnon is getting in the goal column on opening night.
MacKinnon started off last season with a 13-game point streak with goals in eight of those games. Furthermore, he had a goal in 31 of 69 games (44.93%) last year, which is slightly above the 42.37 implied percentage of +136 odds.
If you're not as confident in MacKinnon scoring, Over 1 point (-178) is a solid bet as well if you're comfortable laying the juice and potentially settling for a push.
---
Related Hockey Articles:
Fantasy Hockey Rankings 2021 – Printable Cheat Sheet for Drafts
NHL Futures: Best Value Picks In Each Division
NHL Futures: Best Favorites & Longshots For Calder, Hart, Norris, Vezina Trophies
If you have any questions or just want to talk some hockey, hit Ryan up on Twitter @RGilbertSOP