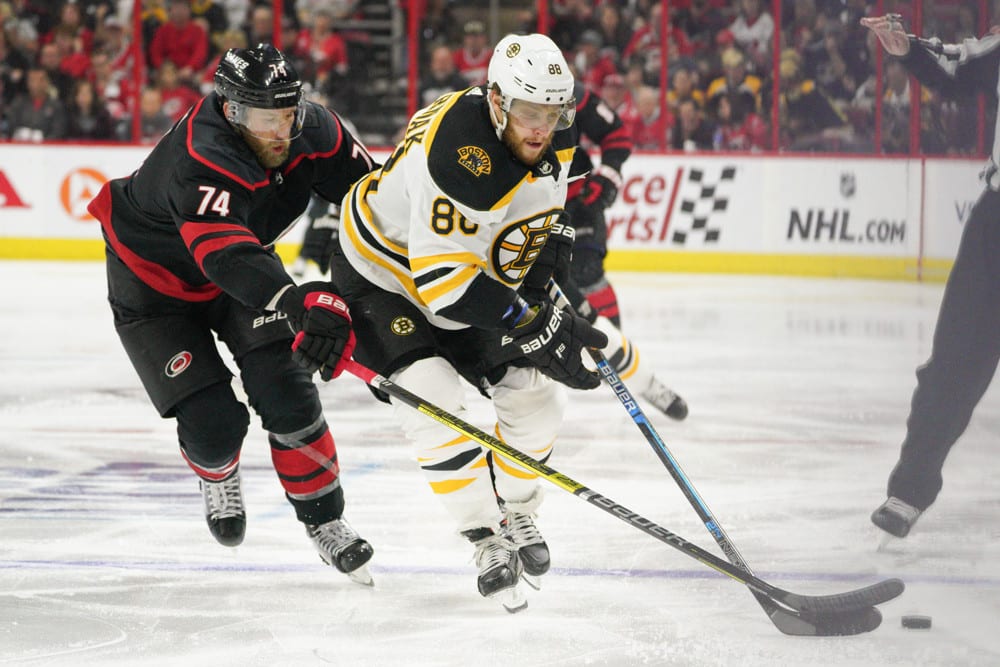 We're getting closer! The NHL season is just days away. With the season starting soon, there's still time to get in some NHL futures bets.
We went over some team future bets to win the division last week, and now it's time for the player futures. Let's take a look at the four main trophies: Calder Trophy (best rookie), Hart Trophy (most valuable player), Norris Trophy (best defenseman), and Vezina Trophy (best goalie).
For each trophy, I have selected one favorite and one longshot worth taking a look at.
Calder Memorial Trophy (Best Rookie)
Favorite: Kirill Kaprizov +400
Kirill Kaprizov was drafted all the way back in 2015. So how is he a rookie? Well, he is finally in North America and ready to get his NHL career started with the Minnesota Wild. We've seen Russian overaged rookies (Artemi Panarin) win the Calder Trophy before over worthy recipients that were much younger, and this 23-year-old forward could do just that.
Kaprizov has a more refined game than the other rookies in this class (namely Alexis Lafreniere). He has 293 professional games under his belt through six seasons in the KHL. Oh yeah, he was nearly a point-per-game player in the KHL with 230 points in 293 games. Last season he had 62 points (33 goals) in 57 games.
Lafreniere and Igor Shestyorkin are both +300 to win the Calder, but they could split votes from the New York Rangers contingent. Kaprizov will also have an opportunity to play with talented players like Zach Parise in the Wild's top six. He is penciled in on the top line with Parise and Nick Bjugstad to start the season.
Longshot: Joel Kiviranta +2000
If the name Joel Kiviranta is familiar to you it's because he scored a few pretty big goals for the Dallas Stars last year in the playoffs. He had six points (five goals) in 14 playoff games after spending most of the season in the AHL. He is penciled in on the Stars' second line with Joe Pavelski and Alexander Radulov to start the season.
Kiviranta is another overaged rookie at 24 years old. With some NHL playoff experience under his belt, he could be primed for a big rookie season. These odds at +2000 are worth throwing something down on.

Hart Memorial Trophy (Most Valuable Player)
Favorite: Nathan MacKinnon +500
I am a huge fan of Nathan MacKinnon this season (see: Fantasy Hockey Rankings 2021 – Printable Cheat Sheet for Drafts). He arguably should have won the Hart Trophy last season after carrying the Avalanche to the playoffs. This season he's playing in one of the weaker divisions and should be able to dominate.
Furthermore, MacKinnon doesn't have a true Robin to his Batman as some of the other favorites do. Connor McDavid (+450) and Leon Draisaitl (+1000) could split votes unless one of them has an absurd season. Auston Matthews (+800) even has Mitch Marner (+2300) in the conversation. The Avalanche player with the second-best MVP odds is Mikko Rantanen at +5000.
MacKinnon and the Avs will be able to beat up on the Kings, Sharks, Ducks, and Coyotes while getting tested by the Golden Knights and Blues.  If the Avalanche come out on top, it's going to be on the back of Nathan MacKinnon.
MacKinnon has three-straight seasons with at least 93 points, which he totaled in just 69 games last season. He has finished second place for the Hart twice (2018, 2020). This is his year at +500.
Longshot: David Pastrnak +2700
Odds of +2700 for the reigning Rocket Richard winner (most goals in the league) seems like a steal. David Pastrnak is coming off a 48-goal, 95-point season in just 70 games. He led the league in goals and finished fourth in the MVP voting. As he enters his prime years (turning 25 in May), the sky is the limit.
The Bruins also have Brad Marchand (+2400) and Patrice Bergeron (+5000) in the conversation, but Pastrnak is head and shoulders above them and steals the spotlight with his scoring. Marchand could never get the votes due to his reputation, and Bergeron has always been more of a Selke candidate anyway. Pastrnak is injured and will miss the start of the season, which is part of the reason he is such a longshot. However, I still think he has some value at +2700.
Norris Memorial Trophy (Best Defenseman)
Favorite: Cale Makar +1200
While this may not seem like a "favorite" at +1200, Makar is tied for the sixth-best odds to win the Norris Trophy. I don't want to just pick one of the guys in front of him for the sake of it because I think Makar has as good a chance as any of them.
Makar burst onto the scene with 50 points (12 goals) in 57 games during his rookie season last year. He earned the Calder Trophy and was already ninth place in Norris voting. People know how good he is and he's only going to get better. Like MacKinnon, Makar is on a very good Avalanche team as their top defenseman. Makar will put up points, but he's also a good defenseman all around.
Odds of +1200 for Makar are just too good to pass up.
Longshot: Jaccob Slavin +9000
+9000 … Really? Jaccob Slavin finished fifth in Norris Trophy voting last season as he's starting to get the recognition he deserves. He is a great all-around defenseman that likely would've been a lot higher in the voting if he had more points. While I can't promise you that he'll suddenly light the world on fire – he might –, I can promise you that +9000 are insane odds for Slavin.
Vezina Memorial Trophy (Best Goaltender)
Favorite: Connor Hellebuyck +800
Connor Hellebuyck, the reigning Vezina winner, has the second-best odds this season at +800, behind only Andrei Vasilevskiy at +600. Can Connor go back to back? I don't see why not.
Hellebuyck played in a league-high 58 games (56 starts) last season, which was a big reason for him taking home the hardware. He was able to rack up 31 wins with a .922 save percentage with a league-leading six shutouts.
He has faced the most shots and made the most saves in each of the past two seasons. Once again, Hellebuyck will be Winnipeg's horse. They will ride him to the playoffs.
Related: NHL Futures: Best Value Picks In Each Division
Longshot: Sergei Bobrovsky +1700
The two-time Vezina Trophy winner had a rough first year in Florida. However, I could see Sergei Bobrovsky bouncing back in a big way with the Panthers. He has already won the Vezina twice, so why not a third time?
His previous wins came in 2013 (the last shortened season) and 2017, with three seasons in between wins. He didn't win in the last three years, so he's due. Okay, maybe not, but +1700 for a two-time winner that is now settled in with his new team are some pretty good odds.
Unfortunately, Bobrovsky is expected to miss the start of the season. In that case, I'd also take a look at some of the guys in the +1000 range like Carter Hart, or Tuukka Rask (+1200) although they're not exactly longshots with the fourth- and sixth-best odds.
---
Related Hockey Articles:
Fantasy Hockey Rankings 2021 – Printable Cheat Sheet for Drafts
NHL Futures: Best Value Picks In Each Division