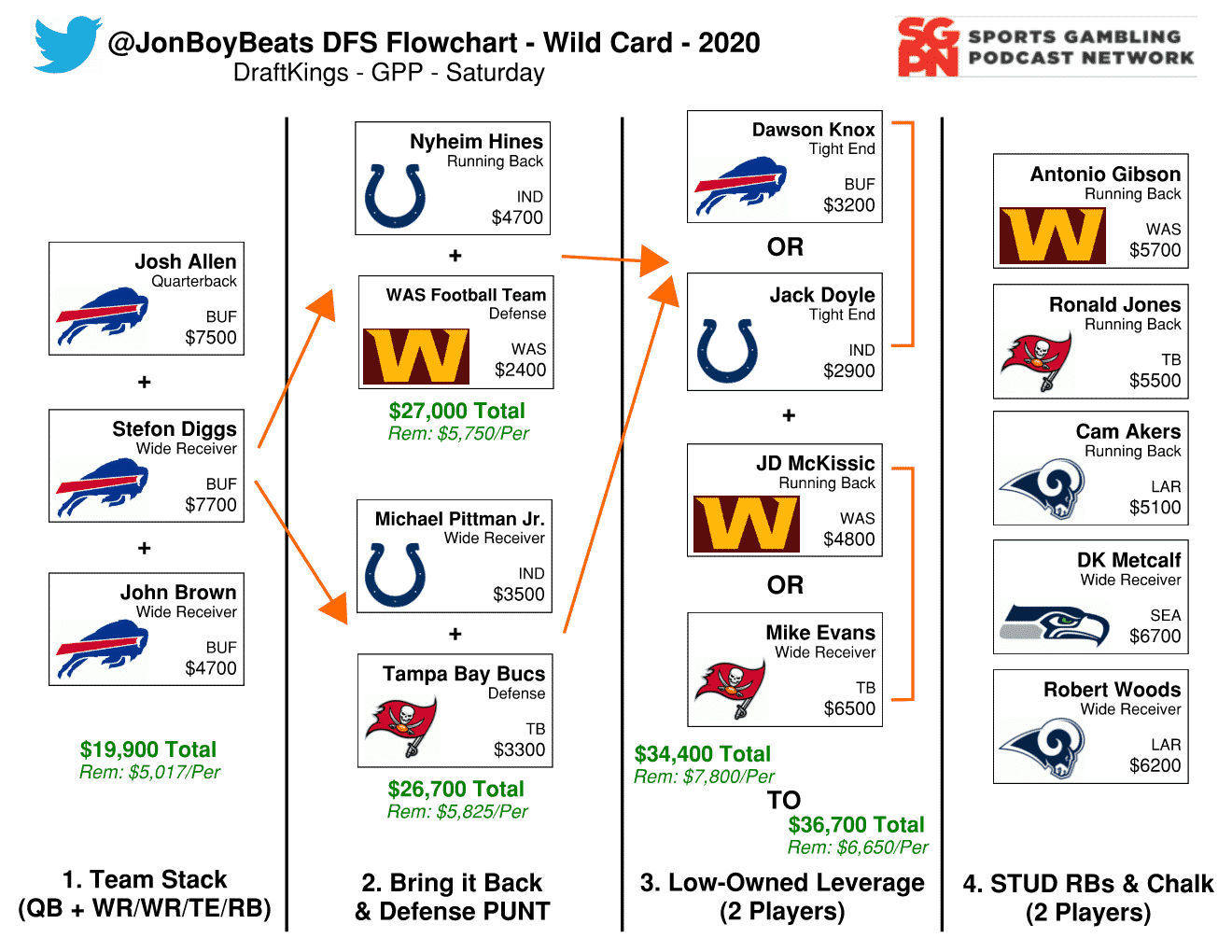 Super Wild Card weekend is here! I hope you are all getting ready to be locked into football for almost 18 hours this weekend. DraftKings has chosen to emphasize the 3-game day-specific slates more than the 6-game full weekend offering. So I put together a flowchart for both days. You should still be able to use both flowcharts and the analysis below to put together a pretty good lineup for the 6-gamer. I would caution you that the contest structures are a lot more top-heavy and the different offerings are not as varied as a normal "main" slate. The flowchart for wild card weekend should help you navigate this challenge though.
Before we cut right into the analysis for this weekend, make sure to read the introduction section from the Week 15 Saturday flowchart for some reminders of how we need to change up our normal mindset for these short slates.
SGPN PLAYOFF PREVIEWS
NFC Playoff Preview And Super Wild Card Weekend Picks (Ep. 936)
AFC Playoff Preview And Super Wild Card Weekend Picks (Ep. 935)
Also, if you are playing in the FFPC Playoff Challenge or a similar playoff-long league, make sure to go check out the lengthy strategy series I did earlier this week. Make sure you are giving yourself an edge with your entry. Here is Part 3 of the strategy series, which includes links to the first two parts.
Saturday Flowchart – Stack and Bring it Back
I have already been burned by fading Josh Allen on two different short slates this year. I am not going to let that happen again. However, Allen paired with Stefon Diggs and John Brown will likely be the chalkiest of constructions this weekend (especially if Beasley doesn't play). In order to overcome this in a tournament, we have to get different elsewhere.
We start by omitting Jonathan Taylor and TY Hilton from our bring-back options and instead using Nyheim Hines and Michael Pittman Jr. as direct leverage options off of them. There will be a lot of Buffalo stacks. However, I assume we will see at least half of them paired with either of the Colts' two high-priced guys.
Saturday Flowchart – Low Owned and Chalk Plays
The next thing that we are going to do to be different, makes this stack a full onslaught be taking a Tight End from this game. Don't be nervous about plugging in Dawson Knox here and having four Bills. The Week 13 Monday slate a lineup solo shipped the Milly Maker by stacking six Bills! If you want to stay more balanced, I like Jack Doyle here over the other Colts TE options. Doyle has seen more targets and routes over the last 4 weeks and while he doesn't have a high ceiling, we don't really have a TE on this slate who could bury us by missing out on him.
Now that we have made our chalky triple stack a lot less popular, let's go ahead and add in one more leverage piece from the night game. JD McKissic should have a good game if the game script goes how the Vegas lines currently predict it to. McKissic shines in comeback mode, catching dump-offs from Alex Smith (or whichever WAS quarterback is healthy that weekend). On the flip side, Mike Evans is shaping up to be a great leverage play. It appears that Evans avoided a serious injury in Week 17. However, people will still be nervous and he might be the third-highest owned Tampa Bay receiver.
To fill out our lineup, I want to focus on the Rams vs. Seahawks matchup, which should be the game that garners the least ownership of the three. It feels that everyone in America is betting the under on this game, which means that it will probably go over based purely on the #FadeThePublic rule. If it does, then you want to have multiple pieces from this game. DK Metcalf has been shut down by Jalen Ramsey this season, but I don't think you can keep a grown-ass man down three times. I think Metcalf bounces back here and propels the Seahawks to a big win. Robert Woods and Cam Akers are the most likely options to perform well if Jared Goff doesn't play. Now that Cooper Kupp is activated off the injury list, he seems like a good play as well.
That wraps it up for the Saturday wild card weekend flowchart. Do not worry there is another Milly Maker up for grabs on Sunday.

Sunday Flowchart – Stack and Bring it Back
Ryan Tannehill and the condensed fantasy production of the Tennessee Titans have proven to be very fruitful to the followers of the flowchart this season. Every time we play some Tannehill and the Titans, it seems to work out well. (Cue the incoming Baltimore shutout in dominating fashion). The Titans only real receiving options are AJ Brown and Corey Davis and both are underpriced on Sunday. Tennessee has the most condensed production of arguably anybody on wild card weekend. Additionally, they are playing in the game that is expected to have the best chance at a shootout.
However, the ownership percentage is just not going to be there. Part of that is because people want to jam in Alvin Kamara or Derrick Henry (which is tough to do with a Titans stack). I am okay fading the stud running backs here and opting for a more balanced approach. Especially because there are a couple of guys who have serious potential to keep pace with them on Sunday.
If we are playing a Titans passing-game stack, that means that we want them to be playing from behind in this game so that Henry gets game scripted out. The most obvious way this happens is if the Ravens jump out to a big lead and then try and control the clock by leaning on their rushing offense. My preferred big lead jumper outer is Mark Andrews. JK Dobbins is expected to be the run game leaner on-er.
Sunday Flowchart -Low Owned and Chalk Plays
Now it's time to plug in my favorite play of the whole weekend. I don't usually say this, but this player is a requirement on all Sunday flowchart lineups. If I would have told you during the draft season in August that Nick Chubb would be cheaper AND projected to be lower owned than David friggin' Montgomery on Wild Card weekend, you probably would have trouble figuring out how that happened. Don't worry I watched the whole 2020 NFL season, and I'm still don't know what's going on. Let's load up on the stud running back from Cleveland, and fade this bad Bears team and a guy who has had a couple of big weeks lately. Spoken like a true Green Bay Packer fan!
After plugging in Chubb, I think Jared Cook and JuJu Smith-Schuster are great options for leverage. Both project to be the third-highest owned receivers on their team this weekend and have touchdown upside. By now, you will need a couple of specific pieces to fill out your lineups. I have provided a few different options in the last column. Guys at this level are meant to squeeze in under the salary mark after putting together a really strong 6-man start to our lineup. Feel free to fire off a couple of different combinations of these on Sunday. Or move the defenses around to make salary work.
If you are playing the 6-game slate, I hope the options listed in the flowchart and the analysis above can help point you in the right direction! I am sure there will be some news that pops up, give me a follow on Twitter for any updates to the wild card weekend flowchart there. Also, the football playoffs are my absolute favorite time of the year. I will be tweeting out a full betting slip for each game that you won't want to miss. Good luck this weekend people!
RELATED CONTENT
Saturday Super Wild Card Weekend Player Prop Bets
Joe Theismann Interview & Super Wild Card DFS Picks (Ep. 937)
DraftKings Super Wild Card Showdown Sunday Picks
DraftKings Super Wild Card Weekend Showdown Picks