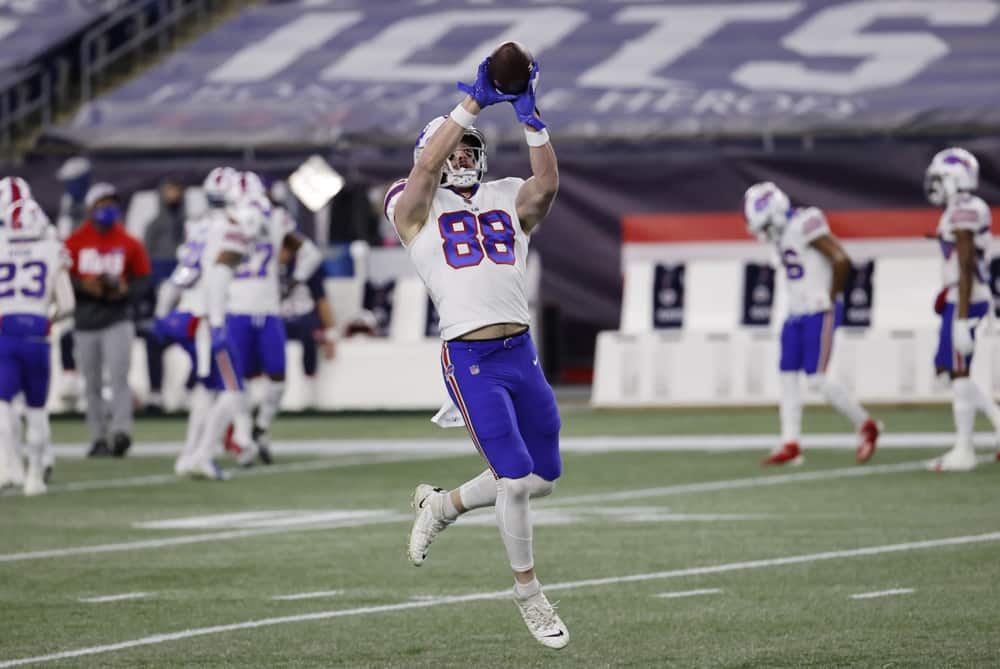 The NFL playoffs are here! There are three games kicking off the action on Saturday and why not make the games a little more interesting with a few player props for each game? Below, I will highlight my favorite props to bet on for Saturday's slate!
Indianapolis Colts at Buffalo Bills
Time: Saturday, January 9th, 2021 @ 1:05pm EST
Location: Buffalo Bills Stadium
TV: CBS
Spread: Bills -6
Money Line: +250/-310
Total: 51.5
There is no secret Taylor is the feature running back for the Colts. In fact, Taylor is coming off the best game of the season running the ball against the Texans, logging 30 carries for 253 yards. In addition, Taylor has rushed for a minimum of 90 yards in four out of the last six games. Furthermore, Bills rushing defense allows 4.6 yards per rush attempt (#26) and allow 120 yards rushing yards per game. Lastly, due to the weather conditions in this game, Philip Rivers' passing ability will be limited. The Colts will rely on the running attack with Taylor, making this bet reasonable
Dawson Knox Anytime Touchdown (+225)
Knox will be a target in the red zone for the Bills. Furthermore, I expect the Colts defense to focus on containing Diggs in this game, opening the opportunity for Dawson Knox to catch a touchdown pass.
#DegensOnly Prop Bet – Dawson Knox to have 100 receiving yards + 1 touchdown + Bills Win 142/1
There is not much of a handicap behind a 142/1 prop bet, that is why we call it a #DegensOnly longshot bet. However, if the Colts are trying to contain Diggs, this opens the possibility for a big game for Dawson Knox.

Los Angeles Rams vs Seattle Seahawks
Time: Saturday, January 9th, 2021 @ 4:05pm EST
Location: Lumen Field
TV: FOX
Spread: Seahawks -3
Money Line: +150/-170
Total: 42.5
D.K Metcalf Under 61.5 Receiving Yards
In the two games this season against the Rams, D.K. Metcalf struggled. In Week 10, he had a total of four targets and two catches for 28 yards. Furthermore, in the second game in Week 16, Metcalf had eight total targets and six catches for 59 yards. I expect Jalen Ramsey to be matched up against Metcalf and keep him contained as the Rams defense did in two earlier season matchups. Lastly, with a low total in this game, I expect the running game to be featured and limit the passing game for both teams.
Cam Akers to have at least 67 Rushing Yards
Cam Akers quickly became the top running back for the Rams once he returned from injury. As a matter of fact, since Week 13, Akers has rushed a minimum of 15 times. Furthermore, Akers has 20 carries or more in three out of the last four weeks. In addition, the quarterback situation is still up in the air for the Rams. However, whoever the Rams decide to start I expect them to rely on the running game and protect the football from the arms of the Rams quarterbacks.
 #DegensOnly Prop Bet – Malcolm Brown to have 85+ Rushing Yards and 1+ Touchdowns 50/1
If the Rams establish the running game in this game, I could see Brown have some big runs, especially if Sean McVay approaches this game by going running back by committee.
Tampa Bay Buccaneers at Washington Football Team
Time: Saturday, January 9th, 2021 @ 8:15pm EST
Location: FedEx Field
TV: NBC
Spread: Buccaneers -8
Money Line: +325/-425
Total: 45
Tom Brady Under 289.5 Passing Yards
Washington Football Team allows 192 passing yards per game this season which is 2nd best in the league. Furthermore, Brady faced four teams that rank top 10 in passing yards allowed and only averaged 240 passing in those game. In addition, Washington will create pressure against Brady which will create short passes and quick tackling from Washington.
Washington Total Field Goals Made Over 1.5
In the last 10 weeks of the season, Dustin Hopkins made two or more fields in eight of the games. Furthermore, we expect to see a defensive game between these two teams so field goal opportunities will be there, especially if red-zone opportunities are at a premium.
#DegensOnly Prop Bet – Ron Gronkowski to have 150+ Receiving Yards and 2+ Touchdowns 66/1
We know the experience Brady and Gronk have playing together in the playoffs. So why not bet on Brady pass to a tight end who he is extremely familiar with and is reliable.