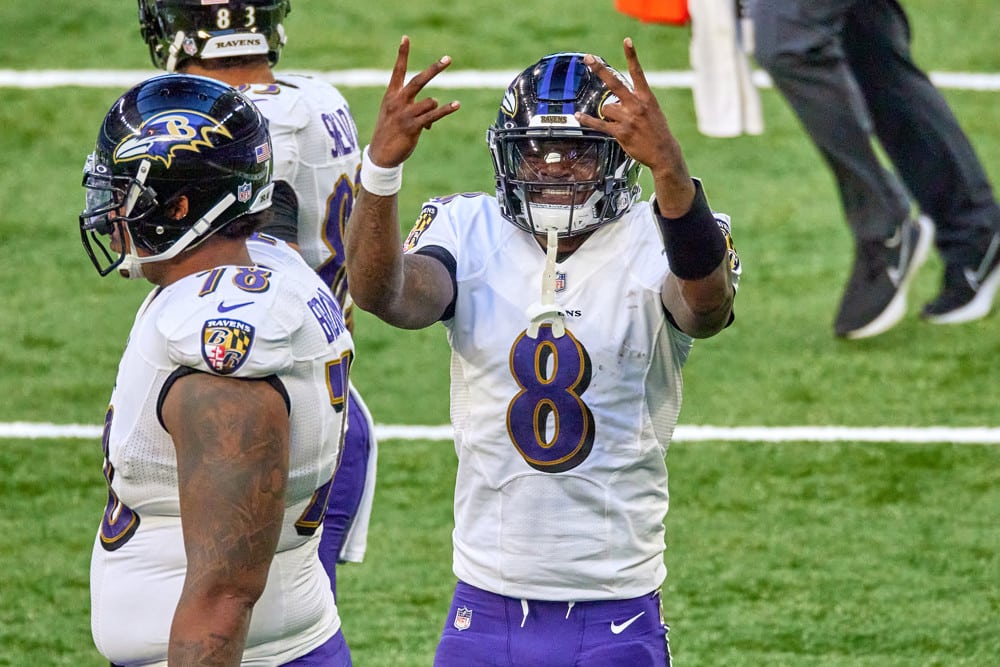 Hello friends! Welcome to this week's installment of "What Can I Bet On Today?" We're following the same format as Tuesday. If you trailed me on last week, you should be a happy camper. We cashed all three of our tennis legs, while nailing the Steelers moneyline and the Under as well.
This week, we have a Tuesday night football game for the second time this year. Unlike last week's Ravens/Steelers game, the outcome of this NFL game feels slightly more uncertain.
Today, we're going to take a look at some angles for this week's Dallas/Baltimore game followed by some tennis legs to beef up your parlay.
What Can I Bet On Today?
Let's begin by taking a look at Tuesday's NFL contest. MyBookie lists Baltimore as 8.5 points favorites over the Cowboys and the total is set at 45.
There are a few different angles for playing this game:
Baltimore Moneyline
The Ravens moneyline is this closest thing you can find to a Lock. MyBookie currently lists Baltimore as -365 favorites. Sure it's expensive, but it is also worth every penny of juice.
Dallas's defense is dead-last in the NFL in rushing yards allowed, and they meet a Ravens squad who ranks third in rushing yards. Lamar Jackson is expected to play, and all signs point to a Baltimore win. Hell, if nothing else, we know it's profitable to blindly fade the Cowboys.
Baltimore Spread -8.5
The second angle to look at here is Baltimore -8.5. Again, the Cowboys are horrible when it comes to run defense and the Ravens  lead the league in run play percentage (52.28% of all plays). Baltimore gave Pittsburgh all they could handle last week with RG3/Trace McSorley under center. Now, they should have Lamar Jackson back in control of the offense this week and it's tough to imagine them not covering this spread with ease.
Total – Over 45 Points
The last angle I'm looking at for this matchup is over 45 points. I expect the Ravens to have no problems offensively and might flirt with the over themselves. Washington scored 41 on the Cowboys last week, which was the Football Team's highest scoring game of the year. While Baltimore features a better-than-average defense, they are not the defensive juggernaut they once were. I believe that Dallas will also score a touchdown or two, and that should provide enough points to cash an over.
ITF Women's Tennis Plays
Moving along, we're going to take a look at some tennis plays to parlay with your bet(s) on the Cowboys/Ravens game. If you've been following the "What Can I Bet On Today?" segment weekly, then you know we've been on fire with our tennis plays. We're holding a nice 8-3 record on all tennis plays so far, so let's keep this momentum going.
*Note – All of these tennis legs begin at approximately 2AM ET, so be sure to get down on these Monday. Also, all tennis legs will be played on outdoor hard courts.*
Camila Giorgi (-294) to beat Danka Kovinic
This first tennis play I'm looking at is the most expensive of this week's four plays. Camila Giorgi is laying almost three dollars to one, but it is worth the juice. Giorgi has a record of 13-9 on hard courts during 2020 and a career record of 214-158 on these types of courts. Danka Kovinic has gone 1-5 so far on hard courts this year, and she carries a 92-117 record all-time on hard courts. Unless Giorgi has an unusually bad match, she will win this one with ease.
Xiyu Wang (-212) to beat Timea Babos
This is an interesting match here between 19 year old Xiyu Wang and 27 year old veteran Timea Babos. Wang holds a career record of 71-44 on hard courts while Babos's career hard court record is 234-170. Although Babos has the clear experience advantage, I don't believe that it will help her in this match. Wang holds a 10-6 record so far this year on hard courts while Babos has gone 4-10 on this court type. Wang is playing in much better form than Babos currently. I look for her to cap 2020 with a solid finish to the year.
Sorana Cirstea (+114) to beat Anna Blinkova
When I first saw this line, I immediately said the wrong player is favorited. The second half of this year hasn't been quite as kind to Sorana Cirstea, but she has a very winnable match ahead. Anna Blinkova has a career record of 129-74 on hard courts, but she's struggled in 2020 with a 5-10 record year to date. Cirstea holds a 10-8 record on hard courts in 2020. She's also playing in a better form than Blinkova this year. I expect Cirstea's experience to be the difference-maker in this match between two players looking to build momentum.
Viktoria Kuzmova (+135) to beat Polona Hercog
The last tennis play we're looking at is another match between two players looking to find their old form. Viktoria Kuzmova has had the worst year of her career in 2020 with a 4-8 record on hard courts and a 5-10 record overall. However, historically speaking she's been great on hard courts with a 155-75 career record. She's taking on Polona Hercog who is a clay court specialist and has never had much success on hard courts. She has a 3-3 record on hard courts in 2020 and a career record of 128-146 on hard courts. I expect Kuzmova to find her stride sooner rather than later. This match with Hercog is the perfect chance for her to get moving back in the right direction. I'll gladly take a shot with Kuzmova getting plus money in this match.
"What Can I Bet On Today?" Tennis Plays Record YTD – 8-3
RELATED
Monday Night Football Prop Bets & NFL Week 13 Recap – Sports Gambling Podcast (Ep. 917)