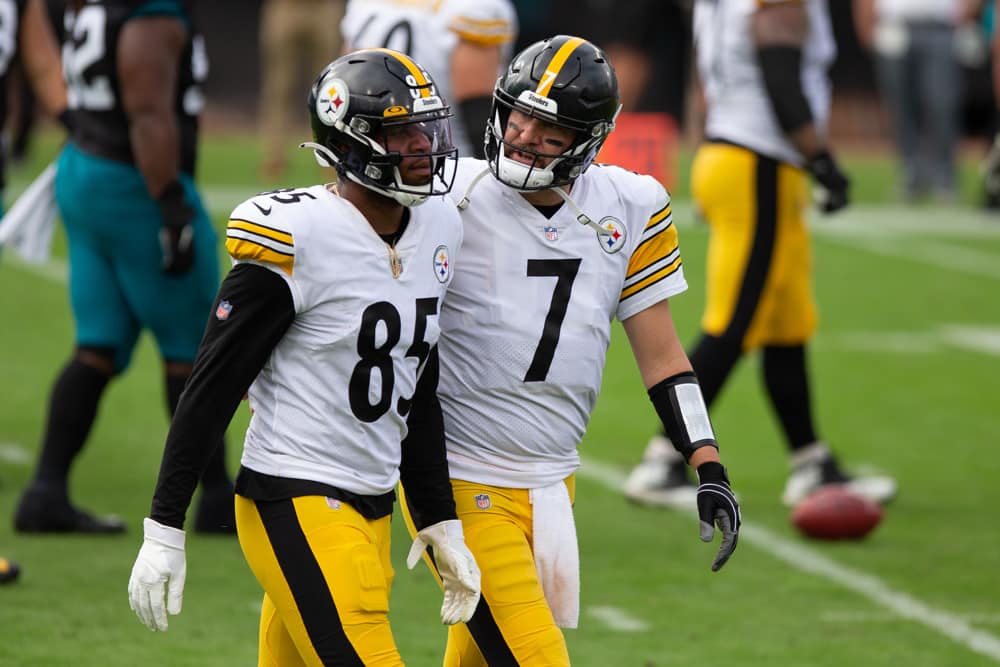 I'm doing things a little different than we normally do for this week's "What Can I Bet On Today?" Instead of giving out a parlay, I'm suggesting  some solid options to add with your bet on the Ravens vs Steelers game. If you're a real degen like myself, you may even parlay two of the things from the first section!
What Can I Bet On Today?
First Leg Of The Parlay: Baltimore Ravens vs Pittsburgh Steelers Game
Starting with this NFL battle (if it even happens), there are three angles you can take here. The first angle is the most obvious and also the most expensive. Due to the COVID-19 outbreaks, RG3 will starting at QB for Baltimore. We all know it's easy money to fade the RG3 Ravens on the Steelers moneyline (-475 at MyBookie).
The second way to play this matchup laying 10.5 points with Pittsburgh. James Connor is out for Steelers, but I didn't expect him to be a factor against this Baltimore defense anyway. Roethlisberger is putting together a season for the ages. He might even be a darkhorse for MVP. The Steelers beat the Ravens on the road 28-24 already this year when Baltimore was at full force. I expect Pittsburgh to cover this spread with ease.
The only other way realistic parlay from this game is with the Under – Game Total. MyBookie has a low total of 40.5 set, but I still love the under. The Ravens are missing a lot of offense due to their COVID outbreak, but they still have a solid defense. Conner is the only key player missing for Pittsburgh, but we have already touched on that. This AFC North contest gives me 28-3 vibes, and I expect it to be low-scoring and play to the Under.
ATP Challenger (Tennis) Parlay Legs
Frederico Ferreira Silva (-169) to beat Hugo Grenier
This name may look familiar to those who trailed me last week. We cashed in on Frederico Ferreira Silva in doubles action last week. He's back in action once again, this time playing singles in a different clay court tournament. This is the perfect bet to play straight up or used to beef up our parlay with the Ravens/Steelers game.
The career records on clay for these two players forebode a long match for Hugo Grenier. Ferreira Silva is 158-103 all-time on clay while Grenier is 25-36 all-time on the red dirt. Ferreira Silva has been playing very well lately, especially on clay. Meanwhile, Grenier hasn't beaten anyone of note on clay in quite some time. This is one play that you can take to the bank.
Pedro Sousa (-370) to beat Maxime Hamou
You have to lay a good chunk of juice here which means you probably won't take this play straight up. However, this is another perfect way to beef up a parlay for Tuesday. Pedro Sousa (449-242 record on clay) is a veteran and a well known name, especially when it comes to ATP Challenger tournaments. His opponent, Maxime Hamou (270-145 career record on clay), is a young up-and-coming Frenchman and has a preferred surface of clay.
Hamou isn't terrible and will be a force in his later years. However, he hasn't beaten anyone of note in quite some time and he's running into a tough opponent. Pedro Sousa is almost comparable to being the Nadal of the Challenger Tour. He's good on any surface, but he's one guy that you don't want to face on a clay court. There's a reason this line is so chalky, and I love adding it to a parlay to add some extra beef.
Joao Menezes (+112) to beat Juan Pablo Ficovich
I will start this portion off by saying this is more of a flyer, but I'll explain why I do like this play. Joao Menezes holds a career record of 128-91 on clay courts. His opponent, Juan Pablo Ficovich, has a career record of 247-156 on clay courts. I can understand why oddsmakers would list Ficovich as the small favorite here given he has more experience than Menezes.
However, you have to go back to October of 2019 to find Ficovich's last big win on clay which came over Pedro Sousa in two sets. Menezes beat both Chun Hsin Tseng and Matheus Pucinelli De Almeida last week, both of which who are tough opponents. I wouldn't take out a mortgage for this play/leg of the parlay, but getting Menezes at +112 is a blessing given that he's in better form than Ficovich.
READ ALSO
Fantasy Basketball Sleepers for 2021