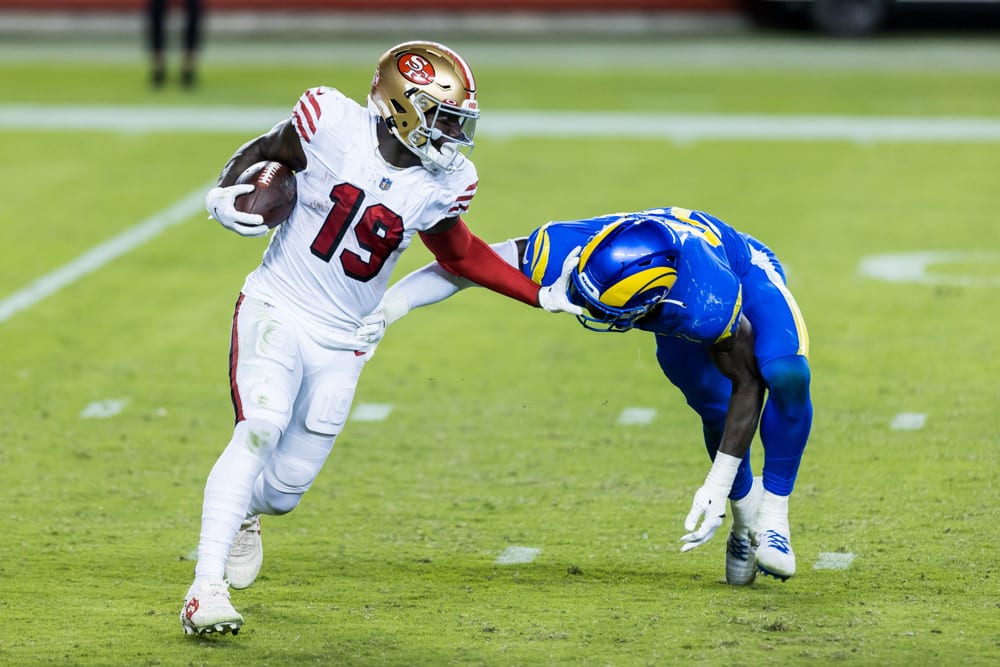 Monday Night Football Info
Time: Monday, December 7th @ 2:00 PM & 5:15 PM Pacific
Location: Heinz Field, Pittsburgh, PA State Farm Stadium, Glendale, AZ
Weather: 34f Overcast, 64f Clear
TV: Fox, ESPN
Spread: Pittsburgh -7, San Francisco -1
MoneyLine: Pitt -290| Washigton +245, SF -/Buf-
Total: Pitt/Wash 43.5, Buf/SF 47
Odds courtesy of MyBookie.ag *Promo Code SGP*
Welcome to the end of Week 13. Many of you have already reached the end of your season-long playoff hopes. Many of you reached that weeks ago and still need a reason to sweat on Monday nights. Regardless of why you are here, you are here to hopefully make a little extra pocket change for the holidays.
This week, we have not one, but two chances to win your PS5 money. First, the Steelers make another mid-day appearance in the first of the Monday double header. Their opponent, the Washington Football Team freshly rested after a ten-day break from their Thanksgiving win. Next, San Francisco travels home to Arizona to take on the Bills in the regular Monday Night Football timeslot. Both games have showdown contests. So, this week, I'll give you a play from each team to help fill out your lineups.
As always, the players below are not meant to be considered a "core four." These are simply players to consider as you are building your lineups. Play one, play them all, it is entirely up to you. My job is to help you see the reasoning behind selecting these players and how they can help you win. We wish you luck on your DraftKings Monday Night Showdown Picks.
DraftKings Monday Night Showdown Picks
1. Benny Snell Jr. – Captain $11,400; Flex $7,600 RB Pittsburgh
The Steelers love their running backs. For this reason alone Snell is a lock in your lineups. Add to this the high probability that James Conner will not suit up even if he is activated from the COVID-19 list, and his case strengthens. Last week in relief, Snell carried the ball 16 times gaining 60 yards in the process. He added 3 receptions for an additional 33 yards. Overall he had a tidy double-digit fantasy day. He accomplished all this against a Baltimore defense that turned up the heat on the undefeated Steelers.
The defense he faces this week has been a rough go for the last two running backs they have faced. But Pittsburgh is on a far different level than the Cowboys or the Bengals. Washington has a very real possibility of having this game get out of hand early which puts Snell in an even better spot for increased carries. Once again, we all know what that means. I very rarely suggest Captain plays as most of the players in my columns are value plays. That said, Snell should occupy the top spot in more than a few of your Monday Night Showdown lineups this week.
2. Dontrelle Inman – Captain $6,300; Flex $4,200 WR Washington
Thanksgiving Day was not the outing Inman was hoping for in his return to the field. In his first game back from an injury, he recorded only one catch for 15 yards. There is not much to look back on for past performance here. Not to mention, he will be facing a Steelers defense that has only allowed two receivers to go over 50 yards three times this season. All that said, Alex Smith will more than likely be playing from behind in this game. While Antonio Gibson will work his magic on the ground, the Washington passing game will need to step up here. Smith will enjoy a second week with Inman as the Football Team will need a solid number two option behind Terry McLaurin.
I like Inman's chances to pick up a couple of targets this week. He's capable of providing decent upside at his salary. He could also be a slate breaker if he has another 2-touchdown game like he did in Week 2 against the Browns.
3. Deebo Samuel – Captain $13,200; Flex $8,800 WR San Francisco
The young stud came back with a chip on his shoulder after having to sit out for the last four weeks. He posted a monster game in his return against the Rams. His 11 catches on 13 targets were both season high totals. Also, the 133 yards he accrued from them were the most he has managed in his embattled 2020 campaign. What he brings back to the 49ers is a true number one threat. You can bet that is exactly how Kyle Shanahan will continue to use him going forward.
There is come concern with the effectiveness overall of the Buffalo defense Samuel will face this week. Yes, there have been stretches where the Bills have fended off some receivers. But, they have allowed more than a few big games to slip into the mix. One of them was not that long again when another NFC West pass catcher hung a large number on the board. Week 10 say DeAndre Hopkins catch 7 of 12 targets for 127 and a touchdown. The week before that, DK Metcalf put another 7 catches to work for 108 yards and a score.
Of course, it is not logical to predict an outcome solely based on performance against the same conference. That said, the Bills are facing a San Francisco squad that has an outside chance of salvaging a disappointing season. It should be expected that they will lean on their best playmaker. That means plenty of targets. More targets mean, and stop me if I've said this before, great opportunity for fantasy production for your Monday Night Showdown rosters.
4. Tyler Bass – Captain $5,400; Flex $3,600 K Buffalo
Most anytime a player puts up double digit fantasy points in four of his last five games there is value there. In this case, it happens to come from the leg of a kicker. Bass has attempted 18 field goals since week 7. He connected on 16 of those with 4 of them coming from outside of 50 yards. On top of that he has been perfect on his 14 extra point attempts. This five-game explosion has resulted in 73 total fantasy points.
Kickers in fantasy are volatile to be sure. Although, when you can be reasonably sure he will produce better than most "skill position" players at his price point, he's worth some exposure. While he may not be a slam dunk in cash lineups, his floor is sufficient to get creative in tournaments.
Related Posts
Early Week 14 Waiver Wire Fantasy Football
Fantasy Football Rankings Week 13