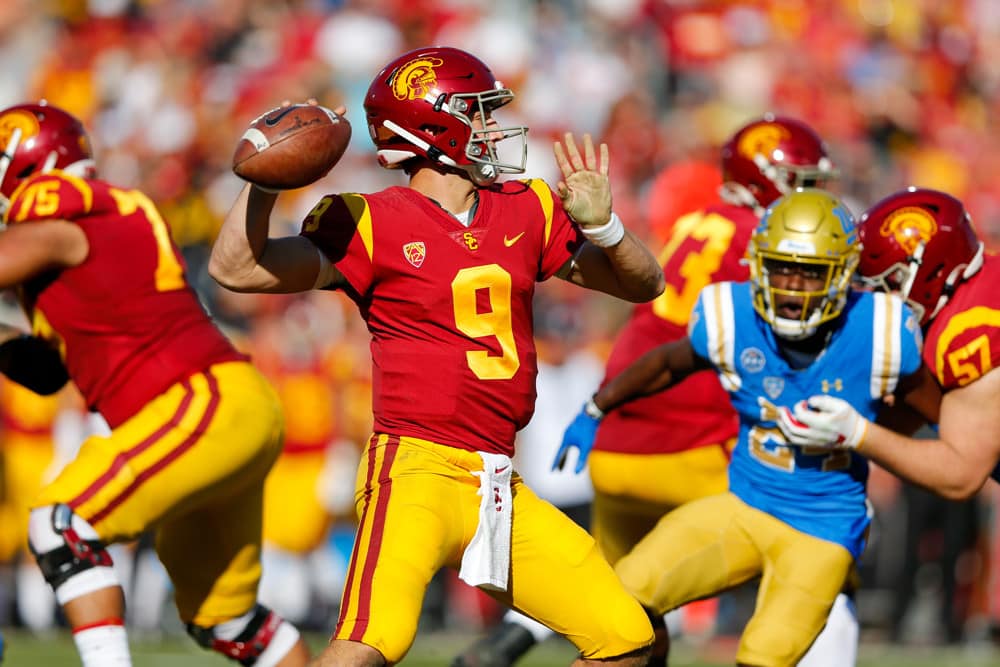 Welcome back for College Football DFS Picks Week 10! It's already November somehow. Also, while we're at it, let's give a warm welcome back to the PAC-12. Were they ever missed? Apologies in advance for the East Coast bias, but you won't find too many west coasters in my lineups this week. As I mentioned when the Big 10 returned, I try to stay away from teams that have yet to play this year. That's not to say there isn't value on players from the PAC-12 (like USC's QB), but I like to see a bit of a track record before I buy in.
These College Football DFS Picks Week 10 are only for the afternoon slate. Be sure to tune into our podcast which can be found on The College Experience for the Saturday night slate.
Let's do this!
College Football DFS Picks:  QB's
Big Money Man:
Sam Howell – UNC ($8,100)
The Tar Heels may have suffered a disappointing loss to UVA last week, but it wasn't Howell's fault. The sophomore QB kept his hot streak going, passing for 443 yards and 4 TD's vs the Cavaliers. This UNC offense is a force to be reckoned with. Plus, their defense isn't, which has resulted in many shootouts.
UNC is averaging over 38 points a game and I expect a similar output vs the rival Duke Blue Devils who have given up over 30 a game to ACC opponents. Howell may not throw for 400 and 4 again, but 300 and 3 should not be a problem.
Middle of the Road Joe:
Kedon Slovis – USC ($7,800)
I mentioned I wouldn't be highlighting many Pac-12 players this week, but I couldn't help listing Slovis here. What if I told you that as a true freshman last year, this guy threw for over 400 yards and 4 TD's in four of his last five Pac 12 games? That includes a game vs Arizona State in Tempe where he tossed the ball for 432 yards and 4TD's.
The Sun Devils now head up to Southern Cali to face Slovis & Co on their home turf. It may be the opening week, and there may be some rust to shake off, but we could see similar passing numbers from USC. At $7,8K, this will probably be the cheapest you see the Trojan QB priced all year.
Bottom of the Barrel:
Jarret Doege – West Virginia ($6,100)
For the life of me, I can't understand why Doege is so cheap this week. He's now thrown for over 300 yards in three consecutive game and the Mountaineers play Texas on Saturday. I highlighted Oklahoma State's Spencer Sanders in this very spot a week ago and all he did was throw for 400 yards and 4 TD's. In his previous 13 starts, the most Sanders ever threw for was 290 and 3 TD's. You see my point?
I may just start blindly rostering whatever QB is playing Texas every week. Doege comes into Austin with a hot hand so expect another 300+ yard game with a few TD's. He's a no-brainer Super Flex play.
College Football DFS Picks:  RB's
Big Money Man:
Zamir White – Georgia ($7,200)
White is the 6th most expensive RB in the afternoon slate and should be in store for a big game vs Florida. While the top five backs should be productive, my strategy will be to spend a little less on my RB1 this week. If you throw out the game vs Bama where game script dictated a pass heavy approach, White's carries have been on the incline. In the process of securing the top spot in the Georgia backfield, the sophomore tailback has seen his touches increase from 13 carries, to 19, to 22, to 26.
With these last 26 carries against a solid Kentucky defense, White accumulated 136 yards and a TD. The Gator D may have had a nice outing vs Mizzou last week, but I'm betting they're more like the defense we saw in Florida's first three games. Of course, I got a highlight reel for you too.
Middle of the Road Joe:
Gerrid Doaks – Cincinnati ($6,700)
This pick is all about fading a defense that just let up 170 yards and a TD to UCF's top RB. The Bearcats are the #5 team in the country and welcome the Houston Cougars into historic Nippert Stadium. Houston is a finesse team that should have all kinds of problems stopping the smash mouth offense that Cincy wants to ram down their throats.
Doaks already has a couple games over 100 yards and is averaging over a TD per game. This feels like a very safe play for an affordable running back with a high floor and decent ceiling.
Bottom of the Barrel:
Zach Evans – TCU ($4,000)
We're going real low here. Maybe you spent elsewhere and you got almost nothing left in the bank for your flex spot. If that's the case, rolling the dice on Evans just may pay dividends.
The true freshman and 5 star recruit is doing his most with limited touches this year. Last week vs Baylor was the young RB's best game, dashing for over 90 yards from scrimmage and recording his first touchdown. The TCU offense has been a bit sluggish to start the year and Evans is a playmaker. It makes sense that we will begin to see more and more of this dude. Plus, I'm all about fading the awful Texas Tech defense.
College Football DFS Picks:  WR/TE's
Big Money Man:
Jahan Dotson – Penn State ($8,300)
After a solid opening game vs Indiana where Dotson caught 4 catches for 94 yards and a TD, the Penn State wideout really put himself into the national spotlight against the Buckeyes. 8 catches for 144 yards and 3 TD's against a secondary with NFL talent ain't too bad of an evening.
The Nittany Lions play Maryland this week and who knows what to expect from that team. What we know is that through two games, the Terps have let each opponent score over 40. The Penn State offense should roll here and they'll be playing with an edge, eager to get their first W of the season.
Middle of the Road Joe:
Kyle Pitts – Florida ($6,200)
Let's go back to the world's largest cocktail party so I can grab the big Gator TE as my WR2. Last week against Mizzou, Pitts caught 5 balls for 81 yards but failed to find the endzone for the first time in 2020. I love taking a TD magnet like Pitts when he's coming off a no touchdown game. Can you say positive regression?
Look for the big fellow to continue his excellent play and get back to paydirt. I realize UGA has a stout defense, but it doesn't look like there's any stopping this Florida offensive attack.
Bottom of the Barrel:
Brian Hightower – Illinois ($4,600)
As much as I follow college football, I'd be lying if I told you I was all that familiar with the Illini's wideouts. Here's what I do know: Illinois plays Minnesota this week and if you watched the Minn/MD game on Friday, then you understand why you'd want pieces of any offense playing the Golden Gophers.
Hightower is a transfer from Miami who just caught 4 balls for 97 yards and a TD against Purdue. So we got a dude coming off a nice game, who was once a 4 star recruit for the Hurricanes, and is playing a D that let Tua's little bro throw for almost 400. For only $4.6K, I can take a gamble on that.
READ ALSO
DraftKings Thursday Night Showdown Picks: Packers vs 49ers