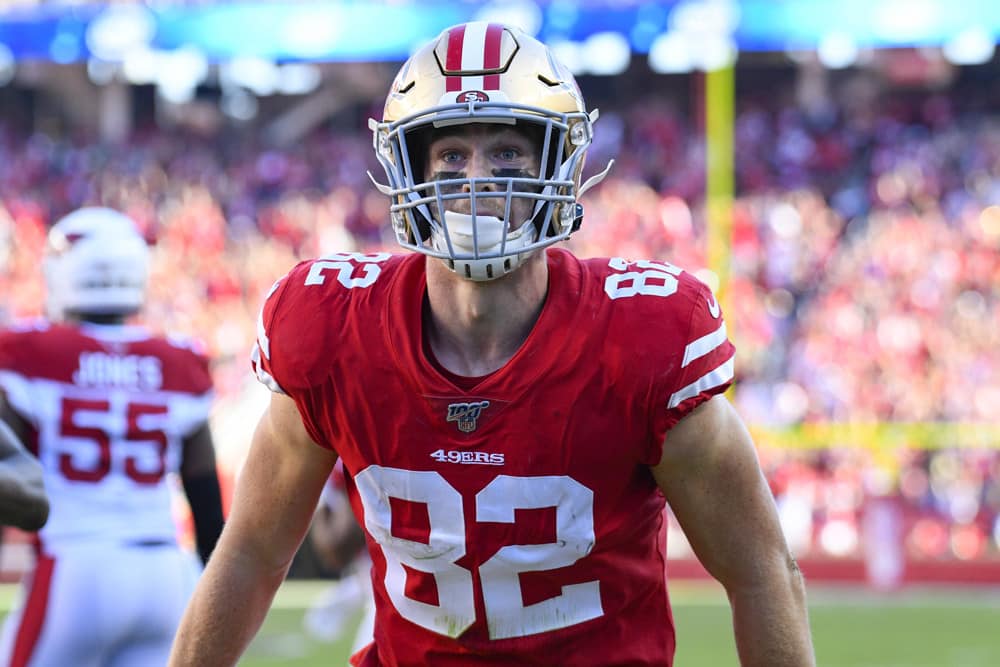 Aaron Rodgers was left with a bad taste in his mouth after the Packers loss to the Vikings last week. What better way to wash it out than to feast on the rotting flesh of the defending NFC Champions? Such is the scenario set for our Draftkings Thursday Night Showdown Picks. The San Francisco 49ers will attempt to field a healthy team against an angry Packers squad hell bent on destruction.
The story of this game will likely play out like the tale of David and Goliath. Only in this telling, David's stones keep breaking. San Francisco will be without their starting quarterback, tight end, number one receiver, and several key running backs. They will also be without Brandon Aiyuk and Deebo Samuel who are as of Wednesday on the COVID-19 list.
Defensively on top of what was already lost, safety Jaquiski Tart did not practice on Monday. Things are quite bleak in Santa Clara. Now, with Rodgers and Co. coming to town, they might be thankful there will be no one in the stands to witness what may take place.
Green Bay may not be getting Aaron Jones back this week. This dilemma is compounded by the news that Jamaal Williams now finds himself on the COVID-19 list. The Packers ground game will rely largely on Tyler Ervin and Dexter Williams. Despite this, it won't stop the Rodgers to Adams weekly aerial show. Quickly, the 49ers will find themselves in a similar situation as they did last week against the Seahawks. With the Niners thin everywhere, unfamiliar names will be called to action as pass catchers. They will provide the value needed to roster Rodgers and Adams.
DraftKings Thursday Night Showdown
As always, the players below are not meant to be considered a "core four." These are simply players to consider as you are building your lineups. Play one, play them all, it is entirely up to you. My job is to help you see the reasoning behind selecting these players and how they can help you win. We wish you luck on your DraftKings Thursday Night Showdown Picks.
Robert Tonyan – Captain $9,600; Flex $6,400 TE Green Bay
In the hierarchy of Green Bay target share, Tonyan surprisingly holds fourth place. He is behind the usual suspects including Adams, Jones, and Valdez-Scantling. Last week, Rodgers looked for his tight end 7 times which tied for second with Jamaal Williams. He caught 5 of them for 79 yards and ended the game with the most receiving yards for either team. While he didn't find the endzone, and Jace Sternberger got the redzone looks, Toynan is still a factor.
While gathering their eventual lead, the Packers will once again turn to their new found talent. He's seen at least 60% of Green Bay's offensive snaps in 6 of 8 games. He's also averaging just over 11 yards per target. Throw in the fact he is facing a wounded 49ers defense and you have every reason to put Tonyan in your lineup. San Francisco has been stingy against the tight end this season. Of course, that was with a healthier squad. That said, if Mike Gesicki can romp for 91 yards with Fitzmagic under center, Tonyan is more than capable of doing that and more.
Jordan Reed – Captain $8,700; Flex $5,800 OR Ross Dwelley – Captain $7,200; Flex $4,800 TE San Francisco
If you are looking for inexpensive points, allow me to introduce you to the 49ers backup tight ends. George Kittle is on the shelf for what looks like the rest of the season. Keep an eye on the injury report for this one as Reed has a shot at playing Thursday night. He is coming off of his IR tag just in time to step in again for the injured Kittle. The grizzled vet still has some fantasy value as he proved against the Jets in week 2. Reed turned his 8 targets into 7 catches for 50 yards and 2 touchdowns. If he is clear to compete against the Packers, he will surely become a top target for Mullens.
2020 49ers TE target share splits:

6 games with Kittle: 26%
2 games without Kittle: 31%

Small sample, but they obviously kept chucking it at Reed/Dwelley

— Mike Clay (@MikeClayNFL) November 2, 2020
If Reed can not play, Dwelley becomes the recipient of the tight end targets for the night. There is not an extensive history of success for Kittle's understudy. But, last week, he did manage to find the endzone on his only catch of the game. Despite coming off the bench, he was looked at 4 times, which says a lot about the state of the 49ers passing game. Leaning into the garbage time philosophy for this game, whichever of these players suit up Thursday, they're cheap tournament plays. Not to mention now that two more San Francisco pass catchers are missing, targets for both of them stand to increase. Not to mention now that two more San Francisco pass catchers are missing, targets for both of them stand to increase.
Tyler Ervin – Captain $300; Flex $200 RB Green Bay
We've witnessed some next level things so far in this 2020 season. This by far has to be the most 2020 of them all. Earlier this week, it was looking as if Aaron Jones would be able to play against San Francisco. Now, the news has soured and it seems the Packers will be without him for a second straight week. That would have been fine seeing as though Jamaal Williams was proving to be an adequate replacement. Those plans are now void with news that Williams and fellow running back A.J. Dillion are on the COVID-19 list.
Now, the Green Bay backfield is in the hands of Ervin and Dexter Williams. Neither has a valid resume and both will be about the biggest dart throws you'll likely make this entire season. But Ervin will be on the field with Aaron Rodgers and will have the potential to assume lead back responsibilities. Both of which gives him the potential for fantasy value for your DraftKings Thursday Night Showdown Picks.
Adding to the difficulty for the #Packers: There is pessimism that RB Aaron Jones (calf) will be back for Thursday, I'm told. GB is cautious. The current plan seems to be going with Tyler Ervin and Dexter Williams vs the #49ers. Ervin has 10 career carries and Williams has 5.

— Ian Rapoport (@RapSheet) November 3, 2020
It is certainly hard to overlook the opportunity to roster a starting running back at the bare minimum price. With several of the higher priced options in this slate injured or out, leaving money on the table is a given. What Ervin gives you is the rare opportunity to put Davante Adams in the captain slot. It even leaves you enough for Rodgers and anyone else you might want. As always, watch those practice reports to see if Jones will play or not. If he doesn't, consider it full steam ahead on Ervin.
READ ALSO
Early Week 9 Waiver Wire Fantasy Football