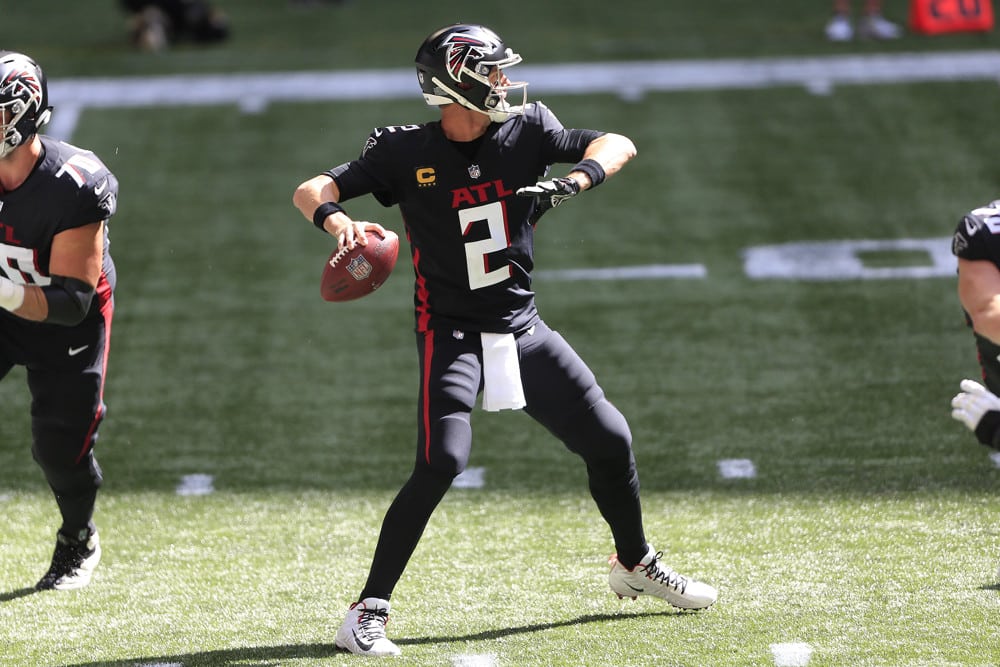 Powered by RedCircle
Every week, Sports Gambling Podcast hosts Sean Green and Ryan Kramer give out their best lineups to pay in the DraftKings Millionaire Maker NFL tournaments (promo code SGP). And in case you've never listened, Sean won $200k with one of his lineups.
Just in case you missed some of their picks or rationale behind them, I'll be breaking down their DraftKings Millionaire Maker picks each week in this column. I might even through in a little advice of my own.
As a result, it is time to breakdown some players to target in DFS for Week Two of the NFL season.
DraftKings Millionaire Maker Picks
Quarterbacks
Mitch Trubisky (Sean)
At $5,500, Trubisky is a pretty cheap option considering the fact that he torched Detroit for three touchdowns in week one while leading his team to a comeback victory. After some initial struggles, he woke up in the fourth quarter against a below average defense and there is a chance that some of that success will carry over against another below average defense in week two. Plus, Trubisky possesses some mobility after rushing for 26 yards against Detroit so his mobility is definitely an upside at this price.
Matt Ryan (Ryan)
Despite losing in week one, Matt Ryan had himself a game as he threw for a league-leading 450 passing yards along with two passing touchdowns. While some of that success had to do with gameflow, Ryan still has tremendous weapons on the outside and he gets to face off against a below average secondary in a dome on Sunday. At $6,600, Ryan has a shot to go off once again for a huge performance and he might get some garbage time stats again if Atlanta's defense continues to give up 30+ points per game.
Looking for a free shot at millions of dollars in prizes? Download the DraftKings app and use promo code SGP
Running Backs
Christian McCaffrey (Sean)
At $10,000, this somehow still feels like a steal since McCaffrey is clearly the best running back in all of football. He got fed like a workhorse back in week one as he recorded 26 touches and he should continue to get the ball on a regular basis which is always a plus. He also found the end zone twice against the Raiders and Tampa Bay allowed Kamara to get into the end zone twice so it struggled against opposing running backs in the red zone in week one. As a result, one can expect McCaffrey to score at least one touchdown while always being a threat to get into the end zone numerous times.
Nyheim Hines (Sean)
At $5,300, Hines would be an absolute steal if he is able to replicate his amazing performance in week one. Hines managed to record 15 touches and made his way into the end zone twice as he became a DFS gem. Plus, original starting running back Marlon Mack is now out for the season so Hines should be seeing an uptick in snaps which should result in more touches. Although Taylor will most likely receive the goal line work, Hines is still the best pass catcher out of the backfield by a wide margin so he will always provide value in the passing game.
Austin Ekeler (Ryan)
At $6,500, Austin Ekeler should be a solid option due to low ownership and workload. Kansas City might have dominated Houston on Thursday night but David Johnson was very productive on the ground so the Chiefs might have a below average rush defense which bodes well for Ekeler in this spot. Plus, Ekeler possesses a ton of pass catching ability which should come in handy assuming that Kansas City blows this game open which is what oddsmakers are anticipating. Despite only totaling 87 yards in week one, Ekeler still got 20 touches so he should provide a lot of value at this price point due to the constant amount of reps.
Derrick Henry (Ryan)
Although he reached 116 rushing yards in week one, Henry was pretty underwhelming against Denver as he only averaged 3.7 yards per carry. However, he now gets to face off again the Jaguars who might possess the worst defensive line in all of football so one can expect a nice bounce back performance from one of the best running backs in all of football on Sunday. Henry had an absurd 34 touches in week one so he possesses instant value due to his workload and he should continue getting a ton of volume throughout this game. Plus, Henry is one of the best goal line running backs in the league so one can expect him to reach the end zone at least once.
Wide Receivers
Chris Godwin (Sean)
At $7,000, Chris Godwin possesses a ton of value due to his matchup in week two. After facing off against an underrated New Orleans defense, Tampa Bay now gets to face one of the worst defenses in the league so one can expect Godwin to put up some nice numbers against Carolina. The Panthers allowed 34 points to the Raiders in week one and recorded zero sacks so Brady should have ample time to find his talented receivers open downfield. Plus, Mike Evans is still battling a hamstring injury so Chris Godwin might find himself a slight uptick in targets on Sunday.
Anthony Miller (Sean)
Sean decided to go back to the well here in week two with Anthony Miller and one cannot blame him for doing so after that week one performance. Against Detroit, Miller had 76 receiving yards and one receiving touchdown on six targets so he is a solid option in week two against a terrible Giants defense at just $5,200. Plus, he is a great stacking option with Trubisky as the Giants allowed three passing touchdowns in week one so their pass defense is below average. If Trubisky is able to throw for several touchdown passes again in week two, expect at least one of them to go to Miller.
Calvin Ridley (Sean)
At $6,800, one can argue that Calvin Ridley is a steal based on his great performance in week one against Seattle. In that game, Ridley had 130 receiving yards and two touchdowns while receiving 12 targets. Gameflow definitely played a factor but Ridley was still a monster in that game and Dallas had some serious issues against Robert Woods in week one so Ridley should be able to find some good opportunities to make big plays on Sunday. Plus, Dallas will be so focused on stopping Julio Jones that it will be unable to provide any help with Calvin Ridley which should result in a ton of one-on-one coverage.
Parris Campbell (Ryan)
At $4,500, Parris Campbell has the potential to be a massive DFS sleeper in week two. Despite being a relative unknown to most NFL fans, Campbell recorded six receptions for 71 yards on nine targets against Jacksonville so him and quarterback Philip Rivers appeared to have some nice chemistry in week one which might carry over into week two. Plus, he has a great matchup against a Minnesota defense that allowed 364 passing yards to Aaron Rodgers in week one. While Rivers is nowhere close to Rodgers in terms of talent, Minnesota showed serious flaws defensively and Campbell should have a lot of opportunities against this underwhelming pass defense on Sunday.
Russell Gage (Ryan)
At $4,800, Gage is a pure value play based on his impressive performance in week one in which he recorded nine receptions for 112 yards against Seattle. Gage appears to have taken over Sanu's former role which gives him a lot of potential in the passing game due to Atlanta's inconsistent rushing attack. While Jones and Ridley will be getting a ton of attention from opposing defenses every week, Gage should be in line to receive a decent amount of targets while also having touchdown upside so he could be a sneaky play in this spot.
Michael Gallup (Ryan)
At $5,600, Ryan is sticking with his budget gem gameplan for wide receivers in week two as he thinks that Michael Gallup should be in line for a solid performance. Although he only recorded three catches for 50 yards against Los Angeles, he was also robbed of a big play late in the fourth quarter due to a questionable pass interference penalty so he performed a lot better than what the statistics might indicate. Plus, he has a great matchup on Sunday as Atlanta allowed four touchdown passes while only forcing four incompletions in week one so one can expect to see Dak Prescott slinging the ball around to a bunch of open receivers in this game.
Tight End
Jonnu Smith (Sean)
At 4,200, Jonnu Smith possesses a ton of value at this thin tight end position as he has been a force ever since he took over the starting job last season. Smith started the 2020 season off well with 36 receiving yards and a touchdown against an underrated Denver defense so one can expect him to perform well once again against a Jacksonville defense that got torched through the air by Philip Rivers in week one. Smith is a great red zone target and he has developed a nice chemistry with quarterback Ryan Tannehill so he should be able to finish as a top-ten tight end this week.
Logan Thomas (Ryan)
At just $3,600, Logan Thomas is a great option this week at the tight end position after recording 37 receiving yards and a touchdown in week one against Philadelphia. In addition, he received eight targets which was the most on the roster so it appears that quarterback Dwayne Haskins really trusts him. Plus, Thomas now gets to face off against an Arizona defense that was awful against tight ends last season so he should be able to put together a solid performance in this matchup while also possessing touchdown upside.
Looking for a free shot at millions of dollars in prizes? Download the DraftKings app and use promo code SGP
Flex
Demarcus Robinson (Sean)
At just $3,500, Demarcus Robinson definitely has the potential to put up big numbers in week two which makes his worthy of this gamble. Despite only having 20 receiving yards in week one, he still received six targets and he had a couple of extremely close calls in the end zone so his statistics would have looked a lot different had he been able to hold onto the ball. Plus, Los Angeles will be focusing heavily on stopping Hill and Watkins which should open up a lot of opportunities for Robinson to make some big plays downfield.
Ezekiel Elliott (Ryan)
At $8,200, one needs a player that can be easily relied upon and Ezekiel Elliott definitely checks all that box. Elliott has been the workhorse running back of the Dallas Cowboys ever since he came into the league and he was fantastic in week one as he recorded 118 yards along with two touchdowns. Plus, Atlanta's defense was awful in week one against the running back position as it allowed Chris Carson to score two touchdowns so Elliott should be able to find the end zone at least once while possessing multiple touchdown upside in this matchup.
Defense
Indianapolis Colts (Sean)
After getting torched by Gardner Minshew in week one en route to an embarrassing loss, Sean thinks that this is a nice "Buy Low" spot for Indianapolis' defense. The defense should be heavily motivated after that awful performance and it will get to return to the comforts of home so it should play a lot better this Sunday. Plus, it might be one of the lowest-owned defenses in DFS since most people in contests will be scared off by that week one performance so one can get a huge advantage on the field if the Colts manage to put together a solid defensive performance in week two.
Los Angeles Chargers (Ryan)
Ryan is using the same "Buy Low" philosophy on his defense but in a different way. Unlike the Colts, the Chargers actually played well defensively in week one as it only allowed just 13 points to Cincinnati. However, the Chargers now have to face arguably the best offense in the league as Ryan decided that it was time to step in front of the Patrick Mahomes train. While this move can easily backfire, nobody is going to own Los Angeles' defense so one can get a bit of a boost against the field if the Chargers somehow manage to slow down Mahomes or if they are able to score a defensive/special teams touchdown. At $2,000, Los Angeles might just be cheap enough to gamble on it.
DraftKings Millionaire Maker Related Articles
DraftKings Thursday Night Showdown Picks
Fantasy Football Week 2 Rankings