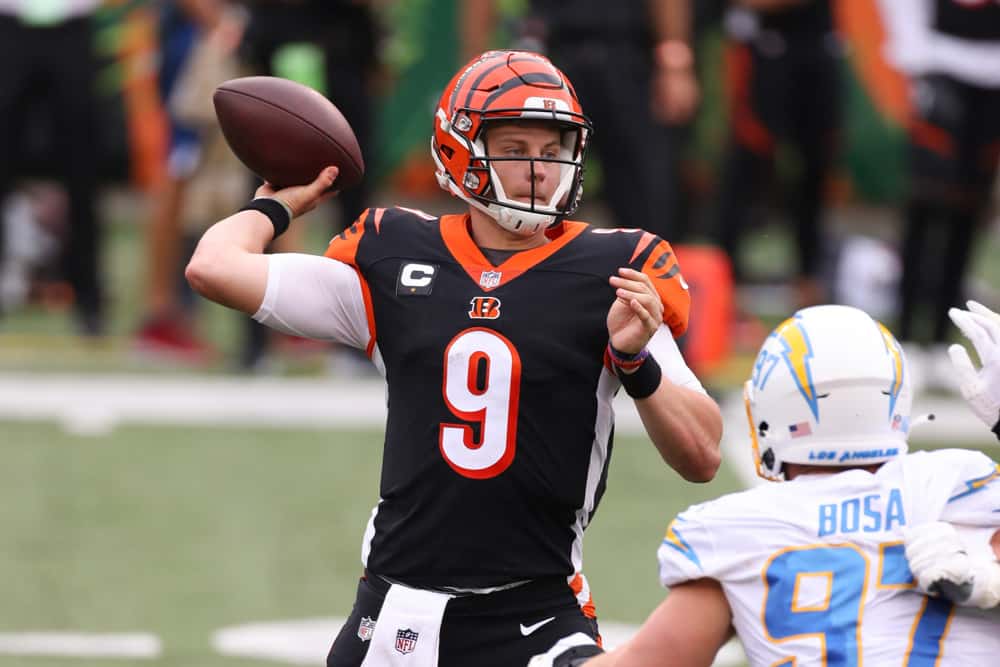 We charge ahead into week 2 with a Thursday night matchup between two winless teams. Each has their struggles offensively which will make this slate an exercise in creativity. There is an opportunity here to juice your line with both quarterbacks and one of their respective targets. Or, you can go off script to separate yourself from the thousands of lineups that will be doing the same. Whatever you decide, this slate will test your showdown skills and your patience.
Keep in mind that Thursday night contests are normally a defensive struggle. The over/under in this game hovers around the 44 mark, which suggests Vegas expects the same. While that could be true and offensive points are limited, we don't expect there to be enough turnovers or sacks to warrant playing either of these squads.
Below are four suggestions for the core of your lineups including a captain. The last two roster spots are yours to fill at your pleasure. For this particular slate, what you have left after these spots are filled should allow you to have some fun with your DraftKings Thursday Night Showdown Picks.
Captain – A.J. Green $13,500: WR Cincinnati
What we learned on Monday night is having an explosive wide receiver in the captain's spot works wonders. That is even more of a case for this game. All you might get out of either one of these offenses is one explosive play. Better to put your money on the player with the best opportunity to make that explosive play. 
His rookie quarterback looked to him nine times against the Chargers. Green caught five of them for 51 yards. He caught one in the endzone only to see it erased by a controversial pass interference call. Not a banner performance, but a promising start for the two as they try to find their chemistry. Expect that trend to continue against a Browns defense that got taken to task by the Ravens last week. Green is a better wideout than Hollywood Brown, so imagine what he can do against the Cleveland secondary. 
#Bengals wide receiver A.J. Green on the offensive pass interference call, Joe Burrow's performance and morehttps://t.co/SZp13DTBKW

— James Rapien (@JamesRapien) September 14, 2020
He has the best chance out of any of the receivers in this game to reach the 100 yard bonus. He's also more likely to find the endzone multiple times. Don't let the price tag scare you. You can still pretty much fit all the major playmakers on this slate in your lineup regardless.  
Flex – Joe Burrow $10,800: QB Cincinnati
This might seem a bit obvious, but the stack in this situation is all but a must. In fact, he should likely be the only quarterback in the game you should roster. While he lacked a huge debut, he looked like he had the potential to do great things against the Chargers. Were it not for his kicker missing a game-tying kick, we could have seen more.
Burrow had his first career touchdown pass taken off the board by that controversial pass interference call on A.J. Green. Against a Browns secondary that scares no one, chances are high that he will get the opportunity to make his next one stick. Myles Garrett will be a thorn in his side to be sure. But, there's something to be said about facing Joey Bosa in your first career start and living to tell the tale. 
With the rookie, you don't just get his throwing talent, you get his groundwork as well. Burrow added 46 yards on the ground as well as a rushing touchdown to his final tally. These numbers might not be as high this week as he will likely have more time in the pocket. Even still, the potential is there and in fantasy, you are looking for that kind of upside. 
Looking for a free shot at millions of dollars in prizes? Download the DraftKings app and use promo code SGP
Flex – Austin Hooper $6,800: TE Cleveland
There is no one on this Browns offense that gives you that warm and tingly feeling. Even Odell Beckham Jr., turned in an underwhelming week one performance. But, with David Njoku out, the ex-Falcon is the next man up at Tight End. He'll stand to see an increase of work against the Bengals. We can only hope he builds on his two catches and 15 yards from last week.
Browns place TE David Njoku on I.R.https://t.co/bwJwb6xvqm

— The Browns Wire (@TheBrownsWire) September 15, 2020
This week, Hooper draws a Cincinnati defense that allowed Hunter Henry to gain 73 yards on five catches. All things considered, Tyrod Taylor and Bake Mayfield are comparable as are Henry and Hooper. Though it might not be plausible to expect that Hooper will be targeted eight times as was Henry. What we can foresee is an opportunity for Mayfield to find Hooper in the endzone like he did with Njoku against the Ravens. 
Flex – Giovanni Bernard $3,000: RB Cincinnati
You can get very creative by playing Bernard this week. We know that Mixon will get his; his new contract pretty much demands it. But, where Bernard will make up for this will be his ability to catch the ball out of the backfield. In a PPR format like DraftKings, a catch is worth more than a carry anyway, so give us all the checkdowns. If he can break one for a big gain or a score, so much the better.
With his 4 catches today, Giovani Bernard passes James Brooks with the most receptions by a running back in #Bengals history. Congrats, Gio! @allbengals https://t.co/fuVnhC6Y65

— Nicole Zembrodt (@NicoleZembrodt) September 14, 2020
Last week against the Chargers, Bernard was targeted five times, tied with Uzoman, Boyd, and Ross. The only player targeted more was A.J. Green with nine. Again, we are not expecting Burrows to be pressured as much as last week. With that said, the Browns defense could turn it up just enough times to give Bernard a chance to produce. All in all, he's a dart throw worth taking. 
Looking for a free shot at millions of dollars in prizes? Download the DraftKings app and use promo code SGP