Every week during the NFL season myself, Ryan Kramer and Christian Pina give out our lineups for DraftKing's Millionaire Maker, if you're not familiar with it's their weekly Daily Fantasy Football competition where the winner get $1 million dollars and then the prizes drop off after that.
You're allocated a budget to put together your lineup, the players expected to have better games cost more and the lesser known players or those facing bad matchups cost much less. The lineup I released on the podcast and played week one of the 2017 NFL season was a life altering experience.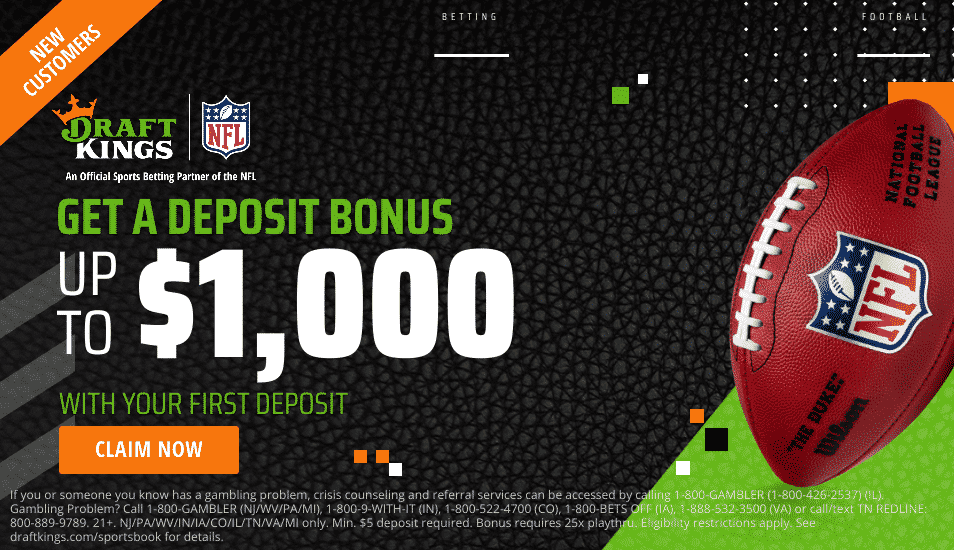 My Lineup
QB – Carson Wentz – Was it a homer pick? Sure, but also he was super cheap, playing a Redskins team he really knew well, and I loved how he finished the season.
RB – LeSean McCoy – He had a great matchup against the Jets and was Buffalo's only offensive weapon. Plus, I wrote his episode of Ridiculousness and he let me take a photo with him.
RB – Theo Riddick – Love taking pass catching RBs in DraftKings, the PPR points really make a difference.
WR – Antonio Brown – Remember the days when AB was dominating on the Steelers and the Browns sucked? He was my big money play.
WR – Amari Cooper – Again, seemed like the primary weapon on a team with few and a good matchup overall.
WR – DeAndre Hopkins – A top tier WR that ate up a bunch of my budget but I was confident would get me results.
TE – Zach Ertz – This was before Zach Ertz really broke out. He was a sub $4,000 TE, provided tremendous value, and was on the Eagles — which is another winning strategy I picked up.
FLEX – Tarik Cohen – This guy was my gem. This guy was my diamond. All offseason leading up to the kickoff, I had been reading how CHI planned to use him as a WR and couldn't wait to play him in a lineup.
DEF – PHI – Again, a homer play, but PHI had scored defensive TDs in the two previous games against the Skins and I thought they had one more in them.
The Proclamation
You can listen to Ryan and Pina laughing at me for my Tarik Cohen pick. They were exhausted from me talking about Cohen, but as a gambler, there is nothing more powerful than a hunch and I had one.
The podcasts were in the books and we headed out to Las Vegas for our annual first NFL weekend in Vegas trip with our familiar brand of optimism about our locks.
The Day In Las Vegas
9:00 AM – Ryan and I do our Pregame show from our suite at the Westgate. I once again crowbar a mention about Tarik Cohen in as we go over late breaking line movements and injury news.
10:00 AM – We make our way to football central, this awesome movie theater the Westgate has where you can watch all the games at the same time and start drinking as soon as the games kick.
10:10 AM – Only four minutes into the game Carson Wentz scrambles around the pocket and connects for a deep touchdown to Nelson Agholor. I'm already going nuts in the theater! High fiving my friend and fellow Eagles fan Justin and yelling at the world that doubted Carson Wentz's deep ball. I'm jacked as an Eagles fan but also stoked to get off to a great start with my DraftKing's lineup. Also I'm annoyed I didn't start Agholor.
11:30 AM – The Eagles kick a field goal to go up 16-14 against the Redskins. I'm feeling good about the game but certainly don't think anything is locked up. Wentz hit LeGarrette Blount for a passing TD in the second quarter, which ended up being a key for the game and the DraftKing's lineup. I take a quick glance at my score on the DraftKings and everything looks solid so far, all the high money players are performing and Tarik Cohen had a couple catches.
12:10 PM – Antonio Brown is catching a bunch of passes, LeSean McCoy is racking up points, and I'm definitely going to cash in this contest (Millionaire Maker contest the top 20% cash).
12:30 PM – Holy shit, Tarik Cohen catches a touchdown! I already feel like a god just for this prediction alone. I check the DraftKing's scores and oh man I'm in the top 100. This is crazy.
12:57 PM – With only 1:29 left in the game Fletcher Cox scoops up a fumble and returns it all the way for a defensive touchdown! Holy shit, this ices the Eagles victory and I have Eagles defense in DraftKings. Oh shit, they're reviewing the play. Goddammit, it doesn't look like a fumble……wait, THE CALL STANDS ON THE FIELD.
12:59 PM – I check my DraftKings lineup, holy shit, I'm currently in first place. I take some screenshots but don't get that excited. All my players were going during the 10am games. I still have to sit through all the afternoon games and the Sunday Night Game. Eventually someone is gonna knock me off, but man a top 20 finish could happen! My cousin texts me, "Fuck you, is that really you?"
1:05 PM – I begin pacing around the roulette tables, just smoking a cigarette, even though I don't smoke, and wandering around catching bits and pieces of games. Since there are so many people behind me in this contest, I honestly don't know what to root for or against.
1:10 PM – Scott Tolzien throws a pick six for the Colts and Rams DEF scores a TD. The guy in second place behind me had the Rams DEF and he just got a lot closer with that pick six. As long as Scott Tolzien doesn't throw another pick six, I should be able to beat this guy. I continue smoking and pacing.
3:00 PM – FUCK YOU SCOTT TOLZIEN. The guy throws another pick six! Do you know how hard it is to throw two pick sixes in one game? I'm officially knocked down to second place. I resign myself that this is going to keep happening for the rest of the day and just enjoy it while you can.
4:30 PM – Oh man, this is getting scary. The afternoon games wrapped up and I'm still somehow in second place. I cash my betting tickets and try to downplay the seriousness of this situation. Ryan, myself and Justin agree it's best to watch the night game in our suite. I try and figure out the scenarios for what I need to happen, but it's tough, nobody can score — especially Odell Beckham who I assume a lot of people have in their lineup for this Giants vs Cowboys matchup.
5:10 PM – Odell Beckham Jr is announced out! Holy shit, this is huge. I forget what caused him to be out, perhaps a prior commitment to a boat trip.
5:35 PM – I text my girlfriend, soon to be wife, if she can just focus on rooting against Jason Witten. He was a Cowboy, so it really wasn't anything out of the normal, but a huge game from him seemed to signal my demise.
8:20 PM – I've been sweating this game out play by play this is killing me.
8:35 PM – The game ends Dal 19 – NYG 3, a comically low score. Only one TD scored, it was Jason Witten but his 7 for 59 and 1 TD wasn't enough to knock me off! HOLY SHIT I JUST WON $200,000.
Use promo code SGP to sign up for DraftKings' $64,000 March Madness Bracket Challenge  
The Winning Lineup
That's right I came in second place out of 273,413 participants. Not bad for a day's work. Hard not to look at that and not be super pissed at Scott Tolzien, but on the flip side, I only beat out the third place guy by 1.4 pts. That would have been a $100,000 swing in the other direction.
The Reaction Video

The video itself may seem a bit underwhelming, but honestly, I was just trying to wrap my head around the fact that I just won $200,000 playing daily fantasy sports. Who exactly was I telling to "eat it" ? That's unclear. I think when I experience crazy emotions I just default to my Irish Catholic Philadelphia emotional preset, which is to just yell.
Perhaps I was yelling at all the bad beats and bookies who had taken my money over the years. Perhaps I was yelling at all the people who said sports gambling was a "dead end." Or perhaps I was just yelling because it was a football Sunday, I was wearing my Carson Wentz jersey and that's just what I like doing.
The Aftermath
I asked DraftKings if I could get a giant check with my name on it and they politely declined and wired me the money instead. Those were the longest three days of my life. I still remember the chair I was sitting at in my office as I stared at my laptop sitting through a meeting as I kept refreshing the bank balance and saw it change from $1,245.86 to $201,245.86.
What did you do with the money? Whatever the fuck I wanted to. Really I just took care of a lot of financial things that you don't really focus on as a stand up comedian. I paid off my credit cards, got a sick ass Jeep Grand Cherokee with the Altitude package, got a sick ass 401k going, went to the LA Eagles games with friends and family and most importantly got married to my amazing wife who believed in me and the Eagles before we hit it big.
Oh and yes I did pay a shit load of taxes as well, in spite of Uncle Sam not knowing jack shit about RB's PPR value he still got his taste.
In Closing
Thank you Carson Wentz. Thank you Zach Ertz. Tarik Cohen, you'll always have a soft spot in my heart. And if I ever catch Scott Tolzien walking around I'm gonna personally let him know he owes me $800,000.
Use promo code SGP to sign up for DraftKings' $64,000 March Madness Bracket Challenge