Celebrities really are JUST LIKE US!
If you think sports betting is the favorite pastime of normal dudes like you, think again. These A-list celebs love their bookies as much as we do. All that makes them different is their bankrolls. Some of have won (and lost) millions of dollars.
Here are our favorite degenerate sports gambling celebrities.
1. Floyd Mayweather Jr.
When you got the nickname 'Money' you really need to keep up with your reputation. And that's exactly what the legendary boxing champion has been doing. Famous for spending huge sums of money on a lavish lifestyle, Mayweather is also famous for betting big. And we mean really big.
This guy has reportedly bet $10.4M dollars on the Super Bowl 2016. He backed Denver Broncos to beat Carolina Panthers with at least two points difference. This was just one of his betting escapades. In this particular case, he won the bet, but there were times when he lost a lot. Still, what regular people consider to be a lot of money, the 400M-worth boxer doesn't seem to care much about.
2. Charles Barkley
Here's another celebrity bettor who likes betting on the NFL. The legendary power forward put half a million on the Super Bowl 2002. He backed New England Patriots to St. Louis Rams, which proved to be a good call. What wasn't a good call was going to Las Vegas casinos and spending as much as $30M, which is how much Barkley claims he's gambled away over the years.
3. Michael Jordan
Another NBA legend is on our list. Michael Jordan is famous for his sports betting habit, which caused him a lot of trouble during his career as a professional basketball player. Back in the early nineties, MJ ended up being investigated by the NBA.
According to the rumors from the time, the whole reason why he decided to retire from basketball for a brief period had something to do with gambling. Retiring from the NBA at the height of his career does seem kind of strange. Still, no one can confirm whether this is actually true.
But, there is one thing we can tell you for certain – MJ loved betting back in the day. And an American businessman called Richard Esquinas claims to have proof. According to him, Michael Jordan had to cash out nearly a million dollars on a golf bet he made with Esquinas.
4. Phil Mickelson
Phil Mickelson joins the list of sportsmen who love betting on the Super Bowl. The golfer made himself a lot of money in 2001 when his betting adventure reached its peak.
The first major win he got was when he placed $20,000 on Baltimore Ravens to win the Super Bowl. His next betting move was to back Arizona Diamonds to win the World Series, which made him even more money.
5. Jaromir Jagr
He was the highest-paid NHL player in the 1990s, but his sports betting passion had got him in financial trouble many times. The worst trouble came when he lost about half a million dollars in an online sportsbook.
You would think that a stroke of bad luck cause him to lose so much. But, the truth is a bit different. Jagr piled up the losses over time, eventually getting to such a high figure that the press found out about it.
6. Dana White
The UFC boss is famous for his gambling loving nature. An adrenaline-freak, this guy loves wagering a lot of money against his buddies. And one of his gambling friends is the famous rapper Snoop Dogg. The two bet one another $20,000 on Lakers vs Celtics, the wager which Mr. White lost.
7. Birdman
Bryan Williams, an American rapper going by the name of Birdman loves bragging about his sports betting adventures. In 2018, bet his hip-hop rival AR-Ab $200,000 on who's going to win the Super Bowl. Their wager did not go under the radar for the fact that both rappers shared it on their Instagram profiles.
Birdman backed Patriots to beat Eagles, which proved to be a wrong decision. Whether it's the embarrassment of picking the losing team or regret for the money, but Birdman deleted all the posts regarding the bet from his Instagram.
8. Charlie Sheen
You probably can't say you're surprised to find out Charlie Sheen is a gambling man. Famous around the world for his pretty controversial life choices, the actor is also famous for his gambling passion. Apparently, he loves all gambling forms, sports betting included. According to his ex-wife Denise Richards, Charlie used to bet hundreds of thousands of dollars on a weekly basis, often bringing the family on the verge of bankrupt.
Still, his story has a kind of happy ending. Mr. Sheen's financial troubles came to an end when he became the star of the sitcom Two and a Half Men, for which he reportedly received almost $2M per episode. Hopefully, he's saved some of that money before being replaced by Ashton Kutcher, who happens to be another big Hollywood bettor.
You can read an interesting article on Kandi about Two and a Half Men.
9. Ashton Kutcher
According to the man himself, gambling is not a big passion of his. So, what's the reason why he used to bet millions of dollars on college football?
It appears that the actor was used as a front of a large betting syndicate who used to place illicit bets on NCAA events before being caught in the act. Whether he thought of it as a business investment or not doesn't matter much – Ashton Kutcher is going to be remembered as one of the biggest gamblers in Hollywood.
10. James Holzhauer
This guy lived every sports fan's dream, making a living gambling on sports. And then lived every trivia nerd's dream, winning an unprecedented amount of money on Jeopardy! 
From April to June 2019, Holzhauer captured mainstream attention for appearing in 33 straight Jeopardy! episodes and racking up $2,714,416 in prize money, plus the $250,000 top prize in the Tournament of Champions. Holzhauer attributed his aggressive, winning style his career as a professional sports gambler and poker player.
11: Cousin Sal and Bill Simmons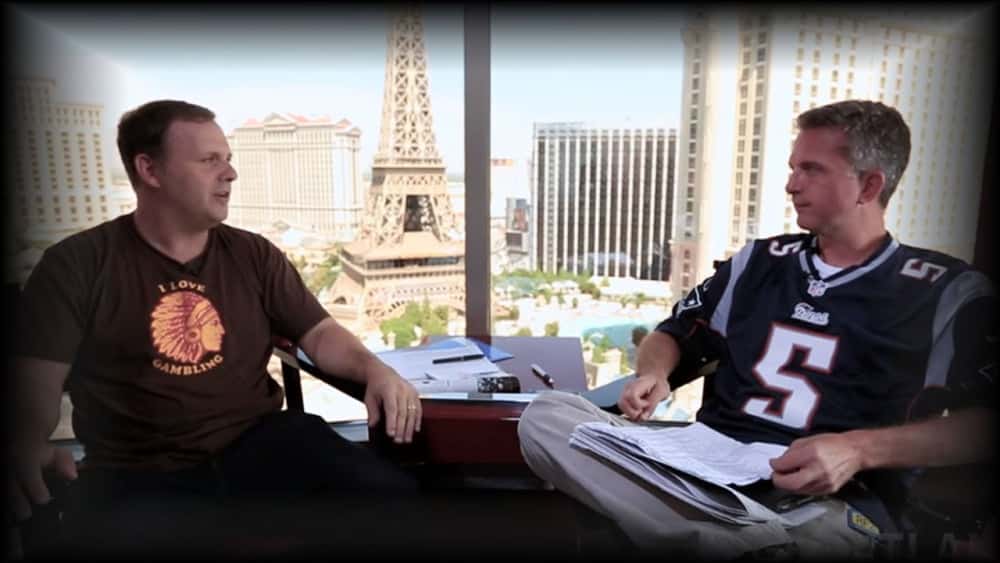 Eh, if you follow sports, you already know these two.