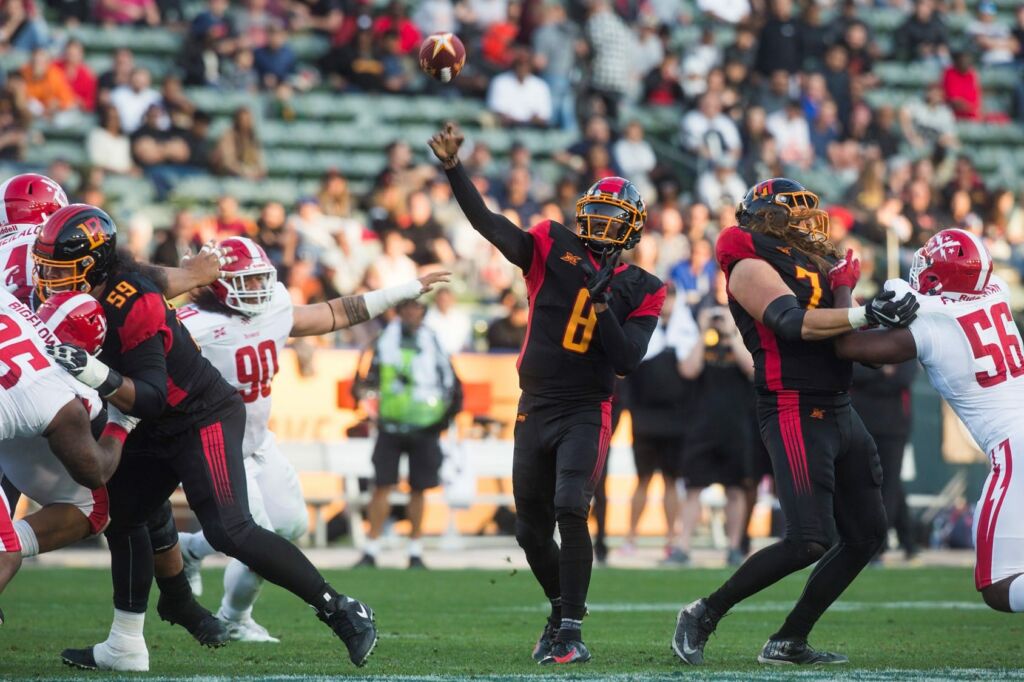 Through three weeks of the XFL, there have been ups and there have been downs, but through it all one thing remains constant. Whoever drafted PJ Walker and Cam Phillips has been destroying your season-long XFL Fantasy league. Despair not fellow degens! All is not lost! There are some rising stars who can salvage your season still, and with discipline, a can-do attitude, and a little luck, you can overcome the seemingly unstoppable Walker/Phillips duo. Study the rankings, watch for injury news, and consider a sacrifice to the fantasy gods as well. Your fantasy rankings for Week 4 of XFL action are on tap here!
READ ALSO!
Check out our sortable stats for XFL page
XFL Fantasy Football Week 4 Waiver Wire Pickups
XFL DFS for Week 4: Daily Fantasy Football Picks, Advice, Lineups
| | | |
| --- | --- | --- |
| PJ Walker | Houston | QB01 |
| Cam Phillips | Houston | WR01 |
| Rashad Ross | DC | WR02 |
| Cameron Artis-Payne | Dallas | RB01 |
| James Butler | Houston | RB02 |
| Josh Johnson | LA | QB02 |
| De'Mornay Pierson-El | St.Louis | WR03 |
| Cardale Jones | DC | QB03 |
| Matt Jones | St.Louis | RB03 |
| Kahlil Lewis | Houston | WR04 |
| Landry Jones | Dallas | QB04 |
| Donald Parham | Dallas | TE01 |
| De'Veon Smith | Tampa | RB04 |
| Lance Dunbar | Dallas | RB05 |
| Jordan Ta'Amu | St.Louis | QB05 |
| Martez Carter | LA | RB06 |
| Austin Proehl | Seattle | WR05 |
| Tre McBride | LA | WR06 |
| Darius Victor | NewYork | RB07 |
| Flynn Nagel | Dallas | WR07 |
| Trey Williams | Seattle | RB08 |
| Kenneth Farrow | Seattle | RB09 |
| Brandon Barnes | LA | TE02 |
| Brandon Silvers | Seattle | QB06 |
| Jacques Patrick | Tampa | RB10 |
| Nick Holley | Houston | RB11 |
| Nick Truesdell | Tampa | TE03 |
| Alonzo Russell | St.Louis | WR08 |
| Dan Williams | Tampa | WR09 |
| Jalan Tolliver | Tampa | WR10 |
| Christine Michael | St.Louis | RB12 |
| Reece Horn | Tampa | WR11 |
| Eli Rogers | DC | WR12 |
| Kermit Whitfield | LA | WR13 |
| L'Damian Washington | St.Louis | WR14 |
| Donnel Pumphrey | DC | RB13 |
| Taylor Cornelius | Tampa | QB07 |
| Ja'Quan Gardner | Seattle | RB14 |
| Tim Cook | NewYork | RB15 |
| Mekale McKay | NewYork | WR15 |
| Marcus Lucas | St.Louis | TE04 |
| Jake Powell | NewYork | TE05 |
| Keenan Reynolds | Seattle | WR16 |
| DeAndre Thompkins | DC | WR17 |
| Larry Rose | LA | RB16 |
| Austin Duke | NewYork | WR18 |
| Sam Mobley | Houston | WR19 |
| Jhurrell Pressley | DC | RB17 |
| Jordan Smallwood | LA | WR20 |
| Khari Lee | DC | TE06 |
| Luis Perez | NewYork | QB08 |
| Marquise Williams | NewYork | QB09 |
| Matt McGloin | NewYork | QB10 |
| Brandon Reilly | St.Louis | WR21 |
| Khalid Abdullah | DC | RB18 |
| Sean Price | Dallas | TE07 |
| DeAndre Goolsby | Tampa | TE08 |
| Justin Stockton | NewYork | RB19 |
| Colby Pearson | NewYork | WR22 |
| Jeff Badet | Dallas | WR23 |
| Evan Rodriguez | Seattle | TE09 |
| Adonis Jennings | LA | WR24 |
| Wes Saxton | St.Louis | TE10 |
| Sammie Coates | Houston | WR25 |
| Andre Williams | Houston | RB20 |
| Keith Ford | St.Louis | RB21 |
| Alonzo Moore | Seattle | WR26 |
| EJ Bibbs | NewYork | TE11 |
| Derrick Hayward | DC | TE12 |
| Aaron Murray | Tampa | QB11 |
Quarterbacks: Johnson and the Jones Brothers chasing PJ Walker
https://twitter.com/XFLBattleHawks/status/1231661966906753024
We all know that PJ Walker is the clear QB1 so far, but the next tier of quarterbacks is starting to sort itself out and provide us with some clarity moving forward. The other young gun, Jordan Ta'amu, has started to carve out his place in the XFL quarterback hierarchy as well. He is presently second in quarterback points, but he has played an extra game when compared to QB3 Josh Johnson. Ta'amu has been accurate and decisive passer, while also gaining chunks of yards on the ground. Presently he is completing 75% of his passes, and the only reason he was not more of a prolific passer in Week 3 was that the BattleHawks running game was gashing the defense at will. Ta'amu should be considered at the top of the next tier of XFL fantasy quarterbacks behind Walker.
Landry Jones and Cardale Jones are both contending with Ta'amu for the title of QB2, but Cardale took a big step back last week against LA, he should be primed for a big bounce-back against Tampa. Landry, on the other hand, will be tested Sunday afternoon against PJ Walker and Houston in what looks to be the most high-octane matchup thus far… The New York Guardians quarterback situation gains the "who knows" label this week as Matt McGloin looks to be on the outs. It remains unclear who will take over between Marquise Williams and Luis Perez, but both should offer more upside than McGloin… Meanwhile, in Tampa, Aaron Murray returns this week! He has upside as the Tampa offense is discovering itself heading into Week 4.
Running Backs: Carter arrives, Dunbar shines
https://twitter.com/XFLRenegades/status/1231352963517448192
Many things have been written, and will continue to be written about Montez Carter, but Lance Dunbar might be the sneaky good running back play down the stretch. Dunbar is presently fifth in the XFL in targets with 23. When you combine that with his 19 carries, you get the RB4 through three weeks of XFL action. Dunbar is averaging 5.4 yards per touch, and it looks like Landry Jones will continue to trust the veteran back, as should you as an RB1 for the rest of the season.

Donnel Pumphrey appears to have taken over the lead back role for the Defenders, he has been more efficient with his touches and more explosive than Jhurrell Pressley… The Three-Headed Dragon continues to be a solid RB2 play week-to-week, but it appears that Ja'Quan Gardner is a less reliable option due to his struggles catching passes. He is more of a flex play moving forward while Williams and Farrow remain entrenched in the RB2 conversation… Jacques Patrick and De'Veon Smith both got solid run in Week 3, but Smith out-touched Patrick 17-12. This backfield will roll with whoever is more effective in a given week, but both are startable options in a shallow XFL fantasy running back field.
Wide Receivers: Spruce is out, will McBride, Whitfield, or Jennings fill the role
https://twitter.com/TNolemad/status/1231746960111083520
Nelson Spruce has firmly entrenched himself as the top dog in Los Angeles, but as he battles and injury this week the Wildcats receiving corps now has question marks. Jordan Smallwood and Adonis Jennings have been the consistent options opposite Spruce before this week. Week 3 provided a few new wrinkles as Tre McBride balled out against his former team to the tune of five catches for 109 yards and two touchdowns, but do not forget about Kermit Whitfield either. The shifty and multi-dimensional Whitfield ran the second-most routes from the slot for Los Angeles, and they like to get him involved in gadget plays as well. Whitfield could be the biggest beneficiary of the Spruce injury as he climbs into the WR2 conversation.

The Tampa Bay Vipers have had a subtly prolific passing offense. Reece Horn, Dan Williams, and Jalan Tolliver are all in the top-10 for targets at the receiver position. With that kind of consistency, look for them to be consistent options at a deep XFL fantasy wide receiver position… Mekale McKay will be a big beneficiary of a quarterback change in New York. Big Play McKay has been underutilized thus far and either Luis Perez or Marquise Williams will be a better option for McKay's fantasy outlook… L'Damian Washington may have had a down week last week, but he should rebound this week as he recovers from injury.
Tight End: Barnes and Powell emerge as consistent options
https://twitter.com/XFLRenegades/status/1231368391035719680
Donald Parham is fourth in targets with 24 and third in yards with 217. Combine those numbers with his three touchdowns and his status as the undisputed top target in Dallas, Parham is the clear-cut TE1… Brandon Barnes is tied for third on the Wildcats in catches and has been consistently targeted each week, his reliable target share makes him a solid tight end option… Jake Powell has emerged as the most reliable option for the Guardians and leads the team in catches. His consistent production makes him a contender to be the next-best tight end option after Parham in XFL Fantasy leagues.
READ ALSO!
Check out our sortable stats for XFL page
XFL Fantasy Football Week 4 Waiver Wire Pickups
XFL DFS for Week 4: Daily Fantasy Football Picks, Advice, Lineups