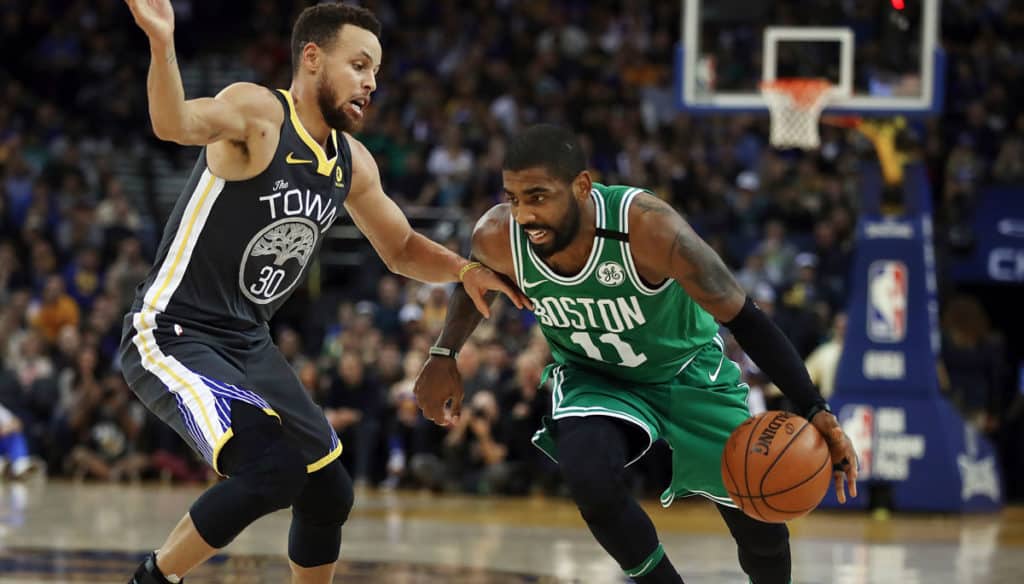 DFS Devil's Advocate: Pivots Per Position is designed to work hand-in-hand with the Roster Construction Strategies release in order to give the user a better idea of where to look when filling in the blanks beyond molding the start to your specific approaches. Whether that roster navigation may begin with game stacking, team stacks, or the stars-and-scrubs method, these positional pivots will seek to pair with a number of those strategies to get you slightly different from the field in areas many may simply avoid for one reason or another.
READ ALSO:
Daily Fantasy Basketball Roster Construction Strategies (2/21/19): DFS Devil's Advocate
Behind The NBA Picks: Digging Into Thursday Night's Games (2/21/19)
Point Guard
While I specifically point out in Roster Construction Strategies that I absolutely love Stephen Curry here on both sites at his price point ($9,000 DK/$9,500 FD), I highly doubt that I will be the only guy sporting that sentiment going into lineup builds for Thursday night. As I will likely be trying to double the field here on this stand, that's not to say I'll be going all-in on this play at point guard (in fact I rarely consider anyone a "lock", I hate using the term).
I will also be interested in trying to at least match the field with Kyrie Irving ($9,200 DK/$9,600 FD), which I'm assuming to be easily achievable when considering multiple entries in large-field tournaments. He was rocking an average 30.84% usage rate over his last five games prior to leaving with a strained knee in only fourteen minutes against the Clippers before the All-Star break. Additionally, while the Bucks are 2nd overall in defense across the past ten games, their 6th overall pace in that same time frame forecasts as a high upside opportunity for the Celtics' starting point guard.
Wild Cards: Rajon Rondo, Colin Sexton
Shooting Guard
Another stalwart selection featured in my neighboring article, James Harden ($11,600 DK/$12,600 FD) comes into Thursday primed to blow up against a Lakers defense that ranks among the bottom ten teams in Opponent's 3-Point Attempts allowed over the past ten games (something I hear he's been pretty good at making the past couple of years). In the same breath that I tell you I'll eagerly be trying to best the field on ownership here, I find Devin Booker ($7,700 DK/$8,200 FD) to be a substantial pivot as opposed to going the more bearded approach.
For those who haven't seen this season, the Cleveland Cavaliers aren't particularly…good. Despite their slow nature in tempo ranking them in the bottom five teams in pace over the past ten games, they rank dead last in Opponent's Field Goals Made for the entire season and rank 19th in Opponent's Points scored the past ten games. Booker's too cheap in this position and tends to draw inconsistent ownership (trending on the lower side) due to his performance history and health record which matches that same variability.
Wild Cards: Jimmy Butler, Jordan Clarkson
Small Forward
Functioning as the other entertaining half of this evening's marquee matchup between the Rockets and Lakers, LeBron James ($10,600 DK/11,700 FD) has just informed the world he's flipped the Playoff Switch to ON mode and I would figure that the second-highest over/under of the evening would be a legitimate beneficiary to that. Coming back from a weeklong absence of NBA action, I could see the public gravitating toward both sides of this game and with good reason. On the other hand, we may be forgetting the other juggernaut on this slate in Giannis Antetokounmpo ($10,800 DK/$12,400 FD).
Squaring off against his opponent of last season's first-round seven-game playoff exit in the Celtics, the Greek Freak will be determined to defend his home court and prove why he not only deserves the 2019 MVP but that this year's Eastern Conference is theirs for the taking in Milwaukee. After what was considered a mildly disappointing start to the NBA fantasy season, Giannis has recently been outright destroying his opponents and producing like we're used to in regards to fantasy numbers, averaging 68.1 DKFP over his past five games and 82.75 DKFP in his most recent road victory over the Pacers. The public tends to fade opponents of the Celtics due to their notoriously staunch defense spanning recent years. I would suspect this spot to be no different and will definitely be getting my share of the multi-faceted MVP favorite.
Wild Cards: Kelly Oubre Jr, Joe Harris
Power Forward
With the evident nonchalance of Kevin Love's situation and Tristan Thompson still out with a sore left foot in Cleveland, Larry Nance Jr. ($7,200 DK/$7,500 FD) has risen in popularity as of late to the tune of over 30% ownership and his salary cost in the DFS world has began to soar because of it. While Nance is in an opportune position against a Suns team who's second to only his own Cavaliers for last place in overall defensive rating for the season, I look to maneuver elsewhere.
Draymond Green ($6,000 DK/$6,800 FD) is priced down far too cheap in a matchup against the Sacramento Kings that sets out to be the highest scoring game of the night. Draymond has previously exceeded value at costlier price tags against a Kings team ranking 25th overall in rebounding for the season. And considering the return of DeMarcus Cousins to the court, Draymond has recently been fluttering in ownership among daily fantasy rosters. I will be considering him in all rosters I don't designate Cousins to.
Wild Cards: Tobias Harris, Josh Jackson
Center
Tonight should split somewhat of a three-way share in majority ownership at this position between Jusuf Nurkic, DeMarcus Cousins, and Deandre Ayton ($7,000 DK/$7,600 FD). While I can't say enough great things about the matchups of Nurkic and Cousins, the very same applies to today's potential for Ayton facing the lackluster Cavaliers. However, the game flow here isn't necessarily the most appealing and I feel like you can find a better place to take a stand when trying to differ from your Nurkic and Cousins lineups.
With news dropping yesterday of Joel Embiid's one-week minimum injury absence, Hassan Whiteside ($6,700 DK/$7,300 FD) leapfrogs to an outstandingly opportunistic spot while assumed to be facing the defensively-inept and wildly popular Boban Marjanovic. At the same time it's hard to argue Whiteside's usual volatility in any sort of daily investment, this matchup provides a massive ceiling partnered with the expectancy of moderate ownership and would be foolish not to get a piece of in regards to having multiple entries. I intend to get at least the field's share of this promising pivot.
Wild Cards: JaVale McGee, Boban!
READ ALSO:
Daily Fantasy Basketball Roster Construction Strategies (2/21/19): DFS Devil's Advocate
Behind The NBA Picks: Digging Into Thursday Night's Games (2/21/19)