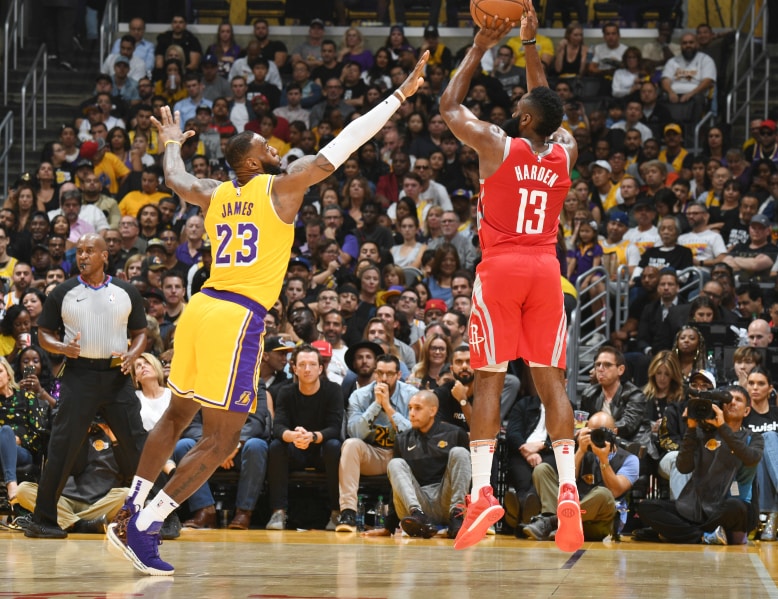 Welcome! DFS Devil's Advocate: Roster Construction Strategies is intended to provide you mindful thought process on a few viably interesting roster strategy options you can seek to implement, tweak, and explore on a given day's NBA main slate. These strategy options will be applicable to both DraftKings and FanDuel. Be aware that any of these suggestions do not reflect the impact of any surprise news, roster changes, or late scratches unless otherwise stated.
READ ALSO:
Daily Fantasy Basketball Pivots Per Position (2/21/19): DFS Devil's Advocate
Behind The NBA Picks: Digging Into Thursday Night's Games (2/21/19)
With what felt like an eternity to those of us whose mobile devices rarely stray from the lobbies of DFS sites and services, the NBA returns Thursday night following a compelling All-Star break to begin the final third of the regular season with a six-game main slate that offers more fireworks than many of its caliber.
For a slightly smaller sized menu than most would desire following a six-day absence, there are plenty of feasible roster approaches you can make with what's on the table. Featuring a more-than-potential playoff matchup with Giannis at home against the Celtics, along with a dual late night hammer between the Kings and Warriors tipping off at the same time as Harden v. LeBron, there's plenty to be excited about when crafting your rosters for tonight. We'll start off with the most star-studded approach…
James Harden w/ LeBron James Mini Stacks
With both of these guys dragging two of the slate's three highest price tags, and field ownership likely pushing over the 20% mark, James Harden ($11,600 DK/$12,600 FD) and LeBron James ($10,600 DK/11,700 FD) are both considerably reliable roster staples, but also demand lofty fantasy outcomes to meet value for their 5-digit costs. Based on the slate size, I wouldn't doubt a steady number of lineups will end up rostering a minimum of one of the two forementioned studs…but on the other hand, I find the public's desire to stack them both to be a bit too ballsy for many, which makes for a rather interesting (and bougie) experiment to dabble with in an attempt to get ahead of the field.
In what's assumed to be one of the highest scoring games of the day, each player individually offers a worthwhile gamble to be noted. Over the past ten games, the Los Angeles Lakers rank 5th overall in the league in pace, while the Rockets boast a 2nd overall offensive rating of 118.0 in that span of time (0.10 behind the Warriors). Of this season's three matchups between the Rockets and Lakers, here are James Harden's DK performance highlights:
• 78 DKFP (salary $13,400), 41.9% usage rate – 01/19/19***
• 86.50 DKFP (salary $10,900), 48.71% usage rate – 12/13/18
• 57.75 DKFP (salary $11,300), 32% usage rate – 10/20/18
(*** notates game played without Chris Paul)
Despite the nature of a small sample size, with what we have to work with of recency here shows that the Rockets evidently (if you've seen a Rockets box score the past month and a half) do not have any problem demonstrating and isolating as much usage as possible through the bearded menace, and nearly regardless of the presence of CP3 on the floor. I will be rostering Harden with no hesitations in an attempt to edge the field on this mildly malnourished slate.
As this approach is much more-so a doable one over on DraftKings with consideration to MPE (Multi-Position Eligibility) and friendlier pricing, FanDuel's path to feasibly stacking this game will best be done through the means of Chris Paul ($7,600 DK/$7,800 FD) over Harden when trying to run it back with LeBron. Paul is also an excellent option at his price on both sites and makes getting to starting pieces from the much-desired Kings/Warriors game to be accessible without debilitating the other quarter of your lineup.
Also keep in mind, Clint Capela ($7,000 DK/$8,600 FD) is due to possibly return barring any setbacks come game time and has proven to be a high-ceiling/moderate-floor fantasy player this season prior to his time away for right thumb surgery. But given any player carrying a 'Questionable' tag you'll likely be garnering lower ownership simply due to wary investors, and in turn could leverage ownership by throwing him into the stack against a Lakers team who is in the bottom nine teams over the last ten games in rebounding.
On the other side of the equation, LeBron James has been hit-and-miss since his return to the court but has no limitations to exceeding value on any given night and is still averaging a 27% usage rate in his last four games back in action. Even seeing as how he's underachieved in his two outings against the Rockets this year (45.25 & 43.75 DKFP), I like this spot for him coming back from the All-Star Break with something to prove about his Lakers team that was seemingly in disarray following the trade deadline. Michael Beasley aside, I have no qualms with grabbing other parts of this game as well but namely from the Lakers side of the ball. I wouldn't be surprised to see this game stay relatively close and generating plus-value for the Kyle Kuzma's ($5,900 DK/$6,600 FD) and JaVale McGee's ($5,200 DK/$6,100 FD) of the world with the second-highest over/under on the evening (233.0).
While the Harden/LeBron specific stack narrative makes for a fun one when attempting to get different with today's roster construction, it certainly won't be my most exposed strategy simply due to the limiting opportunity costs at cheaper offerings on this slate. I hope you're not looking for Beasley right now.
Damian, DAR, & Plenty Of Nurkic
For those of you seeking a slightly more modestly-invested approach to their Thursday rosters, look no further. Damian Lillard, D'Angelo Russell ($8,200 DK/$9,200 FD), and Jusuf Nurkic ($7,400 DK/$8,100 FD) round out one stack that's positioned with a high ceiling and plenty of opportunity at other remaining roster positions considering the value available, and can even be found from within the same game played in Brooklyn.
Against a Nets team who ranks 2nd overall in pace in their last ten games, Lillard ($8,600 DK/$10,100 FD) looks to be at a fair enough price to achieve value beyond his bargaining price. At what's expected-to-be moderate/low ownership for Lillard, running it back with Russell makes plenty of sense when sculpting the start of a lineup and chasing the paced-up guard tempo of this game. D'Angelo Russell has been absolutely on fire averaging 51.56 DKFP over his past four games at a blazing 1.43 fantasy points per minute in that span of time. While Portland ranks 10th overall in defense against the point guard position, the price tag for DAR is right where I'd like it to be by warranting more than plausible plus value, an imaginable high ceiling, and public ownership that I can see gravitating elsewhere.
With Lillard now suddenly donning a questionable injury tag as of mid-Wednesday morning, I'd keep an ear to the pavement for movement on his ownership as you monitor his health status leading up until lock. While I don't see any extreme caution going into Thursday with minor investments set in Lillard, I'd be ready to pivot any approach to this game around his backcourt mate CJ McCollum ($6,600 DK/$6,400 FD) who will absorb a majority share of the minutes and usage that Damian could leave behind given a last-minute scratch come tip-off. If Lillard gets to rest his bum ankle, McCollum serves as a fantastic fill-in behind this stack strategy and obviously allows for more than $2,000 of relief over Damian in the same role. Should this scenario come into play long before the slate first locks, be advised that CJ will most definitely be dragging much of the field ownership with him at such a highly projected value spot.
And with that being said, Jusuf Nurkic provides a seemingly high ceiling at a fair price here, and loading him up with this stack makes for a balanced approach (especially if Lillard sits). The matchup against Jarrett Allen and Ed Davis bodes to be more than palatable for Jusuf when priced down to where he is, and considering the other limited number of options at the center position, the Bosnian badass is in a fantastic spot to cleanup plus-value for you here. This stack allows for worthy pieces such as Joe Harris ($4,300 DK/$5,500 FD) and other supporting characters in opportunity spots from the slate to fill out a remainder of your players. Hopefully you leave enough room to invest in as much of the other half of the two late hammer matchups as possible.
Speaking of which, they do say the best is spared for last…
Chasing The Over: Warriors vs. Kings
Absolutely the game that I will be getting to as very much as realistically possible on today's slate. Carrying the slate's highest over/under at 239.0, there is a slew of opportunity and excellent pricing here. While this game will assuredly draw a large share of ownership, it has plenty of options to distribute wealth from. With a vast variety to approach as starting hinge-points to your roster, it's hard to go wrong from either side of the ball.
Stephen Curry ($9,000 DK/$9,500 FD) is priced to order in a matchup against the Sacramento Kings, who over the past ten games rank 4th in pace. And while the Kings have stepped up their overall defensive rating to 7th in the league within that time span, this game flow favors the limitless jump shooter who sports a 30.4% usage rate for the season. I find myself taking a stand from this approach, by beginning the roster makeup with either Curry or Kevin Durant ($9,300 DK/$10,200 FD), and branching into value options within this game from there.
Bogdan Bogdanovic ($4,500 DK/$5,600 FD) touts solid fantasy production that has gone virtually unscathed with the latest additions of Alec Burks and other DK flex-option steal Harrison Barnes ($4,700 DK/$5,800 FD). In a paced up game against a Warriors defense that ranks dead last in 2nd chance opportunity points and 28th in opponent field goal attempts over the past ten games, Bogdan is an excellent decision whether you're fitting him into a part of your game stack from this matchup or as a standalone value plug, and regardless of projected ownership. A concrete textbook example of "Good Chalk".
DeMarcus Cousins ($6,100 DK/$7,600 FD) is yet another egregiously priced stack option that works perfectly as a solo target from this game as well. The Kings have been absolutely decimated against opposing centers this season, and Cousins could be due for a napalm-like stat line here. Of their last ten games, Sacramento scrapes among the bottom ten teams in rebound percentage and Boogie could make for a savory mini-stack anchor, with a revenge game narrative against his old team as an added incentive. And on DraftKings specifically you can bring it back by pairing him with Willie Cauley-Stein ($4,900 DK/$6,300 FD) as a frugal yet feasible Utility stock option who makes for a productive salary relief additive opening doors to pricier selections at other positions.
While there's clearly a plethora of options to deem worthy of delving into upon constructing your rosters, these listed here are merely a few to chew on as you determine your final cornerstones among your entries.
READ ALSO:
Daily Fantasy Basketball Pivots Per Position (2/21/19): DFS Devil's Advocate
Behind The NBA Picks: Digging Into Thursday Night's Games (2/21/19)