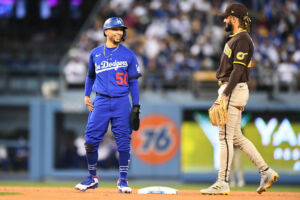 What's up, everyone? I hope you had a strong April to kick off your Fantasy Baseball season. We're hitting May in full stride, and it's a great opportunity to buy low and sell high on cold and hot starts to the 2023 baseball season. No better way to do so than with a freshly updated fantasy baseball trade value chart.
SGPN has you with the list you need to fleece your league-mates and increase the value of your squads as the Summer approaches. For those of you interested, here's a little rundown on how it was calculated. Otherwise, scroll on down to the trade value chart, and happy trading!
Go here for daily free MLB picks!
Fantasy Baseball Trade Value Chart – May 2023
Above, you have a link to download the Excel file that is used to calculate these trade values. The breakdown is as follows. Rest-of-season projections were gathered from the good folks at FanGraphs!
Both hitter and pitcher projections came from ZiPS DC (RoS). This trade value chart was designed to value players in a traditional 5×5 category league. As such, trade values are based entirely on each player's contributions across his five respective hitting and pitching categories. Below is a table showing how a player scores with his projections. For example, 35+ home runs earns a perfect 10-score in that category.
| | | | | |
| --- | --- | --- | --- | --- |
| HR | R | RBI | SB | AVG |
| 35=10     5=1 | 85=10     15=1 | 85=10     15=1 | 23=10 3=1 | .290=10    .210=1 |
| | | | | |
| W | ERA | WHIP | SO | SV |
| 13=10    3=1 | 2.85=10    5=1 | 1.1=10 1.5=1 | 180=10     30=1 | 27=10                  1=1 |
Players had their scores added up across their respective categories and are ranked below in a brand new fantasy baseball trade value chart for May 2023! Remember, these values are meant to compare players on a one-to-one basis. Despite their fantastic starts, don't expect to buy a superstar like Trea Turner for a combo of Bryson Stott and Hunter Brown. That's all for now! Good luck wheelin' and dealin'!

The May 2023 Fantasy Baseball Trade Value Chart