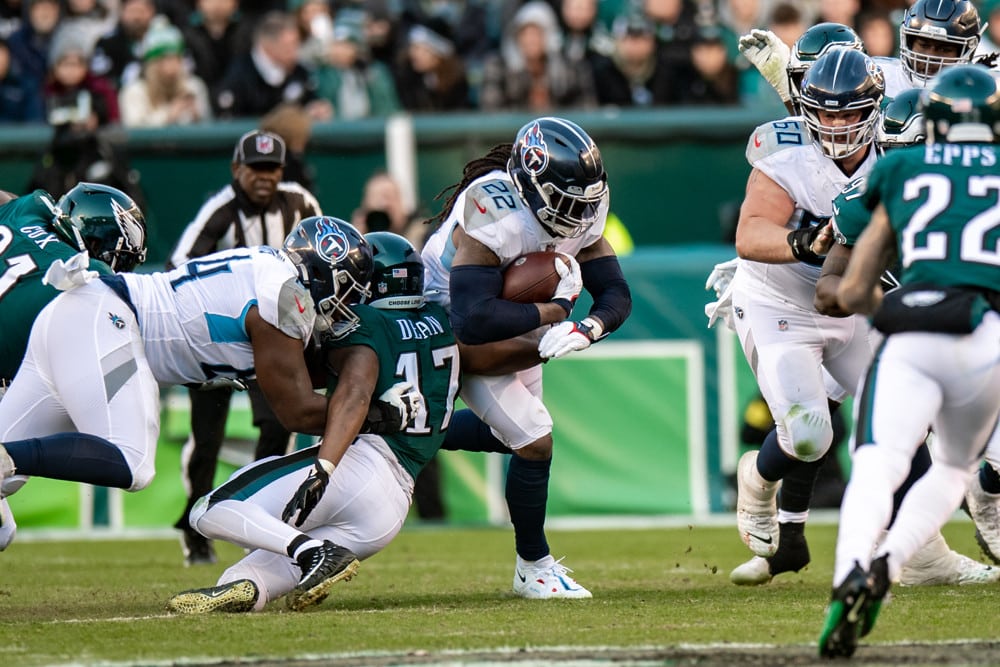 While there are many NFL rookie IDP fans who love the draft and drafting fantasy football, not all IDP managers are as excited when it comes to applying it to the defensive side of the game. So as we normally suggest. IDP rookie draft picks should be treated like dynasty luxuries for the most part.
Noting again that we've put years of research in along with many other IDP analyses in the industry. On average. Less than 5% of defensive rookies make an impact in most standard-sized formats. This closes down draft stock value on IDP really fast, especially after the initial upper-tier NFL rookie IDP targets are off the board.
Many of us wonder what to do with NFL rookie IDP picks we don't want anymore during the draft. Or not sure how to invest if even trying to trade during the draft. So we're covering young veteran trade targets that are stock-up for rookie draft picks. However, you've arrived at this decision.
Or if you happen to have an offer come your way on one of the following players. It's because their NFL scenarios have changed one way or another since last year. Putting them on the edge of being expendable for some and redrafting and even dynasty gems for those of us on top of it.

MORE SGPN FANTASY FOOTBALL CONTENT
Follow SGPN Fantasy Football on Youtube
NFL Draft IDP Pick Targets
IDP Draft Angles…
"Those are those who only like to draft the rookie experience, those that don't. Those that also manage both ways at the same time in dynasty formats. Leaving no method unturned or off the table, no matter what you're told, is best. But when one way isn't working, don't quit. Try again with a different approach, when we all know, what works for some doesn't always for others." – Gary VanDyke, if I may.
This does go both ways. For those rookie-only or combined veteran drafting, this thinking is an advantage. So if you get an offer for one of them, don't ever get caught up on IDP values. Remember, we always get what we paid for; whoever it looks like came out ahead. Hence, we're not getting equal values in trades when it comes to picks versus offensive versus IDP.
Unless you are really lucky, so if any is leading to solid offensive opportunities. Don't be afraid to let your IDP depth or starters walk in trades. This is also a proven theory by many happy deeper league managers. So based on your preferences, try this as an option in one league and work it the entire year. 
Rookie Pick Advantage…
We can even overindulge and use them to overpay, knowing that it's way harder to hit on an offensive play. Then it is to visit our waiver wires and likely come damn close to replacing the IDP production we traded away. Play the entire field. Not only in the league but within your normal thinking of trading with NFL draft picks or IDP in general.
Simple by the math. Higher-tiered IDPs are always way more plentiful than offensive players ever have been. We accept it and use it to our advantage, or pick offensive fliers in the NFL rookie IDP drafts you're in. If they hit, you hit big; if they don't, replace them if you like from the waiver wire and all those annual early-season breakouts.
NFL Draft IDP Rookie Pick Trade Targets
Bobby Okereke – Inside Linebacker – Giants
This one is for standard leagues with managers that aren't so active. The New York Giants signed former Colts starter Bobby Okereke to a nice contract. Currently sitting at the second-best linebacker contract signed this year. It was a 4-year, $40 million, $12 million bonus, $21 million guaranteed deal. Well above the average this year and possibly the best overall IDP veteran to hit the mark to date.
Okereke brings years of experience, solid consistency, and overall health. He's been on the field when we've needed him in deeper formats of depth in standard leagues in the past. Never quite getting an opportunity to be the number one in Indianapolis. Is Okereke elite? No, but well above par and capable of an every-down role that an NFL coach can count on. This is just another reason why we had him on our radars earlier this off-season.
Now turning to the present and what the Giants likely have in store for us. Finally, utilizing the free agency market is better on paper this time around. Signing a veteran that has fewer questions about talent or any other concerns in the recent past.
Once again, opening the door that Tae Crowder managers once enjoyed—enjoying mass tier-one ceiling stats and fantasy points every week. No matter the matchup or barely affected by the game flow. Before they decided they needed better than an average Joe running their defense.
Hence, Bobby Okereke is stepping into a role at one of the two main IDP-producing roles on the Giant's defense and explaining any ADP (Average Draft Position) action you see. Or any of the odd offers in your inbox if you've already got him. Just keep in mind his trade value likely equals a WR2/RB2 in most balanced IDP scoring formats.
NFL Rookie Pick Projection
From a former standard league LB2 producer with weekly upside to tier one. To a solid LB1 with top-10 production potential in most standard formats. Likely the one IDP with less risk involved in acquiring than most hot stock-up players at the moment. As well as our choice for the first target to see if my fellow league mates are even paying attention right now.
Barring giving our fantasy teams the positional needs nod first. Great NFL draft pick's target for standard leagues using old-school tackle base formats. Or, in the more common balanced formats, either works in his favor and holds his highest ceiling. Bobby Okereke is also going to likely be one that we "Get what we pay for." Also, the safest.
Kaden Elliss – Inside Linebacker – Falcons
An absolutely unknown IDP target before the 2022 season. Fourth-year NFL journeyman Kaden Elliss was a waiver wire dream come true. When fantasy stud inside linebacker Pete Werner went down. So, the late 2019 seventh-rounder stepped right in. Remarkably keeping the high-end IDP production rolling like Werner had been doing. Even better, it was at a well above-par performance on the field, which is always a bonus in those cases.
Enter 2023, Elliss hits the open free agency market and is still in his prime with gas in the tank. While at the same time. The Atlanta Falcons poach their new defensive coordinator from the same team. Reuniting Ryan Nielsen and Elliss back together, and in all likelihood. They added Elliss to run this defense on the field as he did in New Orleans in 2022. He is using his time with the Saints to both of their advantage. He'll also be there to help demonstrate and lead players in getting familiar with the new scheme.
Projecting here might be slightly risky because of the entire off-season in front of us. However, it's not impossible to say that as long as he has the same role he had in New Orleans last year. In Atlanta, averaging top 10 LB1 IDP stats are definitely on tap and likely golden. He was leaving his floor at worse as a solid LB1 option. This is beans compared to what you just might get away with by trading NFL draft IDP picks for him.
NFL Rookie Pick Projection
Kaden Elliss is definitely also on track, and active managers already know about him. Don't sweat it, though; he's an IDP Diamond in the rough. There is one window open to exploit when dangling any rookie picks in an offer. On paper right at this moment. There is still a huge question mark of whether this will happen for Kaden Elliss or not. So don't forget some dynasty managers. There go, too, is the NFL draft IDP picks every time. Don't overpay here, not in standard leagues, and definitely not early on in the Spring or Summer.
Before it hits the fan and the fantasy football draft season really gets pre-season hot. Great NFL draft pick's target for standard leagues using old-school tackle base formats. Or, in the more common balanced formats, either works in his favor and holds his highest ceiling. Also, he is a very, very strong player that could be on standard league-sized waiver wires as we speak.
Nakobe Dean – Inside Linebacker – Eagles
If you haven't heard, this one is for those managers who like the rookies but are willing to wait. The Philadelphia Eagles drafted Nakobe Dean with a bit of fan far in the third round last year. Only to promptly not start him for basically what ended up the entire season. So you are never getting a real window via injury or by preference.
Instead, Dean played special teams. Seeing very little to no real action to know exactly what we are dealing with. Hence, the rookie pick trade window is cracked if you are willing to believe in it!
NFL Rookie Pick Projection
According to what we have to work with. Suppose Dean can just hang in there enough to keep what is pretty well confirmed. He could mirror the upper LB1 IDP production that T.J. Edwards averaged the last few seasons. Granted, Edwards topped that off before moving to Chicago and the Bears. So expecting an "elite" like performance would be an exaggeration. Something to keep in mind. He's likely stuck in the middle between what it's cost you.
Or them, to get Nakobe Dean with rookie draft picks. As well as a safer projected but solid low-end LB1 ceiling instead for now. Although with the same projected profile in tackle-based and balanced formats. It wouldn't hurt to make sure and check that waiver wire first. We never know who could be sitting there.
Carl Granderson – Defensive End – Saints
So it's finally happened; Carl Granderson looks like he may finally get his first shot as a starter. With Marcus Davenport finally out of the way and in Minnesota. Also, while higher draft stock, to Granderson's undrafted profile. Payton Turn hasn't exactly broken Davenport's mold of being unavailable off the edge. Leaving Saint fans assuming the obvious.
That his higher-end 2022 performance left him penciled in as a starter, so penciled in isn't exactly a lock, but Granderson is also reportedly on the New Orleans fast track. Cameron Jordan isn't going to be around much longer and will retire at some point soon. Leaving a gaping hole for someone like Granderson to sneak in and grab long-term if he is who he has shown to be at times.
NFL Rookie Pick Projection
When it comes to projecting his NFL draft IDP pick value. Let's say he isn't on the waiver wire. Asking for Carl Granderson in combination with a couple of later picks or a pick is a cheap starting point. Especially when he and the following defensive end edge rusher. They hold an upside but not enough not to ask for Granderson as a throw-in for a wider trade offer.
Don't be mistaken; an owner that has him likely knows why he does. Although, when negotiating. Granderson isn't profiled to be the main 2023 pass rusher in New Orleans; Jordan Cameron is. Although, we think that will not likely be the case this year. Setting his best outlook to most managers as a solid DL2 with upside.
Suppose they value them beyond that. It's too late; they figured it out already. So we move on to the following rookie pick options. And likely less obvious longshot targets. Also likely indicating you are either in a balanced scoring format or a big splash play league. Highly rewarding backfield stats, unlike tackle-based leagues. Where DLs hold little to no value and are not worth any rookie draft pick.
Drake Jackson – Defensive End – 49ers
The 49ers are leaning on second-year Drake Jackson to pass-rush opposite Nick Bosa. Something that's been dominant for many years now. So as it sits right now, he is penciled in as the team's second main edge rusher. The former 2022 second-rounder had a strong rookie start with three sacks in his first five games. But, then, only to fade off and wasn't relied on by long-term veterans instead of getting the call.
NFL Rookie Pick Projection
Don't let the addition of interfering defensive lineman Javon Hargraves. That addition not only helps Bosa but also helps the entire D-line. Giving opposing offensive linemen a choice, do we double-team Hargrave or Bosa? This is likely going to leave Jackson's shots to apply pressure from the other side, in theory. As well as a chance for Jackson to back up his small sample of getting into the backfield during his rookie season. In terms of rookie pick value when trading NDL draft IDP picks? We would suggest later picks only unless they feel like sweetening the pot some with a pick of their own. Drake Jackson is a priority target, but the odds he can surpass Nick Bosa have Jackson capped at a high-end DL2 with a matchup upside.
Sam Williams – Defensive End – Cowboys
2022 second-rounder Sam Williams falls below Drake Jackson in terms of potential opportunities. Unfortunately, this depth chart for the Cowboys is so deep, with quality talent off the edge. From Micah Parsons, DeMarcus Lawrence. Dorance Armstrong. and even Dante Fowler are on the roster. Sam Williams has to have developed more trust from the coaching staff; that's the first hurdle.
The Cowboys have more talent and production on the edge than they've had in a long time. So if Williams wants his cut of the IDP action, either he's done that and gets his shot. Or he's a rotational player again for at least one more season. Before Dallas likely cleans the house of some of the old veterans, still leaving a dynasty window.
NFL Rookie Pick Projection
Suppose neither Drake Jackson nor Sam Williams is sitting on your waiver wire. You're likely not in as a standard league as you might think. Or, someone in your league is just as active as you when it comes to rookie NFL draft IDP trading. There are those who do and don't rely on rookie draft picks each season. We suggest you do; do it in a way that ups the odds for immediate impact—using their apparent value in more than one way to get IDP in combined standard-sized leagues.