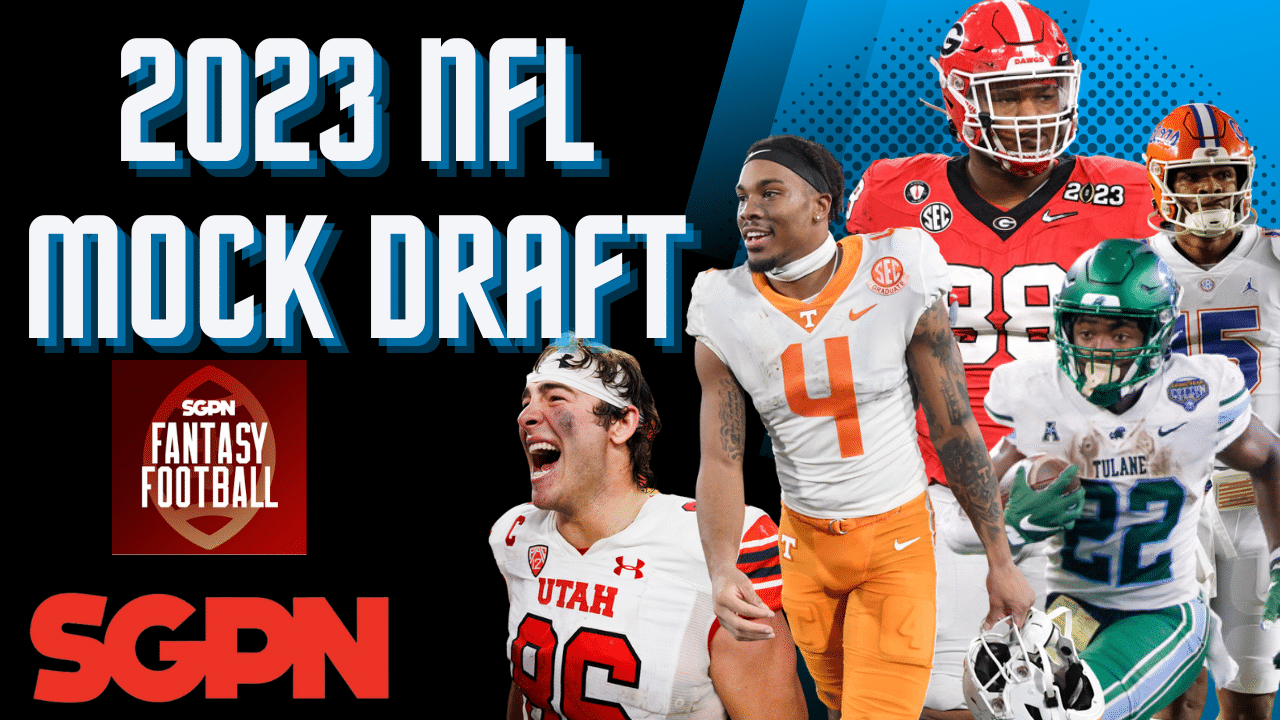 The 2023 NFL Draft is a little over a month away. The NFL Draft is April 27th – 29th, and we have already seen one massive trade. The rumors are that the Raiders also tried to trade up. The rumored price that they turned down was 2023 1st (pick 7), 2023 2nd, two future 1st round picks, and a future 2nd round pick. The Raiders ultimately turned it down, and the Panthers traded a haul for the 1.01. The next trade could pick 3, 5, or 6. The Colts could try to trade up to the three spots to ensure they get their guy. The Falcons or the Raiders could also attempt to jump Indianapolis.

2023 NFL Mock Draft: Three-Round Mock by Dave Heilman
The Lions and Seahawks are wildcards. They both have quarterbacks in place but could also take a quarterback to sit behind their current starters. Both teams have two first-round picks, and letting Levis or Richardson sit a year or two could be ideal. The Falcons currently have Desmond Ridder as a starter and are another team that could make a move. Ridder was a third-round pick in 2022, and there are no guarantees that the team is confident in him moving forward.
Let's get into my mock draft. I used nflmockdraftdatabase.com and did three rounds to give you a good idea of what kind of pairings your teams could be looking at. This also gave us a good idea of where some of our favorite future fantasy football stars could land. Day Two (Rounds 2 and 3) are always very popular for offensive skill-position players.
First Round
Day One of the NFL Draft is all about the premium positions (QB, WR, OT, CB, and Edge). This is a passing league, and it's all about that on both sides of the ball. Five quarterbacks went off of the board, and three went in the first four picks. There were five edge rushers and five cornerbacks taken as well. Teams put a premium on the quarterback as well as the people who attack or protect them. There were four offensive tackles and four wide receivers in my first round as well. This draft is not deep at tackle, making those positions go at an ever higher premium.
#
Team
Pick
Pos
College
1


Panthers
via CHI

C.J.Stroud
QB
Ohio State
The best pure passer in the class goes to Carolina. Now they have to get him some weapons. Stroud's wide receivers at Ohio State were much better than what the Panthers have right now. Bryce Young goes at the two spots and I just can't see Richardson or Levis beating him. The size is a concern, but his Heisman-winning play in the SEC should give teams confidence in him. Stroud needs more weapons in Carolina to reach his fantasy ceiling. This spot currently is pretty bad and you might have to wait. I would say they pair him with Marvin Harrison Jr. next year, but they traded their 2024 1st along with D.J. Moore to get him.
2


Texans

Bryce Young
QB
Alabama
Bryce Young goes at the two spots and I just can't see Richardson or Levis beating him. The size is a concern, but his Heisman-winning play in the SEC should give teams confidence in him. I would not be surprised if Young goes at 1 and the rumor is that the Panthers owner loves Bryce. Bryce is a special football player with great playmaking skills. He has a baseball background and you can clearly see that with his quick hands and off-schedule throws. He doesn't have an elite arm, but his arm is more than strong enough. The height is not an issue, not a lot of batted balls. If this team can add weapons around him, this could be a better landing spot than Carolina. Dynasty managers would be considering him at the 1.02 spot after day 2.
3


Cardinals

Will Anderson
EDGe
Alabama
I took Will Anderson at pick 3 for Arizona. They at least will wait until they are sure of who is going 1 and 2. The issues Jalen Carter is having this offseason and a strong combine have solidified Anderson's chances of being the top defensive player off of the board. Anderson takes over for JJ Watt on this defensive line that new head coach Jonathan Gannon has to rebuild.
4


Colts

Anthony Richardson
QB
Florida
The next quarterback off of the board is Anthony Richardson. The Colts' new head coach comes from Philadelphia and was key in the development of Jalen Hurts. He was also key in the implementation of an offense built around Jalen Hurts' playing style. Steichen also coached Philip Rivers, so if young or Stroud were here he could go in that direction. The pairing of the head coach and quarterback is crucial for success. I love this fit for Richardson and think this fits gives him the ability to reach his potential. Richardson will be able to sit a little behind Gardner Minshew while the team builds an offense around him. Richardson's upside could put him as the 1.02 in your superflex drafts.
5


Seahawks
via DEN

Tyree Wilson
EDGE
Texas Tech
I took one of Bruce Feldman's freaks next with Tyree Wilson. Tyree Wilson looks like a Seattle Seahawk and fits their team's needs. This is a monster of a man with a huge wing span. This defense needs a pass rush and he fits the bill.
6


Lions* (from Rams)

Devon Witherspoon
CB
Illinois
I took Witherspoon from Illinois over Gonzalez for Detroit. Detroit's pass defense was the worst in the league last year and they need a lot of help in the secondary. Witherspoon has more production and offers more playmaking than Gonzalez.
7


Raiders

Will Levis
QB
Kentucky
The next pick is Will Levis to the Raiders. Unless the Raiders move up, they are set to get the 4th quarterback off of the board. Levis also has all of the physical tools you are looking for in size and a big arm. Levis' rushing ability is underrated. His decision-making and pocket awareness will need to be developed. He will benefit from sitting behind Jimmy Garoppolo for some time. Levis would be a mid-late 1st round pick in our superflex drafts with this pick. Levis does offer some rushing upside and might have the strongest arm in the class. The Raiders have some pieces around him already and this could be a good landing spot.
8


Falcons

Jalen Carter
DL
Georgia
The Falcons stayed in Georgia and took Jalen Carter. Despite the concerns, this guy is a top talent. The team gets a difference maker up front to pair with Grady Jarrett after going offense the last two drafts.
9


Bears
via CAR

Peter Skoronwski
OT
Northwestern
The Bears took the top offensive lineman for Justin Fields who could start at Tackle but might end up being an All-Pro Guard.
10


Eagles
via NO

Bijan Robinson
RB
Texas
The Eagles will be shopping this pick, they do a nice job at trading back and collecting picks. Plus taking an RB at 10 is rich, but Bijan is a talent that could garner high day 1 draft capital. This is a good landing spot for Bijan on one of the top offenses in the league. Miles Sanders finished as RB13 last season. I also think Bijan would earn more touches than Miles Sanders did, allowing the team to not put Jalen Hurts in harms way as much.
11


Titans

Darnell Wright
OT
Tennesee
At Pick 11, I gave the Tennesee Titans a new left tackle to help rebuild this franchise. They are in a rebuild and that is a cornerstone position for Ron Carthon year 1.
12


Texans
via CLE

Myles Murphy
LB
Clemson
The Houston Texans passed up on a WR for a defensive playmaker. Myles Murphy is a top-10 talent that falls to them because of the rush for quarterbacks.
13


Jets

Parris Johnson
OT
Ohio State
The Titans are rebuilding and left tackle is a cornerstone position that they will start building on. They have to fill the shoes of Taylor Lewan and Parris Johnson gets that task. I am not sure how Taylor will feel about this Buckeye taking over his job.
14


Patriots

Christian Gonzalez
CB
Oregon
Gonzalez offers the Patriots a tall, physical corner to man the outside. Gonzalez is a fluid mover for his size and isn't afraid to come up to support the run.
15


Packers

Michael Mayer
TE
Notre Dame/b>
It is only a matter of time until the Packers trade Aaron Rodgers. How ironic would it be that they finally draft a Wide Receiver in the first round after they trade him? I gave them a tight end and a tight end that I think fits the team as well as the division. Michael Mayer gives their young quarterback a reliable target in the passing game. Mayer is a better run-blocker than Kincaid and I think a better fit for this team. They will lean on the run with Jordan Love and Mayer is a traditional in-line tight end.
16


Commanders

Joey Porter Jr.
CB
Penn State
The Commanders get physical corner Joey Porter Jr. to fit in Ron Rivera's defense.
17


Steelers


Broderick Jones
OT
Georgia/b>
Jones has all of the tools to be a great left tackle with ideal size and length. The Steelers offensive line has been a weakness for a long time and they will hope Jones can solidify things for them. Jones is a raw player that scouts think will be a better pro as he develops.
18


Lions

Luke Van Ness
WR
Iowa
Hercules goes to the Detroit Lions to play on the other side of Aidan Hutchinson. Iowa's program plays their seniors and they kept Van Ness a secret until this offseason.
19


Buccaneers

Hendon Hooker
QB
Tennessee
The top odds for Hendon Hooker right now are Tampa Bay. This is not intended to be as hot of a take as it is. Some may have him as a round 2 or 3 player. Post-combine this seems more likely as a possibility that a team will take a shot late round 1. Tampa could possibly trade back or another team could trade into the back of the round. The Buccaneers get the fifth-year option and allow him to redshirt behind Baker in year 1 and be fully healthy next season. Hendon Hooker offers a dual-threat quarterback with a big arm. The fantasy community has written him off mostly because of his age. His draft capital in the draft will dictate his draft capital in your rookie drafts.
20


Seahawks

Calijah Kancey
DT
Pittsburgh
Kancey is a thick built explosive three technique that offers pass rush to collapse the pocket. Very dynamic and disruptive player in the middle of the defensive line.
21


Chargers

Jordan Addison
WR
USC
Jordan Addison will likely be one of the top 2 wide receivers off of the board in the NFL draft and in your dynasty draft. I feel that the Chargers would prefer him to JSN because of the speed. I know he didn't run a blazing 40, but he offers more than Smith-Njigba. He is also a great route-runner that can create a lot of separation vs man coverage. Addison will take over for Keenan Allen eventually but still could offer fantasy production in year 1. Addison should be the #1 in this offense by 2024. Pairing him with Herbert for a long time will be great for dynasty managers.
22


Ravens

Jaxon Smith-Njigba
WR
Ohio State
Jaxon Smith-Njigba goes right after him to Baltimore. This is going to be a new-look offense under Todd Monken, no matter who the quarterback is. Assuming it is Lamar Jackson, a dynamic slot WR would be the perfect pairing. Lamar is a much better passer on in-breaking routes and Jaxon would give him a shore-handed target from the slot. Mark Anders with Rashod Bateman and Jaxon Smith-Njigba would be a fun offense next year. Monken's passing offense ranked top 5 in attempts and yards in 2 of his final 3 years in Tampa.
23


Vikings

Keion White
EDGE
Georgia Tech
Keion White is an explosive outside edge with good bend and a higher motor. The Vikings pass rush has been lacking and they get a young pass rusher that could develop into a double digit sack guy very quickly.
24


Jaguars

Deon Banks
CB
Maryland
Deon Banks made himself some money at the combine. He put on a show and helped raise his stock from a high 2nd to a late 1st round pick. He isn't just a fast player, Banks is number 28 on Daniel Jeremiah's big board. He has great physical tools for the position with his size and length to go with his speed.
25


Giants

Zay Flowers
WR
Boston College
Zay Flowers offers the #1 upside for the Giants. Flowers are a natural separator with strong hands. The only knock on him was his size and he put that to bed at the combine. Showing up with an extra 10 lbs of muscle and running a 4.42 solidified his name as one of the top wide receivers in this class. Flowers could be a true #1 for the Giants and would garner targets on day 1.
26


Cowboys

O'Cyrus Torrance
OG
Florida
The Dallas Cowboys offensive line got old fast and they have yet to rebuild it. Last year they hit on Tackle Tyler Smith, but the interior of the line really struggled. Now that they have addressed WR with Brandin Cooks. They can grab Torrance to secure the interior of the line. Torrance didn't allow a sack in his career and is a mauler in the run game.
27


Bills

Quentin Johnston
WR
TCU
Buffalo has been looking for a reliable number 2 option. Johnston gives them a deep threat that can also make the tough catches acrossed the middle. Stefon Diggs is getting older and they will need a plan for a #1 replacement here soon. Johnston can develop behind Diggs and be the teams #2 option right away.
28


Bengals

Dalton Kincaid
TE
Utah
I love this pick for Kincaid and Joe Burrow. The team will have to prepare for life without either Tyler Boyd or Tee Higgins. Getting another pass-catcher that can contribute now is key. Hayden Hurst was great in this offense and so was C.J. Uzomah. Kincaid is a superior athlete and will offer this offense another fun weapon.
29


Saints
via SF via MIA via DEN

Nolan Smith
EDGE
Georgia
Nolan Smith put on a show at the combine. His slight frame will cause some limitations, very similar to Hassan Reddick coming out. If someone uses him correctly, he could be a monster and Dennis Allen will love this pick.
30


Eagles

Brian Branch
CB
Alabama
Branch played slot for Alabama last year and is a flexible chess piece similar to how this team uses C.J. Gardner Johnson who is a free agent at this time. Branch is tough aginst run support and can also blitz from the edge. This versatile piece would really fit in on this defense that lost a lot of pieces this offseason.
31


Chiefs

Anton Harrison
OT
Oklahoma
The Chiefs lost two offensive linemen in free agency and only added one. I gave them Anton Johnson to jump on, possibly at right tackle if they move Taylor to the left side.
FOREFIT


Dolphins

SELECTION FOREFITED
Miami Forefits their 2023 1st Round Pick as a result of attempted tampering with Tom Brady.
Second Round
The second round is all about pairing your needs with your first-round pick and finding starters. You will see a lot of your lesser valued positions, like a linebacker or running back, go in round two. This is where you will start to see the interior offensive and defensive linemen come off of the board. That is what we did here, and it was great to see the pairings with the 1st round picks. You can find a lot of value in round two because of the premium on those other positions pushing talent back. This draft is really deep at the edge and corner. You see a lot of outstanding players still available on Day Two.
#
Team
Pick
Pos
College
32


Steelers
via CHI

Kelee Ringo
CB
Georgia
The Steelers' defense needs help in the secondary to keep up with Burrow, Jackson, and Watson. Ringo offers great size and strength, someone Mike Tomlin will be able to coach up.
33


Texans

Jalin Hyatt
WR
Tennesee
The Houston Texans need more explosive players on offense and Jalin Hyatt has some serious juice. Hyatt comes off the board at pick #33 to offer some help for their rookie quarterback. I have Bryce Young pairing back up with John Metchie. This team would have Brandin Cooks, Nico Collins, and now Jalin Hyatt around their young signal caller. This would be good for Young and good for Hyatt. Cooks should be out of town soon and Hyatt could move up the depth chart quickly.
34


Cardinals

Emmanuel Forbes
CB
Mississippi State
Forbes had 3 pick-sixes this fall. He is a ball hawk that has great instincts, height, and length. Forbes is a bit undersized and a low BMI guy, needs to improve his run support.
35


Colts

Dawand Jones
OG
Ohio State
The Colts' offensive line is not as good as it once was. We give them Dawand Jones who is a massive run blocker. The Colts drafted Anthony Richardson and are going to build a bully around him.
36


Rams


Will McDonald
EDGE
Iowa State
Will McDonald is an athletic freak that jumps over cars and has a Dwight Freeney-style swim move. Go check out his highlights and youtube videos.
37


Seahawksvia DEN

Cody Mauch
OG
North Dakota State
Cody Mauch offers versatility at all five positions and is projected to be a guard in the NFL.
38


Raiders

Joe Tippman
C
Wisconsin
The Raiders need help all over the offensive line and Tippman should go in and compete to start day 1 at any of the three interior spots. Pairing up Levis and Tippman to develop together.
39


Panthers

Mazi Smith
EDGE
Michigan
The Panthers likely trade out of this pick and try to collect a few picks that they lost in the big trade. But, here they have the opportunity to continue to get a dominant edge defender. I had the opportunity to interview an offensive lineman at the combine and Mazi Smith was a common name for the toughest player to play against. Smith is a massive man and his strength sets him apart in this class.
40


Saints

Brian Breese
DL
Clemson
Breese was a versatile player for the Clemson Tigers, moving up and down the line of scrimmage. Breese has ideal height and great play strength. He can play tall at times and needs to be more consistent with his technique. But, he does offer some inside pass rush and run stop ability. If he were to clean it up and be more consistent, he could develop into a dominant player on the inside.
41


Titans

Felix Anudike-Uzomah
S
Kansas State
here they have the opportunity to continue to get Daniel Jeremiah's #32 player and another explosive edge player.
42


Browns

Cedric Tillman
WR
Tennesee
The Cleveland Browns have to build an offense that will compete with Joe Burrow and that starts by getting some playmakers. They need a true #2 that can play behind Amari Cooper and Tillman can be that guy. Tillman is a big,physical outside WR that is not afraid to go over the middle to make the tough contested catches. He is a load to bring down once that ball is in his hands and he uses his big frame to bully corners. Tillman gives the Browns another big Weapon for Watson.
43


Jets

Steve Avila
OG
TCU
Avila is a massive guard that has packs a powerful punch with strong hands and a good anchor. Avila has great feet for his size and shows great balance. Avila is very polished as a blocker and will be a starter immediately for the Jets.
44


Falcons

Tuli Tuipolotu
EDGE
USC
Tuli has developed into a strong pass rusher and was reall productive for the Trojans. He was an inside pass rusher and has moved outside. He has lost weight, but added speed to go with his power. He doesn't always have a quick first step, but he has a high motor and is a relentless pass rusher.
45


Packers

Josh Downs
WR
North Carolina
Jordan Love needs some weapons and Josh Downs adds more speed to go with Christian Watson. Downs has played most of his snaps in the slot and will slide in right where Allen Lazard used to be. The new WR room for the Packers will be Doubs, Downs, and Watson with Jordan Love throwing the rock. Total regime change for the Packers this season.
46


Patriots

Adetomiwa Adebawore
EDGE
Northwestern
Adetomiwa has a quick first step and a knack for playing behind the line of scrimmage. He has 24.5 tackles for loss to go along with his 12.5 sacks. The Patriots will move him around the formation as he doesn't have the ideal length for a pass rusher and is a little light for an inside player. Another guy that is extremely productive with great technique and a higher motor to add to that defensive front.
47


Commanders

John Michael Schmitz
C
Minnesota
John Michael stayed behind for one more year and when we asked him why. He said it was for his team and because they had more to accomplish. When Mohammed Ibrahim came to the podium the first thing he said was how excited he was to be rooming with John Michael because of his positivity. He is one of, if not the best interior offensive lineman in this group. Everything he does just screams that he is a team first guy and will be a consement professional for whoever drafts him.
48


Lions

Darnell Washington
TE
Georgia
Darnell Washington goes to the Detroit Lions. The Lions are a smash-mouth team and this is the best run-blocking tight end in this class. Washington isn't just a blocker, he offers them a big body in the red zone as well as a big target in the middle of the field. Washington has a huge catching radius and at his size, he is a load for defensive backs to bring down.
49


Steelers


Isaiah Foskey
EDGE
Notre Dame
Isaiah Foskey dominated at the combine and has all of the traits you are looking for. Great size, length, and power to go with great athleticism. He hasn't really found out how to use it all just yet, but his best football should be ahead of him with the right coaching.
50


Buccaneers

Cam Smith
CB
South Carolina
Jalin Hyatt was asked who the tough DB he faces was, without hesitation he said Cam Smith. Smith has great length and range to go with great insticts. The coaches rave about him in the film room and his knowledge of the game. Struggles a bit in man coverage at time, stiff at times against double moves.
51


Dolphins

Mathew Bergeron
OT
Syracuse
The Miami Dolphins get Mathew Bergeron from Syracuse who really raised his stock at the combine with a great workout.
52


Seahawks

Kayshon Boutte
WR
LSU
The Seattle Seahawks love traits and Boutte was a five-star recruit that at one point was the top prospect in this class. Some off-the-field stuff and some changes in the offense really made his 2022 a season to forget. Boutte's 2022 season could push him to day 2, but I don't think he sits around long to hear his name called. The team is missing a third option behind Lockett and Metcalf. Tyler Lockett is also an older wide receiver. Boutte gets to step in and not worry about being the guy from day 1. The Seahawks also have a good way of managing strong personalities. I think this is a great fit for both the player and the team. Boutte would end up falling a bit in your rookie drafts and be a mid-late 2nd round pick in this spot.
53


Bears
via BAL

Clark Phillips III
CB
Utah
I asked Jordan Addison who the toughest corner he faced was and he said, Clark Phillips. Phillips is a smaller corner, but his ability to play in the slot and line up man to man will increase his value. Phillips is a good tackler for his size.
54


Chargers

Drew Sanders
OL
Arkansas
Drew Sanders is a Drew Tranquill clone and he takes his job over with the Chargers. Sanders had 9.5 sacks from the inside linebacker position last year. His production was unique and he will love playing behind that defensive line.
55


Lions

Trenton Simpson
LB
Clemson
The Lions get an athletic freak Trenton Simpson from Clemson as a versatile piece to add to that defense.
56


Jaguars

Jaelyn Duncan
OT
Maryland
The Jaguars will have to get some offensive line help for Trevor Lawrence. The team could move Walker Little to the right side, but depth is needed to protect the franchise.
57


Giants

Jack Campbell
LB
Wisconsin
The Giants added Bobby Okoreke and now add Jack Campbell to give them the best linebackers they have had in a decade.
58


Cowboys

Zach Charbonnet
RB
UCLA
The Dallas Cowboys have finally moved on from Ezekiel Elliot and they franchise-tagged Tony Pollard. We know this offense will be different with Mike McCarthy calling the plays and we will likely see a more run-heavy approach. Don't rule out the Cowboys drafting Bijan Robinson. They will address the RB position early, sorry Tony Pollard managers. Charbonnet would have a heavy role early in Dallas and could move up to RB2 if this were to happen.
59


Bills

B.J. Ojulari
EDGE
Northwestern
The Buffalo Bills need to be able to create a pass rush in a very competitive AFC East and AFC in general. Ojulari has a quick first step and is an athletic pass rusher. He is just scratching the surface and could develop into a big-time pass rusher for Buffalo.
60


Bengals

Tyrique Stevenson
CB
Miami
Tyrique Stevenson is a tall, physical corner that fits what Lou Anarumo looks for. The comp from Lance Zierlein is James Bradberry.
61


Bears
via SF via CAR

Derrick Hall
EDGE
Auburn
Hall has all of the traits you are looking for and he showed off at the combine. He has great length and is an explosive athlete. He knows how to turn speed into power and is a true power rusher.
62


Eagles

Siaki Ika
DL
Baylor
The Eagles got a monster of a defensive tackle in Ika from Baylor. I know they just drafted Jordan Davis, but Cox is getting older and Hargrave just left town. The Cardinals need to protect Kyler, got them some offensive line help.
63


Chiefs

Jahmyr Gibbs
RB
Alabama
Dynasty managers just got CEH flashbacks with this pick. This team really hit its stride this year with the combination of Jerrick McKinnon and Isaih Pacheco. Clyde Edwards-Helaire is a cut candidate at this point. Jahmyr Gibbs is 5'9" and 199 lbs, and Jerrick McKinnon is 5'9" and 209 lbs. McKinnon is also 30 years old. Gibbs can learn from and eventually take over for McKinnon in this offense. Andy Reid loves playmakers and Gibbs is a big one.
CHECK OUT MORE MOCK DRAFTS FROM SGPN
2023 NFL Three-Round Rookie Mock Draft – Emerson Beery 1.0
2023 NFL Three-Round Mock Draft – John Ginder 1.0
NFL Mock Draft + Betting Predictions Part 1 | NFL Gambling Podcast (Ep. 139)
NFL Mock Draft + Betting Predictions Part 2 | NFL Gambling Podcast (Ep. 141)
Third Round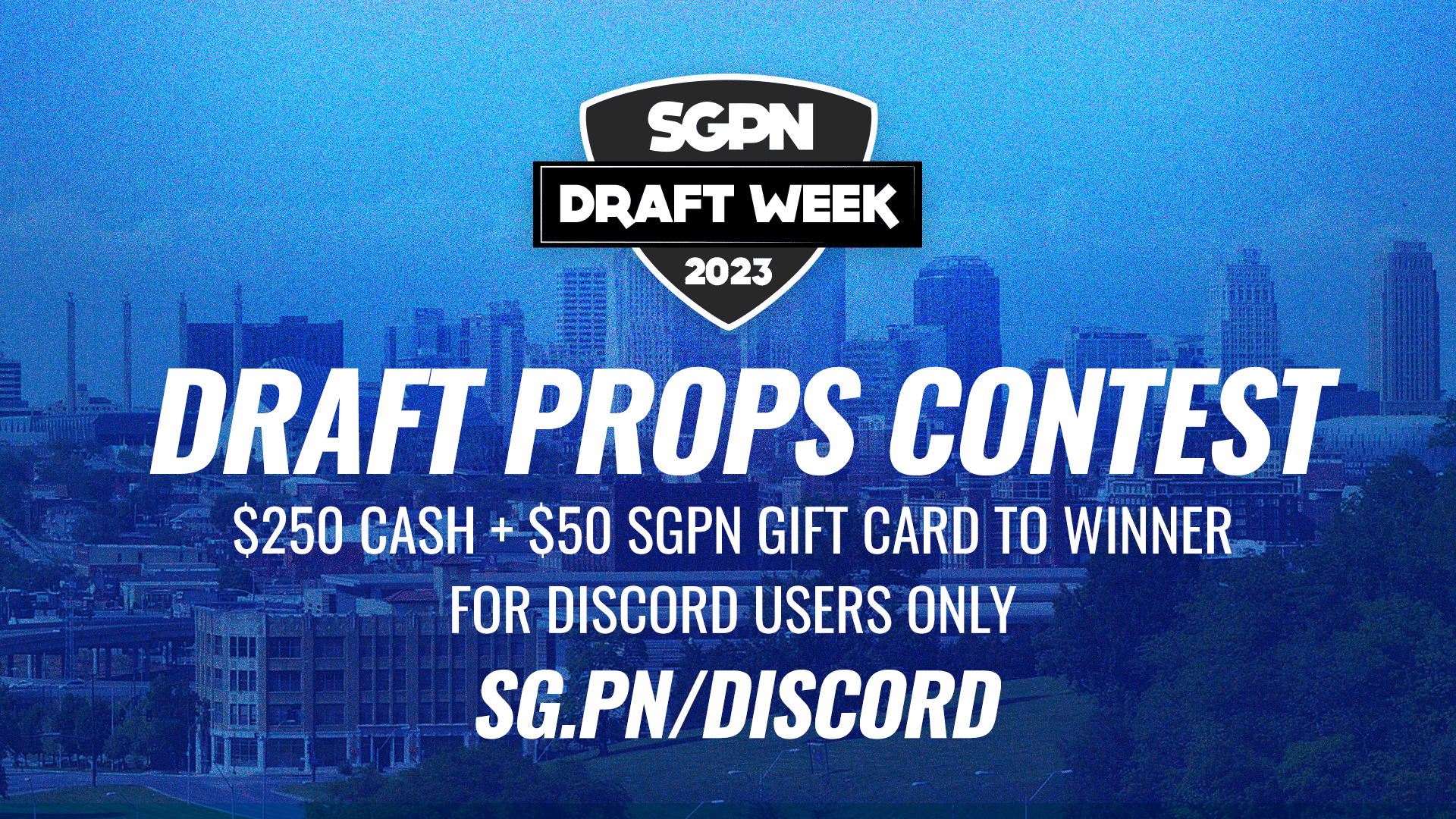 Round 3 is a little longer because of the compensatory picks. This a really fun round because you can still find starters and you get to match them up with the earlier selections. Players will fall down the board at positions like guard or running back that are day-one starters. There is a lot of value to be found here in round three. This is an important Round in regard to draft capital for your fantasy football assets. The hit rate on round three vs. round four prospects is something to take note of. A lot of running backs, tight ends, and wide receivers this round. This draft is really deep at the running back and tight end positions. You will see a lot of players at those positions flying off the board on day 2.
#
Team
Pick
Pos
College
64


Bears


Luke Wyppler
C
Ohio State
The team could move on from Cody Whitehair, but if they don't Wyppler is athletic enough to move to guard for now. But, if he does get the Center position it will be a reunion for Justin Fields.
65


Texans

Luke Musgrave
TE
Oregon State
The Houston Texans need to give their new quarterback some weapons. This team needs a lot, but one thing they need is explosive players. Musgrave was a standout at the Senior Bowl and is one of the most athletic tight ends in this class. Musgrave could end up being one of the top 2 tight ends off of the board in April. This could garner round 2 draft capital in your dynasty rookie drafts.
66


Cardinals

Julius Brents
CB
Kansas State
The Cardinals will continue to build on their defense to help that side of the ball. Jonathan Gannon will look for multiple corners. Brents is a tall, long corner that is your classic zone-corner. His size could lead him to playing some safety as well.
67


Broncosvia IND

Zach Harrison
EDGE
Ohio State
Zach Harrison has good size and length, looks like an old school 4-3 edge. Harrison is 6'5" and 274 lbs with 36 inch arms. He has the tools, but he hasn't figured out how to use them yet. He is a strong run defender and has the ability to kick inside due to his size.
68


Broncos

Olusegun Oluwatimi
C
Michigan
Olu was part of the best offensive line in college football last year and has versatility to play on the interior at guard or center. He shows good technique and strong drive on run blocks. Struggles at times in space due to his lateral quickness. Scheme will be imporant for him as he benefited from tight splits and working off double teams at Michigan.
69


Rams


Blake Freeland
OT
BYU
The Rams are currently tearing down their team. They went all in and their resources were a disaster. They had no cap, bad contracts, and no draft picks. This is a dynasty manager that usually quits and Sean McVay almost did. But, the team realizes where they are at and they are tearing it down to prepare for a rebuild. Freeland offers them a deveopmental tackle for an offensive line they need to throw resources at.
70


Raiders

Keanu Benton
DL
Wisconsin
Benton is a powerful run stuffer that offers some pass rush up the middle. He bulldozes defenders and had 7 sacks in the last 2 seasons from the nose tackle position. Benton also had 15 tackles for loss.
71


Saints

Tyjae Spears
RB
Tulane
Tyjae Spears would have a big smile on his face if this was the case. The New Orleans native has been in talks with the Saints and told me that he has met with them already. Spears offers an Alvin Kamara replacement to this offense if they were to trade or move on in the near future. Spears is not just a satellite back and could be the team's starter in the near future. Dynasty managers may not love the landing spot here behind Kamara. But, patient managers will be rewarded by getting him in the back of the 2nd. Spears is an explosive runner with great receiving ability.
72


Titans

Antonio Johnson
S
Florida State
Johnson is a big, athletic safety that plays all over the field. The Titans just lost Kevin Byard and he really is a young version of that. He lines up in the slot in coverage, plays in the box for run support, and has the ability to blitz off of the edge. His size and speed combo allows him to play multiple positions and offer flexibility that teams will love.
73


Texansvia CLE

Devon Achane
RB
Texas A&M
Achane might be the most explosive runner in this class. I asked if he was the best pass-catching back in the class and his response "of course." At the combine, Achane talked about having multiple interviews and meeting with around half the teams so far. His smaller size brings some concerns about his ability to run between the tackles or maintain a full workload. In this landing spot, I put him next to Dameon Pierce and I think their playing styles would complement each other. The Texans have been a boring offense for a long time and they need some exciting play-makers. I think we accomplished that in this draft.
74


Jets

Sydney Brown
S
Illinois
Sydney Brown is an attacking safety that is fearless in run support. He finds the ball carrier and hits the target at the line of scrimmage. He struggles at time out in space and his man coverage ability is inconsistent. Effort is never an issue, he plays hard and never gives up on a play.
75


Falcons

Rashee Rice
WR
SMU
The Atlanta Falcons offense has two great playmakers in Kyle Pitts and Drake London. They both were limited last year due to the quarterback play. The team has turned the keys over to Desmond Ridder for now and we hope to see more of a passing attack. They will need more pieces now that Calvin Ridley is gone and Rashee Rice offers them a big body guy to due all of the dirty work underneath. Rice is not a seperator and really thrives closer to the line of scrimmage. Look for him to be involved early with bubble screens, crossing routes, and being a safety blanket for Ridder. As far as dynasty, this wouldn't be a great landing spot. Low pass volume, questions at the quarterback, and at least third on the pecking order.
76


Patriotsvia CAR

Tyler Steen
OT
Alabama
New England loves to shop at Alabama. They pick up a big, powerful tackle that the coaching staff is already familiar with.
77


Ramsvia NE via MIA

D.J. Turner
CB
Michigan
The fastest man at the combine goes to Los Angeles. The Rams will likely be doing a lot of trading back and collecting future picks. But, they will have to make some and corner is a position of need as well as a building block position.
78


Packers

Gervon Dexter
DL
Florida
The traits are hard to ignore, this guy has all of the physical ability and traits. Dexter needs to find ways to develop a faster first step and everything else will follow. His size and strength help him make plays, even when he is late off the ball.
79


Coltsvia WAS

Marvin Mims
WR
Oklahoma
The traits are hard to ignore, this guy has all of the physical ability and traits. Dexter needs to find ways to develop a faster first step and everything else will follow. His size and strength help him make plays, even when he is late off the ball.
80


Steelers


Daiyan Henley
LB
Washington State
Henley is a speed, sideline-to sideline defender that is great in coverage. Henley's quickness helps him make plays in the running game as well. 106 tackles, 12 tackles for loss, and 4 sacks. Henley also piled up 5 interceptions in the last 2 seasons. He is only 225 lbs as a converted WR and defensive back.
81


Lions

Jordan Battle
S
Alabama
The Lions need a lot of players to help that secondary out. Jordan Battle is one of the top safeties in the class and he will help boost that secondary. Battle is a very smart player who always knows where he needs to be and his insticts help him get there. He was a leader on that Alabama defense and will jump right in to help lead a young secondary in Detroit.
82


Buccaneers

Christopher Smith II
S
Georgia
Chris Smith heads to Tampa who just lost Mike Edwards. Toddle Bowles defense will be busy this year without Tom Brady and Smith will be getting plenty of reps. Smith is a smaller safety, but his coverage skills are one of the best in this safety group.
83


Seahawks

Eli Ricks
CB
Alabama
Ricks just looks like a Seattle corner. Extremely long wingspan on his tall thin frame. Ricks was a five-star recruit and has good ball skills. He is just sometimes late on his recognition which causes him to be a step behind Put him in the right scheme and he will flourish.
84


Dolphins

Zach Evans
RB
Ole Miss
The Miami Dolphins have kept both Raheem Mostert and Jeff Wilson Jr. so far this offseason. They could still use a young running back and Evans offers them a three-down skillset. Evans has some mixed reviews with some inconsistent tape. But, what we do know is that he was a five-star recruit that averaged 6.8 yards per carry in his career. Evans is everywhere from RB3 to RB13 in some dynasty rookie RB rankings. I am higher on him than most and think he would offer a three-down skillset to complement this explosive offense.
85


Chargers

Tre'Vius Hodges-Tomlinson
CB
TCU
The last time that they drafted a kid from TCU named Tomlinson, it worked out pretty well. This is Ladanian's nephew and not son for the record. He is a smaller corner who will face some mismatches, but he is a fiesty corner who can hold his own against bigger wide outs. He has great quickness and lateral movement to matchup against players in the slot. His first step quickness, burst, and acceleration allow him to be a pest to his opponents. He doesn't shy away from run support, even at his size.
86


Ravens

Kyu Blu Kelly
CB
Stanford
Kelly has good size and length for the position, but lacks some of the top speed you are looking for. He is an instinctive player that is really difficult to create seperation against. Questions are in his ability or willingness in run support. But, can fill in admirably in the slot when needed or outside in man or zone.
87


Vikings

Henry To'oto'o
LB
Alabama
Henry is a smaller linebacker who does well in coverage, but is not your typical hard hitting linebacker. Shows good balance, vision, and always seems to be under control of his movements. He trusts his eyes which allows him to react quickly without hesitation.
88


Jaguars

Andre Carter II
EDGE
Army/b>
Carter looks the part at 6'6" and 256 lbs with long limbs. Carter is a raw prospect that currently looks like a situational pass rusher. He has good size, power, and hands to help him to get to the quarterback. He needs to become a better run defender to be an every down player.
89


Giants

Emil Ekiyor Jr.
G
Alabama/b>
Ekiyor has gotten better each year under Nick Saban. In 2020, he played in 13 games and all 8 QB huries, 4 QB hits, and 2 sacks at right guard. In 2021, he played in 15 games alloing 5 QB hits and no sacks at right guard. In 2022, he alllowed 6 qb hurries, no qb hits or sacks. Thick and powerful guard with a lot of experience.
90


Cowboys

Sam LaPorta
TE
Iowa
LaPorta is an athletic tight end that has good hands and knows how to manipulate the coverage. He is not a burner and lacks some elusiveness in the open field to create yards after the catch. LaPorta is a riser after the combine who has already met with half the league.
91


Bills

Noah Sewell
LB
Oregon
The Bills just lost Edmonds in free agency, they get to plug Noah Sewell next to Matt Milano in that defense. The Panthers need help everywhere and you can't have enough corners in this league.
92


Bengals

Kendre Miller
RB
TCU
Kendre Miller would offer the Bengals a long-term option behind Joe Mixon. Mixon is getting older and the team likely can't afford him moving forward. Miller can step right in to take the Samaje Perine role, he is a great pass-catcher. Miller is also a great runner and offers a three-down skillset. The Bengals will be adding a running back early in this draft and you will want them on your dynasty team. Sell Joe Mixon if you can. Miller could end up being a top-three running back in this class.
93


Panthers
via SF

Garrett Williams
CB
Syracuse
Williams is an outside corner with good size and length for the position. He shows fluid hips and quick feet to help with transitions while in coverage. He tore his ACL in 2022 and missed the second half of the season.
94


Eagles

J.L. Skinner
S
Boise State
The Eagles are still waiting to resign C.J. Gardner-Johnson. If they don't sign him, they will have a big hole in that secondary. Either way, Skinner offers them a big and athletic safety. Skinner is 6'4 and 209 lbs that can play up against the run while still having good instincts to play that deep safety role.
95


Chiefs

Byron Young
DL
Tennesee
Young has good size and power that allows him to versatile in different fronts. He is a powerful run blocker, struggles at times with lateral quickness.
96


CardinalsComp Pick

Chase Brown
RB
Illinois
Chase Brown draws comparisons to Doug Martin with his powerful, thick frame, and his overall stature. Brown had 328 carries and 27 receptions last season. That is a true workhorse at 5'9" and 209 lbs. Chase Brown is an older prospect at 23 (redshirt senior) and the analytics guys will hate that. They will love his 42% dominator rating and everyone will agree that the tape is good. This guy is a good runner and offers you some play-making out of the backfield in the passing game. Brown's toughness in the running game and in pass blocking will have a running back coach pounding the table for him in April. He is coming in with late 2nd round ADP right now and could be a steal in this landing spot. Conner is often injured and should be out of town next season.
97


CommandersComp Pick

Tucker Kraft
TE
South Dakota State
Kraft is an athletic tight end that comes in at 6'5" and 254 lbs. Kraft's Sparq score came in at 83rd percentile which shows the upside. He is a raw player coming out of South Dakota State and can learn behind Logan Thomas in this offense. Not really a player I am targeting in my dynasty leagues, but someone to stash on the taxi squad because of the upside.
98


BrownsComp Pick

DeMarvion Overshown
LB
Texas
Overshown is a converted safety who has great speed, but lacks the prototypical size for the position. The league has become more accustomed to smaller linebackers because of the emphasis on the pass and he is a good cover linebacker.
99


49ersComp Pick

Darius Rush
CB
South Carolina
Darius Rush is a converted wide receiver who has great size and speed. He is a 6'3 198 lb corner with long arms. Rush still is learning the position, but a strong senior bowl has raised his stock. He is a very aggressive, press corner.
100


Giantsvia KC Special Comp Pick

Jarrett Patterson
C
Notre Dame
Patterson is a taller interior player who has a tall frame, but shorter arms. He is a powerful play and a five year starter for the fighting Irish. Pad level is a concern at times and he can bend at the waist which causes him to lose power.
101


49ersComp Pick

Nathaniel Dell
WR
Houston
Dell is a super-productive player that would be electric in this offense. The knock on him is his size, at 5'8" and 165 lbs he is not your prototypical WR. The size is questionable, but the production was undeniable. Dell had 102 catches for 1355 yards in 2022. Dell had 15 touchdowns and averaged 13.3 yards per catch. Kyle Shanahan is one of the most creative play-callers in the game. Dell would be another catch-and-run specialist for him to scheme up.
102


49ersComp Pick

Ji'Ayir Brown
S
Penn State
Brown is a versatile safety that can play in the box in run support or kick outside to the slot to cover corners. He struggles at times with discipline in coverage, but he has great instincts and ball skills.
103


Bears
via CAR

Colby Wooden
EDGE
Auburn
Wooden is quick and bendy edge rusher out of Auburn. He has the size and power to hold up in run support as a 4-3 edge as well as kick inside in 3-4 schemes. Relied on power a little too much in college, will need to improve technique against NFL level of competition.
RELATED CONTENT