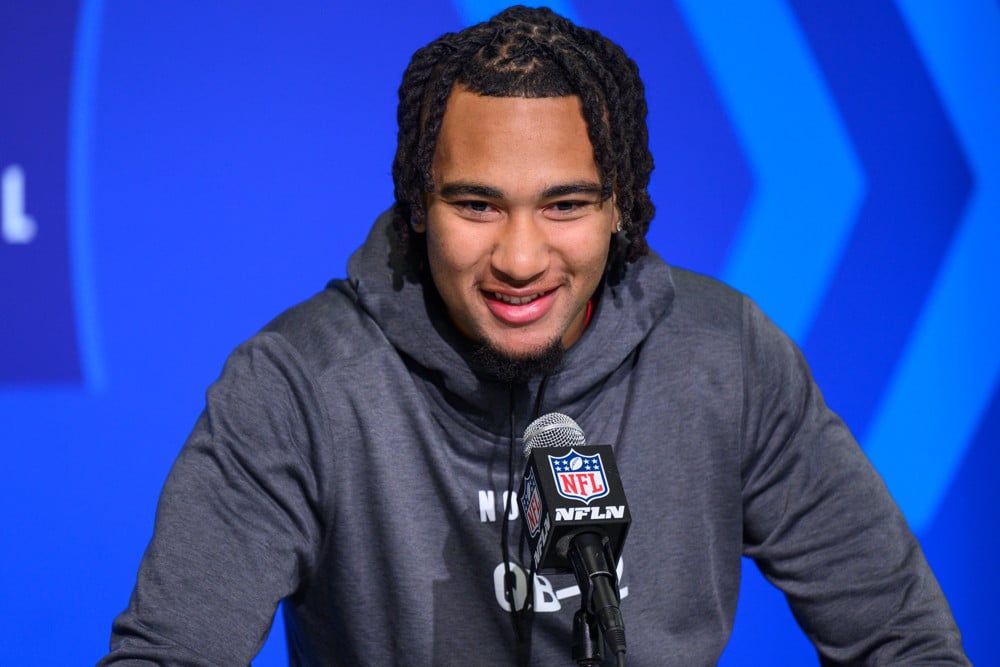 The 2023 NFL Draft is less than two weeks away. I repeat, THE NFL DRAFT IS LESS THAN TWO WEEKS AWAY. The excitement continues to build among NFL fan bases hoping their teams make the right choices come draft day. While the draft is less than two weeks away, the mock draft season is in full swing! Here is my official 2023 NFL Mock Draft!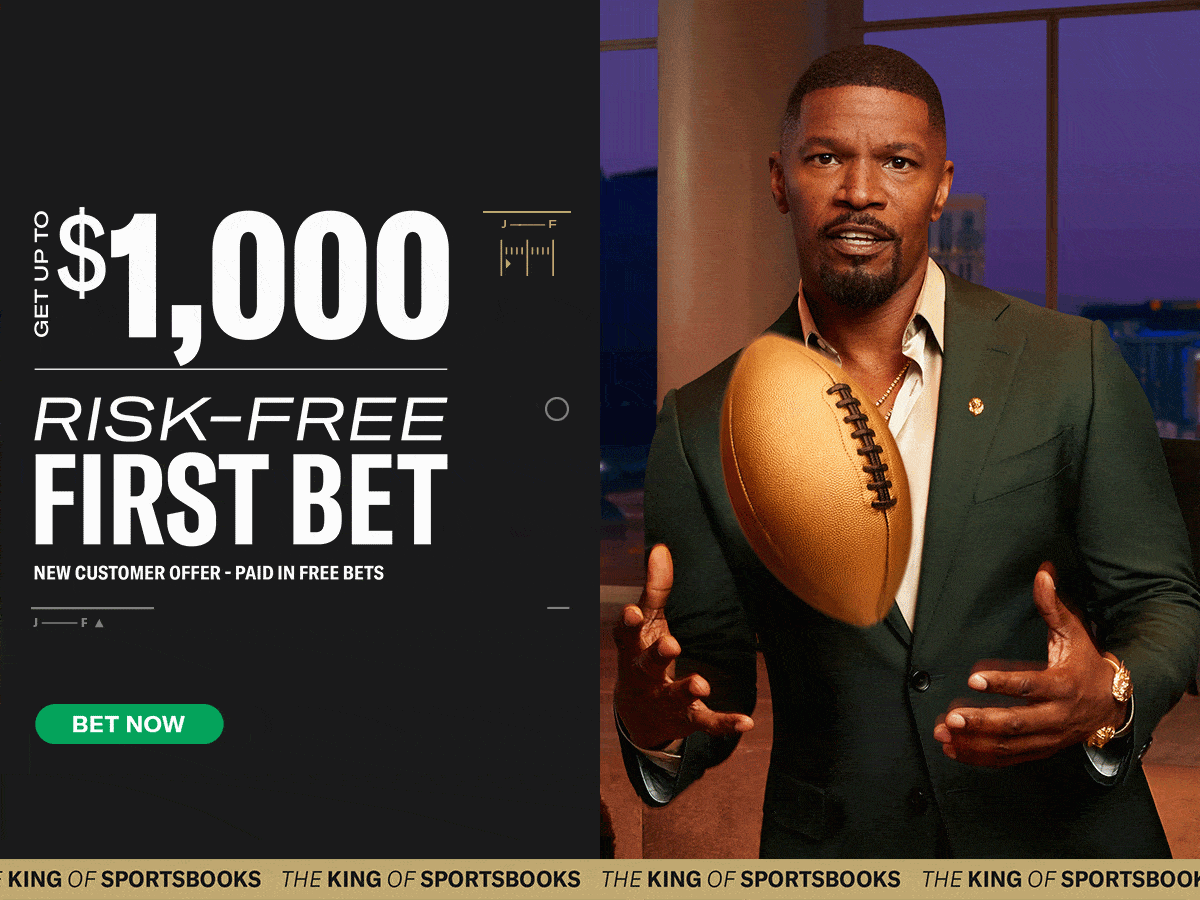 2023 NFL Three-Round Mock Draft – John Ginder 1.0
Round 1
To no one's surprise, the first round of the 2023 NFL draft will see a high focus on quarterbacks at the top of the board. However, with Carolina selecting C.J. Stroud as my projected number-one overall pick in the 2023 draft, it's still a mystery what the Panthers will do come draft day.
All signs seemed to point to Stroud, but as of April 13th, Bryce Young has moved into the betting favorite as the number one overall pick. Besides the quarterbacks up top, the first round shapes up to be evenly distributed on both sides of the football. This will make a lot of fan bases happy with key positional additions.
#
Team
Pick
Pos
College
1


Panthers
via CHI

C.J. Stroud
QB
Ohio State
In what seems to be becoming more clear as we countdown the days until the 2023 NFL Draft, the Panthers are looking for their franchise QB to move them in the right direction in the future. All recent signs are pointing to Stroud as being the first selection.
2


Texans

Bryce Young
QB
Alabama
With Young, not just the best quarterback but the best available player on many analysts' draft boards, the Texans are not willing to be short-sighted (see what I did there) as the team looks to move past their Lovie Smith Era.
3


Cardinals

Will Anderson Jr.
EDGE
Alabama
As the Arizona Cardinals front office is wondering when Kyler Murray will be able to return, that isn't the only question facing the franchise. With a new coach and new GM, the Cardinals will be looking to set the right tone with their selection. Even with all the questions for the franchise, they very well could find at least one answer in Anderson Jr.
4


Colts

Will Levis
QB
Kentucky
Arguably the most "NFL-ready" quarterback on the board, the Colts will look to establish stability at the quarterback position, a position which has had eight different starts over the past five years for the Colts. With Levis, Head Coach Shane Steichen, and Offensive Coordinator Jim Bob Cooter, stability at QB might be addressed, but concerns about Levis' accuracy are still to be determined.
5


Seahawks
via DEN

Anthony Richardson
QB
Florida
Even with Geno Smith inking a new three-year deal, the Seahawks will look to bolster their QB room for the long term. Signing Geno and drafting Richardson will allow the Seahawks to continue to be in the playoff hunt and allow Richardson time to develop and adjust at the pro level and hopefully develop a mentor/mentee relationship with Geno.
6


Lions* (from Rams)

Jalen Carter
DI
Georgia
Does anyone actually know where Carter is going to end up? Easily one of the two best available defensive players in this draft (Will Anderson Jr. being the other), the Lions getting Carter at 6 could be a steal for a player that could easily be plugged into any defensive in the NFL and make an impact as a rookie.
7


Raiders

Devon Witherspoon
CB
Illinois
Although it seems the Raiders could be looking to potentially trade up to get in the QB game (a trade with the Cardinals would make sense), the Raiders might just roll the dice and see if they can cash in with Jimmy G. (It is Vegas right?) In terms of Witherspoon, you are looking at NFL-Ready CB, who could go toe to toe with WR1s from snap 1 and welcome those same WR1s with first-class tickets and all expenses paid to Witherspoon Island.
8


Falcons

Tyree Wilson
ED
Texas Tech
Versatility and Wingspan are what you are getting with Tyree Wilson. Wilson has the ability to be able to be plugged in anywhere on the defensive line (and potentially an OLB) and plays a part in any and all defensive schemes. On top of his versatility, Wilson brings a monster wingspan to the table. The official largest Wingspan in NFL Scouting Combine was recorded by Dawand Jones (87 ⅞") at this year's (2023) Combine. Wilson was not far off the record, officially measuring in at 86".
9


Bears
via CAR

Peter Skoronski
OT
Northwestern
To what should be no surprise, the Bears will be looking to strengthen their offensive line with their top-ten pick. They'll absolutely strengthen their first line of protection for quarterback Justin Fields with Skoronski. While there is some concern with arm reach, Skronoski makes up for that with elite-level hands and also the versatility he could provide along the front line as the offensive line will continue to be a focus for the Bears.
10


Eagles
via NO

Quentin Johnston
WR
TCU
Simply put, Johnston is the most explosive and exciting wide receiver in the draft. While you could argue there are WRs available with more complete skill sets (Jaxon Smith-Njigba), the Eagles already have that in A.J. Brown and Devonta Smith. With a 40.5-inch vertical and 11-foot-2 broad jump, Johnston is a threat to come down with every ball that is thrown his wall. On top of that, his explosiveness and speed will draw attention and focus his way, opening the field up for Brown and Smith. Man, what a three-man wide receiver corps Jalen Hurts could have come to the start of the season.
11


Titans

Jaxon Smith-Njigba
WR
Ohio State
With the quarterback situation in Tennessee still a bit of a mystery, whoever ends up starting the season at QB1 will be absolutely pumped with this selection. As mentioned above, Jaxon Smith-Njigba is arguably the most complete wide receiver available in the draft this year. Smith-Njigba is a technician when it comes to route running and the best slot receiver available by a long shot. Pair that with the potential upside still of Treylon Burks, and the Titans could have themselves a good 1-2 punch at wide receiver.
12


Texans
via CLE

Christian Gonzalez
CB
Oregon
In what is an impressive corner class this year, Gonzales has all the tools to be a CB1 in the NFL. In other years, Gonzalez would have been a top-ten lock, but the heavy QB focus up top pushed him down the board, just outside the top ten.
13


Jets

Paris Johnson Jr.
OT
Ohio State
With what will be an effort to immediately improve their offensive line for when they (hopefully) land Aaron Rodgers, Johnson Jr. will have some growing pains out of the gate but has all the tools and potential to grow into a top T in the NFL.
14


Patriots

Calijah Kancey
DT
Pittsburgh
Honestly, it's never easy to attempt to try and predict who Bill Belichick and New England will target with their picks, but there is no doubt that Belichick will see the potential in Kancey. It's never easy to break any record Aaron Donald has, but Kancey did just that in the 40-yard dash, registering a 4.67.
15


Packers

Brian Branch
S
Alabama
For a team that is known for having an anchor of leadership in their defensive/secondary, the Pack will find that in Branch. The third Alabama player taken in this mock draft, Branch brings not only leadership but a high-level football IQ essentially for high-level safety play.
16


Commanders

Joey Porter Jr.
CB
Penn State
To be fair, I had a hard time being objective with Porter Jr. As a Penn State graduate and fan, I think the sky's the limit for Porter Jr. and wanted to take him off the board sooner, but I settled with him going to Washington, much to the delight of SGPN's Best Ball Guru, Andrew Raub. Porter will excel at the next level, no questions asked.
17


Steelers


Broderick Jones
OT
Georgia
PFF believes that with another year in college, Jones could have been a "top-five pick," which demonstrates the upside Jones shows. Explosiveness, Strength, and Raw Power are just a small number of the wanted and needed qualities that Jones has to excel in the NFL. Jones could be viewed as one of the steals of the 2023 draft.
18


Lions

Lukas Van Ness
ED
Iowa
With the uncertainty surrounding Jalen Carter (Sixth overall pick to the Lions in this mock), the Lions double up and take a second defensive lineman. If both Van Ness and Carter rise to their potential and add in Aiden Hutchenson, already on the team, the Lions could have themselves quite the defensive front for years to come.
19


Buccaneers

Anton Harrison
OT
Oklahoma
The Bucs might be the team that has the most positional needs to be filled in the entire NFL. With Kyle Trask or Baker Mayfield as their potential starters in week 1, the Bucs will look to add Harrison to attempt to keep either QB from finding themselves on their back more than they already will be.
20


Seahawks

Nolan Smith
ED
Georgia
Smith was the top-ranked high school recruit in 2019, so it is clear that he has potential. Dealing with injuries throughout his college career, he wasn't able to truly showcase the talent that he processes. That changed at the 2023 combine, where he impressed just about everyone in attendance. It could easily be the defensive player steal of the draft.
21


Chargers

Zay Flowers
WR
Boston College
Flowers isn't going to be a WR1 that an entire offense can be centered around, but he will provide explosiveness, quickness and create havoc in terms of mismatches for opposing defenses. I think Justin Herbert will be able to bring the best out in him and provide Herbert with the type of offensive weapon at WR that he has wanted since entering the NFL.
22


Ravens

Deonte Banks
CB
Maryland
While their entire offseason has been dominated by everything Lamar Jackson, the Ravens also have an upcoming draft to focus on. Enter Deonte Banks, a corner who is not only great in coverage but is physical and excels at tackling, which we all know the Ravens tend to love.
23


Vikings

Bryan Beese
DI
Clemson
An absolute athlete, Bresee, has seen his draft stock lower due to an ACL injury in 2021 and a shoulder injury in 2022; not only does Bresee have the physical traits NFL teams are looking for, but he also possesses the versatility and pure athleticism that any defensive coordinator and defensive line coach will love.
24


Jaguars

Myles Murphy
ED
Clemson
Back to back, Clemson picks in the first round will make Deebo Sweeney smile. Know who else is smiling? Doug Peterson. A once-projected top-ten pick as a freshman, Murphy is a UNIT, possessing serious untapped power and athleticism.
25


Giants

Jordan Addison
WR
USC
A team that hasn't had a serious wide receiver threat since Odell Beckham Jr. (who could potentially be returning), Addison, the 2021 Biletnikoff award winner, could provide the Giants with the consistency that the Giants have been craving, especially with the unlived up to expectations of their Kenny Golladay signing.
26


Cowboys

Bijan Robinson
HB
Texas
As an Eagles fan, this one hurts to write. The Cowboys could easily be getting a generational player in Robinson. Not only does he possess a very high floor in terms of potential, but Robinson also possesses a very high ceiling. Only time will tell if he can live up to the hype, but make no mistake, the hype is real.
27


Bills

Emmanuel Forbes
CB
Mississippi State
Bills Mafia is going to go wild for this pick because the guy can straight-up PLAY. Regarded as one of the best ballhawks in this class. Per PFF, Forbes had the lowest completion rate in the entire FBS, allowing just 20% completion in man coverage. You love to hear it.
28


Bengals

Dalton Kincaid
TE
Utah
With a strong TE class in the 2023 draft, I think all TEs are going to go a lot lower than expected. Kincaid, my first TE off the board in this mock draft, has been getting a lot of coverage this last year after having a relatively quiet college career before that. That could be because he almost doubled his total yards last year (510 in 2021 to 890 in 2022). Regarded as the best-catching TE in the 2023 draft, Joe Brr and the Bengals could have an absolute weapon in Kincaid.
29


Saints
via SF via MIA via DEN

O'Cyrus Torrence
G
Florida
With the addition of Derek Carr in the off-season, the Saints are another team extremely worried about keeping their quarterback right-side up. Torrence will hopefully add in that, coming off three seasons allowing no sacks in collegiate play. The first of those two seasons was at Louisiana-Lafayette, with the third season being at Florida, showing that Torrence can rise to the occasion when the level of play is elevated. He will look to again rise to the next level of play.
30


Eagles

Mazi Smith
DL
Michigan
With Fletcher Cox's storied Eagles career winding down and Javon Hargrave's somewhat surprising departure, GM Howie Roseman and HC Nick Sirianni will be looking at building depth on the defensive line. Enter Mazi Smith, who is being talked about as one of the strongest players in the 2023 draft class after doing 34 bench reps and measuring in with 33 ¾ inch arms.
31


Chiefs

Josh Downs
WR
North Carolina
While a lot of mock drafts have the Chiefs selecting Jalin Hyatt here, I think they're actually going to go in a different direction but still selected a WR, with that being Downs. PFF has compared him to showing "shades of Cole Beasley'' With Travis Kelce continuing to be an absolute TD and target machine for the foreseeable future, showing "shades of Cole Beasley" makes me think of a reliable WR who shows up when Kelce in covered and you need a 3 down conversion. A tool Patrick Mahomes would love to have at his disposal.
FOREFIT


Dolphins

SELECTION FOREFITED

Round 2
The 2023 NFL Draft second round sees a big focus on the offensive line (7 selections), EDGE (5 selections), and cornerbacks (5 selections). However, the second round is also evenly distributed. It contains 15 offensive and 17 defensive selections, showing the variety of talent available.
Michael Mayer stops what many will view as a slide down the board, finally being selected 35th by the Colts. The Jets land college football's 2023 top linebacker in Jack Campbell, while the Patriots, with a huge surprise draft quarterback Tanner McKee. Have Bill Belichick and the Patriots found their next franchise quarterback?
#
Team
Pick
Pos
College
32


Steelers
via CHI

Dawand Jones
OT
Ohio State
Doubling down on their first-round pick, the Steelers will look to continue to piece together an offensive line for QB Kenny Pickett. They find a BIG piece (6'8", 360 pounds) with Jones, literally.
33


Texans

Will McDonald IV
ED
Iowa State
With their third pick in the first 33, landing McDonald IV (35 sacks in college) will hopefully help them improve on their 39 sacks last year, ranking in the bottom half of the NFL.
34


Cardinals

Cam Smith
CB
South Carolina
The Cardinals take another defensive player with their 34th pick. This time looking to strengthen their secondary with Smith, an absolute ball hawk who actively seeks out the ball in coverage.
35


Colts

Michael Mayer
TE
Notre Dame
In what could be a surprise slide to some but a potential gem for the Colts, Mayer finally goes off the board in the early second round. Giving first-round selection Will Levis a completion target right away; this pick will surely make Pat McAfee and Colts fans happy.
36


Rams


Felix Anudike-Uzomah
EDGE
Kansas State
Sooner than later (read as VERY SOON), The Rams will be in their post-Aaron Donald era (shout out Taylor Swift). Of course, no one can replace AD, but the Rams will search for adequate replacements, starting with Anudike-Uzomah.
37


Seahawksvia DEN

BJ Ojulari
ED
LSU
In the 2022-23 season, The Seahawks ranked as the 5th lowest team in QB hurries (34) and in the lower half of the league in QB pressure percentage. Ojulari's pass-rushing ability helps provide immediate help in both categories.
38


Raiders

Steve Avila
G
TCU
The Raiders are getting what could be an immediate starter and has the potential to become an anchor of the Raiders' offensive line, depending on where they choose to spot him at.
39


Panthers

Adetomiwa Adebawore
ED
Northwestern
A standout at the NFL Combine, Adebawore has been protecting as high as the late first round. Adebawore ran a 4.49 40-yard dash, which according to PFF, was the fastest ever for a 280-plus-pound rookie. With that speed and size, what's not to love about this guy?
40


Saints

Tyrique Stevenson
CB
Miami (FL)
While Stevenson might not be the quickest or most athletic cornerback available, he makes up with his consistency, awareness, and technique. With only 7 interceptions all of last year, the Saints are in urgent need of help against the pass.
41


Titans

Luke Wypler
C
Ohio State
With the release of Taylor Lewan and the Titans giving up a sack on 10% of their pass attempts, OL will be a top priority for the Titans in this year's draft. On 965 total pass snaps the past two seasons, Wypler allowed just one sack for the Buckeyes.
42


Jetsvia Browns

Darnell Wright
T
Tennessee
This mock draft has the Jets selecting what looks like a conventional tackle in the first round in Paris Jackson Jr.. Look for the Jets to double up on the offensive line by selecting Wright, a more hybrid lineman who could take snaps at Tackle or Guard.
43


Jets

Jack Campbell
LB
Iowa
Moving to the other side of the ball, the Jets are getting the nation's top linebacker in Campbell. The 2022 Dick Butkus Award winner will be a middle linebacker who will bring the physicality and consistency expected from any member of the Hawkeyes defense.
44


Falcons

Nathaniel Dell
WR
Houston
Scoring 14 touchdowns in his last nine games for Houston, Dell had quite the senior season, hailing in 109 completions, 1398 yards, and 17 TDs. Not only does Dell possess pure speed, quickness, and explosiveness in his route running, but he can also deliver as a punt returner.
45


Packers

Luke Musgrave
TE
Oregon State
With their first TE selection since 2020, the Packers look to rebuild their offense post the Devante Adams and Aaron Rodger eras. Regarded for his catching ability, some have Musgrave as the top TE available in the draft.
46


Patriots

Tanner McKee
QB
Stanford
With the news coming out of the Patriots looking to potentially move Mac Jones, the Patriots could target the quarterback position. Enter Tanner Mckee, known for his accuracy and pocket presence; he could potentially excel under the tutelage of arguably one of the best coaches in NFL history.
47


Commanders

Daiyan Henley
LB
Washington State
Already touting an impressive overall defense (top 4 in total yards allowed), the Commanders further strengthen their linebacking core with Henley. Missing just five tackles in his final collegiate season, Henley's tackling ability translates very well to the next level.
48


Lions

Sam LaPorta
TE
Iowa
With the departure of T.J. Hockerson and inconsistency at TE play, the Lions look again to the University of Iowa with LaPorta. Not only is LaPorta an exciting TE, but he can also line up as a receiver, giving defenses double to worry about.
49


Steelers


Matthew Bergeron
OT
Syracuse
Surprisingly, the Steelers take their third straight offensive lineman with the selection of Bergeron. With the ability to rise and reach the second level, Bergeron will provide much-needed run-blocking to give Najee Harris room to run.
50


Buccaneers

Antonio Johnson
S
Texas A&M
With both size and physicality, Johnson could quite easily have been a first-round selection. Versatile across schemes and formations, Johnson will be quite the multi-tool in the secondary for Tampa Bay.
51


Dolphins

Joe Tippmann
C
Wisconsin
With their first available pick of the draft having to forfeit a pick due to tampering in an attempt to get Tom Brady, the Dolphins look to bolster their offensive line. With Tippmann, they are getting athleticism, power, and a center who can also line up at guard.
52


Seahawks

Tuli Tuipulotu
ED
USC
I've wanted to have Seattle take an offensive lineman with one of their two second-round picks, but each time there are solid defensive picks there for the taking. With Seattle's offense showing they could put up points last year, they continue focusing on the defensive side with Tuipulotu. Not only having 13 sacks last year, but Tuipulotu also has a versatility that Pete Carroll will love.
53


Bears
via BAL

John Michael Schmitz
C
Minnesota
Further looking to protect Justin Fields, the Bears get a day 1 starter in Schmitz. About as consistent as can be, Schmitz also brings leadership, intelligence, and stability to any offensive line.
54


Chargers

Jahmyr Gibbs
HB
Alabama
With all the talk focused on Bijan Robinson at the running back position, Gibbs could also emerge as a running back we are still discussing years later. Arguably as good at passing catching as rushing, Gibbs will be a nightmare for opposing defenses. With Austin Ecekler potentially gone at the end of the season, the Chargers could have the next man up in Gibbs.
55


Lionsvia Vikings

Jalin Hyatt
WR
Tennessee
With a bit of a surprise here, the Lions select Hyatt, the 2022 Biletnikoff Award winner, earlier than many mock drafts have him. In Hyatt, the Lions are getting a serious deep threat who can torch defenses and creative separation with his speed.
56


Jaguars

Julius Brents
CB
Kansas State
A cornerback who excels in zone coverage, Brents also has the ability to transform into a safety. Being touted for having both size and length, Burns had 4 interceptions while just allowing 3 touchdowns while in coverage for Kansas State.
57


Giants

Drew Sanders
LB
Arkansas
Often known for having a strong linebacking core, The Giants look to bolster that position with Sanders. Racking up 11 sacks last season for the Razorbacks, Sanders also racked up end-of-season accolades, both as a first-team associated press All-American and first-team All-SEC.
58


Cowboys

Keeanu Benton
DI
Wisconsin
A starter for the majority of his 4 years as a Badger, Benton has the power and strength to be desired for a defensive tackle in the NFL. Benton displayed that power at the combine, ranking top-5 for defensive tackles with 25 reps on the bench press.
59


Bills

Eli Ricks
CB
Alabama
When Ricks was on the field in his college career, he was impressive, both at LSU and Alabama. But with injuries throughout his career, Ricks has only been able to show spurts of the talent he possesses. Look for the Bills to look past the injury concerns and take Ricks here, getting a cornerback full of potential.
60


Bengals

Siaki Ika
DI
Baylor
With the Bengals having the fourth-lowest sacks (27) in the NFL last season, additions along the defensive line will be a primary focus. They make a massive addition with the selection of Siaki Ika. At 358 pounds, Ika excels at the pass rush and racks up QB pressures.
61


Bears
via SF via CAR

Kelee Ringo
CB
Georgia
After prioritizing the offensive line with their first two selections, the Bears turn to the other side of the ball with the selection of Ringo. Although there are concerns with consistency in coverage abilities, Ringo possesses an insane amount of athleticism and has the physical tools and potential to be a starting NFL corner.
62


Eagles

Sydney Brown
S
Illinois
The Eagles get some help in the secondary with the selection of Brown. Being regarded by PFF as "the single best athlete in this safety class," Brown also showed the best ability is availability, logging in 3,168 snaps for Illinois.
63


Chiefs

Cedric Tillman
WR
Tennessee
Giving Patrick Maholmes another tool, Tillman provided the Chiefs with a reliable receiver (just five drops in five years at Tennessee) who loves to get open and come down with the ball. Look for Tillman to build an immediate connection with his star QB.
Round 3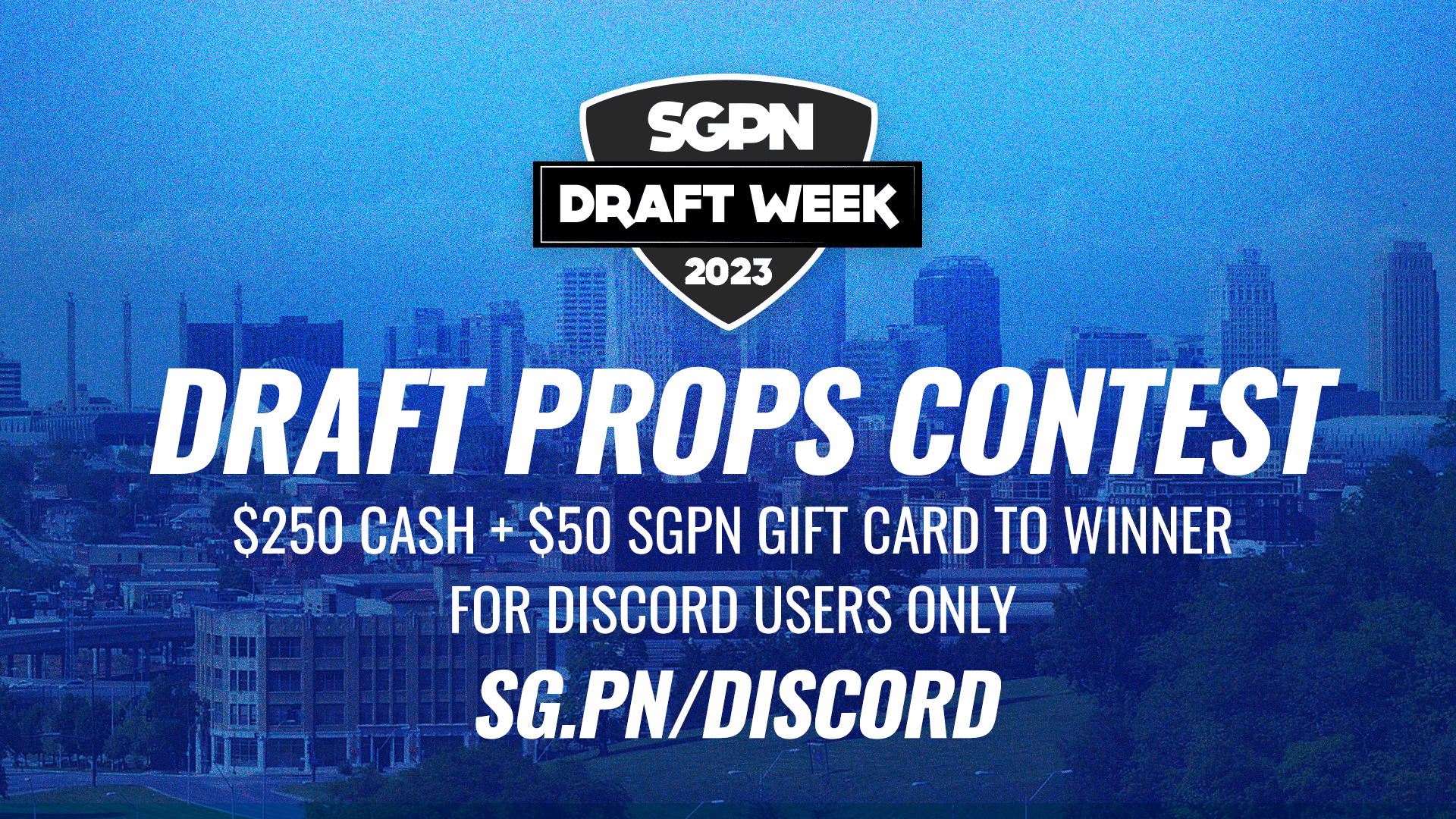 Much like the previous round, the 2023 NFL Draft third round sees a high focus on the offensive line (7 selections), cornerbacks (7 selections), and EDGE (6 selections). In addition, talented rusher Zach Charbonnet lands with the Los Angeles Rams to hopefully bring some consistency at the running back position.
One pick later, the Raiders select Hendon Hooker, the dual-threat quarterback out of Tennessee. How will Hooker play post-ACL surgery? Also, with a feel-good moment, with the 85th pick, the Los Angeles Chargers select Tre'Vius Hodges-Tomlinson, the nephew of Chargers legend LaDainian "LT" Tomlinson.
#
Team
Pick
Pos
College
64


Bears


Nick Herbig
ED
Wisconsin
65


Texans

Rashee Rice
WR
SMU
66


Cardinals

Cody Mauch
OT
North Dakota State
67


Broncosvia IND

Isaiah Foskey
ED
Notre Dame
68


Broncos

Garrett Williams
CB
Syracuse
69


Rams


Zach Charbonnet
RB
UCLA
70


Raiders

Hendon Hooker
QB
Tennessee
71


Saints

Andre Carter II
ED
Army
72


Titans

Michael Wilson
WR
Stanford
73


Texansvia CLE

Darnell Washington
TE
Georgia
74


Jets

Jaquelin Roy
DI
LSU
75


Falcons

A.T. Perry
WR
Wake Forest
76


Patriotsvia CAR

Jaelyn Duncan
OT
Maryland
77


Patriotsvia NE via MIA

DJ Turner
CB
Michigan
78


Packers

Tyler Scott
WR
Cincinnati
79


Coltsvia WAS

Chandler Zavala
G
North Carolina State
80


Steelers


Trenton Simpson
LB
Clemson
81


Lions

Luke Schoonmaker
TE
Michigan
82


Buccaneers

Tucker Kraft
TE
South Dakota State
83


Seahawks

Olusegun Oluwatimi
C
Michigan
84


Dolphins

Clark Phillips III
CB
Utah
85


Chargers

Tre'Vius Hodges-Tomlinson
CB
TCU
86


Ravens

Derick Hall
ED
Auburn
87


Vikings

Devon Achane
HB
Texas A&M
88


Jaguars

Karl Brooks
ED
Bowling Green
89


Giants

Jordan Battle
S
Alabama
90


Cowboys

Dorian Williams
LB
Tulane
91


Bills

Tank Bigsby
HB
Auburn
92


Bengals

Jalon Jones
CB
Texas A&M
93


Panthers
via SF

Marvin Mims
WR
Oklahoma
94


Eagles

Wanya Morris
OT
Oklahoma
95


Chiefs

Keion White
ED
Georgia Tech
96


CardinalsComp Pick

Darius Rush
CB
South Carolina
97


CommandersComp Pick

Tyler Steen
OT
Alabama
98


BrownsComp Pick

Moro Ojomo
DI
Texas
99


49ersComp Pick

Blake Freeland
OT
BYU
100


Giantsvia KC Special Comp Pick

Gervon Dexter Sr.
DI
Florida
101


49ersComp Pick

Jartavius Martin
CB
Illinois
102


49ersComp Pick

Jammie Robinson
S
Florida State
CHECK OUT MORE MOCK DRAFTS FROM SGPN
2023 NFL Mock Draft: Three-Round Mock by Dave Heilman
2023 NFL Three-Round Rookie Mock Draft – Emerson Beery 1.0
NFL Mock Draft + Betting Predictions Part 1 | NFL Gambling Podcast (Ep. 139)
NFL Mock Draft + Betting Predictions Part 2 | NFL Gambling Podcast (Ep. 141)
RELATED CONTENT