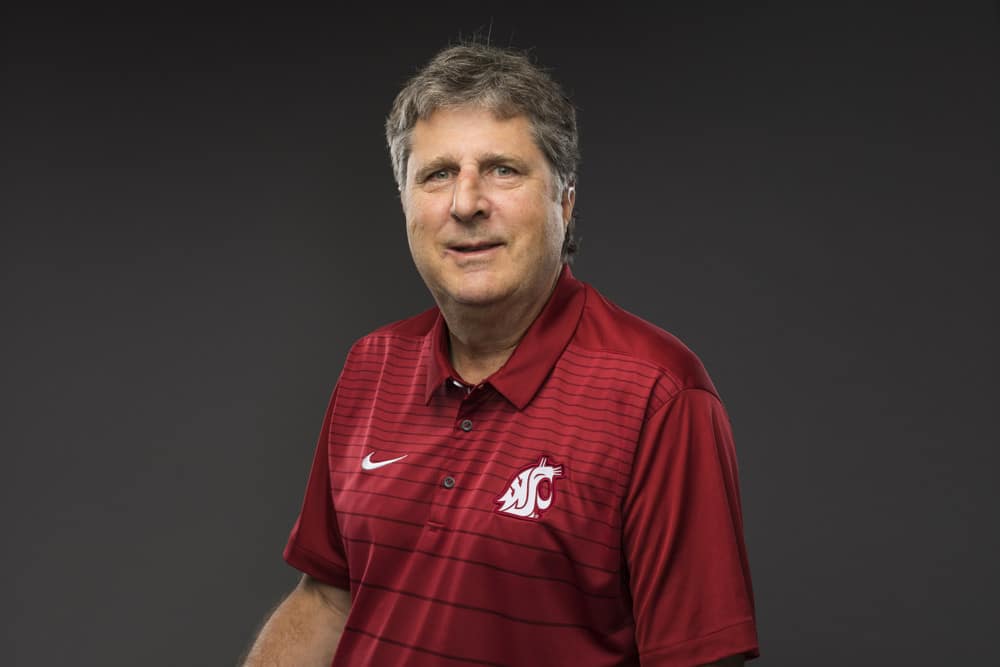 Mike Leach's positive influence on college football will live on forever. The night of Monday, December 12th our friend, Mike Leach, passed away. He did so at the University of Mississippi Medical Center in Jackson, MS following complications from a heart condition.
From Cal Poly, The College of the Desert, Finland, Iowa Wesleyan, Valdosta State, Kentucky, Oklahoma, to Texas Tech, Washington State, and Mississippi State Leach's "Air Raid" offensive system was innovative and changed the way the game of football will be played at every level forever. Coach Mike Leach has a tremendous coaching tree. Leach has also helped out so many in the sports world and we at the Sports Gambling Podcast Network are proud to consider ourselves as a few of many.
Watch The SGPN Mike Leach Tribute
Mike Leach And SGPN
On May 9th, 2019 Colby Dant published an article ranking his "Top 25 College Head Coaches in Power 5 Conferences." Dant ranked Coach Mike Leach at #1 above Nick Saban. He also included Leach disciples Lincoln Riley, and Dino Babers inside the Top 15.
The next day, Washington State's sports director reached out to Dant on Instagram. He was forwarding a message from Coach Leach saying that he loved it. The message included an invite to the Washington State campus for the entire Sports Gambling Podcast crew in Pullman. SGP toured WSU's facilities and even saw Coach Leach's office which included some hilarious items that Colby wrote about in his blog.
"Coach Leach has wrote books about Geronimo and has a large fascination with pirates and Bigfoot. As you walk in the door you see the typical bowl game trophies and the photos of the famous players he coached but then you see a mannequin of a pirate that was apparently a gift of legendary basketball coach Bobby Knight.
Next to that is a Coach Leach photoshopped photo of a classic George Costanza underwear ad from a famous "Seinfeld" episode but with Leach's face replacing George's. You can't help but be entertained by this man's office. A framed Gardner Minshew Jacksonville Jaguars jersey is there as well as a Wes Welker signed football there sitting next to a large Picasso like painting of Coach Leach."
View this post on Instagram
Mike Leach Stories
As a podcast our #1 regret is not getting a group picture with Coach Mike Leach. We can credit inexperience and nervousness to that one. Speaking of pictures, Colby Dant texted once snapped a picture of his then girlfriend innocently reading Leach's book. He texted the pic to Leach and Coach responded with, "Marriage Material." Dant later married that girl.
Coach Mike Leach was the first sports figure or celebrity that appeared on SGP. He also currently has the most appearances (6) by a sports figure or celebrity on the podcast. Sean Green's favorite moment while talking to Leach was Coach's story about his brother's "possessed" bird.
The "interviews" were often just story time with Leach. Whether it was about Pirates, Bigfoot, pet coons, or ranking mascots Coach Leach always somehow had time in his schedule to talk to us. One time Dant shared a phone call with Leach. Coach was informing Colby that he needed the original scheduled time for our interview to be moved back.
The phone call lasted over an hour. The conversation included chats about Pepperdine law school, Venice Beach, and even Great White Sharks. Bottom line, we thought he was a busy man, he definitely was, but he was always so personable and loved to talk to us in length.
Our Favorite Mike Leach Moments
Below we have compiled our favorite clips of Coach Mike Leach. Most from our podcasts but some highlights from him in front of the cameras. Leach was the best because he didn't care what anybody thought of him. He was the most genuine soul and even those who knew him best had no idea what he was going to say next. So enjoy the clips we've assembled.
Coach Mike Leach says Joey Chestnut is part Boa Constrictor.
A Jerky or shaving company would be a perfect NIL deal for Bigfoot.
"Y'all is a very efficient word."
"As those O-Lineman get older they start to look like Santa."
One of Kramer's favorite clips of Coach Leach is when was talking about his favorite live mascots.
One of Kramer's favorite Coach Mike Leach quotes.
Another one of Kramer's favorite clips of Coach Leach is when he did the weather for a Lubbock, TX News station.
Gardner Minshew II smiling while Mike Leach is in the middle of a post game interview.
Coach Mike Leach says, "A bath robe is the ultimate useless item."
"Unless you're a sword swallower you're not going to be able to get the last couple of inches of stuff on your stick," Coach Mike Leach.
Coach Mike Leach says a 64-team playoff would be incredibly exciting.
NIL and the Transfer Portal is turning College Football into a bidding war.
A life sized Pirate in Coach Mike Leach's office.
View this post on Instagram
"It's like woodstock except everybody's got their clothes on," Coach Mike Leach.
Gardner Minshew II putting a fake mustache on Coach Mike Leach.
Our Friend, Coach Mike Leach,
May you fly high, and rest in paradise,
SGPN