1. Mike Leach (Washington State) 
I know this is going to come with scrutiny because Saban has a dynasty. However, ask yourself this: Do you think Saban or Swinney could win 11 games at Washington State? I asked myself that. Plus Leach won 11 at Texas Tech too. Simply incredible.
2. Nick Saban (Alabama) 
Look, I hate the way Alabama schedules but I can't ignore the obvious that Nick Saban is a great coach and has a dynasty currently going at Bama.
READ ALSO:
Top 25 College Head Coaches in Group of Five Conferences
10 College Football Coaches Who Are On The Hot Seat
3. Dabo Swinney (Clemson) 
Perhaps the birth of another dynasty is in full effect with Swinney and what he's doing at Clemson. Plus the next recruiting class is looking unreal.
4. Chris Peterson (Washington) 
Peterson is still top 5 because of the amazing job he did at Boise State. Now, he's moved on to Seattle and made Washington a name brand again.
5. Kirby Smart (Georgia)
Smart has done what Mark Richt could not, but can he finally get over the hump and close out a game against Alabama?
6. Lincoln Riley (Oklahoma) 
Smart and Riley are pretty much at the same level, although Riley has produced two straight Heisman Trophy winners. Riley needs that National Championship to get any higher.
7. Kyle Whittingham (Utah) 
Whittingham is about as underrated as it gets. He took a mid-major to the Power 5 and has had great success. His special teams and defense is always money.
8. Pat Fitzgerald (Northwestern) 
You could almost ask yourself the Leach question here. Fitzgerald is 36-15 the past four years and the program is arguably the best it's ever been. Short of maybe Mike Leach, I'm not sure anyone else could do that at Northwestern.
9. Gary Patterson (TCU) 
Patterson has taken TCU from the mid-major levels to a legit power 5 program. TCU won double digit games just two years ago and it seems Patterson always does his best coaching job when they are flying under the radar.
10. Scott Frost (Nebraska) 
Yeah I still have Frost in my top 10 and I think he'll climb up this list some after this upcoming year. Frost struggled out the gate at Nebraska but towards the end of the season the team became much more competitive. Plus he's won a national championship at UCF.
11. Gus Malzhan (Auburn) 
Malzhan seems to always be on the hot seat at Auburn but I can't really understand why. He's easily one of the better coaches in college football and if Auburn ever fired him he'd be hired right away.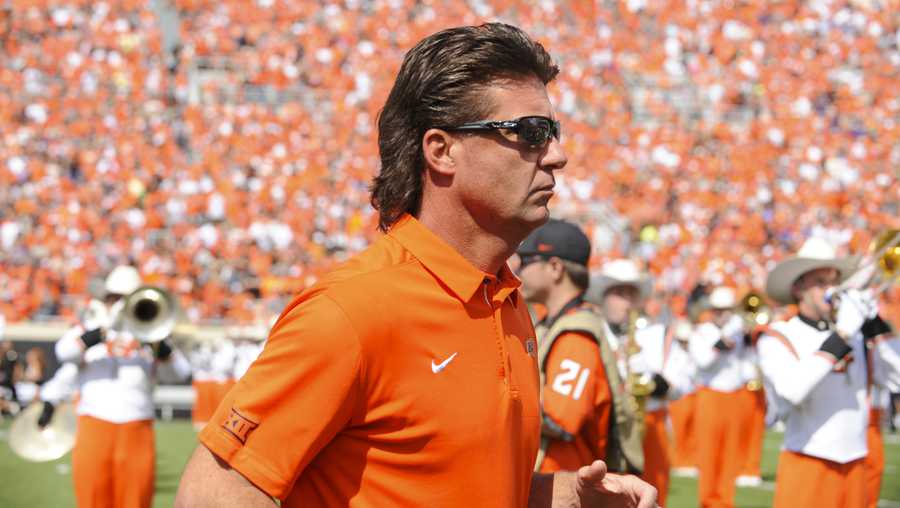 12. Mike Gundy (Oklahoma State) 
The knock is Gundy regularly falls short of winning the Big 12, but the guy has won double digit games six times and has one Big 12 Title. Considering how Texas and Oklahoma out-recruit the Cowboys, it's pretty amazing what Gundy has been doing in Stillwater.
13. Kirk Ferentz (Iowa) 
Ferentz is quietly one of the best coaches in the country. He's won two conference championships and he's had four double digit win seasons in Iowa City. Plus he's only missed a bowl game once in the past 17 years.
14. Dan Mullen (Florida) 
I loved the Mullen hire by Florida and I'm sure it will pay off. The main reason why he's this high on the list, though, is for what he did at Mississippi State. Mullen is 79-47 career wise and most of that was coaching in the loaded SEC West.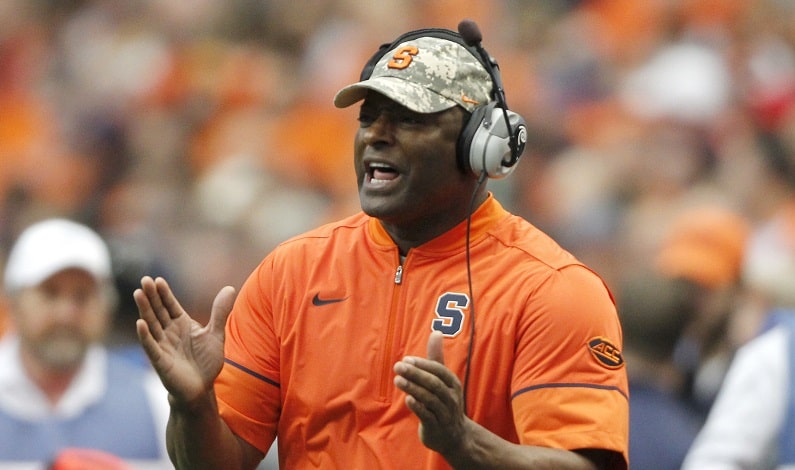 15. Dino Babers (Syracuse) 
Babers is quietly doing one of the best coaching jobs in America. Babers worked wonders at Bowling Green and the minute he left the team almost went winless. Since he's been at Syracuse, things have gotten better every year including a 10-3 season last year for the Orange.
16. Brian Kelly (Notre Dame)
I know I was outspoken on Notre Dame catching a lot of lucky breaks last year, and that's true, but Kelly is still one of the better coaches in College Football. Kelly has done great things at Central Michigan, Cincinnati and South Bend. He's had three double digit win seasons out of the past four.
17. Jimbo Fisher (Texas A&M) 
Jimbo Fisher has A&M recruiting really really well, but the question will be can he somehow win 10 games at A&M? His last season at Florida State was awful and last year he basically had a Sumlin-like season. He'll have his chances.
18. James Franklin (Penn State)
Franklin is a great coach. There's no doubt about that. His run at Vanderbilt was amazing and he revived this Penn State program. However, can he get over the hump and consistently take down Ohio State? Franklin has had two double digit win seasons in the past three years in Happy Valley.
19. Matt Campbell (Iowa State)
Maybe the most amazing coaching jobs in the country is happening in Ames, Iowa. How Campbell has stuck around Ames is simply amazing. He did great things at Toledo. Since coming to ISU, he's had back-to-back eight win seasons. That's called getting it done.
20. Jim Harbaugh (Michigan) 
Harbaugh has gotten a bad rap recently for his failures in some of the big games but let's not lie to ourselves here. Jim worked wonders at San Diego, Stanford, the 49ers and, yes, Michigan. Despite their shortcomings in the big games, he's had three double digit win seasons out of four years at the helm. Perhaps Jim should be ranked even higher when you think about it.
21. Jeff Brohm (Purdue) 
Brohm turned down big bucks from his alma mater to stay at Purdue. After a great run at Western Kentucky, he took over a Purdue team that hadn't been bowling in quite some time. After his first two years in West Lafayette, Brohm has back-to-back bowl games and the program is trending up.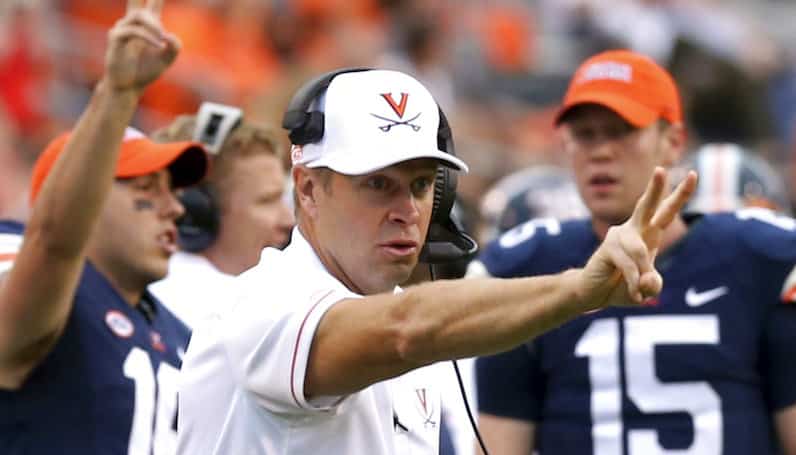 22. Bronco Mendenhall (Virginia)
I feel like I've been saying this forever but Bronco Mendenhall was so underrated at BYU. I loved the hire when UVA landed him and now Bronco has quickly made the Cavaliers ACC Coastal contenders. His first year at UVA he struggled, but since then the Wahoos have been to back-to-back bowls and are trending in the right direction.
23. David Cutcliffe (Duke) 
Cutcliffe is one of the best coaches in the country. That's a fact. When you think about how bad Duke was prior to Cutcliffe, then you learn to appreciate just what he has done in Durham: one double digit win season and bowl games six out of the past seven seasons.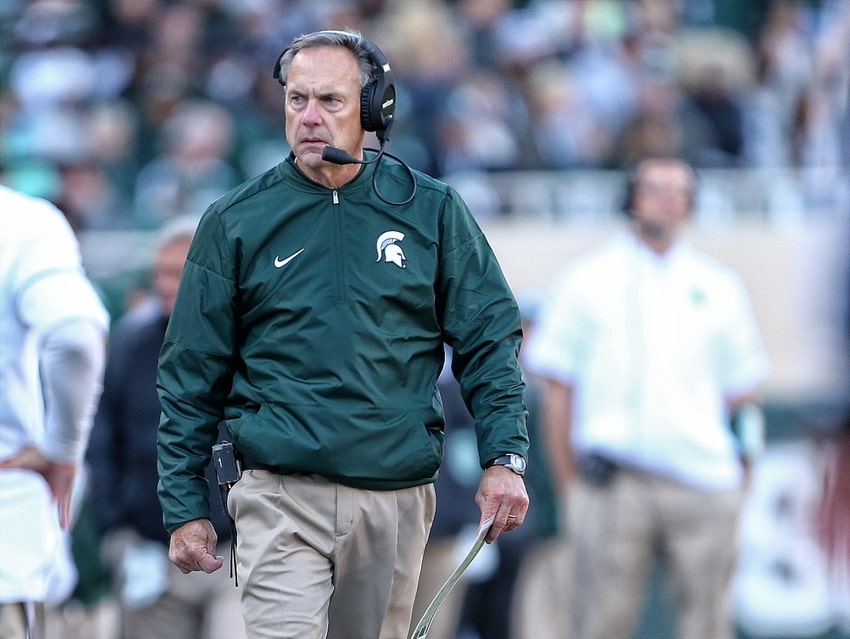 24. Mark Dantonio (Michigan State) 
I know he's not the hot shot coach like many on this list but Dantonio is a pretty great head coach. Analyze his resume. Sure, maybe the offense isn't super exciting but the Spartans have six double digit win seasons under him and one was just two seasons ago. There's no denying he's one of the better coaches in all of college football.
25. Dave Clawson (Wake Forest) 
I'm a huge Dave Clawson fan so let me get that out of the way first. I loved what he did at Fordham, Richmond and Bowling Green before ever taking the job at Wake. Since moving to Winston Salem, he's been to three straight bowl games and last year he did it with two freshman QBs. I wonder just how long he stays at Wake but regardless he's one of the best kept secrets in America.
READ ALSO:
Top 25 College Head Coaches in Group of Five Conferences
10 College Football Coaches Who Are On The Hot Seat