As 2019 came to close I had to look back on one of the highlights of my year, our trip to Washington State University. We left LAX headed to Spokane, Washington from there we rented a car and headed down the route 195 about an hour and half to Pullman, Washington.  If you didn't know by my constant plugging of East Carolina University on my podcast. I love a good small town College Sports environment. It's one of the many reasons why I prefer college sports to pro sports.
The first place we went to in Pullman was a coffee shop where the guy in front of me ordered a drink and then proceeded to say "Go Cougs" to someone walking past with a Washington State hat on. That right there told me everything I needed to as the rest of the trip was filled with many many more "Go Cougs".
One of the perks of being "in the business" is getting a tour of the facilities and stadium which in this case was Martin Stadium. Both were nothing short of amazing. Martin Stadium has been a part of Pullman since 1972 but you wouldn't know it with it's recent renovations including Bohler weight room which is basically right behind the end zone. In fact, all the football coaching offices are in the same building as the Bohler weight room and all have a great view of Martin Stadium.
One of the highlights of the tour was being able to see Washington State head football coach Mike Leach's office, which was filled with some hilarious items. It's well known that Mike Leach is one of the best coaches in America but despite his winning ways what makes Leach so fun for college football is his colorful character.
Coach Leach has wrote books about Geronimo and has a large fascination with pirates and Bigfoot. As you walk in the door you see the typical bowl game trophies and the photos of the famous players he coached but then you see a mannequin of a pirate that was apparently a gift of legendary basketball coach Bobby Knight.
Next to that is a Coach Leach photoshopped photo of a classic George Costanza underwear ad from a famous "Seinfeld" episode but with Leach's face replacing George's. You can't help but be entertained by this man's office. A framed Gardner Minshew Jacksonville Jaguars jersey is there as well as a Wes Welker signed football there sitting next to a large Picasso like painting of Coach Leach.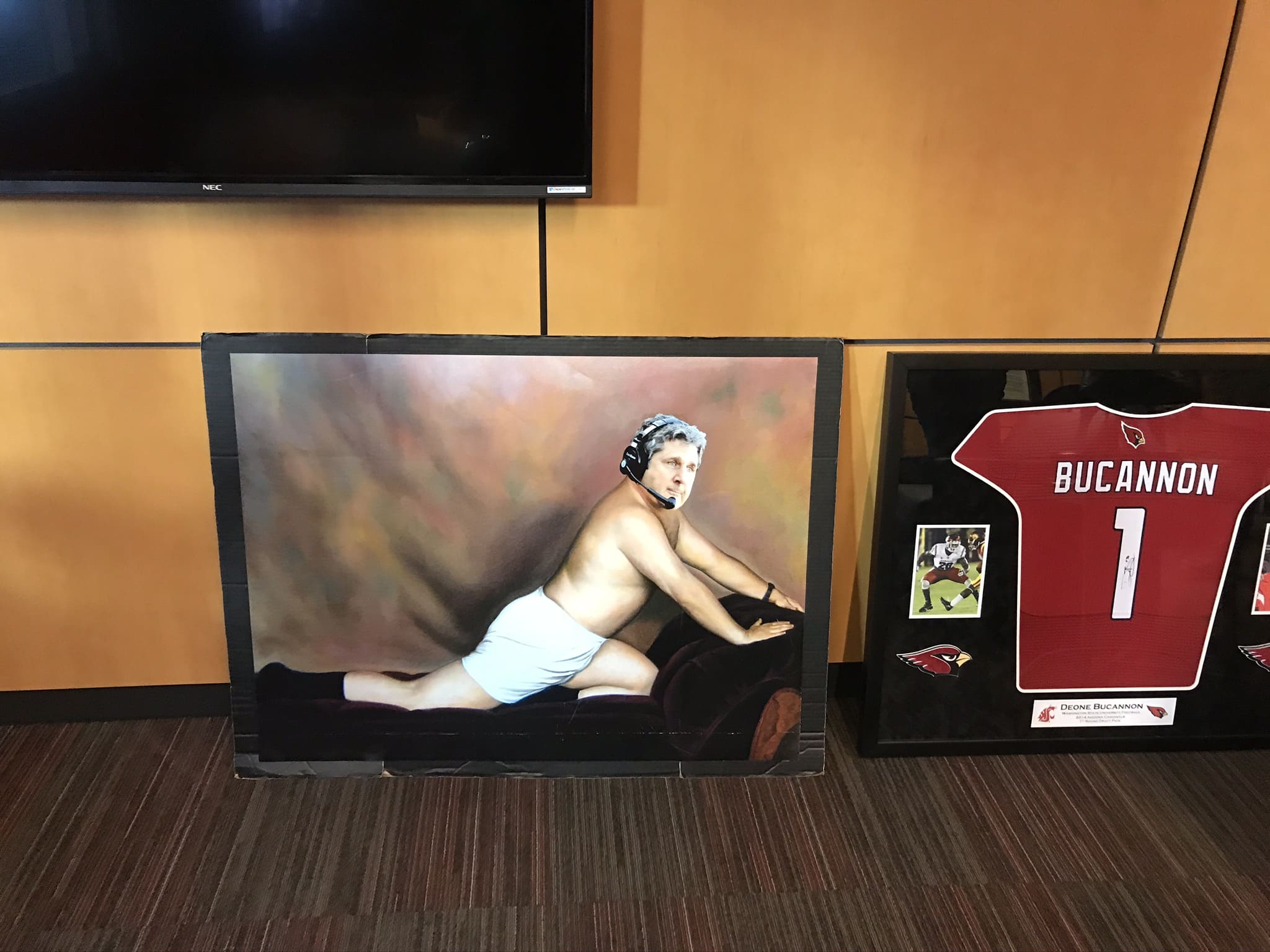 It's no wonder why Coach Leach and Washington State are winning games the way they are. This place is serious about football but at the same time it's great to see they never take themselves too seriously and you can tell that by the on going joke of the Bigfoot statue that's sneakily transported to various football offices throughout that year. I'm sure Coach Leach will tell you it's his best recruit ever.
Once I got onto the field at Martin Stadium I got caught up in the excitement and pretended to run a few button hook routes. Next came the scheduled walk through where the team goes over their game plan. After watching the offense and defense prepare for a bit I got to sit in on coaching legend and special guest Steve Spurrier's pep talk. Spurrier shared a story from his Florida Gators days and insisted how important it was to close out the final games of the season the right way.
Since it was father's weekend in Pullman it was tough finding a hotel so we found a AirBnb in the bordering town of Moscow, Idaho. The AirBnb was basically on a farm as we saw Llamas, Cows, Goats, Cats, Chickens etc. While in Moscow for the night we decided to check out went the city had to offer.
We went downtown for dinner and found a burger joint where Sean & myself ate our burgers while Ryan "Soy Boy" Kramer ordered his vegetarian burger. We sat and watched "Soy Boy" pretend to enjoy his chickpea burger.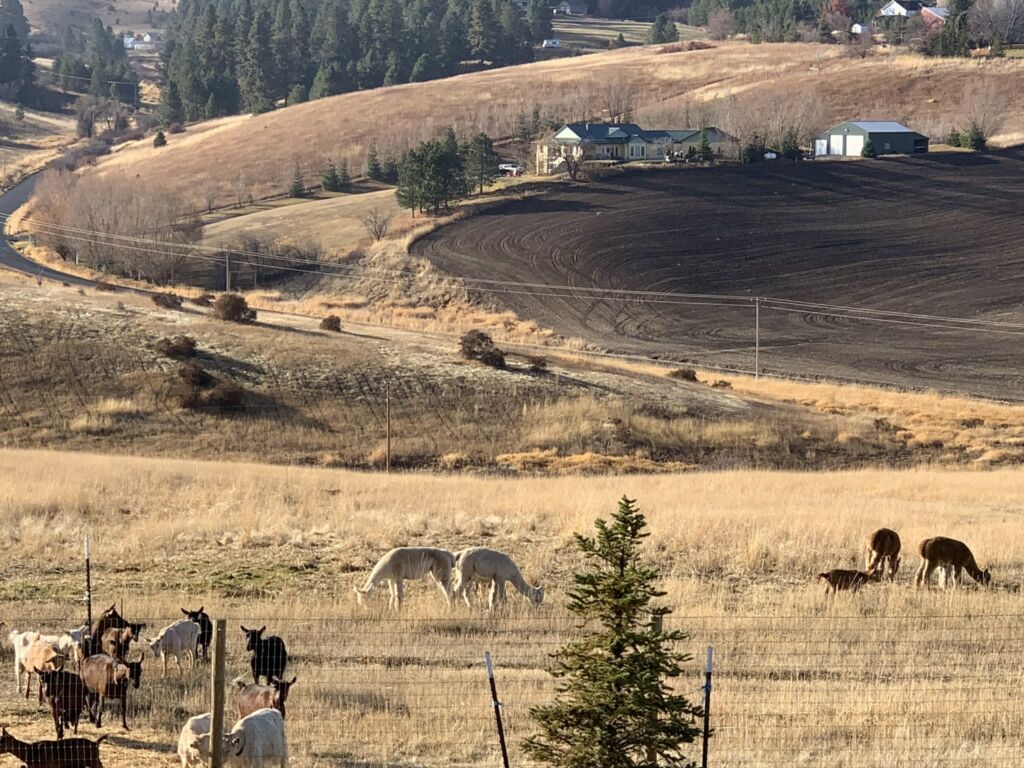 The next day was game day and what a site it was being able to be on the field as well as in the press box. While in the press box next to a former star Coug and a NFL scout "Soy Boy" Kramer had the nerve to bring in a Coleslaw sandwich that put his chickpea burger from a night ago to shame. It was a huge win for Wazzu as the Cougars inched closer to yet another bowl season by beating their Pac 12 North rivals Stanford 49-22.
If you're fan of offense than Washington State is the team you should be rooting for. Having been a fan of Coach Leach and his offenses for years it was great to sit back and watch the Cougs QB Anthony Gordon throw for 520 yards and 5 touchdowns. Gordon wasn't the only great QB in Pullman that day. Former Cougar greats Drew Bledsoe and Jack Thompson were also in attendance at the game.
After the Cougs win, the SGP crew went to celebrate and well, what better place to celebrate then a bar entitled "The Coug." As you can guess the bar was filled with a sea of cherry red and silver and every few seconds you'd hear a "Go Cougs" line dropped by someone as people celebrated their teams dominating performance by throwing back drinks.
True to its name "The Coug" supplied us with a good laugh as a local "Cougar" took a liking to myself. Luckily, we weren't there long enough to fall in the cougars trap. After a few drinks we settled on a good spot for dinner at a place called "The Black Cypress" the food was great but even in this formal setting at the restaurant you could hear a few "Go Cougs" from time to time in the background as people were clearly excited about the teams win.
The next day as I exited Pullman, Washington on my way back to Los Angeles. I thought to myself "wow, what a great city and experience this was." If I were a recruit and was looking for a college to make home for the next four years I don't know how I could ever pass on Washington State. Pullman, Washington is enriched in Wazzu Cougar football pride.
This town is why I love college sports and college football, I can't wait to come back to Pullman and experience it all again. Until then "Go Cougs". Watch the recap video below.