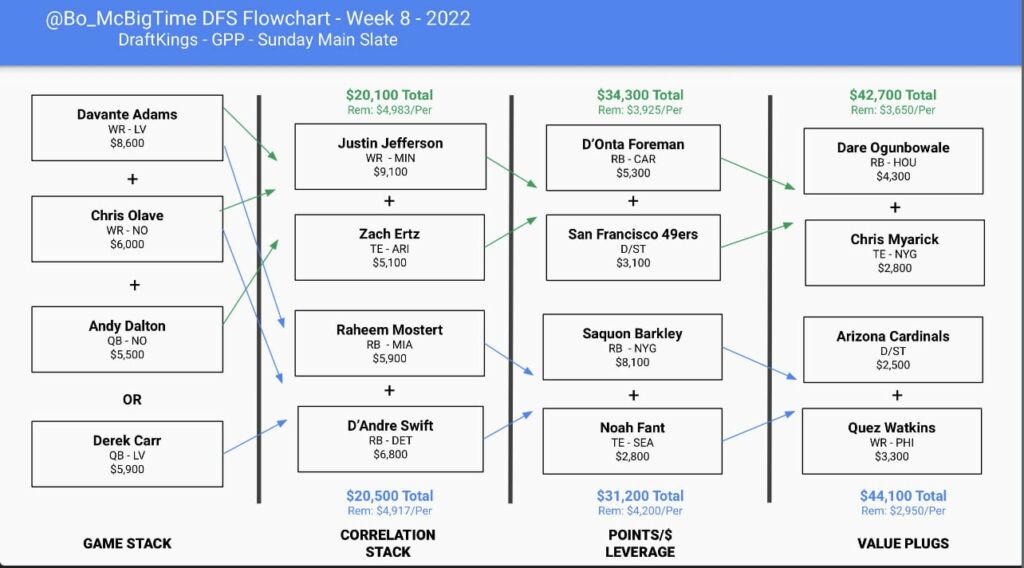 SGPN is back with the Week 8 NFL DFS Flowchart. Last week, I mistakenly put my eggs in the basket of a QB coming off a huge performance who was recently flat-out benched by his team. Matt Ryan let all of us down. Apparently, he was much closer to the cliff at the end of his career than anyone realized coming into the season. Now it's up to Sam Ehlinger to lead the Colts to whatever destiny awaits them. We, as DFS managers, simply move onto the next slate with our memories wiped clean.
Week 8 is another 11-game main slate with some high total chalk games and some hidden gems within games with low implied totals that could shoot to the moon. Those are the games I will attack with game stacks. The Saints versus Raiders game is squarely in my crosshairs. Arizona and Minnesota could be a plodder, but also could have a barrage of scoring. The Dolphins and Lions will chalk it up with nary a punt in sight. Arranging the right pieces to the puzzle this week might not be as daunting of a task as it appears on the surface. Let's dive into the  Week 8 NFL Flowchart: DraftKings DFS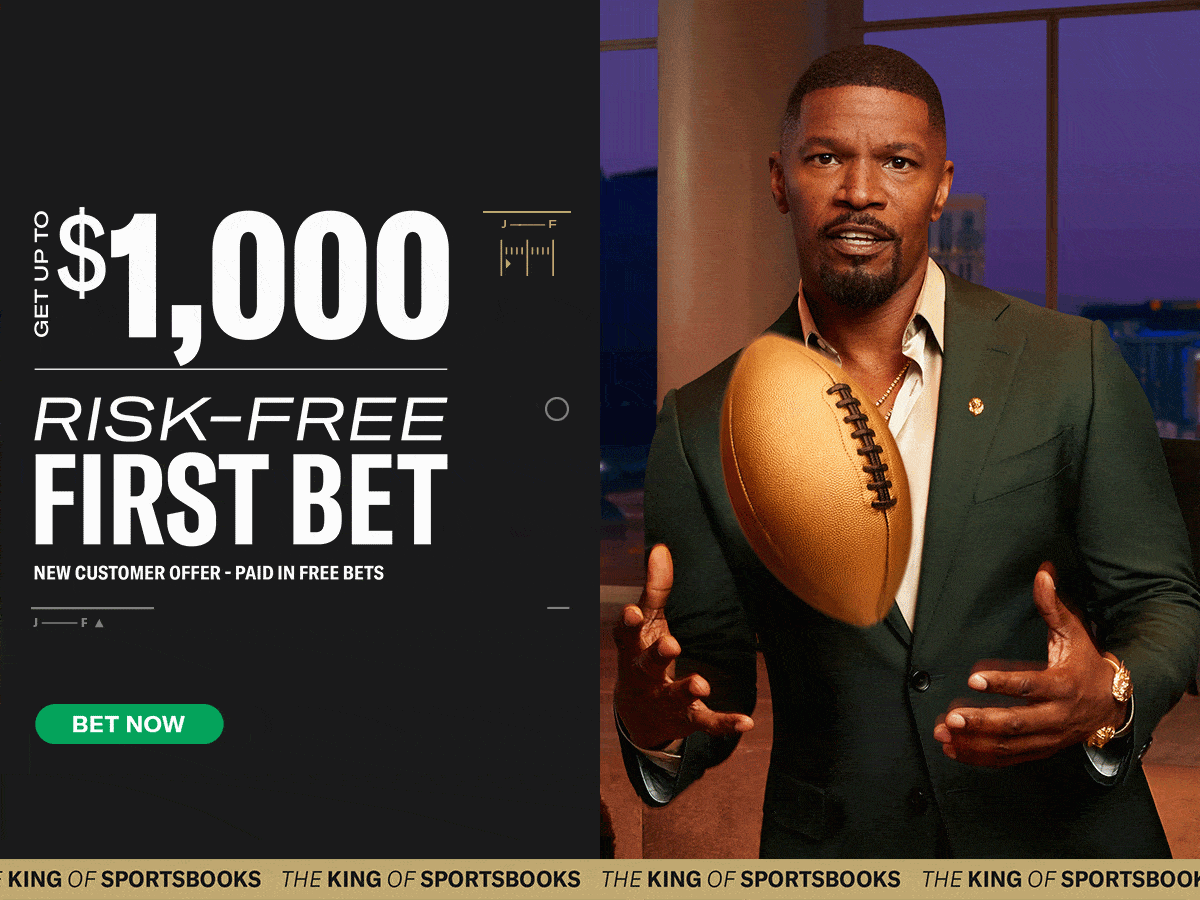 MORE SGPN FANTASY FOOTBALL CONTENT
Week 8 Fantasy Football Injury Report
October Trade Value Chart Update
SGPN Fantasy Football Youtube Channel
---
Week 8 NFL Flowchart: DraftKings DFS
Coverage and Comfort
No, I'm not describing undergarments. In fact, I'm referring to something that the Raiders and Saints defenses do not provide much of. Among the stackable games on this slate, this one unlocks more studs at the skill position and pulls very low ownership at the QB position. Las Vegas is dead last at defending the QB position. Although I don't agree with the Saints continuing to start less-than-prolific Andy Dalton over Jameis Winston, I cannot ignore the shootout potential the Red Rifle is a part of on a weekly basis. If Dalton is understandably not giving off good vibes, Derek Carr is a steal at $5.9k. Either one of them can be correlated with stud receivers Davante Adams and Chris Olave.
Stars and "Who is That?"
"Stars and Scrubs" is a popular DFS strategy that means you lock in a couple of core players with high salaries and fill in the tiny cracks with value players. I'm taking that notion to the extreme this week because I believe that the stars will shine brightly enough that they will appear in optimal lineup builds. I also have more than a gut feeling that certain players whose names are certainly not uttered in most households will be on the lips of Red Zone touchdown caller Scott Hanson come Sunday.
Chris Myarick is a 6-foot-5 "fullback" who is classified as a TE on DraftKings who will see some target volume for the Giants this week after Daniel Bellinger went down with a busted eye socket. Quez Watkins is the "Fast Batman" of the Eagles WR corps and faces a Steelers defense that gets burnt deep on the regular. Dare Ogunbowale is fun to pronounce and is the mop-up receiving back in Houston for when the Texans are getting shellacked.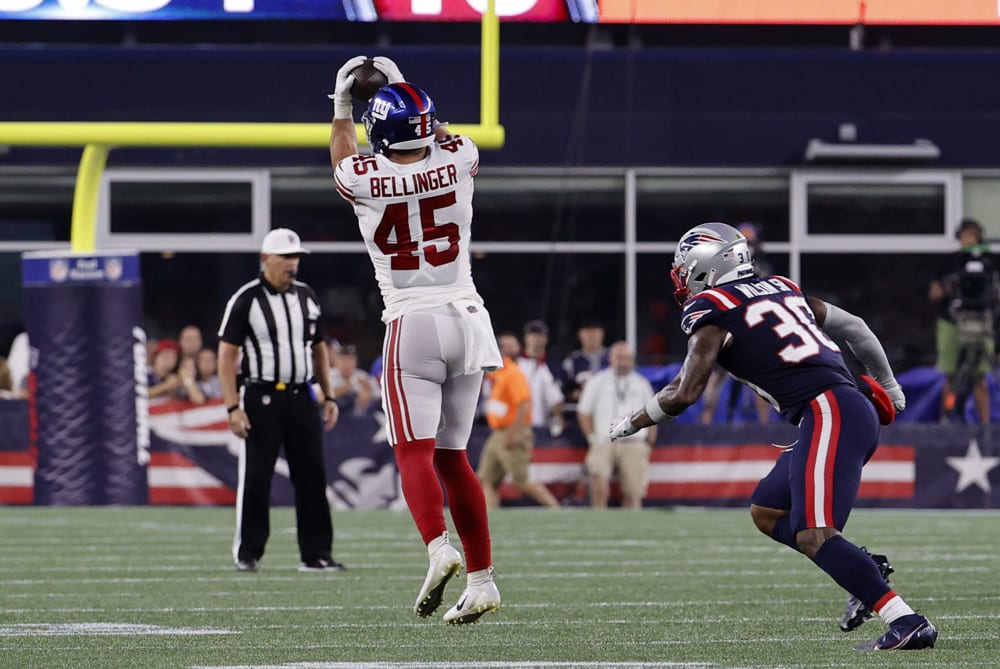 Tight Like a Tiger
George Kittle is the most expensive TE on the main slate this week. After he is a bunch of excellent point-per-dollar values at the position. One way to leverage the field in a GPP contest is to use a second TE in the flex spot. I will have more than a handful of TEs in my player pool and won't shake my fist at going double-tight when architecting the perfect lineup. Myarick and Fant are crazy values at $2.8k apiece. Zach Ertz and Irv Smith Jr make for an interesting "dueling banjos" stack in the same game. Dallas Goedert is shaping up to be one of the best leverage plays on the entire slate versus the Steelers. Last Sunday was "National Tight Ends Day,". However, this Sunday could ring the bell with a huge number of TE touchdowns scored.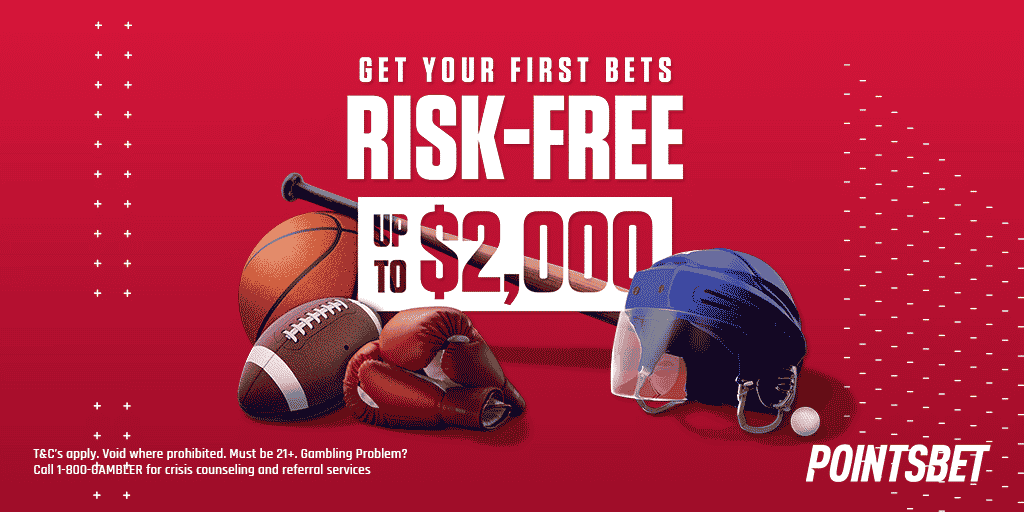 Rules are Rules
If D'Andre Swift is active, you play him. The Lions love to run the ball, but their defense stinks. Swift is matchup-proof with his elite receiving ability and penchant for big plays. Don't worry about ownership at the RB position anyway. There are a ton of good matchups with the promise of huge point totals. Derrick Henry and Saquon Barkley are monsters. They are also facing really bad run defenses this week. I will have a few lineups with both of them rostered.
It seems silly and obvious, but the point of DFS is still to score as many points as possible. We can galaxy-brain ourselves into getting too cute way too often. The optimal plays are the optimal plays. You should be more worried about throwing out duds than getting duped in a large-field contest. If you want to quad-stack the Dolphins, go ahead! You're a huge Texas Longhorns nerd and want to roll out $4k Sam Ehlinger naked to load up on big-money guys? More power to you. I wish you all the best of luck. Let's get to cashing…