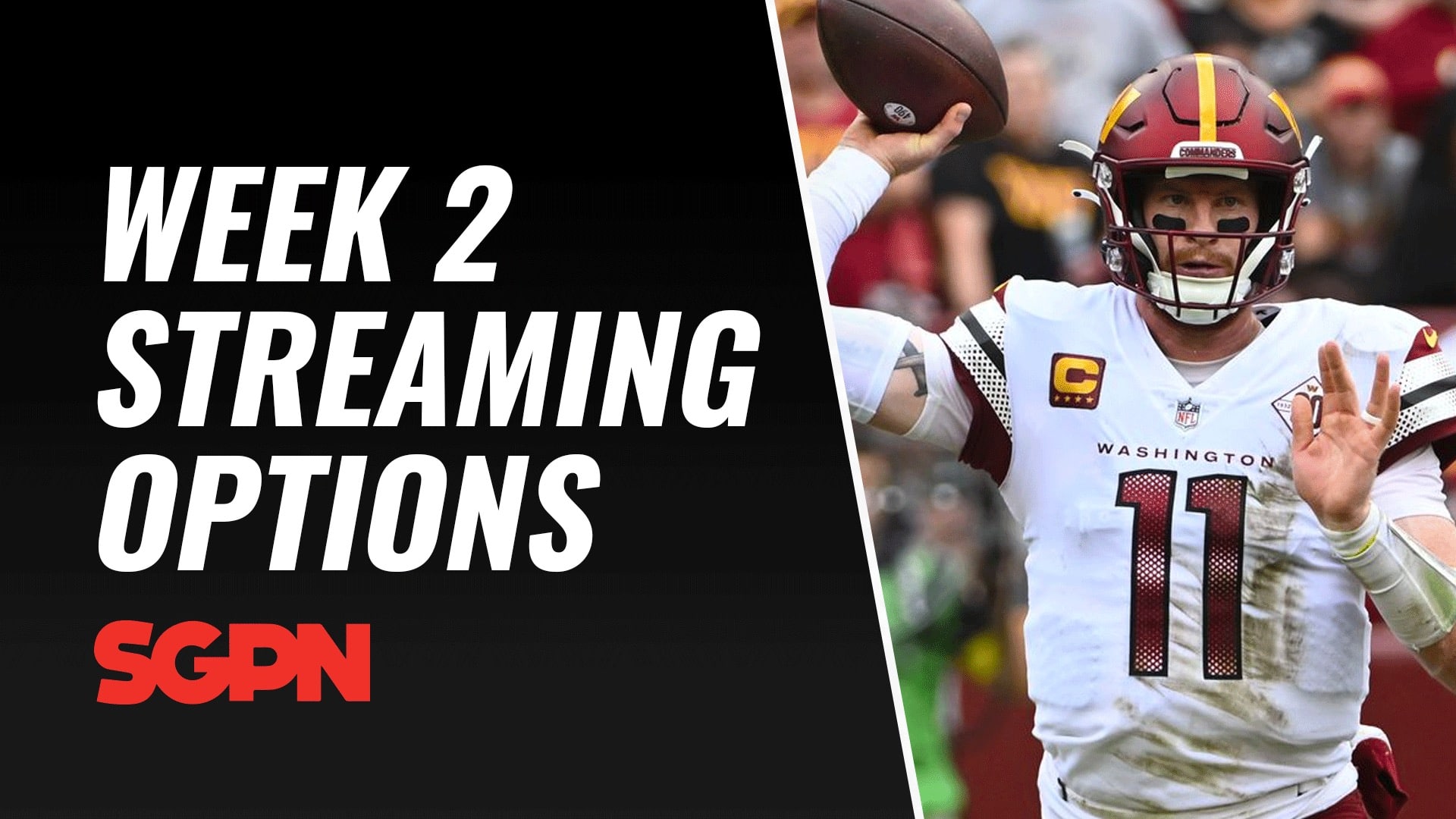 We at SGPN really hope that every one of you is undefeated, with no injuries, and all have great matchups this weekend. We are also realistic and realize that you might have to deal with all three of these things this week. We will be here every week to give you streaming options for Quarterbacks, Tight Ends, and Defenses. Please check out our other work as we are covering dynasty, daily, player props, IDP, and redraft content all season. We have 9 different shows on our podcast channel, YouTube, and we are pumping out articles daily to help you win your leagues. Now let's talk about week two fantasy football streamers.

MORE SGPN FANTASY FOOTBALL CONTENT
SGPN Week 2 Fantasy Football Rankings
Week 2 Fantasy Football Injury Report
---
Quarterback Week Two Fantasy Football Streamers:
Carson Wentz – Washington Commanders @ Detroit Lions
Carson Wentz is the butt of all jokes and people just can't trust him. Not even a 44-point performance will earn him respect. He cleared waivers without anyone wanting to pick him up in a few of my leagues. Wentz has just burned people too many times. For Fantasy purposes, he has been much better recently than in reality. Wentz was QB13 last year and after Week One he was #3 Overall. This week he gets the Lions and you should be able to comfortably put him in your lineup. Just don't watch the game, so you don't pull your hair out when he throws the ball to the other team.
Carson Wentz in his first game as a Commander:

27/41 passing (65.9%)
313 passing yards
4 passing TDs
2 INTs
11 rushing yards pic.twitter.com/UP2jn18CfD

— Skins ♫ (@SkinsOffseason) September 11, 2022
---
Justin Fields – Chicago Bears @ Green Bay Packers
Justin Fields saved his week with a nice second-half performance. The overall fantasy performance wasn't great, but he also played in a monsoon. Fields had 12 rushing attempts and we expect that to continue. Even in a tough matchup against the Green Bay Packers, expect Fields to continue to rush the ball. This should offer a safe floor and look for him to finally get Mooney as well as Kmet involved.
---
Matt Ryan – Indianapolis Colts @ Jacksonville Jaguars
Matt Ryan gets a juicy matchup against the Jacksonville Jaguars who gave up 44 fantasy points to Carson Wentz last week. They will be a likely target until proven otherwise all season. Ryan could be without Michael Pittman which would change things quite a bit though. However, the potential of Nyheim Hines or Jonathan Taylor taking a negative 2-yard pass for 80 yards is still there. This team could also turn to other options such as the Tight Ends. Last week they targeted the Tight End position nine times and that could go up if Pittman is out.
Honorable Mention: Daniel Jones – New York Giants Vs. Carolina Panthers; Tua Tagovailoa – Miami Dolphins  Vs.Baltimore Ravens
---
Tight End Week Two Fantasy Football Streamers:
Tyler Higbee – Los Angeles Rams vs Atlanta Falcons
Tyler Higbee was one of the biggest benefactors of some garbage time last week with no Van Jefferson. It is still not certain if Jefferson will play, but I still expect him to get targets. This Offensive Line can't hold up and the Rams will need to involve the Tight Ends in the quick passing game. Higbee is also always a threat to score a touchdown with his red zone prowess.
If George Kittle is on your fantasy football team, here are 5 Tight Ends You Should Stream:

-Tyler Higbee
-Hayden Hurst
-Logan Thomas
-Albert Okwuegbunam
-Evan Engram

— Moody (@EricNMoody) September 16, 2022
---
Albert Okwuegbunam – Denver Broncos vs Houston Texans
Albert was banged up last week in the game, which gave some snaps to the other Tight Ends. This might even have gotten him dropped on some rosters. What was noticeable was the heavy wrap around his quad during the game. Also, very noticeable that they were looking at him heavily as the game progressed. The Broncos and Russell Wilson had an embarrassing loss to the Seahawks on national television. They get an opportunity to make things right against the Texans and Albert will be a big part of that game plan.
---
Robert Tonyan – Green Bay Packers vs Chicago Bears
The Green Bay Packers took a beat down Week 1, just like they did last year. Rodgers looked like a disappointed father with his rookies dropping passes. Look for Rodgers to rely on players he trusts such as Allen Lazard, Randall Cobb, and Robert Tonyan. The Bears are a nice matchup and Tonyan had 8 fantasy points on only 36% of snaps. Look for him to be more involved and get him in the lineup if you are in a pinch.
---
Honorable Mentions – David Njoku – Cleveland Browns vs New York Jets; Evan Engram – Jacksonville Jaguars vs Indianapolis Colts
Defense and Special Teams Week Two Fantasy Football Streamers
Cincinnati Bengals at Dallas Cowboys
Two words for you, Cooper Rush. The Bengals had a tough divisional loss against Pittsburgh and they will take it out on Dallas. The Cowboys are missing multiple Offensive Linemen and their Quarterback is out for at least a month. The Bengals will be one of the favorites to score a touchdown on defense.
---
San Francisco 49ers vs Seattle Seahawks
San Francisco had a tough matchup last week with poor conditions. This week they get division rival Seattle and Geno Smith. Look for this offensive line to get after Geno and this young offensive line. Bosa and the boys will be chomping at the bit to get some sacks on Sunday.
---
Cleveland Browns vs New York Jets
Joe Flacco looks to be starting again and the Browns pass rush is licking their chops watching film of this Jets offensive line. The Browns have some playmakers in the secondary and I expect them to get their hands on a couple of these Flacco passes.
---
Honorable Mentions: New York Giants vs Carolina Panthers; Denver Broncos vs Houston Texans