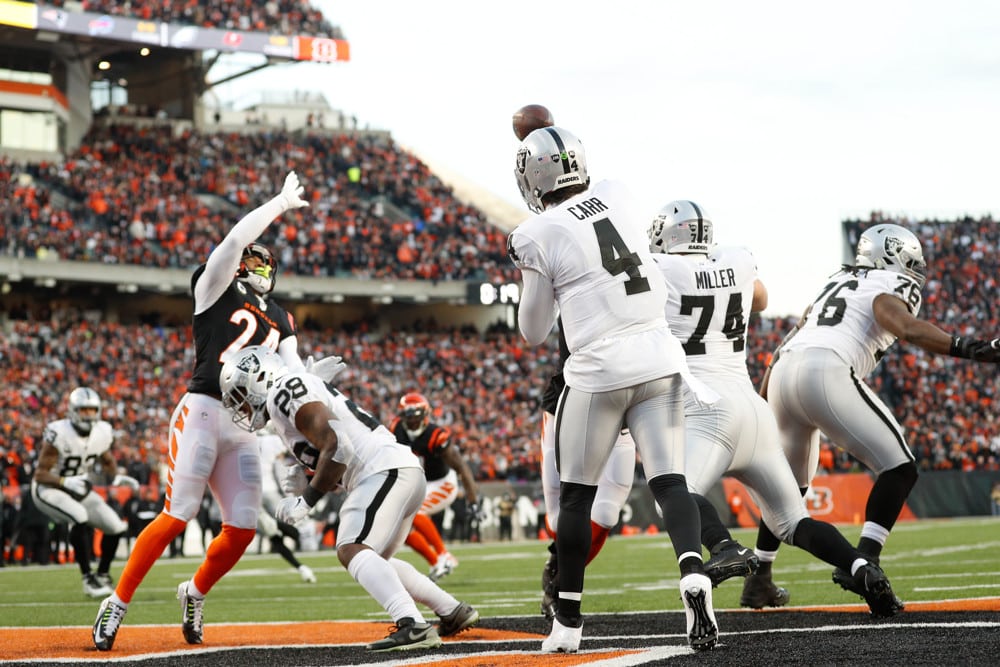 Welcome to the Sports Gambling Podcast Network's Top 10 DFS stacks article!! I will break down the DraftKings main slate each week of the NFL season to bring you the top 10 DFS stacks.
"Stacks" in DFS can be defined as; playing two or more players from the same team in a single lineup. Stacking in DFS contests has become the predominant roster construction strategy, particularly for GPP tournaments, with various unique and creative ways to build stacks and maximize your scoring upside each week.
The most popular stacking options include the skinny stack, the double-stack, the run-back stack, the full-on game stack, and the running back paired with a defense stack.
The skinny stack is traditionally a quarterback paired with a skill position player. The double-stack includes the quarterback and two skilled position players. The run-back stacks usually consist of a quarterback and wide receiver from one team and an opposing wide receiver or running back.
A game stack can include up to five players from a single contest and a 3/2 or 4/1 team ratio, typically involving the quarterback. The running back stacked with defense is just that.
Each week the stacks in the top 10 will include a variety of these stacks based on the scoring upside and likelihood of cashing in GPP tournaments and cash games.

MORE SGPN FANTASY FOOTBALL CONTENT
SGPN Week 2 Fantasy Football Rankings
Week 2 Fantasy Football Injury Report
---
Top 10 DFS Stacks for Week 2
Derek Carr (QB) Las Vegas Raiders
Davante Adams (WR) Las Vegas Raiders
Marquise Brown (WR) Arizona Cardinals
Maybe Davante Adams was right all along, and Derek Carr is a Hall of Fame quarterback. Maybe not. I don't care either way Davante Adams is still going to get you 20 to 25 points every game. and this is a juicy matchup against the Cardinals defense who just gave up five passing touchdowns to Patrick Mahomes in the Kansas City Chiefs last week.
Soon as the prices came out, I was licking my lips that he was not priced above $9000, and their car was still cheap enough to pull the stack out under $15,000. The 51.5 over under is the highest total on the board for NFL week 2. Not a lot of defense is expected in this matchup.
According to PFF, Adams has the best cornerback matchup this week against the Arizona Cardinals. on the other side of the ball, Marquise Hollywood Brown has the second-best rated cornerback matchup this week. This game is going to shoot out, and these are the two Primary Weapons to score touchdowns I want them both in my DFS lineups.
Word on the street is that Davante Adams's grandma is going to watch him play in person for the first time in his career. The man is going to ball the hell out. Two touchdowns might be a minimum expectation in this game, given his grandma is in the stands. She's already gambling at the MGM. Watch out, boys.
Total Cost: $21,00
Players to pair with: Darrell Henderson Jr. (RB), Albert Okwuegbunam (TE)
---
Carson Wentz (QB) Washington Commanders
Curtis Samuel (WR) Washington Commanders
D'Andre Swift (RB) Detroit Lions
Carson Wentz threw four touchdowns last week, only one behind league leader Patrick Mahomes who threw five. Wentz looked crisp and sharp last Sunday, spreading the ball around to 3 different Washington Commanders' wide receivers in week 1. His first touchdown pass was to Curtis Samuel, who returned to action after missing most of last year sidelined with an injury.
Samuel's 11 targets were two more than Jahan Dotson and Terry McLaurin saw combined. He had eight receptions to their combined five. Samuel's death of Target wasn't very deep either, as he was used basically as a running back out of the backfield. A role that he's very familiar with in this Ron Rivera offense.
Washington should have given up two receiving touchdowns to running backs last week. Trevor Lawrence missed Travis Etienne on a wheel route in the first quarter, badly. And Travis Etienne dropped a would-be walk-in touchdown later on in the game. James Robinson ran a touchdown in for the Jags and also caught a touchdown. D'Andre Swift was licking his chops watching the film this week.
There's only one problem. Swift is nursing a bum ankle and has not practiced yet this week. If he plays, he's in your lineups. If he is ruled out, I'm very comfortable playing Jamaal Williams, who scored two touchdowns last week and looks like the leader in the clubhouse for the Lions' goal-line carries. This sneaky stack is going to win you and me a lot of money this week.
Total Cost: $17,400
Players to pair with: Saquon Barkley (RB), Tyler Higbee (TE)
---
Joe Burrow (QB) Cincinnati Bengals
Ja'Marr Chase (WR) Cincinnati Bengals
Ja'Marr Chase was second amongst all wide receivers in the NFL last week with 16 targets. He caught 10 of those passes for 129 yards and a touchdown. From the looks of my naked eye, he should have been credited with two more scores. It was great to see the two pick up where they left off last year. Chase is priced up to $8,000 this week. Hopefully, it scares away some of his rostership. More Chase for us.
With Tee Higgins banged-up battling a concussion, look for Joe burrow to continue to pepper Chase with targets. I'm projecting him for 12-14 targets, with two of those being in the red zone. Chase has the potential to go off every week, but when his top running mate is out, he should be green-lit in all lineups. Stacking him with an underprice Burrow makes sense for this week.
Total Cost: $14,600
Players to pair with: Chase Edmonds (RB), Antonio Gibson
---
Russell Wilson (QB) Denver Broncos
Jerry Jeudy (WR) Denver Broncos
Denver Bronco quarterback Russell Wilson's 67-yard touchdown pass to Jerry Jeudy was electrifying. It was Jeudy's first touchdown pass in over a year. The chemistry looked good in week 1. But the volume wasn't what I had hoped. Both Jerry Jeudy and Courtland Sutton caught four passes on seven targets, which wasn't bad. I get the feeling there's a lot of untapped potential left on the field after that game. Hopefully, they can unlock it.
The Houston Texans defense, on the other hand, is waiting to give up loads of yards and touchdowns to wide receivers. That's one of the things they do best. Last year they conceded 16 receiving touchdowns to wide receivers end 2,877 receiving yards. Last week they gave up 50 points to the Indianapolis Colts wide receivers, and that's with Alec Peirce dropping a touchdown.
I can't believe I'm saying already, this but the Denver Broncos need to let Russ cook with his wide receivers. Only 15 passes to wide receivers in Week 1. He targeted his running backs 14 times and his tight ends 11 times. If Jerry Jeudy can see a 25% target share this week, this combination could be deadly in large-scale GPP tournaments.
Total Cost: $12,800
Players to pair with: Curtis Samuel (WR) Mark Andrews (TE)
---
Lamar Jackson (QB) Baltimore Ravens
Rashod Bateman (WR) Baltimore Ravens
Tyreek Hill (WR) Miami Dolphins
Lamar Jackson doesn't want to talk about his contract. He's laser-focused on this Sunday's game agaisnt the 1-0 Miami Dolphins. That's a good thing for DFS players. According to Statmuse.com, Lamar Jackson has a career passer rating of 121.3 with 563 yards, six touchdowns, and only one interception in two games. It definitely just moved Jerry!!
Last Week Devin Duvernay shocked the NFL world, catching two scores and leading the Ravens' wide receivers and tight ends with 21.4 DraftKings points. This week I am keying in on Rashod Bateman, who also played well in Week 1, catching a 55-yard touchdown pass from Jackson. Bateman played 66% of snaps to only 52% for Duvernay.
Running this stack back with Tyeek Hill for the maximum upside. Hill was targeted 12 times in Week 1, tied for 6th most in the NFL. This team might be more like your Dad's Dolphin team than you want to admit. Tua looked more like Dan Marino last Sunday, passing for 280 yards with a 69.7% completion rate.
The Dolphins traded for Hill for games like this. I expect him to see 10-plus targets in one of the most exciting games on the Sunday main slate. Both teams should be able to put up points, with the back-and-forth slugfest being the most optimal scenario for our GPP lineups.
Total Cost: $18,800
Lamar Jackson has a passer rating of 121.3 with 562 yards, six touchdowns, and one interception in 2 games versus the Dolphins in his career.
Players to pair with: Javonte Williams (RB) Albert Okwuegbunam (TE)
---
Jonathan Taylor (RB) Indianapolis Colts
Christian Kirk (WR) Jacksonville Jaguars
Reports out of Indianapolis this week are that Michael Pittman has been limited throughout practice. He might end up being a dreaded game-time decision. I'm leaning Jonathan Taylor in this RB friendly match up with the Jacksonville Jaguars. Taylor is one of the most trusted and consistent backs and I'm willing to pay up for him this year. 30 DraftKings points in Week 1 in a down performance.
Christian Kirk, the 72 million dollar man, paid off in week 14 DFS scoring the most points of any Jaguar with 20.7 DraftKings points. He was targeted 12 times and caught six receptions for 117 yards. He's the clear WR1 on the Jacksonville Jaguars, who will be losing in this game and we'll need to throw the football. A 50% completion rate isn't great, but 117 yards is something to write home about, and you add a touchdown to that mix in a few more completions, and you looking at 25 points.
Total Cost: $15,600
Players to pair with: D'Andre Swift (RB) Pat Freiermuth (TE)
---
Matthew Stafford (QB) Los Angeles Rams
Allen Robinson (WR) Los Angeles Rams
This Matthew Stafford Allen Robinson Redemption stack has been brought to you by my co-host at the fantasy millionaires, Mike "Cash" Collins. The good news about this stack is literally no one will be playing them. It's a leverage play that could undercut the field, who will load up on Cooper Kupp, overlooking Robinson.
I love the foresight to see a bounce-back game from Robinson, who only converted one of his targets for 12 yards. On the other side, Cooper Kupp caught 13 of 15 targets for 128 yards and a touchdown. Robinson. Let the regression begin. But seriously, the Atlanta Falcons defense is terrible against wide receivers.
Last week they gave up 55 points to the Saints' wide receivers which included Jarvis Landry and Michael Thomas. Making them look like Hall of Famers again. That's just what Alan Robinson needs this week to get right. He's the WR2 on a team that scored the most fantasy points at the wide receiver position in 2021. Positive regression is incoming.
Total Cost: $11,800
Players to pair with: Jonathan Taylor (RB), Jahan Dotson (WR)
---
Jameis Winston (QB) New Orleans Saints
Michael Thomas (WR) New Orleans Saints
Leonard Fournette (RB) Tampa Bay Buccaneers
Michael Thomas looked incredible in his return last week, catching two touchdowns and scoring 22.7 DraftKings points in the process. The bookmakers over at DraftKings are asleep at the wheel again this week and priced him at only $5,800. Pairing him with Jameis at $5,500 is a no-brainer. The Saints are 2.5-point home underdogs against Tampa Tom and the Brady Boys. In all likelihood, they will need to pass to keep up.
All-Pro running back Alvin Kamara did not practice on Thursday with a rib injury. If he is unable to play in Week 2, Michael Thomas becomes an extremely sex play. Another no-brainer is playing Leonard Fournette at only $6,700. He should be closer to $7,300 and because of this, his rostership will be through the roof. One way to differentiate yourself from the crowd is to build a mini-game stack and run Winston and Thomas back with Fournette.
Total Cost: $18,000
Players to pair with: Cordarrelle Patterson (RB), Saquon Barkley (RB)
---
Trey Lance (QB) San Francisco 49ers
Brandon Aiyuk (WR) San Francisco 49ers
Trey Lance's 2022 debut was washed out last week in Chicago. Literally. Biblical rains fell in Solider Field and nullified any advantage on the ground that Lance had for DFS players. He was a giant disappointment for anyone not smart enough to play the Bears' DST. You are welcome. (Winks. Blows kisses.)
Thanksfully this Week, the 49ers are home and hosting the Jamall Adamsless Seattle Seahawks. Seattle won't have the 12th man this week and is primed for a huge letdown after spoiling Russell Wilson's Monday Night Football debut as a Denver Broncos. The 49ers will be out for blood after blowing a lead to the Bears in a game that they should have won.
Lance and Brandon Aiyuk didn't make a splash last week (I can't help myself) but I expect them to bounce back this week. According to PFF, Aiyuk has a top 10 cornerback matchup this week against Seattle's corners.
Tariq Woolen's 50.5 Week 1 grade was 82nd out of 95. Perfect! I'll take it. This stack plays in Cash games and smaller GPP tournaments.
Total Cost: $10,800
Players to pair with: Nick Chubb (RB), Leonard Fournette (RB) 
---
Nick Chubb (RB) Cleveland Browns
Elijah Moore (WR) New York Jets
As 6.5-point home favorites against the Joe Flacco-led New York Jets, the Cleveland Browns will be looking to establish the run. Nick Chubb forced a league-leading 11 missed tackles in Week 1. He's an incredible value this week at only $7,100. I love that Kareem Hunt scored two touchdowns last week, stealing the Nick Chubb thunder. Keep sleeping on him. He has the potential to rush for multiple touchdowns against the Jets.
I know this sounds crazy to say but all the Jets' wide receivers are in play this week. Last week Joe Flacco threw the ball 57 times in a loss to the Baltimore Ravens. Wide receivers were targeted 31 times in that game. The target distribution went as followers. Corey Davis had 10, Garrett Wilson eight, Elijah Moore seven, and even Braxton Berrios picked up six.
All of the Jets' wide receivers are price down this week and under $5,000. Playing Jets wide receiver will let is it dangerous game but if I'm playing it I'm playing it with Elijah more this week. We saw what Robby Anderson did last week, stretching the field and going for a long touchdown against this defense. If you're going to win a GPP tournament you need a guy who opens the field up whenever he touches the ball. He's a problem in space, and if he gets behind the defense, it's touchdown city, baby!
Total Cost: $12,100