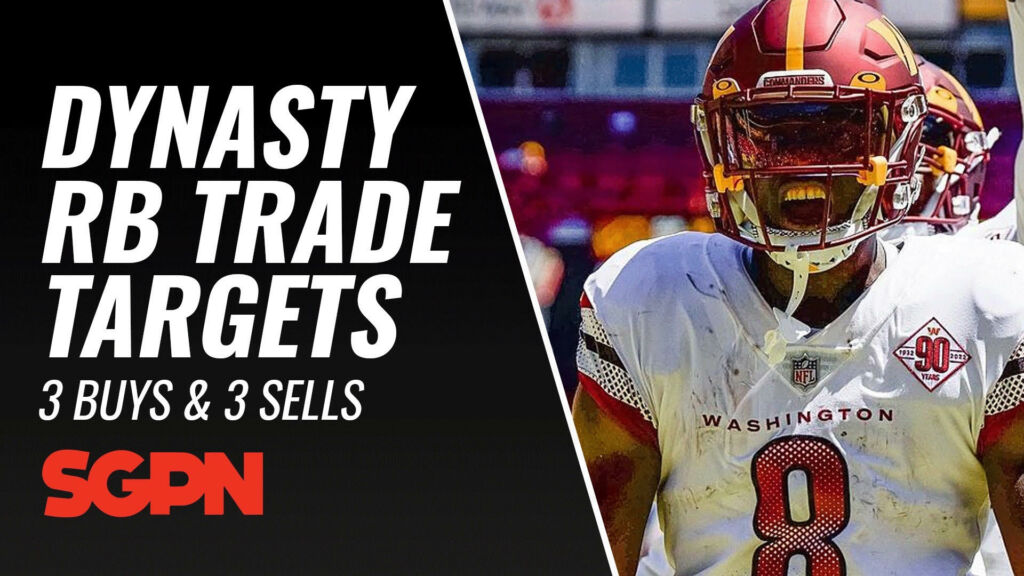 The season is right around the corner, and you still have a window for dynasty trade targets as teams look at their rosters to determine if they are buyers or sellers. I wanted to look at things from both sides of the coin. We will look at three running backs to sell before the starts.
If you see teams in the market for running backs, you should message them before they find another trade partner. The same thing with buying; you need to be aggressive. Always be first in line for a sale, go find a trade partner, and get the deal done. I will also be giving you three players you should buy.

MORE SGPN FANTASY FOOTBALL CONTENT
SGPN Fantasy Football Draft Cheat Sheets
2022 SGPN Fantasy Football Draft Kit
SGPN Fantasy Football Rankings
SGPN Fantasy Football Projections
---
Dynasty Football: Running Back Buy and Sell Targets
Buys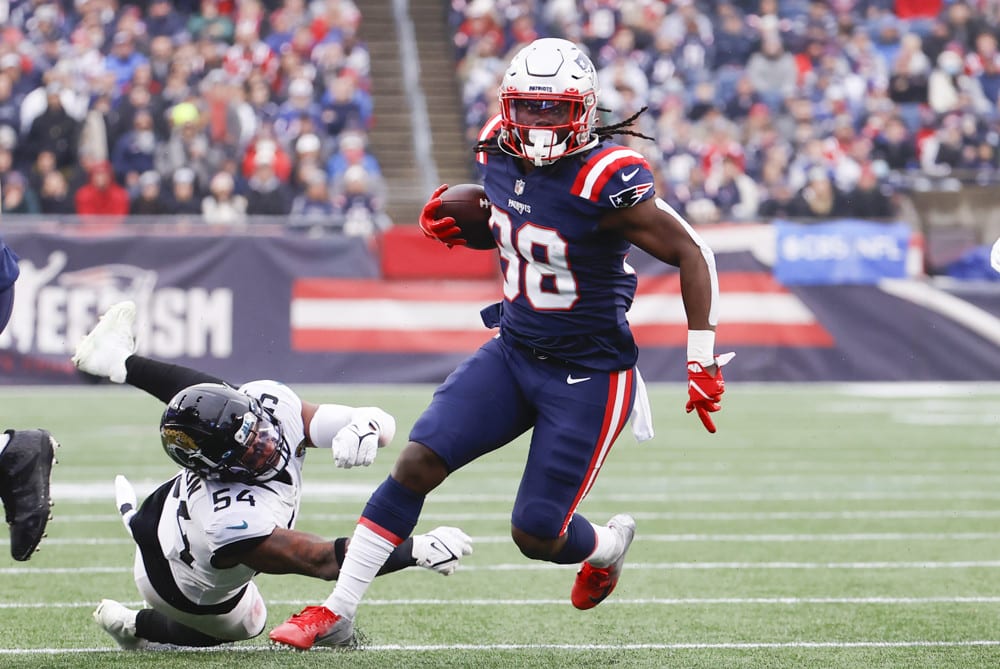 Rhamondre Stevenson – New England Patriots
Rhamondre Stevenson's hype has been building this off-season slowly, and he is currently going 115 in Sleeper ADP. Stevenson ranked #2 in yards created last season. He ranked #7 in yards after contact. Stevenson also did this against stacked boxes in ranking #2 vs. stacked boxes. Stevenson's ability to catch passes adds to his versatility.
Stevenson's ability to catch passes gives some flexibility that Damien Harris doesn't offer. Stevenson's size and ability as a runner offers things that Ty Montgomery just can't offer. The Patriots are looking to be less predictable, and Stevenson's dual-threat use will keep him on the field.
---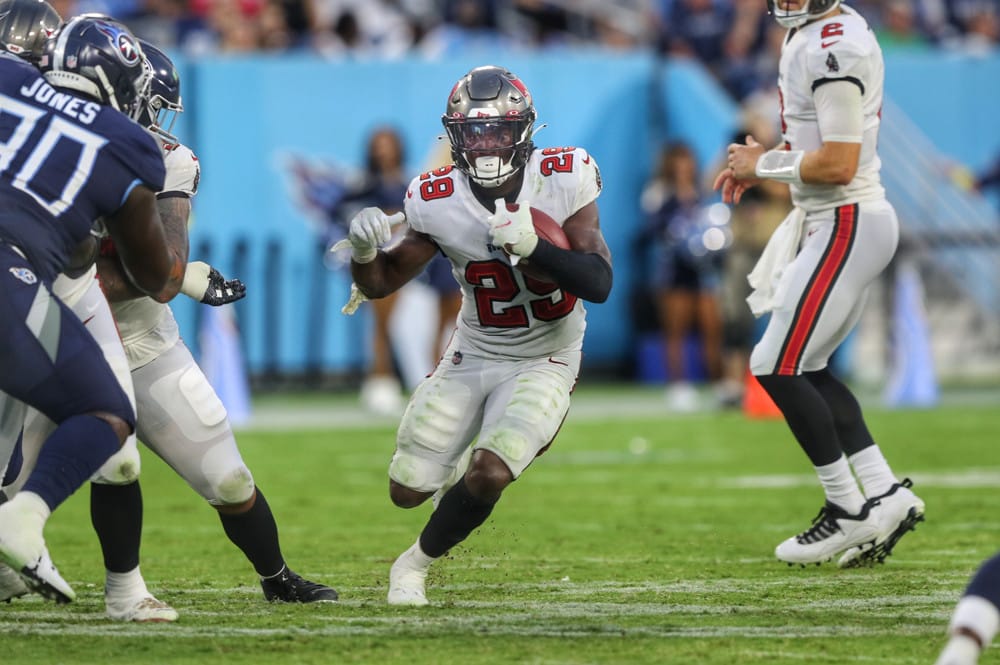 Rachaad White – Tampa Bay Buccaneers
Rachaad White was the best pass-catching running back not named James Cook in this draft. White went to a prime location in Tampa Bay, and he can currently be selected at 113 in your startup drafts. White is a great pass-catcher; he had 43 receptions and 456 yards last year. White also ran for 1,000 averaging 7.4 yards per touch his senior season.
This is a great location for White; Tampa Bay threw the ball to their running backs 138 times in 2021. They also have some vacated targets with Gronkowski retiring. On top of that, we have Fournette, who is in the back half of his career. White is a player that will be much more valuable this time next year; you want to buy while you can.
---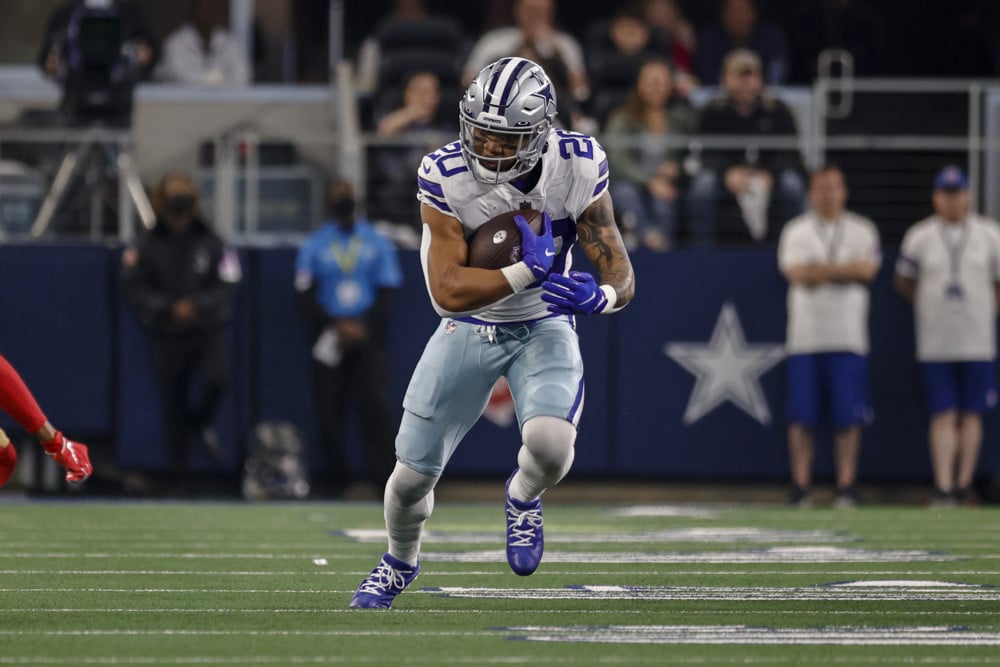 Tony Pollard – Dallas Cowboys
Tony Pollard could be one of the biggest beneficiaries of the lack of pass-catching options in Dallas. Pollard has been an explosive player when on the field and has looked better than Ezekiel Elliot. This team has continued to work Pollard more and more into the offense; look for him to be more involved. Pollard would be the top option if Elliot went down, but I believe Pollard and Zeke can co-exist in this offense.
Pollard also is a free agent in 2023; the Cowboys happen to have an out next year as well. There is an outside chance the Cowboys moved on from Zeke for Pollard.
There is also a chance Pollard gets an opportunity elsewhere. Right now, you can get him at pick 81 in your drafts around Clyde Edwards-Helaire or Damien Harris.
Honorable Mentions
Isaiah Spiller, Ken Walker III, Antonio Gibson
---
Sells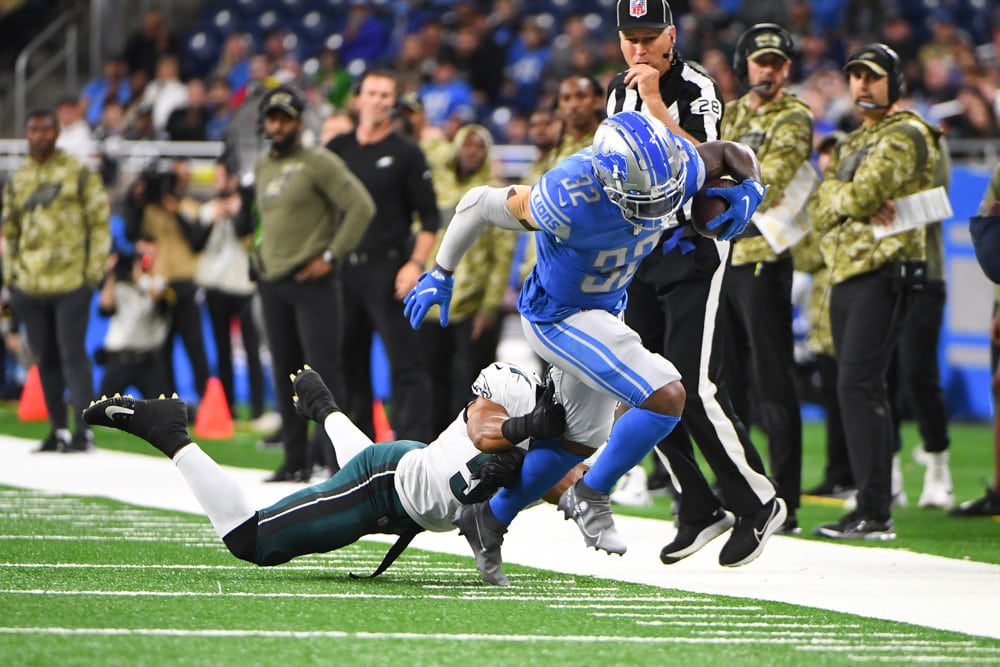 D'Andre Swift – Detroit Lions
When you go to sell, you need to have something people want to buy. Swift comes in as a top 3 dynasty RB, and you can get a ton in return. I like Swift as a player, but I think you have a prime opportunity to sell. There are a lot of good players that you can get, plus a 1 st round pick for Swift. If I can do that, I will.
---
Brian Robinson Jr. – Washington Commanders
Brian Robinson's hype has been growing all off-season; it has tripled this past week. When Robinson started the game while Gibson was returning kicks, you could physically see the stock dropping. Polling people on Twitter on who they would draft today, 47% voted for Robinson.
As Gibson's price drops and Robinson's price increases, they reach the same price. Robinson is a player that you drafted in May late 2 nd or early 3rd. He is going round 1 or early 2 in your rookie drafts right now. You can already double up on your investment; take the opportunity.
---
Chase Edmonds – Miami Dolphins
Chase Edmonds isn't going to bring home a huge profit, but he is still a tradeable asset. He likely is not one of your top running backs; you likely did not invest much in acquiring him. Every contending team in your league is looking for running backs.
Go move Edmonds before that window closes. Edmonds has been a player we have been waiting to get a starting job for years; take advantage of this opportunity. If he gets hurt or you wait until next season, you likely will miss your sell window.
Honorable Mentions
Isaih Pacheco, Dameon Pierce, Leonard Fournette
RELATED CONTENT