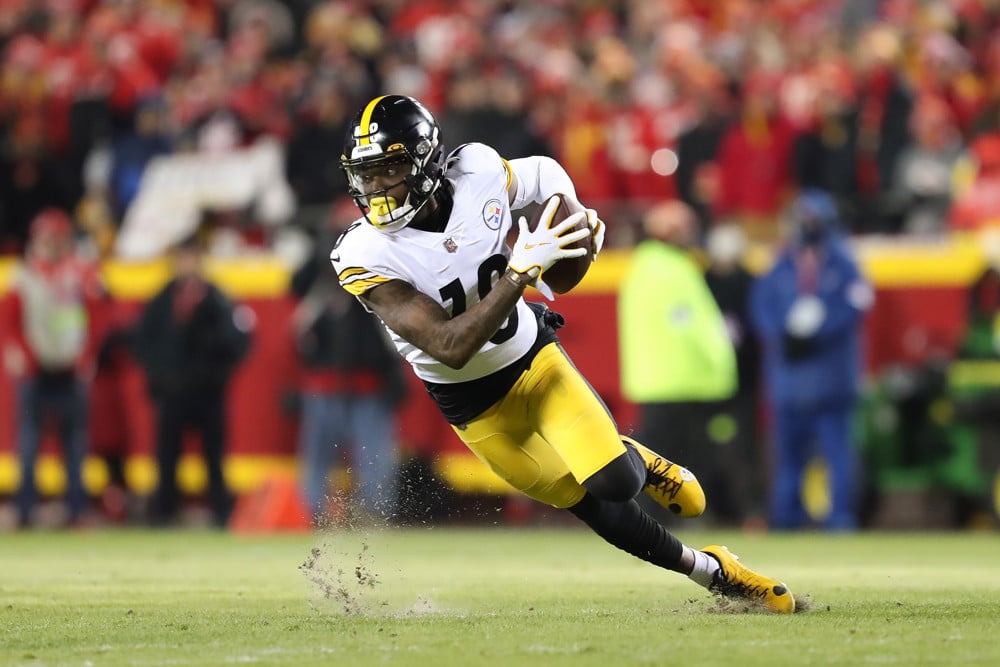 Fantasy football season is starting, and the most crucial part of having a team that can contend for a championship is the draft. Seasons can be made or broken before they even begin, that's why I'm here to help. By using data from Pro Football Focus, I coded models to predict season performance for the key positions of quarterback, running back, wide receiver, and tight end to create player rankings and projections for the 2022 fantasy football season.
For each position, I included factors unique to their teams and play style. For example, a team like the Kansas City Chiefs with Patrick Mahomes has impressive passing stats, but their offensive tendencies and pass-to-run ratio result in a negative coefficient that brings down the expected point value for Clyde Edwards-Helaire. If a team has a new offensive coordinator this year, such as Luke Getsy with the Chicago Bears, I looked into previous coaching experience and how it may translate to a new team. Getsy is the former quarterbacks coach and passing game coordinator for the Green Bay Packers, where Aaron Rodgers not only won back-to-back MVPs but also had the 4th fastest release time at 2.63 seconds.
Despite his background in passing, I still expect the Bears to maintain a balanced offensive game plan to ease the load on second-year quarterback Justin Fields, however with more quick passes his passing numbers should increase from last year when he only attempted around 25 pass attempts per game. This methodology allowed me to establish a baseline for overall offense, then it was time to specify the models for each position.
MORE SGPN FANTASY FOOTBALL CONTENT
SGPN Fantasy Football Draft Cheat Sheets
Fantasy Football: Red Zone Analytics and Takes
2022 SGPN Fantasy Football Draft Kit
SGPN Fantasy Football Rankings

2022 SGPN Fantasy Football Projections
Building Quarterback Projections
To analyze any one position, you have to factor in the performance of the team around them. Beginning with the quarterbacks, I included some of their common stats from previous years. This includes yards, touchdowns, etc. but also utilized great statistics provided by PFF like accuracy percentage, the average depth of target, the average time to throw, turnover-worthy plays, and many others.
Then I moved to their wide receivers. Often overlooked is the value of the wide receivers in the performance of a quarterback. To account for this, I used numerous factors including drop rate, yards after the catch, and contested receptions. I used similar statistics from tight ends as well. Lastly, I used pass blocking grades from the offensive line, as lower graded offensive lines result in hurried quarterbacks and a projected drop in overall success. After completing the quarterback model, it was relatively easy to alter it for the remaining positions in these 2022 fantasy football projections.
Building Wide Receiver and Tight End Projections
The wide receiver and tight end positions were very similar models. Once again, they relied on stats from previous years, but the biggest difference was accounting for players that changed teams and systems. With starting quarterbacks, a change in venue may not lead to a significant change in overall performance as they are still slotted in the same depth chart position. However, a player such as Christian Kirk will most likely have vastly different season stats as WR1 on the Jacksonville Jaguars as opposed to WR2 on the Arizona Cardinals behind DeAndre Hopkins.
Additionally, for non-quarterbacks, a change in situation can have a much larger impact. Kyle Rudolph is slotted as TE2 for the Tampa Bay Buccaneers this year in a potent offense headed by the most successful quarterback of all time in Tom Brady, a significant difference from his former role as TE2 on the New York Giants that managed only 15 passing touchdowns the entirety of last season. These changes can be accounted for by including previous data not from them, but from the players formerly in their position with their new teams. The rest of these models used many of the same stats from the quarterback model, including the predicted stats that it produced. Pass catchers are key in fantasy football and creating these projections for 2022 has shed some light on some values.
Building Running Back Projections
The last position to assess was the running back, arguably the most important as the best are off the board early in the draft. It is critical to make a good selection when it comes time to draft. Depending on league size, it's typically hard to miss on a good RB1, but when you get to the middle to lower tiers of running backs for your RB2 or backup spots, the choice becomes much more difficult. My goal is to help you make informed decisions in these situations where the options are diluted. For this model, I included advanced rushing stats such as avoided tackles, breakaway percentage, and elusiveness rating. However, these are not the most important aspects of the model.
A major key to solid rushing performance is the offensive line, so like with quarterbacks I used offensive line grades, only for run blocking. The rushing stats provide an average run block grade from the previous season. However, personnel changes during the offseason and offensive line grades allow us to analyze each player individually and fit them all together. On top of that, another crucial facet of the model was the team's tendencies. I discussed it earlier, but the run percentage of a team is obviously important in determining the projected performance of a running back. Simply put, more carries = more opportunity. With these things in mind, I believe this model created solid running back ratings to help make those tricky decisions a little bit easier.
A Note on Rookie Projections
The most difficult thing to figure out how to model for was the rookies. They had no previous stats to base their performance on, so I treated them as players switching teams. With their estimated depth chart positions, I was able to look historically at that position and compare it to previous rookies in that system or ones very similar to it. It's not a perfect method, but with rookies, it's tough to make anything but an educated guess.
Hopefully, these rankings can be the difference maker in your draft and season. However, at the end of the day it still comes down to what you decide to trust more, your gut or the data. Fantasy football projections will not win your 2022 season alone.
RELATED CONTENT