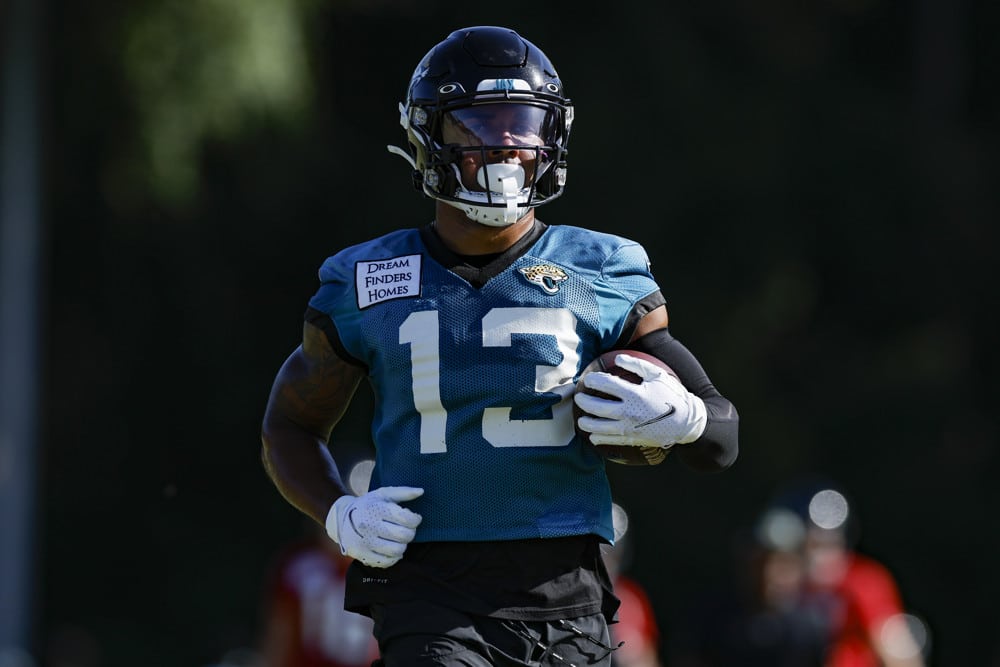 Fantasy Draft Season is finally upon us. No matter where you are at this point in the research process I'm sure you've been inundated with constant takes and rankings on how the first round should play out. While that's certainly important, barring injury it's likely not where leagues are won or lost. This is where finding those diamonds in the rough is key. Most people think this is done solely through the waiver wire and they often lose interest in the late rounds of their drafts. Don't be the guy who panics and drafts a second Quarterback or reaches on a Kicker not named Justin Tucker, check out these late round sleepers.
More SGPN Fantasy Football Content
Wide Receiver 2022 Fantasy Football Auction Values
Introduction to Devy Dynasty Football with Jeff Bell

*Criteria: a player must have an ADP over 100 to be considered*
---
Late Round Sleepers for the 2022 Season
David Njoku (TE) Cleveland Browns – ADP: 150
The start of our list takes us to the Tight End position, which like many years is a bit top-heavy. I know for years people have been pointing to David Njoku as a potential breakout given his talent, but this year I think could be the year. Njoku's best season to this point in his five-year career came in 2018 when he caught 56 passes for 639 yards and 4 touchdowns. While these are not terrible numbers for a Tight End, it's certainly not what many expected from Njoku coming into the league. 
So why should things be different this year? The situation, in short. Njoku enters this year as the top Tight End on the depth chart following the departure of Austin Hooper this offseason. This alone would give Njoku some value however the Quarterback situation is another reason to like his value. The Cleveland Browns enter this year with some uncertainty with Deshaun Watson out for at least six weeks leaving Jacoby Brissett as the QB1. Brissett has tended to rely on Tight Ends a lot in his career, as we saw last year. In games where Brissett threw over 25 passes, he averaged 8.6 targets to Tight Ends per game. I think we can expect this trend to continue in Cleveland and Njoku to get his fair share of targets. Njoku is among the best late round sleepers at Tight End.
---
Christian Kirk (WR) Jacksonville Jaguars – ADP: 104
Last season, Christian Kirk found himself in a pretty crowded Wide Receiver room in Arizona with Hopkins, AJ Green, and Rondale More. Still, he managed to go for 5 touchdowns and nearly 1,000 yards (982). This season things should be a bit different as he enters the season as Trevor Lawrence's likely number one target and should continue to see plenty of snaps out of the slot. 
In all honesty, I don't understand why Kirk's ADP is so low. While I understand Lawrence is unproven, I still expect him to improve under his new head coach and Quarterback-whisperer Doug Pederson. Additionally, the Jaguars should be playing from behind a bit this year which should bolster some of those passing numbers. Even if he starts the season on your bench I'd be willing to bet Kirk is eventually starting in most leagues this season, 104 is an incredible value. 
---
Alexander Mattison (HB) Minnesota Vikings – ADP: 117
By this point, everyone should know who Alexander Mattison is. He's a fantastic handcuff playing behind an injury-prone Running Back. While 117 is a bit steep for a handcuff if there is anyone who deserves it it's Mattison. As a starter, he averages nearly 80 yards 20 touches, a touchdown, and 3.8 catches per game. That's nearly 17PPG in PPR formats.
In all honesty, Mattison holds little value with Dalvin Cook on the field. However, the fact of the matter is Dalvin Cook has missed 13 games in 4 years in the NFL. In each of those seasons in which Mattison has been in the league, there has been a mad dash to the waiver wire the moment Cook goes down. Consider Mattison a high ceiling, low floor type player who could be a bench warmer or an RB1 for your team
---
Allen Lazard (WR) Green Bay Packers- ADP: 113
If you're looking for late round sleepers, Allen Lazard probably isn't it. He's the worst kept secret in Fantasy Football yet for some reason his ADP is still north of 100. The only reason I can think of is his touchdown dependency last season finding paydirt 8 times and going for 513 yards. While last year this made him a bit unreliable I expect things to be very different this year. He enters the season as a familiar face for reigning MVP Aaron Rodgers following the departures of MVS and Davante Adams. For me, being Aaron Rodgers's potential number one target (barring a huge season from Sammy Watkins) is all I need to take a chance on him, especially past 100th overall.
---
George Pickens (WR) Pittsburgh Steelers – ADP: 160
George Pickens is another receiver who has received his fair share of respect from the media this offseason. He's undoubtedly incredibly talented and likely would've gone earlier in this year's draft had it not been for injury and off-the-field concerns. During his freshman year at Georgia, Pickens finished with 14.8 yards per catch for 727 yards and 8 touchdowns. While this was his best season Pickens continued to shine his sophomore year before missing most of his junior year to injury. 
While college numbers can be an indicator of NFL success it doesn't always translate. But if training camp is any indicator Pickens could be a star in the making. I've seen nothing but positive reports out of Steelers camp about the rookie Wide Receiver and I expect him to shine this year. For late round sleepers such as Pickens, take a chance and let the Quarterback concerns solve themselves.
---
---
Derek Carr (QB) Las Vegas Raiders – ADP: 106
Derek Carr is a guy who seems to improve a bit every season. And I finally think he's reached the point where many are comfortable calling him a top 10 Quarterback in the league. The question is will that translate into fantasy success? I would think so. He'll be throwing to Adams, Renfrow, and Waller. Add on a ground game threat in Josh Jacobs. It's hard to see a scenario in which Derek Carr fails to put up numbers this year.
In fact, I think he has a great chance to throw over 30 touchdowns. On top of that, he's someone who could potentially lead the NFL in passing yards with the weapons around him. If you miss out on the Quarterbacks with high rushing potential, don't reach on a guy like Brady or Rodgers purely for the name. Carr should be an every-week starter this year.
---
Kenneth Gainwell (HB) Philadelphia Eagles – ADP: 125
For those outside the Philadelphia area, Kenneth Gainwell might not be a guy you're super familiar with. While he only received 68 carries in his rookie season last year he did lead the Eagles' running backs in targets with 50. I'd expect to see a decent uptick in that number this year with the team potentially trying to shift away from a one-dimensional rushing offense this season. Additionally, Gainwell enters this year as the RB2 and should see an uptick in carries following the departure of Jordan Howard. With the QB scenario still a bit shaky in Philadelphia I expect Hurts to find Gainwell out of the backfield making him a worthwhile pick in the later rounds. All this aside, if Gainwell doesn't see the action you have the handcuff in one of the league's best rushing offenses.
---
Marquez Valdes-Scantling (WR) Kansas City Chiefs – ADP: 136
Marquez Valdes-Scantling is a name that should ring a bell to anyone who's played fantasy before. He's served the last few years as a secondary option for Rodgers and this season has made the jump from one generational talent to another. This offseason he signed a three-year $36 million deal with the Kansas City Chiefs. This move went a bit under the radar as most had their eyes set on JuJu and Skyy Moore. While JuJu certainly has more name recognition it is interesting to note that MVS is set to make more money this season (could this be indicative of how the front office values the two?). 
While to this point in his career his stats have fallen short of outstanding I expect Valdes-Scantling to have a great season. If you're looking for depth at the WR position MVS might be your guy. 
---
Jalen Tolbert (WR) Dallas Cowboys – ADP: 148
Unlike Lazard and Valdes-Scantling, Jalen Tolbert is likely a name you haven't heard very often. That's likely because he's a first-year player out of South Alabama. A team that most of us probably aren't watching on Saturdays. Nonetheless, Tolbert should have some upside this season. In his senior year of college Tolbert had an outstanding 1474 yards on 82 catches for 8 touchdowns. No, he was not playing against NFL talent every weekend but those numbers are still impressive no matter where you play. 
On top of that Tolbert enters this season as the Cowboys WR2 with Michael Gallup slated to miss up to four games to start the season. In a pass-heavy offense with a Quarterback as good as Dak Prescott, Tolbert is sure to find his way into some targets and hopefully touchdowns. With an ADP at 148, Tolbert should likely give you at least a few weeks as a starter before Gallup returns.
---
Rachaad White (HB) Tampa Bay Buccaneers – ADP: 126
Once again we find ourselves at another lesser-known name in Rachaad White. However, if you've been doing your research you've probably seen a few people mention this name. In his senior season at Arizona State, White put up 1,000 yards on 182 carries for 15 touchdowns in 11 games. It's undeniable the rookie is incredibly talented however the only caveat would be he enters the season behind Leonard Fournette. Fournette has an ADP of 25 and is reportedly 10 pounds over his "ideal playing weight." While I don't buy into the whole weight issue that everyone seems to be concerned about I do think it could be indicative of him not taking care of himself this offseason.
With that said, if Fournette is to stumble early or miss time Rachaad White projects to be a great replacement. Heck, even if Fournette is back to his normal self we likely see White involved a bit as he provides some value in the passing game where he went for 453 yards his senior year of college. If White is to fall on your lap during your draft don't be afraid to pounce as he's one of my favorite late round sleepers.