The UFC octagon is on the move again this week, touching down in San Diego, California for the first time in over seven years. UFC on ESPN: Vera vs Cruz (aka UFC San Diego) features a main event bantamweight bout with an up-and-comer facing perhaps the greatest 135-pounder in history. Here are my UFC San Diego predictions.
RELATED
UFC San Diego Predictions
All odds courtesy of PointsBet
Marlon Vera (-230) vs Dominick Cruz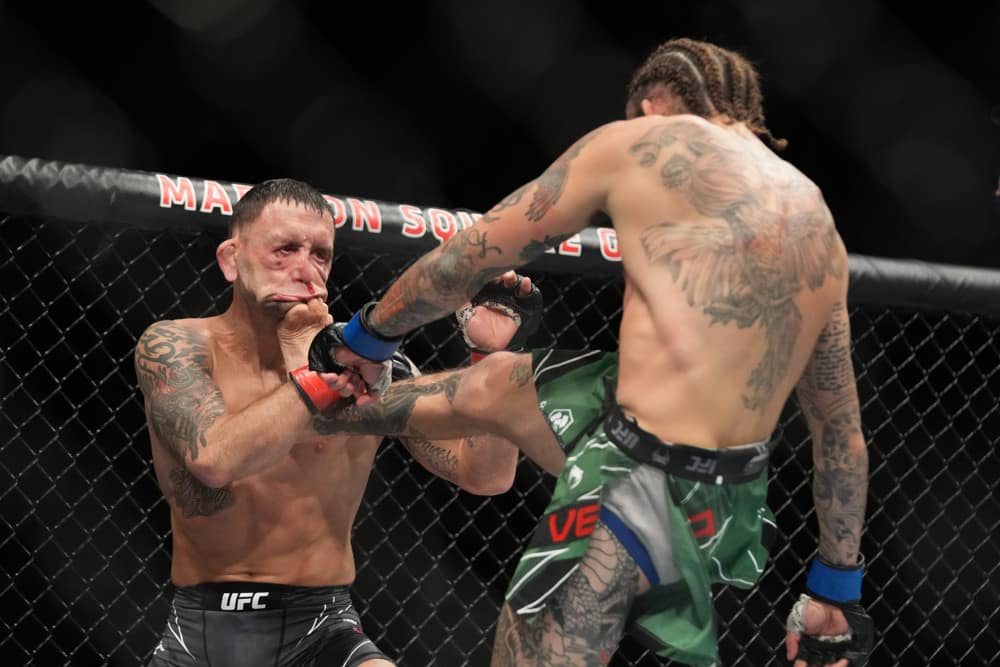 Here is our aforementioned youngster vs legend matchup – Marlon 'Chito' Vera vs Dominick Cruz. I'm backing the youngster Vera, who is seven years younger than the former champ (fighters at least five years younger than their opponent win 63% of their fights in the UFC). Cruz has just been too inactive over his career, especially as of late, and Vera is impossible to finish – he's never been stopped in 27 pro fights. He just finds a way to win fights, and he'll have the power and athleticism on his side here.
David Onama (-290) vs Nate Landwehr
'The Silent Assassin' David Onama is back at it again, booking his fifth fight since last October. After dropping his UFC debut, he has since won two straight fights and is a very intriguing prospect at featherweight. He'll have the length and the youth (by six years) on his side against Nate Landwehr, who is a pedestrian 2-2 in the UFC (he's gone loss, win, loss, win).
Yazmin Jauregui (-193) vs Iasmin Lucindo
I don't know why two debuting women's strawweights are third from the top of the card, but whatever. Iasmin Lucindo is taking this fight on short notice (late replacement fighters only win 37% of the time; 30% in 2022) and I like the 8-0 Yazmin Jauregui's resume better, so she's the pick.
Devin Clark (+120) vs Azamat Murzakanov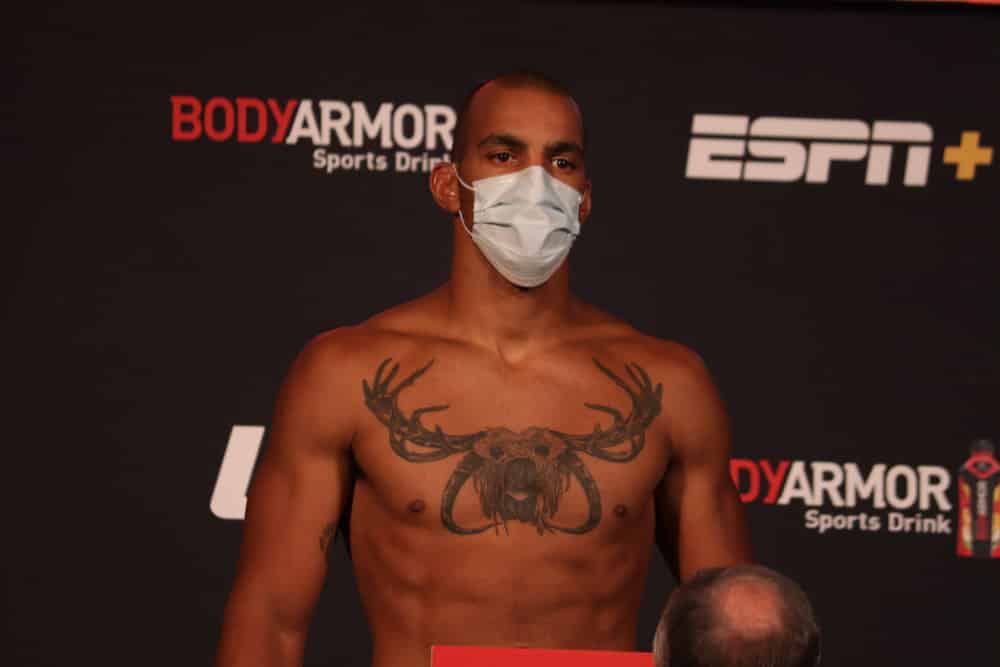 Time for some underdog action. I'll take the 'Brown Bear', Devin Clark, to beat light heavyweight prospect Azamat Murzakanov on Saturday. The undefeated Murzakanov has shown a problem with his cardio that I think the bigger, more experienced (yet a year younger) Clark can take advantage of. Let's get that plus money.
Priscila Cachoeira (+160) vs Ariane Lipski
Yet another underdog here for me. And if you recognize the next few sentences, it's because they appeared in last week's column when this fight was originally supposed to happen before Ariane Lipski fell ill. Female underdogs have been on fire in the UFC this year, so let's grab one in Priscila Cachoeira. Ariane Lipski has been a disappointment since joining the UFC, while Cachoeira has been pumping out wins as of late, winning three of her last four, and has dynamite in her hands. She may be a cheating eye-gouger, but I'm backing her this week anyhow.
Bruno Silva (-290) vs Gerald Meerschaert
Gerald Meerschaert is normally a good live dog pick, but not this week. Bruno Silva is going to hurt him on the feet, and also has strong grappling that should keep him safe from the submission artist. And +230 dogs rarely come through (only five times in 2022), so let's go chalk.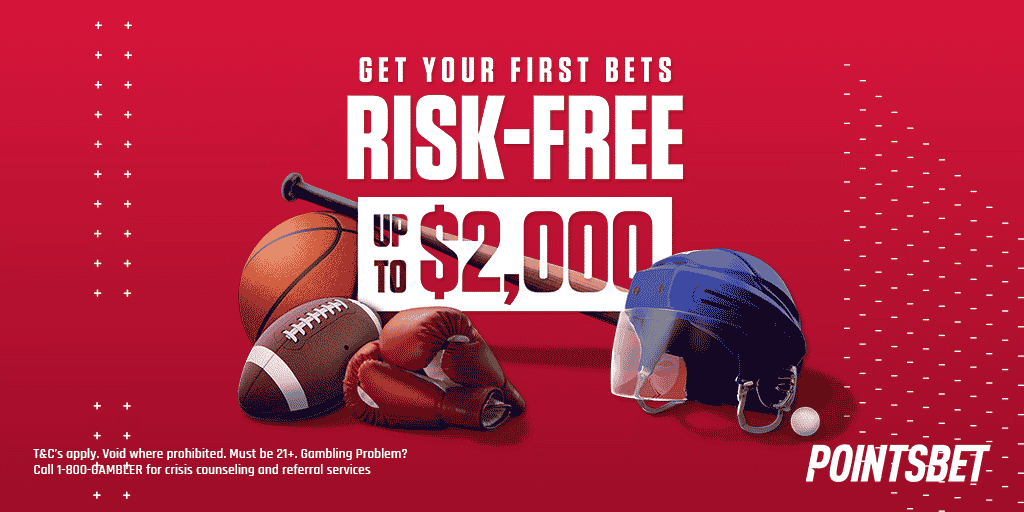 Lupita Godinez (-325) vs Angela Hill
You know I've got to pick Loopy Godinez, and not just because she grew up in Canada. Opponent Angela Hill is 8-12 in the UFC and is on the downslope of her career. Godinez will use her God-level grappling to make Saturday a difficult go for 'Overkill'.
Martin Buday (-270) vs Lukasz Brzeski
Lukasz Brzeski will be making his UFC debut after winning on Dana White's Contender Series, then failing a drug test. Martin Buday is way bigger, a finisher, extremely durable, and on a nine-fight winning streak.
Nina Nunes (+140) vs Cynthia Calvillo
This is another fight I wrote about previously before it was canceled last minute when Nina Nunes got sick. No, Nina Nunes hasn't won a fight since becoming a mommy (her last win was December 2018), yet I still trust her more to show up in this fight with Cynthia Calvillo. She should be the much better striker here and is a strong grappler as well.
Gabriel Benitez (-350) vs Charlie Ontiveros
With an 11-8 record and having been TKO'd in both of his UFC fights, there is no reason Charlie Ontiveros should still be in the UFC. So there is no reason to pick him to win this fight. I'm going with the veteran Gabriel 'Moggly' Benitez.
Ode' Osbourne (-240) vs Tyson Nam
'The Jamaican Sensation' Ode' Osbourne is a massive flyweight, having fought up two weight classes at featherweight before. He'll have five inches of reach on Tyson Nam and is nine years younger than him. The stats also point to him being both the better and more active striker, as well as the better grappler here.
Josh Quinlan (-250) vs Jason Witt
Hey – I wrote about this one last week too before it got pushed back to this week – cool! Josh Quinlan hits really hard, and Jason Witt has shown a questionable chin in the past. The only issue here is Quinlan is coming off of a drug suspension due to steroids. If he looks like the fighter he was in his previous fights, he should turn Witt's lights out. If not, we could be in trouble.
Da'Mon Blackshear (+104) vs Youseff Zalal
The stats say to fade the short-notice fighter, especially ones making their UFC debut, but CFFC champ Da'Mon Blackshear has such an impressive resume I'm rolling the dice on him. Plus, Youseff Zalal has lost three straight fights and has been out of the cage for over the year.
Overall Record: 823-566
2022
Record: 217-109
Earnings:  $1,087.85
Return on Investment:  3.3%
Related Content