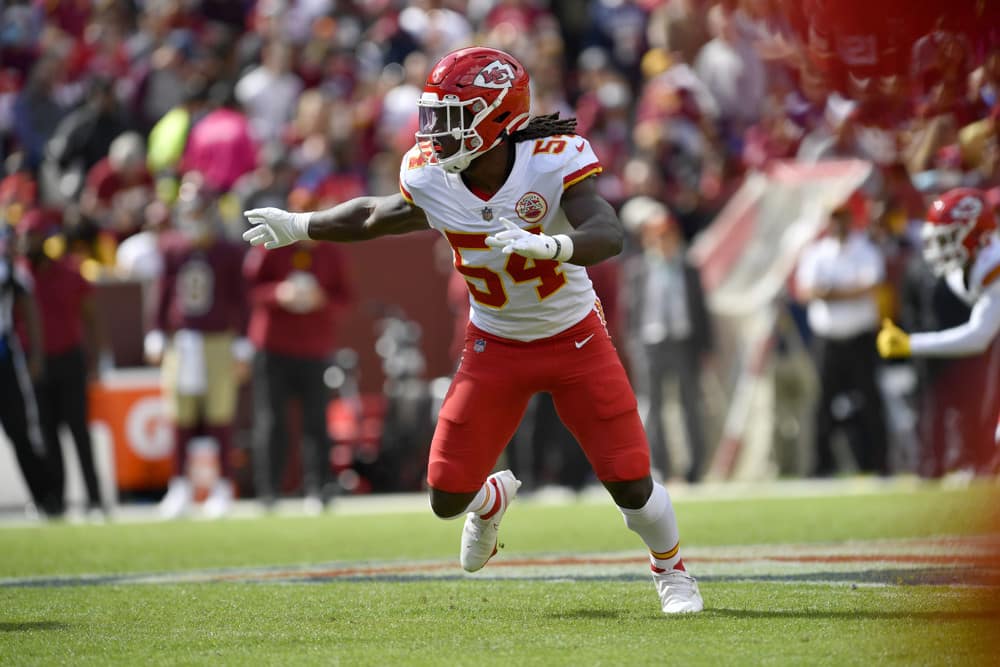 These NFL IDP Rankings are our top high-profiled Tier 3 2022 positional targets. Finally, we are wrapping up our top 36 of the top 64 that matter in standard formats. These players are the last line of defense to the upper realm. At least when it comes to their higher-end consistency and production ceiling.
Not that we suggest the rest of the top 64 can't break into the upper realm. But these tier three targets are solid staters every week in standard-sized leagues.
They'll still supply the consistency we need to help support our offense. And on any given Sunday, we likely see their highlight reel. And probably as one of them is being crowned the NFL's defensive player of the week. Remember that the IDP hairs we split get even thinner from here.

With four pro campaigns under his belt in San Fransico. 49er ILB Fred Warner has tallied triple-digit tackles and is a pillar of the consistency of NFL IDP rankings. And because he's only missed one contest in the same time span. Bolstered by a higher-end average, skillset, and opportunity. Warner is securing his upper target value; it just likely isn't going to be as a top 5 inside linebacker option.
Cardinal's safety Budda Baker slipped a little in overall production in 2021. But this elite IDP play remains a high-end NFL target. And we can always expect splash plays from Baker here and there. Helping pad his base tackle production as he's used all over the field in Arizona.
Just starting to come into his prime. The Panther's defensive end Brian Burns's positional value has top 5 dynasty potential. His ability to put pressure on the quarterbacks and base tackle floor is as good as it gets. He's got momentum coming off a season.
He was a top ten pass rusher landing him top 20 in quarterback hits. His potential ceiling isn't quite set yet. And if there are any overachievers in this gold squad, it will likely be Burns. And likely heading into 2023 as a Tier 2 defensive end option knocking on Tier One's door in 2024.
Our best second-year inside linebacker target. The Chiefs Nick Bolton landed top 50 in many standard formats last season. Highlighted with the 6th lowest missed tackle rate in the NFL last year. And his surprise full-time deployment by Kanas City. The only thing holding Dolton back; is the history that they rotate a lot and cap the main ILB off at around 77% or less of the snaps available.
If your league uses designated defensive tackles. Miami's Christian Wilkins is one of the strongest up-and-coming DT plays in fantasy football IDP. But as a general defensive line (DL), this Dolphin falls short by a couple of tiers because of the lack of pass rushing. 
Something very few defensive tackles overachieve at. So let him slip farther down your boards as a possible DL bye-week play. Or a waiver wire target if you're getting thin and digging for the positional play.
Father time is the only reason we're not ranking longtime Bill Jordan Poyer higher. This former tier 1 NFL IDP rankings option hasn't necessarily lost a step yet. But this NFL pro-bowler safety has passed, setting a new personnel IDP ceiling. And with Buffalo's high-flying offense setting the game tempo. 
The Bills aren't deploying their veteran safety as they did before Josh Allen. He's irreplaceable. So instead, expect them to try and keep the older guy fresh. And ready for towards the end of the season when they'll try another playoff run.
Tier #3 Gold Squad
The Raiders pass rusher Maxx Crosby mirror's our Brian Burns profile. The only difference here is making sure he's a designated defensive end. Or dual designated as LB/DL like on the Sleeper app. But if he's a straight-out LB play, as a linebacker, his tier dips unless it's a sack-heavy big play league. Which normally will not fit with standard formats, which then slides Crosby to an LB depth option.
Can the Steeler's deep safety Minkah Fitzpatrick record another 124 total tackles? That's a really tough scenario for Fitzpatrick to repeat in 2022. At least as a deep safety. But after a couple of seasons demonstrating he's a playmaker. He did manage to pile on the tackles to support those passes defended and interceptions. 
He's now bolstered a higher-end floor and opened up his ceiling in the process. This elite safety might not lead the NFL's defensive backs again in tackles. But he'll make the plays that'll pad the box score well enough to secure a tier 3.
The Bills are one of the last defenses that deploy two linebackers on every down. This has kept ILB Tremaine Edmunds at a steady average of about 115 tackles a season. That's been plenty enough to give him the benefit of the doubt as a 2022 tier 3 target. We just shouldn't expect many "extra" play-making-type stats. Like interceptions, sacks, or such to help pad his box score. Because he's simply not that broad of a talent.
Coming off another career All-Pro effort. The Titan's free safety Kevin Byard is a ball-hawk who sits 3rd in the NFL in interceptions over the last five seasons. And although he's only recorded a triple-digit tackle season once. If there's a deep safety, that'll get close and make the plays on top of it all. It's going to be his high-end skill set of Byrd's that'll secure his tier 3 value.
Long-time veteran safety Jayron Kearse certainly found his nitch in Dallas last season. Fitting in new defensive coordinator Dan Quinn's defensive scheming. And earning that important safety role that former IDP stud Keanu Neal held. The one that at one time made him famous for IDP managers. Well, look no farther. Kearse might not be more than the average guy. But that positional IDP production value remains very sticky. And as long as the Cowboys believe, we believe.
Our first cornerback in the top 36, No defender saw more targets than the Colt's Kenny Moore last season. And he has been one of the higher producing CB (DB) for a few seasons now. And he'll see plenty of opportunities to make plays on the ball again this year. 
Assuming opposing QBs avoid the better talent across the field from Moore again. And avoid the way better NFL IDP rankings coverage target and proven talent, Stephon Gilmore.
Looking for More IDP Content?